Foreign retailers are showing huge appetite for a slice of the convenience store business pie in Vietnam as their investment spree will not be over anytime soon.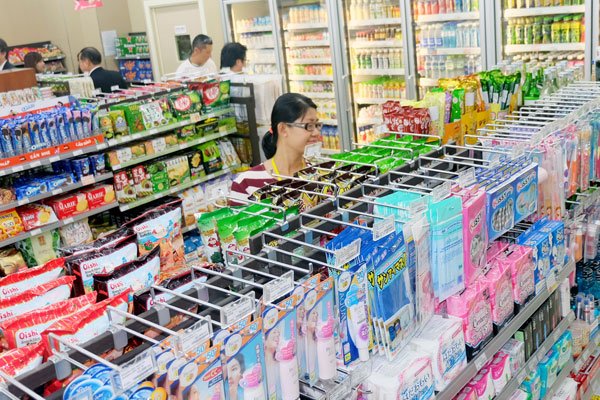 Shoppers are seen at a convenience store in HCMC
Seven System Vietnam JSC, the 7-Eleven franchisee in Vietnam, has posted recruitment information on its website, a clear indication that this convenience store giant will launch its first stores in Vietnam pretty soon.
Market watchers believe the participation of 7-Eleven will make the competition fiercer though early birds have not reaped their fruit yet.
Three or four years ago, many were skeptical about the success of convenience stores in Vietnam because a majority of consumers in the country would not kick their long-held habit of sitting on their motorbikes while buying sundry stuff along the road. 
In addition, there is a widespread web of traditional small family-run grocery stores.
However, convenience stores have been growing robustly in HCMC and Hanoi in recent years, with major foreign brands such as FamilyMart, MINISTOP, B's Mart, Circle K, and Shop & Go gaining increasing popularity.
Although the market here is still in its infancy, industry insiders said they would boost investment to increase their presence and brand awareness in the nation's two major cities, HCMC and Hanoi.
For example, two Japanese-invested chains, Family Mart and MINISTOP, have opened more than 200 outlets in Vietnam and their network expansion is continuing. 
MINISTOP looks set to open 800 stores in Vietnam while Family Mart's goal is to have 800-1,000 by 2020.
Although it is not yet present, 7-Eleven targets 100 stores here in three years, which will rise to 1,000 in the following 10 years.
In fact, the convenience store model has met the demand of certain groups of people for fast shopping. 
However, convenience stores are less competitive than supermarkets and traditional outlets as their prices are higher.
Convenience store chains should be extensive enough. 
Each must have 150-200 outlets to secure profitability, said experts. 
Akihiko Maeda, general director of MINISTOP Vietnam, said it usually took 5-6 years to recover the initial outlay for a convenience store. 
Each chain must have at least 300 outlets to guarantee stable profit, he calculated.
"By the end of this year, it is expected that the number of MINISTOP stores will have reached 160. We will continue our investment and consider franchises to reduce costs and optimize store coverage," said Maeda. 
Currently, prohibitive rentals of downtown space are seen as a major challenge.
The search for enough space to meet the requirements of investment, management and operating costs requires businesses to be financially strong and have good management skills. 
These are currently the two major weaknesses of local firms.
With their experience in other markets, foreign retailers still believe convenience stores will grow in Vietnam, gradually replacing traditional local grocery stores.
Phidsanu Pongwatana, CEO of MM Mega Market Vietnam under TCC Group, said supermarkets would not grow as much as in the past due to changing consumer habits. 
He predicted convenience stores would prevail as more Vietnamese consumers want convenience.
Pham Ngoc Hung, vice chairman of the HCMC Union of Business Associations, said the convenience store market segment had posted rapid growth. 
However, only foreign firms with deep pockets and rich experience could afford to join the market.
SGT