Nghe An authorities presented eight investment certificates and signed 15 memorandums on investment with total capital pledges of VND22,628 billion (US$1 billion) at a meeting with investors in the north-central province on Sunday.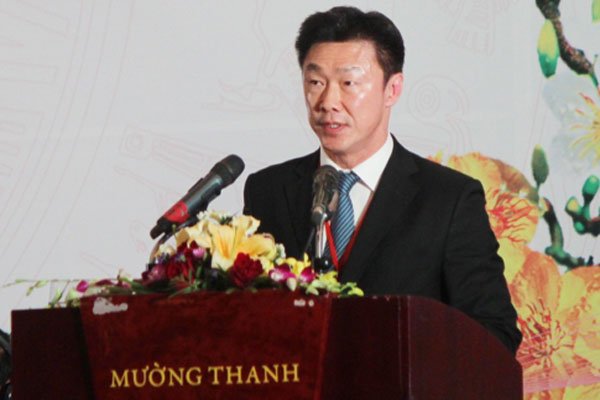 Somyos Anantaprayoon, chairman of Hemaraj Land & Development Public Co. Ltd., speaks at Nghe An's meeting with local and foreign investors on Sunday 
This annual event was held by Nghe An in coordination with the Bank for Investment and Development of Vietnam (BIDV) to boost investment activity in the locality.
The eight projects that got the investment certificates at the meeting have total capital of nearly VND7 trillion. Among them is an infrastructure project at WHA Hemaraj 1 industrial park, which will be developed by a joint venture between Civil Engineering Construction Corporation No. 4 (CIENCO 4) and Hemaraj Land & Development Public Co. Ltd.  at a total cost of VND2,056 billion.
In the manufacturing sector, MDF Nghe An will invest VND1,754 billion in a medium density fiberboard (MDF) facility in Tri Le industrial park in Khai Son Ward, Anh Son District. 
TKV Group of South Korea will invest nearly VND550 billion to produce containers at Dong Nam economic zone.
Jet Japan will pour VND600 billion into a household and industrial waste treatment plant in Nghi Yen solid waste treatment area in Nghi Yen Ward, Nghi Loc District.
In other sectors, Hai An-Do Luong market will be upgraded into a commercial complex plus a traditional market with a total investment of VND330 billion. 
Civil Engineering Construction Corporation No. 4 will develop Cau Cau resort worth VND1,532 billion in Thanh An Ward, Thanh Chuong District.
Nghe An has joined hands with BIDV to organize meetings with investors since 2009 and thereby attracted more than 800 projects with total registered capital of VND261 trillion including 758 from Vietnam with total capital of VND101 trillion and 46 from abroad with VND160 trillion equivalent.
In 2016 alone, the province approved 141 projects capitalized at VND35,441 billion. Some of them have been put into operation, creating a lot of jobs and contributing greatly to the province's budget.
This year, Nghe An looks to improve its investment and business environment to lure more domestic and foreign investors to high-tech and supporting industries. 
The goal of the province is to have more than 100 fresh projects valued at VND30-35 trillion.
SGT