VietNamNet Bridge - Vietnamese enterprises are working hard to become suppliers of parts and accessories for foreign electronics manufacturers.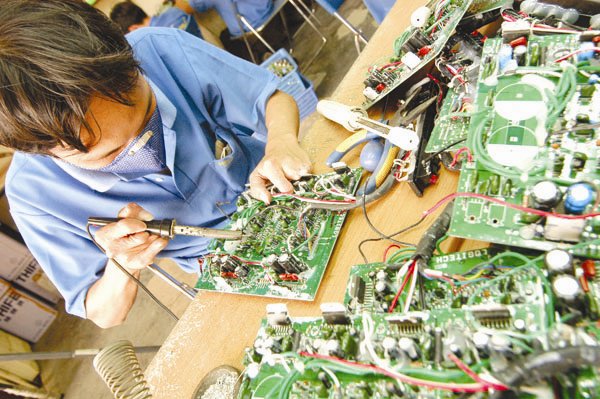 On a pre-Tet day, while Vietnamese were busy to prepare for Tet celebrations, Hoang Anh Tuan, chair of Viet Hung Plastics, received guests from Samsung Electronics Vietnam, headed by CEO Han Myoung Sup.
They came to check how Viet Hung performed three months after the company received support from Samsung to upgrade the production line. 
They concluded Viet Hung reduced the product error rate by 100 percent, and the plastics quality increased by 100 percent and the productivity increased by 73 percent.
"Don't be shy of enterprises like Samsung," Tuan said. "If you can satisfy their requirements, you will still be able to become their class-1 suppliers, even if you are just a small enterprise."
Viet Hung was initially a very small enterprise in the packaging industry. But it has scaled up its production and expanded into plastics production with three factories which can make products for large foreign invested enterprises in Vietnam.
Vietnamese enterprises are working hard to become suppliers of parts and accessories for foreign electronics manufacturers.
According to Tuan, one of the biggest challenges for Viet Hung is that it has to deliver products on schedule. In 2016, Viet Hung's workers had to work through Tet days to fulfill the orders on time.
Han Myoung Sup said Vietnamese enterprises are diligent and take pains to work, but they still need the support in administration so as to improve productivity and reduce the product error rate.
According to Do Thi Thuy Huong from the Vietnam Electronics Association, Vietnam's electronic industry still is underdeveloped, but it is no longer a 'screwdriver only industry'. 
Many Vietnamese enterprises can export their products and act as class-1 suppliers for foreign conglomerates.  However, they don't have necessary connections with FIEs, which makes them uncompetitive.
Vietnam still hasn't developed support industries well. 
Dao Thi Thu Huyen from Canon Vietnam thinks the State should not give support to all enterprises, but it should focus on enterprises with high potential. 
It is necessary to train and support the best enterprises so they can develop and help other enterprises grow. Canon applies this policy to some Vietnamese enterprises and turns them into Canon's class-1 suppliers.
Also according to Huyen, Canon planned to obtain the localization ratio of 70 percent three years ago, but it failed to implement the plan. 
This is because the manufacturer still cannot find domestic suppliers of parts and accessories. Canon now has 120 suppliers, but the number of Vietnamese suppliers is modest and they can also make very simple products. 
Chi Mai