Four Vietnamese steelmakers- including China Steel Sumikin Vietnam JSC, Phuong Nam Co. Ltd., Nam Kim Steel JSC, and Dong A Steel JSC- continued to demand new measures to prevent coated steel sheets shipped from mainland China and the Republic of Korea from being sold at cheap prices in the market.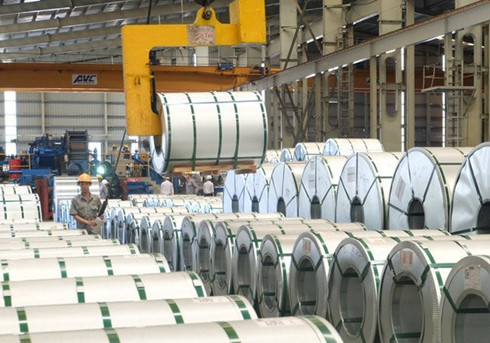 Plaintiff representative Mayer Brown JSM law firm asked the Vietnam Competition Authority (VCA) - under the Ministry of Industry and Trade - to consider applying anti-dumping taxes, document review and a data investigation of the suspected companies. 
The measures would aim to ensure the exact calculation on the anti-dumping amplitude and to consider the application in a 90-day period before preliminary anti-dumping imposing.
Nguyen Van Sua, vice chairman of Vietnam Steel Association (VSA) said the suitable calculation of anti-dumping duty levels aimed to prevent such imported products from being dumped in the Vietnamese market is necessary to protect local production.
On December 24, 2015, the VCA received appeals from the four steel firms to start a probe into the issue. The probe is applicable to the period from October 1, 2014 to September 30, 2015.
The ministry promulgated the Decision No 818/QĐ-BCT on March 3, 2016 on initiating an investigation on anti-dumping tax on imported coated steels from China and the Republic of Korea (RoK) into Vietnam.
On September 1st, 2016, the ministry issued temporary anti-dumping duties on the products.
Accordingly, eight Chinese companies have been applied an anti-dumping duties of 4.02% to 38.34% while those imposed for Korean firms were 12.4% to 19%.
A representative from Korean Posco Company told the Dau tu (Investment) Newspaper that the dumping has not had significant damage to the domestic businesses. The company has been imposed an anti-dumping tax of 12.4% for the coated steel product.
He said the imported steel from RoK accounted for a small portion of 4.57% in the investigation period in comparison with other imported products including coated steel for high-end markets of automobile and electronic. 
In addition, the average of coated steel imported from RoK was US$85 per tonne higher than that of locally produced steel in Vietnam.
A representative from the China Chamber of International Commerce (CCOIC) also asked Vietnamese authorities to clarify some issues related to steel product differentiation.
CCOIC said local coated steel has a width of over 900mm, serving for shipbuilding industry, while those imported from China have a width of 600 to 820mm, serving for civil construction. 
The products therefore have not competed with each other.
Under the current laws and regulations, all ideas of related parties will be analyzed and reported in the final report. However, the VCA has not provided the final report.
VNS