Early this month, the government issued Resolution 19 on the continued improvement of Vietnam's business climate and economic competitiveness for 2017, with a vision to 2020.
Hong Sun, general secretary of the Korea Chamber of Business in Vietnam, spoke to VIR's Thanh Tung about foreign investors' expectations for this resolution.
This resolution is the fourth of its kind released over the past four years. What do you  think about it?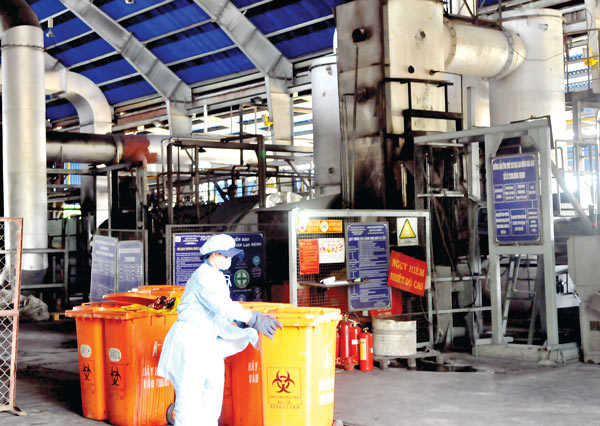 Over the past two years, international indices on Vietnam's business climate have decreased. That is why in 2017, the government is making great efforts to improve the country's investment and business climate, and economic competitiveness in comparison to other ASEAN nations. Resolution 19 is aimed at highlighting measures to reach this target.
The resolution covers solutions to ameliorate fundamental indices, which are about administrative reform, with the government ordering ministries and agencies to carry out these solutions. In addition, the improvement of indices on innovation is also a focus. All reform contents are devised based on assessments by international organisations.
In Vietnam, what enterprises are concerned the most with are cumbersome administrative procedures. As far as I am concerned, investors' biggest challenges include difficulties in access to financial sources, unstable legal regulations, limited labour quality, the inactivity of many local governments, and unofficial costs - which have all affected the country's business environment. Thus, the fact that the resolution is centred upon administrative reform is quite correct and helpful.
Do you think that Resolution 19 can radically resolve business difficulties?    
Vietnam is trying to better its investment and business environment, and also its competitiveness as compared to other regional markets. This is for Vietnam to turn itself into an ideal investment destination in the eyes of foreign investors and enterprises.
In Resolution 19, the government has set clear targets on issues about administrative procedures. However, the resolution has failed to set concrete targets for other tasks that the government has devised.
The point here is that the government will need to specify administrative problems and find solutions for removing them. That is the best way to reach targets effectively. However, I would think that all economic issues are closely linked with one another, and they can have impact on one another. Thus, if the government wants to improve anything, it should create clearer measures so that hurdles can be radically and comprehensively dealt with.
What challenges will the implementation of the resolution face?
Generally speaking, the solutions laid down in the resolution are all necessary at the existing development stage. Nevertheless, I think that the biggest challenge for Vietnam now is how to implement the resolution effectively. I would like to stress that this is the most important task. It is often not difficult to devise measures, but the question of how to implement the measures quickly and effectively is always a big challenge for Vietnam.
For example, the government is simplifying administrative and legal procedures, and reducing the time needed to process them. However, reality has shown that the government's efforts are being undermined by many types of sub-licences issued by many localities.
Could you elaborate more on this?
For enterprises, reform of administrative procedures is very important. As you know, almost all foreign-invested enterprises in Vietnam are concerned about administrative issues. The administrative procedures in Vietnam are cumbersome.
Though the government has made great efforts to improve administrative procedures, and some results have been achieved, no real breakthroughs have been made so far.
The reform should be focused not only on indices, but also on the quality and quantity of the procedures. More importantly, I think that importance should be attached to ensuring the effectiveness and sustainability of the reform.
The government's measures are basically aimed at quickening the time needed to process dossiers and administrative procedures. Still, I would like to stress that reform quality is the most important thing.
The ultimate target of the improvement of the economy's international ranks is to create a level playing field for all investors in all economic sectors, and also for the country to attract more foreign direct investment.
Therefore, I hope that all the government's efforts are practical, and focused more on facilitating enterprises to perform better.
Vietnam is the fourth-largest international investment partner of South Korea. It has advantages in geographical location, competitive incentives, and stable economic growth. Moreover, with the young population, Vietnam has great potential for South Korean firms due to its approachability, friendliness, and attraction to South Korean products.
However, things South Korean firms consider when investing in Vietnam are transparency, clarity, consistency, and simplicity in policies and administrative procedures.
If Vietnam wants to increase South Korean and international investment, it needs to pay more attention to this problem.
VIR