As of January 20, 175 new projects were licenced with a total investment of 1.244 billion USD, a rise of 23 percent over the same period last year, according to the Ministry of Planning and Investment Investment's Foreign Investment Agency.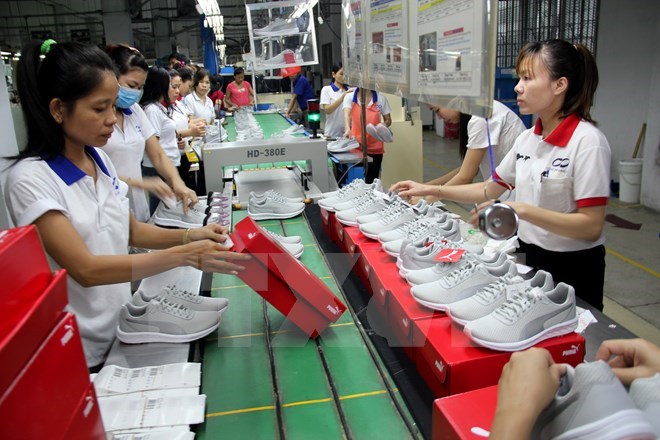 During January, 179.1 million USD was added to 76 underway projects, equivalent to 55.4 percent of that in the same time in 2016, while foreign investors also poured 165 million USD to buy shares in companies.
The results pushed total investment made in January to 1.58 billion USD, a rise of 9.5 percent over the same period in 2016.
In the reviewed period, total disbursement of direct foreign-invested projects was 850 million USD, up 6.3 percent compared to that in the same time last year.
The agency also reported that the foreign investment sector's exports (including crude oil) reached 10.291 billion USD, a rise of 9.7 percent year on year, making up 70.4 percent of total export revenue.
Among 16 areas attracting foreign investment, the processing industry drew the highest amount of 1.04 billion USD, accounting for 65.5 percent of total investment in the first month of 2017. Real estate ranked second with 314.8 million USD, followed by the wholesale and retail sector with combined 66.75 million USD.  
Singapore takes a lead in 50 countries and territories investing in Vietnam with total capital of 477.8 million USD, accounting for 30.1 percent of total investment, followed by the Republic of Korea with 471.2 million USD and China with 338.3 million USD.
In January, foreign investors injected their money in 37 province and cities, with the largest investment of 696.3 million USD poured into the southern province of Binh Duong, 201.2 million USD into Ho Chi Minh City, and 159.4 million USD into the northern province of Bac Giang.
Major projects licenced during the month include the Vietnam-Singapore Industrial Park 3 in Binh Duong worth 284.75 million USD, and the 220 million USD KTV-1 tire fabric project invested by Kolon Industries in Binh Duong.
In February, after the week-long Lunar New Year (Tet) holiday, enterprises in many localities have seen an increasing demand for labourers. About 600 businesses located in Binh Duong reported a need of nearly 2,000 new workers, including 18,000 unskilled labourers.
Meanwhile, local firms in the southern province of Dong Nai will recruit over 30,000 labourers, nearly 40 percent of their demand for 2017, according to the municipal Labour, Invalids and Social Affairs Department.
This year, Dong Nai's businesses need about 79,000 labourers, including over 60,600 unskilled ones.
At the same time, firms in local export processing zones and industrial parks in Ho Chi Minh City have seen no noticeable changes in their employees after the long Tet holiday.
Currently, the firms are employing about 285,000 workers, over 70 percent of whom are from other localities.
VNA