VietNamNet Bridge – Director of Viet Nam National University-HCM City, Huynh Thanh Dat, talks to chinhphu.vn about the role of universities in encouraging students to start their own business and promoting startups.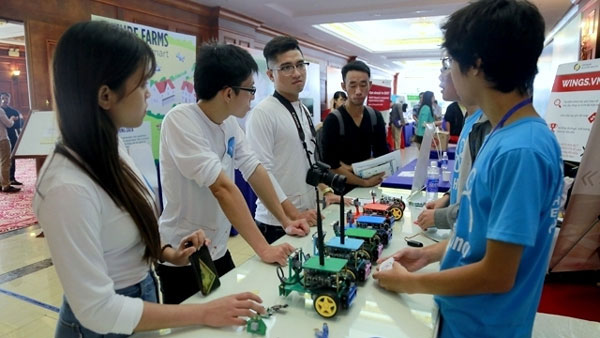 A display by Fablab Hanoi at Techfest 2016, a national startup ecosystem event held in mid-December 2016. (Credit: NDO)
During a visit to Viet Nam National University-HCM City (VNUHCMC), Prime Minister Nguyen Xuan Phuc said that one way to measure the success of a university is by the number of students starting their own business and succeeding, not by the number of  students getting jobs after graduating. Does VNUHCMC have plans to collect information about graduate startups?
The Government issued a resolution asking training institutions to include startup-relating content in training programme. The Prime Minister's saying concretised the policy. Once the number of successful startups of students is considered a criterion to assess a university, training institutions will design and carry out activities to promote startups.
VNUHCMC plans to collect information about its former students who are operating enterprises. The university's Centre for Education Assessment will propose to the Ministry of Education and Training a pilot programme making successful startups a criterion to assess the quality of training institutions.
Since 2013, VNUHCMC has implemented activities to improve awareness, capacity and create favourable climate for students to experience startups. For example, the university launched yearly contests for startup ideas, invited successful businessmen or foreign speakers to talk with students. Members of VNUHCMC, like the University of Economics and Law and HCM City International University also developed startup clubs.
The University of Technology under VNUHCMC has started a 10-year programme in co-operation with France to train high quality engineers.
In 2015, the HCM City People's Committee assigned the university's Information Technology Park to train 500 IT entrepreneurs. Last year, VNUHCMC co-operated with Hoa Sen Group to found a Startup Fund worth VND10 billion (US$44,000). We are calling for support from other enterprises to develop the fund.
Is there any mechanism to nurture a startup spirit among students?
Most activities to promote a startup spirit among students are through extracurricular activities, and students join on a voluntary basis. We are thinking of a pilot programme that makes startups part of the Information Technology curriculum.
We are also considering making startups a compulsory subject. In other countries, this is usually an optional, extracurricular activity as just 5 per cent of their students want to start their own business after graduating.
What challenges do universities usually face when promoting startups among students?
To launch successful startups, students need motivation, capacity and resource. In order to mobilise all three factors, students need to invest a lot of time, but their course load is already quite heavy. Some students, particularly in their final year, could find time for startup projects.
The development of business incubators in universities offers opportunities for students to "live" 24/7 with their projects.
Normally, startups are defined as businesses that generate profits and create jobs. As an educator, what do you think about the concept?
During a visit to our university last November, PM Phuc emphasised that startups are not just about running businesses but also about other activity as long as it benefits the community and solves problems of human and sustainable development. The value of startups is not merely financial, it also has social value.
In my opinion, the term "startup" can be understood as "creating new values" for a certain group of clients. For example, developing a new course for students could be considered a startup activity. Another example is to develop a new business model for a scientific research centre so that it could operate without Government subsidy.
I think that "startup", which means creating new value for a certain group of clients, could pose risks.
One task of education is to help those who want to develop startups and have the ability to do so in all sectors of society, not merely in economic activities. Startups are a visible contribution that young people, particularly students could make to the nation in its new stage of development. Keep learning, have a positive attitude, create new values. That could help make Viet Nam stronger.
VNS