VietNamNet Bridge - The 'buy American, hire American' campaign will affect Vietnam's exports to the US as well as US FDI (foreign direct investment) to Vietnam.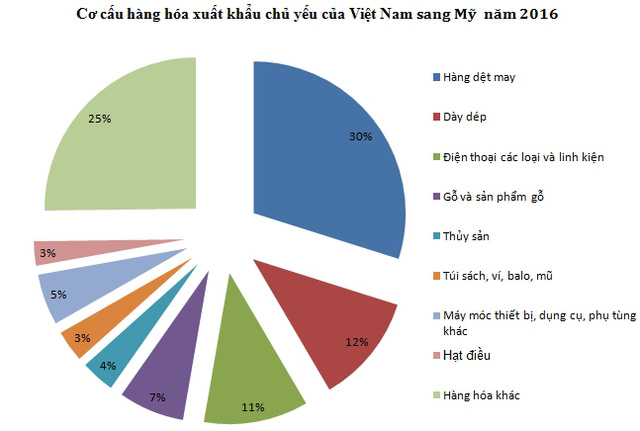 Vietnam's exports to the US in 2016
This also raises concerns about the country's development after the withdrawal of the US from the TPP. 

Reuters recently wrote about something that happened on the day US President Donald Trump took office. 

Alyssa Young, 28, from Texas, bought a red cap with the words 'Make America Great Again' from a vendor for $20, and when discovering that the cap was made in Vietnam, she burst into tears.

"The origin of the cap seems to be contrary to Trump's statement? Maybe. But this will be pressure that urges the new US President to more resolutely implement the promise 'American first' with two basic principles 'buy American and hire American'. The first action taken by him is the withdrawal from TPP," said Luong Van Khoi from NCIF (National Center for Socio-economic Information and Forecasting).


The 'buy American, hire American' campaign will affect Vietnam's exports to the US as well as US FDI (foreign direct investment) to Vietnam. 
According to the General Department of Customs (GDC), the US was Vietnam's largest export market with the export turnover of $38.5 billion, which accounted for 22 percent of total export turnover.

However, the trend may not continue in the next years with the protectionism followed by Trump.

According to Khoi, though Vietnam still has many other important bilateral free trade agreements (FTAs) signed with other countries, the Trump action will influence emerging populism and anti-globalization attitudes.

"The challenges and unpredictable factors in the world in 2017 are very big, while Vietnam is among the countries most open in the world, four times larger than China's," Khoi said.

"This means that any happenings in trade and investment in the globe will affect Vietnam's economy," he concluded.

Therefore, Khoi said, what Vietnam needs to do is improve its internal strength and focus to effectively exploit the domestic market. It also needs to take initiative in exploiting existing FTAs to offset the negative influences caused by the cancellation of TPP so as to disperse risks and avoid serious dependence on any market. 

The future of relations between Vietnam and US businesses was a concern raised by US businesses at the World Economic Forum Davos 2017. However, Vietnamese Prime Minister Nguyen Xuan Phuc said he was not pessimistic about Trump as the new US President. 

"If TPP does not exist, Vietnam and the US may discuss new investment and a trade agreement," he said.

Meanwhile, many Vietnamese businesses believe that things will still be good without TPP. 

Le Hoai Anh, president of HAL Group, said TPP wsd never her dream. "My dream is that Vietnam will not depend on any power," she said.


Thanh Lich