VietNamNet Bridge – Up to 19 wind power projects have been registered in Binh Thuan Province but investors are yet to start work on them, saying the current selling price regulated for this source of green energy is below production cost.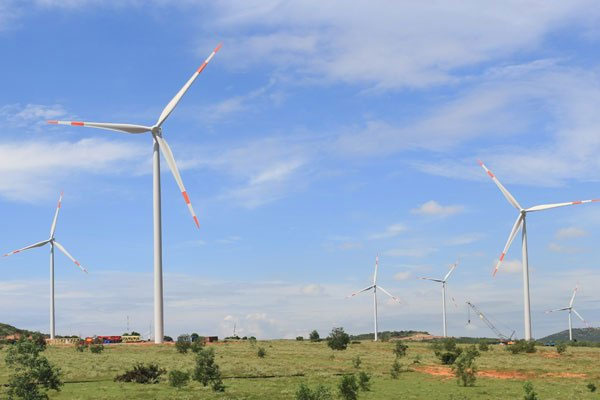 The Phu Lac wind farm in Binh Thuan Province is seen in this file photo. The project started operation in late November – Photo: EVN
The selling price applied for wind power is now planned at 7.8 U.S. cents per kWh, and most investors in the central province are pinning high hopes that the Government will raise the price so that they can carry out their projects, Bui Van Thinh, chairman of the Binh Thuan Wind Power Association, told the Daily Saturday.
Thinh said the localization rate of wind power projects in Vietnam is still low as only wind turbine support towers, which account for 20% of production cost, can be domestically manufactured and investors have to import the remaining components for their projects.
In the future, the country may produce propellers worth some 10% of the investment cost, turbines worth 7% and several other small parts of wind power projects, which will help raise local content.
Currently, a South Korean firm in Ba Ria-Vung Tau Province is producing wind turbine support towers while an American company is manufacturing turbines in Haiphong City.
"In the long term, if the country's wind power market grows strongly enough to lure foreign investors that are capable of manufacturing complicated parts, it is possible for wind power investors to raise the localization ratio to more than 40%," he said.
The important issue which needs to be discussed now is a market for wind power because with the price of only 7.8 cents per kWh, it is difficult for investors to recoup their investment capital, he added.
China has reached a localization ratio of almost 100% for their wind power projects but the selling price of this source of energy stays 8-10 cents per kWh, Thinh gave an example to prove his point.
"Given all those reasons, the Binh Thuan Wind Power Association has once again suggested that the Ministry of Industry and Trade ask the Government to raise the selling price of wind power to 9.5-10 cents per kWh," said the association's chairman.
The ministry has reportedly sent a proposal to the Government and investors are now waiting for good news, he added.
According to insiders, it is necessary for Vietnam to spur the development of renewable energy such as wind and solar power now that the country has cancelled its first two nuclear power projects and started implementing its commitments on cutting greenhouse gas emissions.
The country's total wind power output has reached only 160 MW, which is too small compared to its huge potential.
The Government has released the National Electricity Development Plan for 2011-2020 with a vision towards 2030, and the strategic priority of this plan is to boost the development of renewable energy, with wind power capacity targeted at 800 MW by 2020 and 6,000 MW by 2030, said a representative of Vietnam Electricity Group (EVN).The Phu Lac wind farm in Binh Thuan Province is seen in this file photo. The project started operation in late November.
SGT