VietNamNet Bridge - Some provisions of the Labor Code have placed difficulties on enterprises, especially those with a high number of workers.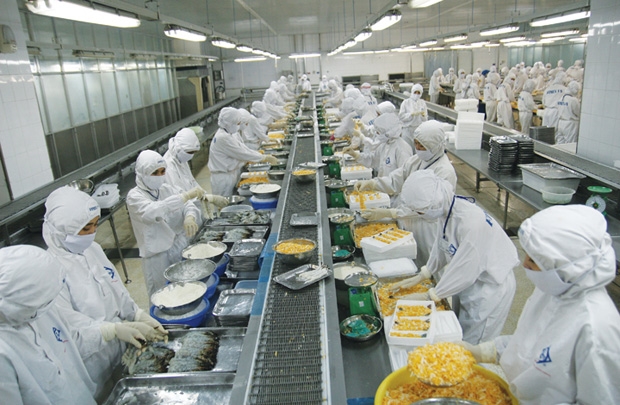 Economist Pham Chi Lan said that Vietnamese authorities had not anticipated all the possible impact of wage increases on business owners. The officials who proposed wage increases may have not foreseen that the number of businesses forced to stop operations would be so high.

Minimum wage hike forces businesses to cut labor force
The National Wage Council proposes a minimum wage increase every year, explaining that the wage must be high enough to cover workers' and families' basic needs.
The problem is that business owners will have to pay more for social, unemployment and healthcare insurance premiums. Meanwhile, workers have to pay more for room rent and electricity and water bills.
The State decided that the minimum wage must increase by 12.4 percent in 2016. Many businesses complain that the monthly pay is too heavy, while  Vietnamese productivity is lower than in other regional countries.
The labor cost burden was one of the reasons that forced Minh Phu Seafood to cut the labor force. In 2014, it had 15,000 workers and earned export turnover of $730 million. 
In 2015, the number of workers fell to 12,000 and export turnover to $524.4 million. The figures were $9,000 million and $205.3 million, respectively.
Some provisions of the Labor Code have placed difficulties on enterprises, especially those with a high number of workers.
According to Hoang Quang Phong, deputy chair of VCCI, the minimum wage should be equal to 40-60 percent of the average salary in the market, while the wage increase should be made once every 2-3 years instead of every year.
An analyst commented that while Vietnam has a low average income, its social insurance premium is the highest in the region.
In Vietnam, business owners have to pay 22 percent of premiums and workers 10.5 percent. In Thailand, the proportion is 5 and 5 percent, and in Indonesia 11 and 3 percent.
The percentage of workers retiring every year in the seafood industry, just 0.5 percent. The insurance premiums of up to 34.5 percent of workers' total income are a burden on business owners.
Regulations on overtime unreasonable
The Labor Code stipulates that a working day must not be longer than 12 hours, described by some as a 'rigid regulation'. 
Dao Thi Thuy Huyen, representative of the Japan Business Association in Vietnam, commented that 1.5 extra working hours a day and 40 hours a week would be bearable for Vietnamese workers.
Businesses also complained about the regulation about periodic health examination for workers two times a year.
DNSG