VietNamNet Bridge – Nguyen Xuan Cuong, newly-appointed Minister of Agriculture and Rural Development, speaks to the Lao Dong (Labour) newspaper about his resolve to reorganise the farming sector so that farmers would earn higher incomes.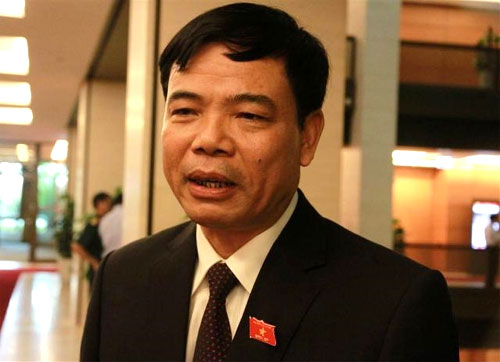 Nguyen Xuan Cuong
What challenges will Viet Nam face when the Trans Pacific Partnership (TPP) Agreement comes into force?
Viet Nam is one of the 12 members of the TPP. However, most of the member countries are economically developed nations. This is a big challenge for an agricultural-based economy like Viet Nam. When the TPP comes into force, our agriculture products will face fierce competition from advanced agricultural economy members. If we don't make good preparations, we – both the farmers and the enterprises – will be defeated right in our own market.
Our farm products will face challenges in output markets, both inside and outside the country.
For the domestic market, our agricultural goods and services are not yet sustainable. In the international market, the cost of marketing services is high, while the market forecast remains weak. Another challenge many Vietnamese enterprises are facing is the application of the country of origin principle due to their dependence on the importation of raw materials.
It is high time for us to reorganise our agricultural production, and apply advanced science and technology in production, processing, conservation and in post-harvest losses. All in all, it is important for the country's primary industry to improve its competitive edge right in our own market and also the international market. To achieve this goal, both the farmers and enterprises should co-operate together to create a good linkage and ensure good quality of both the inputs and outputs.
At present, our agriculture products are mainly exported to China. However, in the near future, a series of Free Trade Agreements and the TPP will come into force. In your opinion, what preparations should be made right now?
With a population of 1.4 billion, China's market has been and will remain a very big and potential market for Viet Nam's agricultural products.
In the past five years, agricultural exports to China accounted for about 35 per cent of the country's total exports. In 2015 alone, the export turnover from agricultural products was about US$5 billion. In the first four months of 2016, the volume of vegetables and fruits Viet Nam exported to China increased by 47.7 per cent compared with the same period of 2015.
I have to concede that China does not require a very high quality of imported products from Viet Nam. In the long run, we should focus more on official trade with China while trying to expand our foreign trade with Japan, the United States, Australia, the EU and others. This is the right path for agricultural development.
Food safety has become an anxiety for all Vietnamese. In your position as Commander in Chief of the country's primary industry, do you have a plan to solve this serious problem?
In the past two years, the Ministry of Agriculture and Rural Development (MARD) has considered food safety its primary task. Particularly, this year, food safety has received special attention from the whole agriculture sector. To date, the campaign has achieved certain successes. But quite a lot of work must be done to meet the general public's demands on food safety. We vow to do our best to set law and order in food safety to protect the people's health through the campaign of food safety from farm to fork.
The MARD has encouraged enterprises to invest more in agricultural production and in the food safety chain nationally and internationally.
Could you please elaborate on the food safety chain, both nationally and internationally?
Our agriculture industry is mainly based on small and scattered production. Up to 69 per cent of Vietnamese agricultural households have less than 0.5ha for their production, and 34.7 per cent have less than 0.2ha.
In addition, there remain many weaknesses in production, particularly the problem of middle men during the production process. This has led to the problem of high costs in inputs, thus weakening the farmers' benefits.
Another problem that I think has become a serious problem for our farmers is that the quality of their products is unstable and fails to meet buyers' taste and requirements. In other words, they have focused too much on increasing products' yield, yet not on product quality.
Another problem I want to mention is that in the production chain, the farmers are the ones having to bear all the risks, including natural calamity, epidemics and market factors. All in all, the farmers earn just about 25-30 per cent profits from their products. But for coffee, the profit is just between 5-7 per cent. This is a big absurdity! We should create a production chain to bring more benefits to farmers by cutting down benefits to middle men. In the meantime, from my point of view, the MARD will review existing policies with an urgent objective to bring more benefits to farmers.
VNS