Jan-Jul FDI pledges dive in HCMC
Foreign direct investment (FDI) approvals in HCMC in the first seven months of this year have plunged by up to 65.17% year-on-year to US$863.6 million.
Data of the HCMC Statistics Office showed foreign firms have pledged more than US$638 million for 448 new projects and US$225.5 million for 78 operational projects in the city in the year to date.
Although there are only eight new real estate projects licensed in the January-July period, the sector has taken the lead in terms of registered capital with US$278.8 million, accounting for 43.7% of the total FDI approvals.
The commercial sector comes second with US$184.6 million, accounting for 29% of the total, and 168 projects licensed. Meanwhile, processing-manufacturing has 26 new FDI projects with total registered capital of only US$70 million though this sector makes up around 70% of the country's total FDI approvals in the period.
Besides, there are 64 new FDI projects with total capital pledges of US$33.4 million in the information and communications sector, 86 projects capitalized at US$22.7 million in the science-technology sector, 30 projects worth nearly US$15 million in transport and warehouse, and 19 projects with total registered capital of US$11 million in the construction sector.
In the first seven months, more than 20,000 enterprises have been established in HCMC with total registered capital of over VND173.6 trillion (US$7.8 billion), rising by 20.1% in volume and 56.5% in capital year-on-year. However, 13,735 businesses have stopped operation in the period.
350 enterprises participate in Vietnam CEO Summit 2016
The Vietnam CEO Summit 2016 kicked off in Hanoi on July 27, with the participation of representative from the 350 most powerful enterprises in Vietnam.
This year's summit is under the theme 'Breakthrough Maketing: New Case Studies from Harvard', with a talk with professor John Quelch from Havard Business School.
Key issues discussed during the forum include identifying businesses' strengths and weaknesses, updating businesses on integration opportunities and challenges, and helping them learn from domestic and foreign firms so that they could develop their brand after establishing a strong position in the local market.
The highlight of the event is the 'Digital marketing' issue, which has proved to be vital as a bridge bringing Vietnamese brand names to international markets. The marketing tool is expected to be strongly developed in Vietnam in the near future as it enables the quick launch of new products and access to niche markets. In this context, traditional advertisements should be integrated into digital marketing to better develop brand names.
The Vietnam CEO Summit 2016 attracted the participation of more than 350 Vietnamese businesses from the Top 500 biggest firms (VNR500), Top 500 fast development firms (FAST 500), Best Prospect 500 and Top 1,000 biggest tax payers.
The annual event aims to connect businesses' leaders, specialists in Vietnam and international partners to exchange experiences to develop the local market and better integrate into the global market.
NA deputy: Little scope for interest rate cuts
National Assembly (NA) deputy Tran Hoang Ngan has said there is little scope for interest rate cuts though enterprises are in dire need of lower borrowing costs to improve their competitiveness.
Ngan told local media on the sidelines of the 14th NA's meeting in Hanoi on July 26 that amid Vietnam's speedier international integration and mounting competition in ASEAN, local businesses want interest rates to fall further to support their operations and enable them to compete with rivals in the region.
Lending rates in Malaysia and Thailand are much lower than in Vietnam, Ngan said.
Banks want to offer cheaper loans for firms that operate efficiently and are creditworthy. High lending rates will end up sending companies' operation costs soaring, which will lead their bad debt to inch up.  
Ngan said both lenders and borrowers want interest rates to stay low. To realize this, the currency market and financial system must be stable.
The NA deputy from HCMC said that interest rates and inflation are clear indications of a nation's financial stability.
Inflation is projected to expand 5% this year but the recent two rounds of fuel retail price cuts have eased pressure on the consumer price index (CPI). If the CPI hovers around 3-4%, deposit and lending rates may plunge to 6-7% per year.
However, Ngan said in reality there is little room for interest rate cuts but stressed that stable lending rates are what enterprises really want in the long term.
Macro-economic stability allows commercial banks to lower deposit rates and then lending rates, according to him.
In reality, labor productivity in Vietnam has remained lower than many other nations. Besides, Vietnamese products are less competitive despite the country's deeper integration into the global economy.
The nation can improve labor productivity and product competitiveness by investing in technology, and equipment. However, those investments need huge and long-term capital, which is vulnerable to interest rate fluctuations.
Ngan said enterprises want big, stable and long-term capital sources. Therefore, the country must set up a fund to keep interest rates stable.
HCMC has capital sources to boost consumption and help companies embrace modern technology. This is a good way to support enterprises to do business, he said.
Though it is unlikely to obtain the gross domestic product (GDP) growth target of 6.7% this year, startups and their registered capital have risen sharply.
Ngan said companies are more confident as the Government is striving to improve the business environment by introducing a number of policies to support business.  
Even though the country does not meet the GDP growth target this year, it must try to control inflation as a key factor in currency and interest rate policies. But he said keeping inflation low is a daunting task in the remaining months of the year.
He added many nations have weakened their currencies against the U.S. dollar to facilitate exports following Britain's shock vote to leave the European Union last month. Meanwhile, the Vietnam dong currency has not been devaluated, thus putting pressure on the export sector.    
Lower-than-expected exports and a trade deficit would weigh on the exchange rate between the dong and the U.S. dollar and GDP growth, Ngan said.  
Ngan proposed relevant agencies implement policies consistently to control inflation and support exports at the same time to ensure a balance of trade and a balance of payment to fuel economic growth.
Top banks and insurance companies honoured
The Vietnam Report company on July 27 held a ceremony to honour the top 20 commercial banks and insurance companies in 2016 based on its independent research.
The banks and insurers are rated based on three criteria, namely financial capacity as shown on their audited financial statements, reputation in media reports, and customer satisfaction with their products and services.
Vietnam Report also surveyed these firms on other aspects such as capital, revenue growth, profits, plans to develop new products and services, and business prospects.
Honoured banks are those with strong financial capability, business experience, large growth potential and good ratings on the quality of their offerings.
The top ten banks include Vietinbank, BIDV and Vietcombank, where the State owns a controlling interest, while the other seven - ACB, Techcombank, MB, Sacombank, TienPhongBank, SHB and SCB - are privately owned.
The list of top insurance companies comprises Bao Viet, PVI, PTI, PJICO, BIC, Bao Minh, MIC, ABIC, Bao Long and VBI.
Property market information must be adequate, accurate
Making property information available to the public was critical to improve the market's transparency but the information must be adequate and accurate, experts said.
Several property developers voiced their fears in response to an announcement by the HCM City watchdog of publicising the names of developers who have mortgaged their unfinished housing projects. The developers said that inadequate mortgage information was causing confusion and misunderstanding among home buyers and seekers.
Announcing projects which were mortgaged was a drastic move to improve the transparency of the housing market, Le Hoang Chau, president of the HCM City Real Estate Association said. "However, this is creating an erroneous impression that developers named in the list do not have sufficient financial capacity," Chau said.
Châu said that in Viet Nam, property developers relied significantly on banking credits to develop their projects.
Tran Ngoc Quang, general secretary of the Viet Nam Real Estate Association, estimated that more than 70 per cent of capital for the realty market came from banking loans.
Le Hung Manh, chairman of Gia Hoa Company Ltd, who was included in the list, said that many of their buyers were worried by the announcement of the HCM City Department of Natural Resources and Environment as the developer had earlier informed its buyers that it did not borrow money from banks.
Hung said that his company's project was in the list as it was mortgaged to apply for a bank guarantee to undertake transactions for an unfinished property, which was compulsory under the current regulation.
Mortgaging projects for a guarantee to transact unfinished products was beneficial to buyers, lawyer Pham Van Minh from Minh Lawyers said.
According to Chau, even then, there were violations by property developers who used banking loans for incorrect purposes, undermining the confidence of buyers.
The association urged banks to tighten supervision towards the use of credit provided to developers as well as mortgaged assets.
In addition, the Department of Natural Resources and Environment should clarify the purpose of mortgaging each project to prevent confusion, the association said.
VAMI reports tax avoidance by car importers
The Vietnam Association of Mechanical Industry (VAMI) has sent a document to the finance ministry, reporting that several auto importers have evaded tax by declaring incorrect imported car prices.
VAMI said the businesses, which import cars from China, had reported lower prices of imported cars.
The Ben Chassis HoWo 8x4 model, for instance, which has an import price of US$40,900, was declared to be worth between $21,865 and $24,740 to the taxman, a difference of $16,160 to $19,035.
"Therefore, it's estimated that the state lost $4,040 to $4,759 per car," VAMI said.
It said the importers' misleading declaration about car prices not only caused losses to the State's budget, but also created unfair competition between firms that assembled cars locally and the importers.
The association asked the ministry to tighten rules for relevant agencies to conduct stricter examination and supervision of car import declarations at border gates.
It also asked relevant sectors to inspect car importers suspected of violating laws to save tax.
The ministry should have sanction to strictly punish the businesses found to have declared incorrect imported car prices, in order to create a fair business environment and trust among firms that assemble vehicles locally.
Shine the light with LED
Vietnam is becoming a hot spot for light emitting diode technology competitors.
Do Huu Hau, general director of Germany's lighting product maker Osram Vietnam, told VIR that Osram, currently enjoying a 30% market share of Vietnam's light emitting diode (LED) market, would establish other two subsidiaries in Hanoi and Ho Chi Minh City.
"It is predicted that the subsidiaries will be licensed in late July 2016," Hau said. However, he refused to reveal the total investment capital for the new subsidiaries.
In the near future, Osram will expand its LED product portfolio in Vietnam with several hundred types of new products.
"The demand for LED lamp products, with increasingly reasonable price tags, is surging in Vietnam, where many LED investors are coming to invest and compete," Hau said.
Currently, Osram is operating a joint venture with local Khai Toan Company in the southern province of Dong Nai. The joint venture imports Osram's LED spare parts from Osram's factories overseas to assemble and distribute in Vietnam. Osram in Vietnam's revenue rose 75% year-on-year in this year's first half, and is expected to double for the whole year.
Last week saw the Republic of Korea's Seoul Semiconductor ink a co-operation deal with the northern province of the Ha Nam People's Committee to build a USUS$300 million semiconductor and LED lighting equipment manufacturing factory on an area of 7.5 hectares in the province's Dong Van 1 industrial park.
Construction is expected to commence next month and will be divided into two phases, with the first worth US$147 million, and the second valued at US$153 million.
The factory will employ 3,000 workers. Its revenue is expected to hit US$150 million in the first year of operation, and US$200 million by the second year. The figure will rise to US$400 million and US$500 million in the third and fourth years, respectively.
Also in this park, the Republic of Korea's KMW Vietnam is boosting the recruitment of engineers and workers for its US$100 million 30-hectare factory to manufacture LED telecommunications equipment. The factory will produce 220,000 telecommunications equipment products annually, including filters, diffusers, antennas, radio connectors and remote radio heads, as well as 380,000 LED lamp products.  All products will be produced both for the local market and exported. The factory will also employ over 3,000 local workers.
"Vietnam has big potential for LED technology to develop, with its business-friendly climate and growing demand," said Kim Duk Yong, chairman of KMW the Republic of Korea.
According to the Slovakian Embassy to Vietnam, a Slovak investor is planning to build a major factory in the central province of Nghe An to make LED lamps and will implement a project to replace the provincial public lighting system with an LED lamp system.
According to the Vietnamese Academy of Science and Technology, Vietnam is now an ideal spot for world famous foreign LED technology developers, such as Schreder, Osram, MEGAMAN®, Philips, Quality System, Nitria and Hua Bo Tech (Zhuhai).
These firms are trying to establish roots in Vietnam.
The first LED factory in Vietnam was built by FawooKidi, a US$12.3 million joint venture between Vietnam's Kim Dinh Company (65% stake) and South Korea's Fawoo Technology (35% stake). Based in Ho Chi Minh City and becoming operational in March 2010, FawooKidi rolls out over 10,000 LED lamps per day.
Invented in the 1960s, LED is a semiconductor light source and used as indicator lamps in many devices. Nowadays, LED is becoming increasingly popular for many other lighting solutions, and can save 30-90% of power when compared to more traditional lighting methods. Currently, this eco-friendly technology is mostly used in Vietnam to light up advertising boards, shop facades, major streets and traffic signs.
Local authorities powerless in front of Chu Lai Soda
Higher level and stronger governmental actions have been sought to deal with stubborn environmental polluter Chu Lai Soda Processing Joint Stock Company (Chu Lai Soda), as the local authorities have proved unable to stop the firm from continually discharging untreated wastewater into the Ben Van River.
On July 23, in an unannounced inspection, the inspection team of the Vietnam Environment Administration detected that Chu Lai Soda continued to discharge untreated wastewater into the river, despite previously being closed to mitigate the environmental damages caused by its February violations.
According to the board, Chu Lai Soda has a serious track record environmental violations. Notably, along with the illegal discharge, the company has yet to carry out measures prescribed in its environmental impact assessment and failed to collect the harmful waste produced by its manufacturing activities. In addition, the company has been delaying the fine payment of VND731 million ($32,796) incurred for the previous violation. Accordingly, it has paid VND200 million ($8,973) only.
Le Vu Thuong, deputy director of the Chu Lai Open Economic Zone Management Board, said that the company's most serious violation was its unfiltered and unlicensed wastewater discharge into the local river.
"In general, in my opinion, it is a serious environmental violation, however, the authorities were slow to react and then deal with the incident unthoroughly," he said.
"The management board is indignant over Chu Lai Soda's relapse, however, we do not have the necessary competence to handle the company's violations. Thus, we are building a report proposing the Ministry of Natural Resources and Environment to take severe punitive measures. Although Chu Lai Soda's factory is a large-scale project with numerous contributions to the province's socio-economic development, there can be no trade-off between the environment and economic benefits," Thuong added.
In June, local residents protested Chu Lai Soda's relapse into discharging untreated wastewater into the river, in spite of the local authorities' ban.
Anger flared when the residents of Quang Nam threatened to block the company's wastewater pipes.
In February, the local authorities directed the company to suspend its operations in wait for the Ministry of Natural Resources and Environment's conclusions on its environmental violations.
Established in 2011, Chinese-invested Chu Lai Soda's Quang Nam factory has the total investment capital of $120 million. The 60-hectare factory specialises in manufacturing heavy and light soda products, which serve as material to manufacturing glass, construction glass, pulp, and paper.
Mitsubishi and Bitexco to develop The Manor Central Park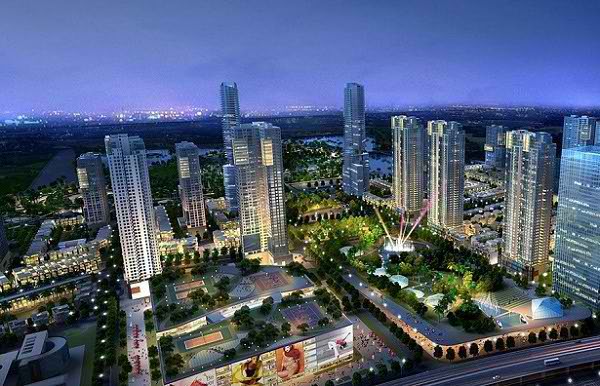 The Mitsubishi Corporation and the Bitexco Group established a joint venture on July 27 to develop a residential real estate project in Hanoi's Hoang Mai district, 8 km southwest of the city center and part of The Manor Central Park, a large-scale mixed-use development.
Mitsubishi will hold 45 per cent of the joint venture and Bitexco 55 per cent, with total investment estimated at 30 billion Japanese Yen ($290 million) in the first phase. During this first phase the joint venture will develop 240 low-rise housing units and two high-rise apartment blocks (comprising 1,036 apartments).
Complete with multiple urban functions, including residential, commercial, office, school and sporting facilities, The Manor Central Park has an overall planned area of nearly 90 ha. Plans by local authorities to merge the area with the adjacent 100 ha memorial park will make it the largest real estate development in the capital.
The Manor Central Park's overall target is to construct 1,000 low-rise housing units and a total of 7,700 apartments in 17 high-rise buildings.
Bitexco is one of Vietnam's largest private groups, known for its success in real estate development, hydroelectric power generation, infrastructure development such as highways, utilities such as drinking water, and natural resources, among others. The joint venture marks its first cooperative effort with a foreign partner in the real estate business. It also has Bitexco Financial Tower in Ho Chi Minh City, one of the world's Top 20 iconic skyscrapers as voted by CNN.
With steady economic growth and an expanding middle class, Vietnam is expected to continue seeing an increase in demand for housing. Amendments to the Law on Housing in July 2015 that loosened restrictions on the purchase of real estate by foreigners are also likely to provide a boost to the housing market.
The cooperation between the two is expected to provide high value-added and high-quality real estate development products and other related services to the market.
Catfish exports to ASEAN reduces
The export value of pangasius fish products to ASEAN--the fourth largest market of Vietnam in the first half this year--has reduced in recent months, according to the Vietnam Seafood Exporters and Producers Association (Vasep).
Export value reached US$62.35 million, down 2.4 percent over the same period last year. Of these, three largest retailed markets namely Thailand, Singapore and the Philippines saw a reduction of 0.6, 1.9 and 1.6 percent respectively.
ASEAN is the fourth largest market of Vietnamese pangasius fish after the U.S., the EU and China-Hong Kong in the first six months this year.
Despite it is a potential export market, businesses have yet to have appropriate development and advertisement strategies.
In Thailand, Vietnamese catfish products have struggled to compete with frozen filet products of Alaska Pollack, cod and tilapia fish.
Agro-aqua-forestry exports up 5.1% Jan-Jul
Outbound sales of agro-aqua-forestry products have amounted to US$17.8 billion in the January-July period, up 5.1% year-on-year, despite declines in exports of some key sectors, showed data of the Ministry of Agriculture and Rural Development.
The total figure includes US$2.64 billion in July, according to the Vietnam News Agency.
Coffee and pepper shipments have accounted for US$1.98 billion and US$988 million, up 18% and over 9% year-on-year, respectively. However, the commodities have posted bigger gains in volume than value with shipments of coffee rising by 38% to 1.13 million tons and pepper by 26% to 122,000 tons.
Among major export earners, cashew nuts have seen growth in both volume and value in the first seven months as the country has shipped abroad some 189,000 tons worth US$1.46 billion, respective year-on-year increases of 2.5% and 9%.
Seafood shipments have picked up 3.3% to US$3.65 billion in the January-July period while exports of major forestry products have fetched US$3.98 billion, up 0.8%. The U.S., Japan and China are Vietnam's main importers of these products.  
However, Vietnam has earned only US$1.32 billion from exporting 2.93 million tons of rice in the year to July, respective declines of 14.4% and 18.4% from the same period a year earlier. In July alone, Vietnam has exported US$120 million worth of 274,000 tons of rice.
China has remained the biggest importer of the commodity so far this year, making up more than 35% of the total, followed by Indonesia.
Strong-growing markets for Vietnamese rice in the seven-month period include Ghana with imports rising by 41% and Ivory Coast with 31.3%. In contrast, other countries have imported less rice from Vietnam, including the Philippines (down 54.3%), Malaysia (down 59.2%) and Singapore (down 34.6%).
Vietnam has sold 564,000 tons of rubber worth US$705 million to foreign markets in the period, up 8.8% in volume and down 7% in value. Tea exports are 69,000 tons worth US$110 million, up 4.9% and down 2.1%.
Top tax agency to solely handle VAT refund budget
The General Department of Taxation will take charge of the budget used for value-added tax (VAT) refunds from next month, ending an ineffective scheme that authorizes cities and provinces to manage their allocated funds.
Under the Ministry of Finance's Circular No. 99, which will take effect on August 13, local tax agencies will no longer be allocated money.
On a monthly and quarterly basis, the department will calculate its VAT fund's paid and recovered amounts, estimate the balance, and forecast the amount to be refunded nationwide. Data are collected from a national tax information system.
Since 2013, the General Department of Taxation has set annual limits and handed out funds to provincial tax agencies and treasuries, based on refund estimates.
However, the mechanism has not worked well as the allocated funds often fall short, especially in localities with a large number of enterprises such as HCMC and Hanoi. This has led to no refunds or enterprises having to wait for a long time for additional funding. In contrast, the VAT refund allocations for some provinces are larger than needed.
The ministry has acknowledged the issue and pledged to adjust policies to solve the problem.
Vietnam, Cambodia to build model border market
Vietnam and Cambodia have inked a Memorandum of Understanding on building a model border market in Cambodia.
Vietnam's Deputy Minister of Industry and Trade Nguyen Cam Tu and Cambodia 's Secretary of State of the Ministry of Commerce Mao Thora signed the document in Phnom Penh on July 27.
The project forms part of the agreement reached at the 13th session of the Vietnam-Cambodia Joint Committee on Economic, Cultural and Scientific and Technological Cooperation in February 2014.
It aims to promote the strengths and potential of Vietnam's southern province of Tay Ninh and its bordering Cambodian province of Tbaung Khmum to expand trade, build distribution and import-export systems, and improve the living standards for locals in the shared border areas.
The first model border market will be built on an area of nearly 20,000 square meters at Thary Tbaung Khmum special economic zone in Memot district. It is opposite to Chang Riec border gate in Tay Ninh's Tan Bien district.
Work on the project, invested in by the Vietnam Ministry of Industry and Trade, will begin in the fourth quarter of 2016 and be put into use in 2018, with the total investment of over 44 billion VND (1.98 million USD) as part of the Vietnamese Government's non-refundable aid package.
The market will include a parking lot, restrooms, and water and electricity supply stations.
Lam Dong agriculture firms access Japanese market
Seven outstanding agriculture firms from the Central Highlands province of Lam Dong joined the Greenhouse Horticulture & Plant Factory Exhibition in Tokyo, Japan on July 27.
It is part of a visit to learn from Japan's experience in building a strategy to develop farm produce and agriculture-linked tourism trademarks, co-organised by the provincial People's Committee and the Japan International Cooperation Agency (JICA).
Participating firms include Tan Tien 2 agriculture cooperative, Lam Dong Pharmaceuticals JSC, Phong Thuy farm produce company, Anh Dao agriculture service cooperative, the Da Lat GAP company, Rung Hoa Da Lat technology and Cau Dat FARM companies, according to permanent Vice Chairman of the provincial People's Committee Nguyen Van Yen.
Yen said the local authorities are working with JICA to build a detailed programme in support of domestic exporters to Japan, adding that the locality is strong in atiso tea, coffee, strawberrys, flowers and silk which are all in demand in Japan.
JICA representative in Vietnam Sho Tomita said his agency is helping Vietnamese agriculture firms improve output and product quality and commented that Vietnam's exports will thrive thanks to the Trans-Pacific Partnership deal.
Following the exhibition, the Vietnamese delegation is due to meet Japanese firms such as Asahi Food and Kochi to learn about their brand marketing experience, and also leaders of Japanese prefectures and the Japanese Ministry of Agriculture, Forestry and Fisheries.
Dong Nai among highest-growing economies nationwide
The southern province of Dong Nai's economy grew 7.85 percent in the first half of this year, higher than the country's average and that of other localities, said Deputy Minister of Planning and Investment Nguyen Van Hieu.
During a working session with the provincial authorities on July 26, Hieu hailed Dong Nai as one of the top five contributors to the State budget on the back of its developed industry.
On the occasion, he asked Dong Nai to boost exports which hit 7.4 billion USD during the period, up 5.3 percent year-on-year but lower than the targeted 10-12 percent.
Cao Tien Dung, Director of the provincial Department of Planning and Investment, said the province collected more than 20.4 trillion VND (927.2 million USD) to the State budget, or 49 percent of the estimate and up 9 percent from the same period last year.
The total domestic and foreign investment reached 7.64 trillion VND (347.2 million USD) and 1.34 billion USD, respectively.
The province is currently home to 32 licensed industrial parks, 25 of them have installed automatic wastewater monitoring stations, he said.
The local authorities spoke of plans to continue improving the business climate and national competitiveness for 2016-2017, partly by strengthening public investment, enhancing the efficiency of State-funded projects, while attracting investment in industrial parks and complexes and encouraging exports of goods that are high competitive.
All possible support will be provided for small and medium-sized enterprises, start-up and innovative firms, they said.
Authorities also put forward suggestions regarding foreigners' financial contributions and stock purchases, including amending several provisions in the Investment Law to make it easier for State management.
Concluding the event, Hieu promised to submit proposals to relevant ministries and agencies for consideration.
Binh Duong attracts 25 billion USD in FDI
The southern province of Binh Duong has so far attracted 2,713 foreign-invested projects with a total capital of around 25 billion USD, including 16 billion USD distributed to 1,635 projects that are underway in industrial parks (IP).
According to deputy head of the Binh Duong Committee for Industrial Park Management Board Bui Minh Tri, the FDI projects, mostly small and medium ones, have employed over 360,000 locals.
Since early this year, more than 618 million USD of FDI has been invested in the construction of factories in IPs, he added.
Meanwhile, Director of the provincial Department of Planning and Investment Nguyen Thanh Truc revealed that the province has nearly fulfilled the yearly target in FDI attraction, adding that a total of over 1.1 billion in FDI has been licenced to be poured into 126 new and 68 underway projects.
The number of new projects located in IPs across the provinces stands at 99, worth 709 million USD, and 46 underway projects were added 276 million USD in investment capital, Truc said.
So far, the province has constructed 28 IPs covering over 9,000 hectares. In the next five years, the number of IPs is expected to increase to 34 on 14,790 hectares.
A 300 hectare IP in Bau Bang district will also be built to host firms in the support industry for the apparel sector, as part of efforts to take advantage of investment flow after the Trans-Pacific Partnership is signed.
Currently, the province, one of the major industrial hubs in the south, is prioritising FDI projects utilising high technology and located in IPs to ensure environmental protection, said Tri.
Tra fish trading website launched
The Vietnam Pangasius Association launched a trading website and a farming e-map of Tra fish at a ceremony in the Mekong Delta city of Can Tho on July 27.
The website www.mekongfishmarket.com provides member sellers with utilities to support the promotion of their products, give price quotations, and streamline the management of their sales staff.
The simple, quick and free membership registration will provide seafood suppliers with quality certifications as well as market information, goods supply and demand, and consumption orientations for separate regions.
Meanwhile, the website www.pangasiusmap.com maintains a database and map on 200 Tra fish breeding areas belonging to businesses and households in Can Tho city and Dong Thap, Vinh Long, An Giang, Ben Tre and Tien Giang provinces, who have 1,104 breeding ponds covering 1,230 hectares.
Users can easily find information on the breeding area, the number of Tra fish businesses and households, and the forecast for harvest on this map.
The two websites are the products of a Swiss-funded project to enhance the export capacity for small- and medium-sized enterprises.
The launch of the websites opens up new information channels for trade activities and provides an easy trace for the origins of seafood to ensure the safety and transparency of the aquatic products.
Management agencies and counselors took the occasion to share experience on effective online business.
According to the national seafood development master plan until 2020, with a vision towards 2030, Vietnam will build six major fisheries development centres in Can Tho, Hai Phong, Da Nang, Khanh Hoa, Ba Ria – Vung Tau, and Kien Giang.
Japan firm explores investment in Ha Nam
A delegation from Japan's Oates Chemical Company had a working session with Ha Nam authorities on Tuesday to explore the investment climate in the northern province.
The company has four factories in Japan and plans to expand its production of rubber components to Viet Nam, Director Goda Kengo said, adding that Ha Nam boasts a strong policy to attract investment, especially from Japanese businesses.
The locality also has a favourable geographical location and trade exchange system with Ha Noi, as well as with neighbouring cities and provinces. Therefore, the Japanese company is determined to build a factory there, he said.
Vice Chairman of the provincial People's Committee Vu Dai Thang said authorities plan to arrange for a 6,000sq.m space in Dong Van I Industrial Park, Duy Tien District, where the company can build its factory.
He noted that the location has a good transport network and all necessary infrastructure, with scores of Japanese firms investing and operating in the area.
Local authorities pledged to create the best conditions for the company, as they were committed to foreign investors, specifically in handing over land for building workers' accommodations, exempting land lease costs during the first two years of investment and granting a 50-year operating licence.
Digital marketing vital for brands
Digital marketing has proved to be vital as a bridge bringing Vietnamese brand names to international markets, heard attendants at the Viet Nam CEO Summit 2016 held in Ha Noi yesterday.
The marketing tool is expected to be strongly developed in Viet Nam in the near future as it enables the quick launch of new products and access to niche markets.
In this context, traditional advertisements should be integrated into digital marketing to better develop brand names.
Professor John Quelch from Havard Business School told the summit, entitled Breakthrough Marketing: New Case Studies from Harvard, that a deep understanding of customers could create powerful marketing strategies. This would also affect businesses' strategies for brand names, products, communication, prices and distribution.
He said that since the markets have become more wide and sophisticated, especially when Viet Nam joins a range of trade agreements such as AEC and TPP, marketing strategies should represent customer segments.
Marketers should balance demands from several segments while being flexible in responding to changes of technology, customers and society.
For more than 50 years, the wave of start-ups has been expanding in the US, Japan, China and Southeast Asia. With the advantage of young populations and continuous development of smart phones which have strongly affected consumption habits and business methods, Viet Nam has gradually seen changes in start-up development.
Start-ups should search for flexible marketing strategies that are suitable to their scale.
The professor also suggested businesses to frequently renew their products and services, choosing customer segments, managing profitability and setting clear targets.
Vu Dang Vinh, Viet Nam Report's general director – the organiser said the event aimed to connect businesses' leaders, specialists in Viet Nam and international partners to exchange experiences to develop the local market and better integrate into the global market.
Viet Nam CEO Summit 2016 attracted the participation of more than 350 Vietnamese businesses from Top 500 biggest firms (VNR500), Top 500 fast development firms (FAST 500), Best Prospect 500 and Top 1,000 biggest tax payers.
Under the event, Viet Nam Report honoured Top 10 commercial banks in Viet Nam and Top 10 prestigious insurance companies 2016.
Firms should scrutinise EAEU FTA
Enterprises should scrutinise rules to take advantage of the free trade agreement (FTA) between  the Eurasian Economic Union (EAEU) and Viet Nam, industry and trade officials said during a conference in Ha Noi yesterday.
This is the first FTA of the union, which consists of Russia, Belarus, Kazakhstan, Armenia and Kyrgystan, with another country.
The related countries have ratified the agreement after signing it in Kazakhstan on May 29, 2015. They expect it to take effect in September 2016.
Dang Hoang Hai, head of the Ministry of Industry and Trade's European  Market Department, said Viet Nam, as the first FTA partner of the union, will have big advantages in improving the competitiveness of its export goods.
The agreement covers a market that has nearly 183 million people and accounts for 3.2 per cent of the global gross domestic product.
Viet Nam and the union will cut about 90 per cent of their lines of tariff, meaning they will open the market for around 90 per cent of goods in bilateral trade.
They will slash the rate for nearly 60 per cent of tariff lines to zero per cent immediately after the agreement becomes effective.
Hai said Viet Nam's major exports such as garment and textile, footwear, farm produce and seafood will especially see opportunities from the tax cuts.
He said the EAEU-Viet Nam FTA is "quite a comprehensive agreement", covering many fields from the quality of goods, sustained development to intellectual property rights. Public procurement contents can be supplemented in the future.
Domestic enterprises must study rules carefully to take full advantage of the agreement, he said.
For example, the agreement requires the seafood sector to use materials originating from member countries. However, Viet Nam is allowed to use imported materials to process shrimp and tuna for exports, provided that it assures the domestic content in these products of more than 40 per cent.
Nguyen Khanh Ngoc, deputy director of the department, said geographical distance is a disadvantage for Vietnamese enterprises reaching EAEU countries.
Some Vietnamese firms have exported garment and textile to Russia through Netherlands, with small quantities of goods. Now that export volumes and values are likely to increase in light of the FTA, a fact meaning much higher logistics costs, these companies must seek measures to avoid such a "roundabout route", she said.
The Viet Nam Tax Consultants' Association (VTCA) said on its website recently, citing Ministry of Finance sources, that the agreement was likely to affect national budget revenues of member countries.
Assuming that Viet Nam's import growth within the framework of the EAEU-Viet Nam FTA is 15 per cent per year, and the ratio of enterprises using certificates of origin in a form issued for this agreement reaching 20 per cent, the country's budget revenues would fall on average by US$1 million per year.
For the union, the revenue declines were expected to triple Viet Nam's level.
According to VTCA, goods such as petroleum, automobile and component, fertiliser, and machinery and equipment would significantly impact on Viet Nam's budget revenues.
These products were imported in large values from the EAEU, and tariffs for some sub-products would be eliminated immediately after the agreement becomes effective, the association said.
HVG sees 17-fold increase in Q2 profit
Fisheries Hung Vuong Corporation (HVG) reported revenues of VND6.6 trillion (US$295.5 million) and a gross profit of VND 472.6 billion in Q2, up 45 and 39 per cent, respectively, over the same quarter last year.
As the one of the largest tra catfish producers in Viet Nam, HVG said its domestic market grew 20 per cent over the same period in 2015, in which revenues from aquaculture increased 2.5 times.
According to the HVG financial statement, the company saw VND226.4 billion in profits after taxes for the quarter, an increase of 17.4 times over the same period last year, when the firm suffered losses of VND13 billion.
In the nine months from October 1, 2015 to June 6, 2016 the firm reported sales of VND14.94 trillion, an increase of 26.5 per cent, and profits after taxes of VND244 billion, an over four-fold increase compared to the same period last year.
Accordingly, the firm has carried out 63 per cent of its plan, as pledged during its general shareholders meeting.
On July 27, shares of HVG rose more than 15 per cent over the last three days to reach VND11,400 on the HCM City Stock Exchange.
Key central economic region works on development plan
Leaders of five coastal provinces in the key central economic region met in Danang last Friday to discuss a regional development plan in the 2016-2020 period, according to the Vietnamese Government's web portal chinhphu.vn.
Thua Thien-Hue, Danang, Quang Nam, Quang Ngai and Binh Dinh provinces will focus on developing industries and services, especially high-tech industries and value-added services, to fuel economic growth.
They will also prioritize maritime economic development, including seaport infrastructure, maritime services, development of offshore fishing fleets, and seafood processing and export to create more jobs for local people and improve their living standards.
In the next five years, the key central economic region will give priority to building transport infrastructure, especially coastal roads and expressways, improving tourism infrastructure, and developing tourism products.
The region plans to restructure its economy with industry-construction accounting for 45% of GDP, services 43%, and agriculture 12%. The region's economic growth is projected at around 9% per year in the 2016-2020 period and its gross domestic product (GDP) per capita at around VND80 million (US$3,563) by 2020.
The five provinces agreed that environmental protection and coastal infrastructure development would be high on their agenda.
VEF/VNA/VNS/VOV/SGT/SGGP/Dantri/VET/VIR