Masan to triple fish sauce production on Phu Quoc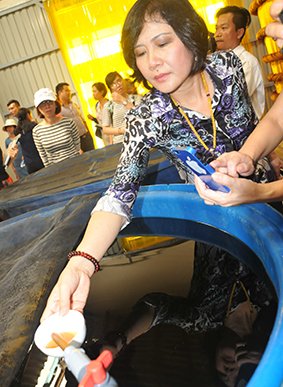 Nguyen Hoang Yen, deputy general director of Masan Consumer Corp, shows visiting reporters the first-grade fish sauce made at Masan Phu Quoc fish sauce plant
Listed firm Masan Consumer Corp (MSC) under Masan Consumer Holdings has said it will invest heavily in expanding its fish sauce making facility on Phu Quoc Island off mainland Kien Giang Province to treble its capacity in the years to come.
MSC did not clarify how much investment would go to the expansion plan but said the plant currently has five workshops with 488 fish vats that can ferment and process a combined 10,000 tons of fish.
Between 15,000 and 25,000 liters of fish sauce is extracted from the vats a day, MSC told reporters who took part in a field trip to Masan Phu Quoc sauce plant last week on the occasion of the ninth anniversary of the plant.
Masan can produce only 15% of the highest grade of fish sauce it needs and collects the remainder from other fish sauce production plants nationwide, including Phu Quoc, Phan Thiet and Nha Trang.
Nguyen Hoang Yen, deputy general director of MSC, said the company applies strict requirements for suppliers to ensure consistent quality.
As for MSC's future business plan, Yen said apart from increasing its domestic market share, the company looks to serve 250 million consumers in ASEAN countries, including Vietnam, Thailand, Myanmar, Cambodia and Laos, through a strategic partnership with Thailand's Singha Asia Holdings.
In 2015, MSC posted net revenue of VND13.2 trillion (US$588.5 million), up 1% from 2014, and gross profit of more than VND2 trillion. By end-2015, the company had owned eight brands with sales totaling more than VND500 billion each, including Omachi, Chin-su, Kokomi, Vinacafe, Wake-up, Tam Thai Tu, Nam Ngu and 247.
Earlier this year, Masan Beverage One-member Co, a subsidiary of Masan Consumer Corp, raised its holding in Vinacafe Bien Hoa to 60.16% and in Vinh Hao Mineral Water JSC to 84.23%.
Masan Consumer Corp now holds 70% of Vietnam's FMCG market with 2,300 salespeople, 190,000 points of sale for food and 100,000 points for beverages. The company put its fish sauce market share at 65%.
Ministry issues FDI inspection guidelines
The Ministry of Planning and Investment has issued a circular guiding inspection and assessment of foreign direct investment across the country.
Circular 09/2016/TT-BKHDT aims to ensure foreign-invested firms strictly observe relevant regulations and timely detect violations.
Under the circular dated June 30, checks will apply to capital contribution, implementation process, realization of investment targets, technology transfer, implementation of commitments and fulfillment of investment requirements at foreign-invested firms.
The circular, which will come into force 45 days after the issuance date, also includes checks on fulfillment of tax obligations as well as regulations on labor, use and management of land, natural resources and environmental protection.
There will be routine and snap inspections into foreign-invested firms.
The circular stipulates that checks must be made in accordance with the prevailing regulations. In addition, they should not overlap and affect operations of enterprises under inspection.
Ministries, provinces and cities, and agencies will implement the circular and assess foreign investment in the fields under their management.
Vinacas proposes development fund for cashew industry
The Vietnam Cashew Association (Vinacas) has underscored the need to set up a development fund for the local cashew industry to maintain its sustainable growth and help Vietnam consolidate its position as the world's biggest cashew nut exporter.
The fund will stabilize production and tighten cooperation between farmers and processing firms and exporters in the sector, Vinacas said at its ninth congress in HCMC last week. The fund will be financed by the Government, processors and exporters, and other sources.
Vinacas proposed enterprises contribute US$1-2 to the fund for every ton of cashew nuts they process and export.
Vinacas said 50-70% of the fund would go to programs intended by promote intensive farming and improvement of cashew farms, research and development of high-yielding seedlings and financial support for farmers. The remainder will finance processing technologies and manufacturing machines, product quality and food safety improvement, and sales promotion.
According to the Ministry of Agriculture and Rural Development, Vietnam shipped abroad US$1.2 billion worth of 156,000 tons of cashew nuts in the first half of this year, up 11% and 4% year-on-year, respectively. Export prices averaged US$7,642 per ton in the January-May period, rising by nearly 8% from the year earlier period.
Vinacas projected the industry would post export revenue of US$2.7 billion this year, around US$200 million higher than last year.
If things go well, 2016 will mark the tenth year in a row Vietnam is among the world's biggest cashew exporters, accounting for 50% of global cashew exports.
At the congress, Vinacas elected its executive board and work out plans for the 2016-2020 term. Nguyen Duc Thanh was re-elected Vinacas' chairman for the period.
Tourist arrivals in Quang Binh plunge in H1
Domestic and foreign visitors to Quang Binh Province reached only 1.3 million in the first half of this year, dropping by 20% year-on-year, provincial vice chairman Tran Tien Dung said.
Dung mentioned the sharp fall in tourist arrivals at a conference held by the Government Office in Hanoi last Friday to discuss orientations for developing the country's tourism industry into a spearhead industry.
Quang Binh is one of the provinces having great potential to develop tourism, especially cave discovery tours. The province has been positioned on the world's tourism map as an attractive and safe destination for foreign tourists, heard the conference.
In the 2011-2015 period, nearly 9.2 million tourists visited Quang Binh with an average growth rate of 37% per year. Particularly, the central province welcomed more than one million tourists in 2012, 2.7 million in 2014, and three million last year.
However, mass fish deaths along the central coast in early April dealt a blow to Quang Binh, which is home to the World Heritage site of Phong Nha-Ke Bang National Park.
Dung acknowledged that although the province has adopted many solutions to coping with the aftermath of the huge fish kill such as demand stimulus programs, discount tourism products and services and a 30% discount on admission tickets to caves, the province had been unable to reverse the decline.
Because of the drop, construction of hotel and restaurant projects is likely to be put on hold. Many lodging facilities and tourism service providers have downsized employment by up to 50% and most of their skilled workers have left for big cities, causing a lack of human resources in the province.
The tough situation of Quang Binh's tourism sector has hit 4,000 direct and 7,300 indirect jobs.
The province suggested the Government quickly solve the impact of the environmental incident caused by the Formosa Ha Tinh steel complex, recover marine life and tourism industry, and refrain from placing polluting industries in the province.
Another central province, Nghe An, also suffered from the impact of the fish deaths. A report showed that the number of tourists to the province slid by 13-15% and its tourism revenue dropped by 17-20% over the same period last year in the first six months of this year due partly to the environmental incident.
Imported footwear dominates local market
Although Vietnam is the world's third biggest leather and footwear exporter, the industry has almost lost the home market to imported goods which hold 60% market share.
The problem was pointed out by the Light Industry Department under the Ministry of Industry and Trade at a conference held last week to promote leather goods and footwear exports.
Statistics showed leather and footwear products are one of Vietnam's leading export earners with outbound sales accounting for 8-10% of the country's total. In the first half of the year, the sector fetched export revenue of US$7.94 billion, leaping 95.3% year-on-year.
With 800 enterprises mainly located in the southern region, Vietnam is among the world's top four leather footwear producers and third largest exporter by turnover after China and Italy.
Truong Thi Thu Ha, deputy director of the department, said Vietnam's footwear products are present in over 50 markets, including the European Union (EU), the U.S. and Japan. Handbags are shipped to 40 countries with the U.S. being the biggest importer with 41.6%.
However, the sector is facing mounting competition from imports on the home market when it meets only 40% of local demand for about 150 million pairs of shoes per year. Most domestic footwear products belong to the low and middle grade segments as large enterprises focus on exporting markets.
Diep Thanh Kiet from the Vietnam Leather, Footwear and Handbag Association (Lefaso) warned of a risk of the local leather and footwear markets being dominated by imports after the Trans-Pacific Partnership (TPP) trade agreement takes effect as many imported goods, including leather and footwear, from the member states will enjoy tax exemptions in Vietnam.
Kiet said the sector will face tough requirements provided by free trade agreements (FTAs) due to chronic problems like a lack of capital, outdated technology, poor governance and low productivity. Besides, labor cost will go up in the coming time as a result of region-based minimum wage spikes.
Lefaso as well as agencies under the ministry are of the opinion that the leather and footwear sector can beat this year's export target of US$14 billion, up 16% year-on-year, owing to opportunities from the ASEAN Community and FTAs.
In particular, Vietnam enjoys tax breaks for leather and footwear exports to South Korea thanks to an FTA.
Besides, 70% of enterprises depending on foreign equipment, technology, product design and material supply can enjoy an equipment import tax of 0%.
The industry looks to annual growth of 8% in the 2020-2030 period, as well as export revenue of US$54.2 billion and increases of about 4.5 times in shipments and over 60% in domestic material supply by 2030.
Techcombank receives many int'l awards
The Vietnam Technological and Commercial Joint Stock Bank (Techcombank) has recently received a number of awards from prestigious international financial organisation.
The titles that the bank has won included "Vietnam's Best Bank in 2016" and "Platinum Award for Best Domestic Bank" from FinanceAsia as well as "Best Bank in Vietnam 2007-2016", "Best Trade Finance Bank in Vietnam" and "Best Bond House in Vietnam" from the Alpha Southeast Asia magazine.
According to its unaudited business report, Techcombank's pre-tax profit approximated 2.04 trillion VND (91.12 million USD) last year, rising by 43.8 percent from 2014. Meanwhile, the net interest income climbed 22.8 percent yearly thanks to credit growth of almost 30 percent.
Increased total income, controlled operating expenses and more effective operations helped cut down the cost/income ratio for the second straight year, from 47.2 percent in 2014 to 39.5 percent in 2015.
Techcombank's total assets were valued at over 192 trillion VND (8.57 billion USD) in 2015, up 9.2 percent from the previous year.
Last year, the bank mobilised 142.24 trillion VND (6.35 billion USD) from its clients, up 8 percent annually, while outstanding loans were at more than 111.62 trillion VND (4.98 billion USD), nearly 31.32 trillion VND (1.4 billion USD) higher than 2014.
Techcombank currently has 312 branches and transaction offices, over 1,200 ATMs and 1,600 transaction points, serving more than 4 million people and 102,000 enterprises.
Thai trade fair to open in Can Tho city
Top-quality products from Thailand will be nudged closer to Vietnamese consumers, especially those residing in the Mekong Delta region, as the Thai Trade Fair and Exhibition 2016 is scheduled at Can Tho's International Exhibition Fair Centre, from July 22-24.
The event, jointly held by the Thai Trade Centre in Ho Chi Minh City and the Vietnam National Trade Fair and Advertising Company, is part of the activities to celebrate the 40 th anniversary of Vietnam-Thailand diplomatic ties.
It will help boost bilateral trade, towards raising trade revenue to 20 billion USD by 2020, while creating opportunities for both Vietnamese and Thai enterprises to expand their networks and branch out business partners.
Along with agricultural machines, fertilisers, beverages, automobile and motor spare parts, cosmetics and health care, Thai businesses will introduce their tourism and education services at the event.
Cultural performances, cuisine showcases and raffles will also be included at the fair.
Kien Giang boosts exports
The southern province of Kien Giang strives to earn 260 million USD from exports in the last five months of 2016 to fulfill its yearly target of 440 million USD.
Chairman of the provincial People's Committee Pham Vu Hong directed relevant agencies to enact measures to boost exports, improve the business environment and competitiveness, and support businesses, especially temporarily inactive ones.
The locality will enable exporters to gain access to loans while increasing trade promotion activities, reinforcing traditional markets and seeking new potential ones.
Particularly, businesses will receive assistance to produce high-quality goods as well as seek partners to boost exports in 2017.
Apart from developing the local staples of rice and seafood, the province will create the best conditions for investors in industrial parks to engage in export activities, thus increasing export turnover.
A customs department is taking shape at the Thanh Loc industrial park to make it easier for businesses to complete all necessary export procedures.
According to the provincial Department of Industry and Trade, the local export turnover reached 180 million USD in the first six months of 2016, a year-on-year rise of 6.58 percent.
Businesses exported their commodities to over 30 markets, a reduction of 10 markets against the same period last year. Key markets include Ghana, Indonesia, China, the Philippines, and South Africa.
Director of the department Huynh Van Ganh said businesses are now lacking capital to buy material and feed processing activities. If there is no solution to this issue, the province's export turnover in 2016 could decrease by 40-60 million USD, failing to reach the yearly target, he added.
He suggested businesses boost restructuring and improve capital management.
JETRO explores Tay Ninh business opportunities
Deputy Managing Director of the Japan External Trade Organisation (JETRO) Office in Ho Chi Minh City Fukagawa Atsuko held a working session with authorities of the southern province of Tay Ninh on July 18 to explore local investment environment and opportunities.
Nguyen Thanh Ngoc, Vice Chairman of the provincial People's Committee, briefed his guest about the potential of land, infrastructure and investment attraction in the locality.
Apart from calling for investment in hi-tech industry, rubber, cassava starch, animal husbandry, fisheries, logistics, and bonded warehouses in economic and border gate areas, a land site spanning nearly 3,000ha is earmarked for hi-tech agriculture, mostly vegetables and fruits for export, he said.
According to the provincial People's Committee, a spacious land area and synchronous infrastructure will provide Japanese firms with long-term business opportunities.
Fukagawa Atsuko said Tay Ninh is her first destination to learn about investment climate, and following the visit, the office will offer insightful information to Japanese enterprises which want to seek business opportunities in Tay Ninh.
The JETRO office in Ho Chi Minh City was established in 2000 with the aim of promoting trade and investment with southern cities and provinces.
JETRO is a non-profit organisation which was established by the Japanese government under the watch of the Japanese Ministry of Economy, Trade and Industry. It has 110 representative offices at home and abroad, working as linkages to boost trade and investment between Japan and countries worldwide.
As of June 2016, Tay Ninh's industrial and border economic zones attracted 183 foreign-invested projects worth more than 3.6 billion USD, five of them with a registered capital of over 33 million USD run by Japanese firms.
Pick FDI with care: Deputy PM
Deputy Prime Minister Vuong Dinh Hue said Viet Nam must be selective in attracting foreign direct investment (FDI) to ensure it's suitable for the nation's economic restructuring and development of the private sector.
At a conference of the planning and investment sector held on Saturday in Hai Phong, Hue said careful selection of FDIs is pressing for Viet Nam in order to achieve the annual growth target after below-par results in the first quarter.
"FDI should not be attracted at all costs. It's time for Viet Nam to be selective," Hue said.
Specifically, he said, that Viet Nam should attract FDI projects of high technology, having good governance and contributing to generating jobs and increasing income, as well as promoting the development of the private sector.
Prime Minister Nguyen Xuan Phuc, speaking at the Ministry of Industry and Trade's conference held earlier last week, said Viet Nam should learn the lesson of the massive fish deaths caused by pollution from the Taiwanese Hung Nghiep Formosa Ha Tinh Steel Corporation when seeking FDI and economic development.
Recently, the Ministry of Planning and Investment issued a directive on inspecting and evaluating FDIs, which aimed to ensure the operation of FDI projects in compliance with laws and the country's socio-economic development targets.
Hue also stressed the importance of improving the business climate and promoting the development of the private sector, especially of small and medium-sized enterprises, which are at the heart of Viet Nam's economic growth.
"Recovery of businesses will be a major driver for growth in the remaining months of the year and in the future," Nguyen Chi Dung, Minister of Planning and Investment said, adding that the ministry would focus on removing obstacles for business.
Dung stressed that maintaining macroeconomic stability would be key, also, and controlling inflation would be given priority.
Dung said the ministry would promote the disbursement of public investment and FDI, which would significantly accelerate economic growth.
Statistics of the Foreign Investment Agency show that registered FDI totaled more than US$11.2 billion in the first half of this year, 105.4 per cent higher than in the same period last year. More than $7.2 billion were disbursed, up 15.1 per cent.
The ministry said anticipated increases in FDI were among the favourable factors expected to promote growth in the second half of this year.
Achieving this year's growth target was critical as this would become a foundation for the implementation of the nation's 2016-20 plan.
To achieve the Government's 6.7 per cent growth target, gross domestic product (GDP) growth must be 7.6 per cent in the second half of this year – two percentage points higher than the first half's result (5.52 per cent). "This is a heavy task, which require a combination of drastic measures to be taken," Dung stressed.
HoSE lists HALCOM shares
Ha Long Investment and Consulting JSC (Halcom) listed 30 million shares (HID) on the HCM Stock Exchange (HoSE) in July.
Based in Ha Noi since 2001, Halcom, with a charter capital of VND300 billion, is involved with consulting and investing in water supply, road and environment projects.
Currently, Halcom is investing in phase two of a water plant in Thuan Thanh in Bac Ninh Province, the Hung Long water plant in Hung Yen Province, and a brick production project in Luong Son in Hoa Binh. In addition, the company has also contributed capital for an office building project in My Dinh, Ha Noi, and a BOT projects on transport and waste water treatment in Can Tho Province, as well as some water construction projects across Viet Nam.
According to a Halcom representative, it is the first firm to introduce the corporate compliance programme (CCP) of the World Bank, and among a few firms in Viet Nam to implement a code of conduct that promotes high transparency in all its activities.
The firm became the prime contractor implementing large projects and complex technical requirements for construction projects funded by the World Bank, as well as projects using ODA funds from the Asian Development Bank, the ministry of foreign affairs of Finland, and the Bank of Japan International Co-operation Agency (JICA).
After a week, HID rose about 10 per cent to reach VND14,500 on HoSE on July 18.
Toyota launches new Innova 2016
Toyota Motor Viet Nam (TMV) officially launched its most luxurious and rigidity new generation Innova 2016, in Ha Noi today.
The new Innova has a more sophisticated design, with enhanced comfort and safety features.
"With a sharp and sophisticated silhouette in the exterior, a subtle, comfortable and spacious interior as a passenger car, and a strong and smooth performance, safe driving features, but still full of joy, Innova 2016 will be an ideal partner in not only work and business usage but also during every journey with the owner's family," Yoshihisa Maruta, president of TMV, said.
Innova first came to Viet Nam in 2006. It has been considered one of the best selling cars in the market, with a total sale of 92 units or accounting for over 80 per cent share of international multi-purpose vehicle market, and became the "car for every family" on every road in the country.
NovaLand sees golden opportunity
Domestic developer NovaLand has submitted a proposal to the Ho Chi Minh City People's Committee to be the developer of the golden land area located on 164 Dong Khoi street in the heart of the second city.
The land was previously invested by Hong Kong Land, the real estate development arm of Bermuda-based Jardine Matheson Group and its partner, Japan's Sumitomo Realty & Development.
This consortium proposed to pump more than $335 million into the site. However, after long delays, the foreign investors decided to withdraw from the project due to difficulties faced in land clearance and compensation plans.
According to a source from the Ho Chi Minh City Department for Planning and Investment, NovaLand and its subsidiary Nova Bac Nam 79 has set up a joint venture proposing to be the new developer of the project.
Nova Bac Nam 79 is known for its many key real estate projects, including the Madison complex and Park Avenue in Ho Chi Minh City and Ghenh Ban high-end villa resort in the central city of Danang.
NovaLand is a respected developer with dozens of large-scale projects such as Sunrise City in Ho Chi Minh City's District 7, and Lexington Residence, Tropic Garden and The Sun Avenue in the city's District 2.
Ho Chi Minh City now has around 20 prime land plots in a total of 50 hectares located on the busiest streets, which have been offered to attract investors. However, due to a variety of reasons, the selection of investors has been delayed for a long period of time. The prime reason was the difficulties faced in land clearance and compensation, and the complicated procedures required to proceed with the projects.
Although many have been taken up by prestige investors such as Vingroup with Vincom A and B or Bitexco with The One. Recently Tan Hoang Minh Group was chosen as the investor for a 3,000-square metre project at  23 Le Duan street.
In the second city, many others are on offer, such as the land plot between Nguyen Sieu – Hai Ba Trung and Dong Du streets, and another plot between Le Thanh Ton, Thi Sach, Cao Ba Quat and Dong Khoi streets.
Maintaining export growth
According to report of Ministry of Industry and Trade, Vietnam's export revenue was estimated at US$82.64 billion in the first six months of this year, a year-on-year increase of 5.9%.
The increase is low compared to the first six months last year (up 9.2% over the same period in 2014).
Experts said that the decline in export prices, including the price of crude oil and industrial processing products, caused the situation.
In the first six months, the world's oil prices continued to drop, reaching a 13-year low of US$27, affecting activities in oil and gas exploitation, mining and exports.
The revenue from crude oil over the past six months reached only US$1.1 billion, a year-on-year decrease of 46.6%.
The global economy has recovered slowly with many key economies in the world facing difficulties, negatively impacting Vietnam's exports.
Trade volumes in many markets which were key importers of Vietnamese products are showing signs of decline or slow increase, including the Japanese market (down 11.3% in exports and 13.8% in imports) and Europe (a decrease of 1% in exports and 3% in imports).
The exchange rate, interest rate and price movements of several fuels and materials for manufacturing in the world market also made the prices of many key export commodities in the country lower than the same period last year.
Specifically, the exports of agricultural and fishery products in the world went down by US$507 million.
In addition, the severe drought and saltwater intrusion affected agricultural exports in Vietnam.
In this year's winter-spring crop, rice cultivation area was down 31,300 hectares and rice production was down 1.3 million tonnes over the same period last year.
Rice exports brought only US$1.3 billion in the past six months of this year, a year-on-year decrease of 2.7%.
The world economy is still facing numerous difficulties as demand and export prices around the world continue to decrease.
The situation requires the Vietnamese government, branches, agencies and localities to made more efforts to practically and effectively implement policies and measures to achieve the target of reaching 10% export growth this year.
Solutions are also needed to bring the position of the country's industry and trade higher in the global value chain.
The international integration process not only brings opportunities for exports, but also highlights challenges, including outdated production technology, limited management capacity and weak competitiveness.
In addition to improvement of the quality and competitiveness of products, both the State and enterprises should promote trade in order to effectively expand market.
Trade promotion programmes need to be methodically organised, focusing on commodities with strengths in exports and countries that have signed free trade agreements with Vietnam, particularly major partners such as the United States, Japan and EU.
It is essential to promote the role of Vietnamese agencies abroad in supporting businesses in expanding their markets and sharing information about the host countries, as well as advising the government on policies.
The EVFTA set to lure European SMEs
More European small and medium enterprises are flocking into Vietnam in anticipation of the EU-Vietnam Free Trade Agreement (EVFTA).
Last week a delegation of 30 European pharmaceutical firms in the environment and water sectors paid a working visit to Ho Chi Minh City research the market and explore opportunities. The initiative was launched by the EU Gateway/Business Avenues in Southeast Asia to forge long-lasting business collaboration in the region.
Siemon Smid, programme director of the EU Gateway/Business Avenues in Southeast Asia, told VIR that more European companies were looking at possibilities of doing business in Vietnam before the EVFTA takes effect in the next two years.
"The trip is just the first step as we intend to hold more matchmaking events for Vietnam-EU firms in different sectors, such as green energy technology and health care," Smid said.
According to John Mc-Conomy, commercial director of Ireland's Oxymem Smarter Aeration, Vietnam is the second country to conclude the FTA with Europe after Singapore. The EU is also the second largest commercial partner with Vietnam.
Therefore, his firm is looking forward to the enforcement of the EVFTA in the market.
"Vietnam is becoming increasingly competitive in the region so we expect to learn more about effective ways of doing business. Taking part in this trip, we expect to find local strategic partners who we can forge alliances with in the future," John added.
Another European firm, Budapest Waterworks opened a representative office in Hanoi last year. The company is engaged in potable water production, water supply as well as waste water treatment.
Gellert Horvath, chief of the representative office believes in the potential of Vietnam as the waste water treatment business is starting to bloom.
He added that, "Vietnam has a lot of potentials in water supply and waste water treatment. With the EVFTA coming into effect in 2018, we expect more business opportunities, and a safer investment environment. Budapest Waterworks is negotiating with local companies in Hanoi, Thanh Hoa, and Ho Chi Minh City to start joint ventures next year."
According to the EuroCham Vietnam, the association currently has 890 members from 28 nationalities with small and medium-sized enterprises (SMEs) accounting for 40%.
The EuroCham Vietnam said it had seen more interest from SMEs in Europe in Vietnam due to the EVFTA, and that they were concerned about how feasible it would be to conduct business in the Vietnamese market, as well as how secure their investment would be.
Steel firms seeing optimistic growth
Local steel firms have recorded upbeat business results in the first half of this year on account of steady demand and an unexpected market rebound.
In the first six months of this year, the steel sector turned out over 8.5 million tonnes of products, a 35.7% jump on-year. Over eight million tonnes were sold, up 39% on-year, of which more than 1 million tonnes were exported.
Chairman of Vietnam Steel Association (VSA) Ho Nghia Dung attributed the sector's upbeat performance to the Ministry of Industry and Trade's imposition of temporary safeguard duties on imported steel billet and long-steel products.
This helped to back up local firms' production and sales in the year's second quarter.
Nam Kinh Steel JSC, based in the southern province of Binh Duong and one of the country's leading steel makers, reported VND200 billion (US$9 million) in profit in the year's first half and sold 346,000 tonnes of product.
This outcome is remarkable compared to the company's performance last year. Nam Kim Steel sold a total 423,000 tonnes of product last year and reaped only VND126 billion (US$5.7 million) in post-tax profit.
According to Nam Kim's general director Pham Manh Hung, the company has a lot of advantages when exporting to Malaysia as its export products do not incur anti-dumping tariffs when entering the Malaysian market.
In early 2016, Malaysia's International Trade and Industry Ministry announced its decision to impose anti-dumping tariffs on imported coated steel products.
Nam Kim coated steel products incur an anti-dumping duty of just 0.06%, and according to the World Trade Organization (WTO) regulations, it is not an anti-dumping case if the duty was set below 2%.
This will be an advantage for Nam Kim when exporting to Malaysia during the 2016-2021 period.
In another case, state-owned Vietnam Steel Corporation (VNSteel) reported a 22% jump in steel billet production in the first half of the year, and a sale volume hike of 7% on-year, to 314,000 tonnes.
Its construction steel production reached 1.6 million tonnes, up 23%, and sales volume surpassed one million tonnes.
The parent company reported VND105 billion (US$4.7 million) in pre-tax profit during the period while its subsidiary companies touched VND339 billion (US$15.4 million).
Private steel giant Hoa Phat Group gained VND1.85 trillion (US$84.4 million) in post-tax profit in the first six months, reaching 58% of the year's projection. Of this sum, VND1.28 trillion (US$58.4 million) came from the construction steel business.
During the period, Hoa Phat exported more than 8,000 tonnes, equal to 10% of the group's total steel sale volume, with a stable month-on-month growth in the export value to ASEAN markets.
Vietnam plans to spend more on tourism promotion to boost growth
In a new effort to attract more foreign visitors, Vietnam's tourism authority seeks to increase spending on marketing three-fold to VND120 billion (US$5.24 million) next year.
A fund for tourism promotion is set to be established with an initial corpus of at least VND300 billion (US$13.11 million), news website Saigon Times Online said recently, citing a proposal by the Ministry of Culture, Sports and Tourism.
In the long term, a maximum of 30% of the fund would come from the government, with the rest coming from beneficiaries of tourism, it said.
Minister of Culture, Sports and Tourism Nguyen Ngoc Thien said at a meeting in Hanoi on July 13 that poor marketing is one of the reasons for the lackluster growth in tourism.
Other reasons include a dearth of outstanding products and quality human resources and services, he said.
The proposal, which is waiting for local governments' feedback, is expected to develop tourism into of the economy's flagships through a range of measures such as extending visa waiver policy with longer visa-exempt stays and easing the issuance of visa on arrival, the website reported.
Though Vietnam has great potential for tourism growth with its rich cultural and natural assets and good connectivity with other Southeast Asian countries, its international arrivals are only 27% of Thailand's, 31% of Malaysia's and 52% of Singapore's, according to figures released at the meeting.
In 2011-15 its tourism grew an average of 7% a year, compared to 12% in Thailand and 10% in Singapore.
In fact, its performance was also poorer than that of second-tier countries such as Laos, Myanmar and the Philippines, which recorded growths of 15%, 51% and 8%.
However, arrivals rose 21.3% year-on-year to more than 4.7 million in the first half of this year, according to data from the Vietnam National Administration of Tourism.
Starwood Hotels & Resorts unveils Vietnam expansion plans
Starwood Hotels & Resorts Worldwide, Inc. has announced plans to add six luxury resorts in Vietnam to its portfolio over the next three years.
Speaking at a local media event in Ho Chi Minh City, a company spokesperson said the six properties will be located in Hanoi, Hoi An, Danang, Phu Quoc and Ha Long.
Starwood Hotels & Resorts Worldwide, Inc. is one of the leading hotel and leisure companies around the globe with more than 1,300 properties in some 100 countries. It has approximately 188,000 employees at its owned and managed properties.
The company is a fully integrated owner, operator and franchisor of hotels, resorts and residences under the brands: St. Regis®, The Luxury Collection®, W®, Westin®, Le Méridien®, Sheraton®, Tribute Portfolio™, Four Points® by Sheraton, Aloft®, and Element®, along with an expanded partnership with Design Hotels™.
Dong Nai surpasses yearly target in FDI attraction
The southern province of Dong Nai attracted 1.34 billion USD in foreign direct investment (FDI) as of July 19, a year-on-year rise of 20 percent, surpassing the annual target by 34 percent.
According to the provincial Department of Planning and Investment, the locality granted investment to 58 newly-registered projects worth 724 million USD and 44 existing ones with increased capital of 617 million USD.
The projects were funded by investors from 44 countries and territories, mainly from the Republic of Korea (RoK), Taiwan (China) and Japan.
As of July 19, the province boasts 1,613 projects with a total investment of over 29.1 billion USD, including 1,223 valid projects worth over 24.5 billion USD, prioritising hi-tech, skilled labour and environmentally friendly ventures.
The provincial People's Committee attributed the outcomes to the local efforts to improve administrative procedures and hold regular dialogues with businesses to help them overcome difficulties and facilitate their operation.
The locality also developed infrastructure at a support industry, and hi-tech industrial parks to lure foreign investors.
Transport firms told to adhere to fleet size rule
The Ministry of Transport has confirmed that the prevailing regulation governing the minimum number of vehicles which transport firms must have to operate fixed routes are still in force though the ministry earlier proposed relaxing it.
The ministry last week issued a decision requiring the Vietnam Road Administration and all transport departments to apply the fleet size requirements provided in the Government's Decree 86.
The decree, which was issued in 2014, requires transport firms in top-tier cities such as HCMC and Hanoi operating fixed routes of 300 kilometers or longer to have a minimum of 20 vehicles. The figure is 10 for businesses in other provinces and five for those in poorer provinces.
Bus operators are subject to the same rule. Meanwhile, taxi companies in big cities must have at least 50 cabs and their peers in other provinces must have a minimum of 10 cars.
Over the past months, many transport firms have complained about the decree, saying it has made business difficult. They have urged the ministry to apply the new rule to companies that were established after the decree came out on September 10, 2014.
For the older companies, business should be as usual and there also has to be a clear roadmap to help them meet any new requirements, they said.
Due to the reaction, the ministry wrote to the Government proposing a delay to the implementation of the decree for review. However, the Government did not approve the request, saying the requirement must be enforced on July 1 as scheduled.
The Government ordered the ministry to modify the requirements to match the scale of enterprises, asking it to learn from this experience for better policymaking in the future.
This means that, while waiting for the decree to be revised, transport enterprises must now follow the fleet size regulation. And if the rule changes, they would have to adjust their number of vehicles again accordingly.
Vietnam's insurance sales see six-year high growth
Insurance companies in Vietnam reported premium revenues of more than VND38.61 trillion (US$1.7 billion) in the first six months, an increase of 25.9% from a year ago, local media have reported, citing the finance ministry.
It was the highest rise since 2011, news website Saigon Times Online said on July 20.
More than 54% of the reported figure came from the life insurance sector, which grew nearly 36.8%.
Non-life insurance revenues, meanwhile, rose 15% compared to the same period last year.
Official figures showed Vietnam now has 17 insurance companies, four of which -- AIA, Bao Viet, Dai-ichi, Manulife and Prudential -- controlled more than 75 percent of the market.
The Association of Vietnamese Insurers forecast the local insurance market to grow 20% this year.
YBA to support 1,000 start-ups
The HCM City Young Businesspeople Association (YBA) will support 1,000 start-ups in 2016-20, its chairman has promised.
Speaking at a meeting between HCM City leaders and young businesspeople and start-up entrepreneurs on Tuesday, Nguyen Thu Phong said the association would also advise 300 start-ups and solicit investments worth VND500 billion (US$22.4 million) in more than 100 others.
He urged the municipal People's Committee to make the association the main co-ordinator of programmes targeting small and medium-sized enterprises, and have its members in start-up-related working groups to consult and develop programmes to encourage entrepreneurship and creativity.
The association would co-operate with the Viet Nam Youth Federation in HCM City and other relevant agencies to build the city's official portal on start-ups and make it a forum for interaction between young entrepreneurs and authorised agencies and a place for start-ups to present their ideas or products and seek investors, he said.
Some attendees said start-ups should be oriented towards the city's socio-economic development programmes, including the high-tech part supplying  industry.
Tran Viet Anh, general director of Nam Thai Son Company, said: "In our time the country lacked consumer goods, so start-ups were successful by producing consumer goods.
"But now times have changed. I suggest young people should start their business in the par supplier industry. This is a sector in which large enterprises do not take part while the country is in dire need of it."
To ensure support for start-ups does not become a failed campaign, measures are needed to ensure successful start-ups and leading businesses guide new start-ups, he said.
The YBA should list the causes of failure of young entrepreneurs in the past to help new businesses avoid the mistakes of the previous generations, he said.
The city has a start-up fund worth VND100 billion ($4.5 million), but it cannot meet demand, delegates said, adding that the city should solicit more investment in it.
Nguyen Thanh Phong, chairman of the city People's Committee, said his administration would speed up measures to create a start-up ecosystem and encourage creative start-ups.
The city is focusing on four key industries — electronics and information technology, mechanical engineering, chemicals, and food processing — he said, adding that part supplier industries are also a special focus of the city.
But the manufacturing sector still mainly does outsourcing work with low value addition, and industries with high added value and sustainability would have to be developed, he said.
"The leaders of the HCM City People's Committee have approved all of the proposals from the HCM City Young Businesspeople Association and wholeheartedly support enterprises in terms of policy to enable the city to meet the target of having 500,000 sustainable enterprises by 2020."
According to the Department of Planning and Investment, the city has 279,000 registered firms, of which a majority are SMEs.
UK helps Vietnam implement int'l arbitration standards
The UK's Commonwealth Fund will help the Vietnamese Ministry of Justice enhance its capacity via a project on implementing international arbitration standards.
The move aims to boost Vietnam's economic development by improving the domestic investment and business climate, the Quan Doi Nhan Dan (People's Army) newspaper cited a press release issued by the UK Embassy on July 20 as saying.
UK Ambassador Giles Lever noted his hope that with the technical assistance, the ministry will outstandingly carry out the project's activities.
Outcomes brought about by the project are expected to exert long-term impacts on policy and rule building in Vietnam in order to increase the efficiency of the recognition and observance of decisions made by international arbitrators in the country, he said.
According to the Vietnam International Arbitration Centre (VIAC), arbitration is conducted in 146 countries. In Vietnam, up to 124 legal proceedings were resolved by the VIAC between 1993 and 2014.
Vietnam has 288 arbitrators, along with seven centres in Hanoi, Ho Chi Minh City and the Mekong Delta city of Can Tho.-
VEF/VNA/VNS/VOV/SGT/SGGP/Dantri/VET/VIR