Toyo Ink Group still on look out for power plant partners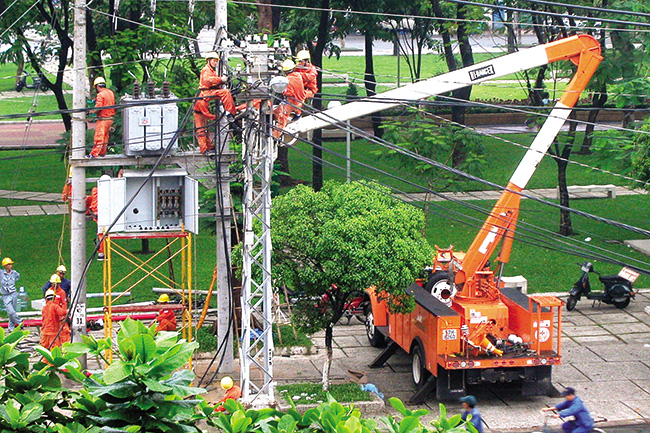 Malaysia's Toyo Ink Group Berhad has not yet secured the partners it requires to join its first build-operate-transfer Song Hau 2 thermal power plant in southern Vietnam.
According to VIR's source, Toyo Ink has been approached by a number of utility firms and independent power producers for equity partnership in the $3.5 billion project. However, no movement has yet been reported.
A memorandum of understanding (MoU) was signed by Toyo Ink for the 2,000 megawatt Song Hau 2 coal-fired power plant under a build-operate-transfer (BOT) agreement in 2013. The plant is part of the 5,200 megawatt Song Hau power centre in Hau Giang industrial park. The power centre will be home to three separate power plants, including the 600MW Song Hau 1, operated by Vietnam's state-run oil and gas group PetroVietnam.
Toyo Ink's Vietnam representative office head, Nguyen Hung Viet, shared with VIR that the first phase would have a capacity of 1,000MW by 2021 with the second phase generating 2,000MW by 2022.
Last year, Toyo Ink's managing director Steven KC Song said that "By inviting other parties to join the project, the pressure for us to raise capital is greatly diminished. We hope to remain the single largest shareholder of the plant, but not necessarily with a controlling 51 per cent stake."
Viet stated that "There has been interest shown from various partners but we have not finalised anything yet," and added "These partners are foreign invested firms."
Toyo Ink is trying to obtain all the relevant permits, including the power purchase agreement, which is considered the hardest job for foreign investors in Vietnam's power sector. Such negotiations can take years to complete.
The Song Hau 2 plant plans to use imported coal from Indonesia and Australia. It also fuels its turbines using diesel oil from Dung Quat and Nghi Son oil refineries.
This is one of three projects which Malaysian firms have invested in Vietnam's power sector. Jaks Resources' Hai Duong thermal power plant in the northern province of Hai Duong is currently under construction.
Meanwhile, Janakuasa Sdn Bhd's Duyen Hai Hai 2 this year signed four documents with Vietnam's Ministry of Industry and Trade  (MoIT) for the development of the 1,200MW Duyen Hai 2 coal-fired power plant in the southern province of Tra Vinh. The agreement includes a land-lease deal, a power purchase agreement, BOT contract, and a government guarantee after six years of active negotiations.
According to the MoIT, Vietnam needs to add another 36,000MW generated from thermal power plants into the supply system by 2020, to ensure the nation's power security. The growing demand for power supply is encouraging more and more foreign power companies to invest in Vietnam.
This year the Vietnamese energy sector is expected to be the next driver for foreign direct investment (FDI) growth in the country. Industry insiders predicted that the FDI commitment level in this sector would touch a record high of $4-$5 billion in 2016.
Đà Nẵng, Slovakia to boost IT, tourism co-operation
Slovakia will boost co-operation with Đà Nẵng in tourism, information technology (IT) and software, Slovakian Prime Minister Robert Fico said in a meeting during his visit to the city on July 19.
The Slovakian PM said the central city and Việt Nam were seen as peaceful and safe tourist destinations by Slovakian tourists, as favourite destinations in Turkey and Egypt were facing instability and security issues.
"Đà Nẵng has a long coastline and is an ideal destination for Slovakian tourists. I have witnessed the development of Việt Nam since I visited the country in 2008," Fico said.
"However, direct air routes from Slovakia to Đà Nẵng and other cities of Việt Nam are yet to be established to facilitate for tourism development and co-operation. We are also eyeing streamlining of procedures for tourist visa applications to enter Slovakia, as Việt Nam plans to exempt visa fees for Slovakia tourists visiting the country," he said.
The PM also said Slovakia was home to the Vietnamese community and he would urge Slovakian people to visit Đà Nẵng, which has ideal and pristine beach destinations.
He said FPT, an IT group of Việt Nam, has been working in IT development in Slovakia for years.
The Slovakia leader also visited the FPT Complex, the largest IT service centre in the central region built to contribute $1 billion to FPT's software exports revenue by 2020, and which contributed 37 per cent of the city's software export revenue in 2015 ($50 million).
Chairman of the central city's People's Committee Huỳnh Đức Thọ said the city hoped to boost co-operation with Slovakia in tourism, port services, software and high-tech, besides manufacturing and human resource training, based on the long-term friendship between Việt Nam and Slovakia.
He said Đà Nẵng had signed a memorandum of understanding on co-operation and friendship with Kosice City, Slovakia, to boost investment, trade, education and tourism between the two cities in 2015, on the occasion of the 65th anniversary of the establishment of diplomatic ties between Việt Nam and Slovakia.
Bilateral trade between Đà Nẵng and Slovakia reached a modest US$200,000 in garments in 2015. Slovakia is currently the largest Central European investor in Việt Nam.
In 2014, FPT Software acquired RWE IT Slovakia – a subsidiary of the RWE Group in Eastern Europe – to strengthen its global delivery capabilities in Europe, as well as to turn RWE IT Slovakia into a future FPT Slovakia, a member of the FPT family.
$300 million Korean factory comes to Ha Nam
Korean Seoul Semiconductor Company (SSC) plans to invest $300 million to develop a semiconductor and LED lighting equipment manufacturing factory in Dong Van I, in the northern province of Ha Nam.
It is the largest Korean investment in Ha Nam province to date.
On July 15, representatives of the company and Ha Nam Provincial People's Committee signed an agreement to develop the project.
The construction is expected to kick off in August and will be divided into two phases. The first phase will have a total capital of $147 million, while the remaining $153 million will be disbursed during the second phase.
According to a representative of SSC, the factory will be equipped with multi-polarization technology as well as other modern technologies aiming to economically manufacture energy-saving, high-brightness products.
Once the factory comes into operation, it will create 3,000 jobs. The revenue in the first year of operation is expected to reach $150 million and $200 million in the second year. The figure will increate to $400 million and $500 million in the third and fourth years, respectively.
Established in 1992, SSC specialises in manufacturing semiconductors and LED lighting equipment used to manufacture computers, television, and mobile phones. Its products are present in more than 60 countries over the world. Notably, its LED products rank make up one fourth of the world's total market share.
Currently. the company has six factories in Korea, Japan, China, the US, and Germany.
In May 2015, Korean-invested KMW Vina Co., Ltd. began the construction of a $100 million plant producing telecom and LED lighting equipment, both for the local market and export, in Ha Nam.
Covering over 30 hectares at Dong Van 1 Industrial Park, the factory is expected to produce 220,000 telecommunications and radio engineering devices and 380,0000 pieces of LED lighting equipment a year, as well as create jobs for 5,000 workers.
The project will be implemented in 36 months and stay valid for 50 years.
DLG to invest in electronic components
The Duc Long Gia Lai Group (DLG), one of Vietnam's largest private concerns, plans to make electronic component manufacturing its strategic business line over the next three years through mergers and acquisitions (M&As).
According to Mr. Bui Phap, Chairman of DLG, electronic component manufacturing will bring the Group revenue of $200 million over the next three years. "DLG is absolutely able to reach this goal thanks to taking advantage of the capabilities of its partners and a stable consumption market," he said.
To achieve the goal DLG recently conducted M&As with electronics companies from South Korea and Japan that have recorded solid business performance.
Most recently, on April 21, DLG successfully bought Electronic Factory Quality Systems Integrated Corporation (QSIC) and its modern factory on 18,000 sq m at the Saigon High-Tech Park in District 9, Ho Chi Minh City. The factory is now in the process of new equipment installation and will begin production for export in October.
In 2015 DLG merged with the US's Mass Noble (headquartered in Hong Kong) in a share swap arrangement. The large-scale company is located in the city of Dongguan in China's Guangdong province and has over 3,300 employees, specializing in producing high-tech electronic products such as high-end LED lights for furniture, cars, streets and highways.
Mass Noble is very stable and has become the representative of DLG in Hong Kong in implementing M&As with electronics companies from Japan, South Korea and elsewhere so it may expand its business. Last month Mass Noble purchased and became the owner of the DLG-Hanbit Co., Ltd, headquartered in Seoul, South Korea.
DLG is a multidisciplinary group with main sectors being agriculture, energy, and infrastructure. Listed on the stock market, DLG has established 22 companies and four affiliates with multi-sector operations and investment in Vietnam as well as other countries around the world.
Besides electronic component manufacturing the group will also focus on real estate developments this year. It will start three projects in Districts 7 and 8 and Binh Tan district in Ho Chi Minh City, with total investment capital of VND4 trillion ($180 million) and providing about 2,500 apartments.
At the end of FY 2015 DLG reported revenue of VND1.6 trillion ($72 million), up 63.6 per cent year-on-year, and pre-tax profit of VND82.8 billion ($3.72 million), up 57.4 per cent. In 2016 it targets revenue of VND2.8 trillion ($126 million) and after-tax profit of VND220 billion ($9.9 million).
In order to take advantage of free trade agreements and the TPP, DLG is continuing negotiations to sign contracts to supply components to major partners in the US (Canon, Azad international, Whirlpool, and Honeywell), South Korea (LG and Hyundai), and Japan (Sony and Panasonic). This will be a crucial step in DLG becoming a major investor in the field of manufacturing electronic components.
According to the General Statistics Office (GSO), in the first six months of this year export turnover in electrical and electronic components reached $7.9 billion, up 7.1 per cent year-on-year.
Although export turnover accounted for one-fifth of the total, it mainly comes from foreign invested enterprises such as Samsung, Microsoft, LG and others.
These large groups have increased their localization rates but Vietnamese enterprises must still import components from foreign countries. Figures from GSO show that import turnover in electronic components in the first six months increased 17.8 per cent year-on-year, mainly from China, with $1.5 billion, followed by South Korea with $771 million.  
Phones, phone parts lead export turnover in first half of 2016
Phones and phone parts took the lead in export turnover in the first six months of 2016 with US$17 billion, a year on year increase of 16 percent, reported the General Customs Department.
The number accounts for nearly 21 percent of the country's total export turnover of US$82.13 billion, up 5.7 percent over a year back. It was followed by garment and textile with US$10.85 billion, up 6.4 percent over the same period last year.
At the next positions were computers, electronic items and components, footwear, and wooden products.
In the first six months of 2016, 17 groups of export goods yielded the turnover of from US$1 billion and higher.
Of these, some groups saw a year on year reduction of export value including crude oil, down 46.8 percent to US$1.12 billion. Cameras and components dropped 23.5 percent to US$1.15 billion and rice fell 6.9 percent to US$1.19 billion.
Authorities struggle to collect gold mine taxes
Despite the authorities suspending operations and freezing bank accounts, they have still proved unable to collect VND434bn (USD19.7m) in back taxes from two gold mines in Quang Nam Province.
The gold mines are operated by Besra Vietnam, a subsidiary of Canadian Besra Inc. The Phuoc Son Gold Company Ltd owes VND334bn and Bong Mieu Gold Mining Company Ltd owes VND100bn in natural resources, contractor, value added and personal income taxes, land rental fees, environment protection fees and fines for the late payment of taxes and fees. The companies have also been accused of selling gold at cheap prices so their mother company can evade taxes.
In 2014 Quang Nam Provincial Tax Department froze the bank account and Besra Vietnam's value-added tax refund. However, the tax arrears haven't been paid. Ngo Bon, head of Taxation Department of Quang Nam Province, admitted they faced a dead end. It's highly likely that the companies will declare bankruptcy and have their debts erased.
Previously, the authorities revoked the business licences of the companies.
On July 8, Phuoc Son Gold Company sent a roadmap for debt restructuring and payments to Quang Nam Province's authorities. The company promised to pay taxes within 12 months starting from August 16. Each month, the company was scheduled to repay USD27.9bn to the state budget. This move was intended to help Phuoc Son resume work in August and pay taxes to the local budget.
Viet A Bank, which acquired a 35% stake in Phuoc Son Company last year, offered to act as a guarantor for the company's tax payments.
It's unclear whether Bong Mieu Gold Mining Company has any plans to pay its outstanding taxes. Its mining licence also expired in March but the company then continued to operate illegally.
During a meeting with leaders of Quang Nam Province on July 10, Deputy Prime Minister Truong Hoa Binh said the two gold mines wouldn't be allowed to continue operations until they paid their taxes. If Viet A Bank wants to be Phuoc Son's guarantor, they must provide more detailed papers and clearly state that they will take all responsibility.
Cement consumption increases by 12.4% during Jan-June
The first half of 2016 saw positive signals from the real estate market, helping facilitate consumption of building materials in general and cement in particular.
According to the Building Materials Department under the Ministry of Construction, in the first six months of the year, consumption of cement products (including cement and clinker) was estimated at 38.77 million tonnes - up 12.4 % over the same period last year - reaching more than 51% of the annual plan.
Cement consumption in the domestic market during the period reached nearly 30 million tonnes, up 14.8% over the same period in 2015.
According to experts, the forecast of yearly domestic consumption of about 59-60 million tonnes can be reached by the year-end.
Head of the Building Materials Department Le Van Toi said that the rise in cement consumption during the first six months of 2016 was due to warming of the real estate market with a range of construction projects launched.
Cement products are at reasonable prices, thanks to reduced production costs during manufacturing from cement businesses.
Meanwhile, cement exports in the first half reached 8.85 million tonnes, up 5% year on year despite increased pressure from cheap cement supplies from China and domestic difficulties.
Hanoi: export revenue hit over US$5.2 billion in first half
Hanoi reeled in more than US$5.2 billion through exports in the first six months of 2016, up 0.1% year-on-year, according to the municipal Department of Industry and Trade.
Exports with good growth included garments and textiles which brought in US$711 million, followed by machinery-equipment-component (US$612 million), and means of transport and spare part (US$396 million).
Electronic products, footwear, leather goods and handicrafts also posted increases in export revenues.
By contrast, computer components and agricultural produce saw lower turnover compared to the equivalent period last year.
In June alone, the capital city earned US$926 million from exports, increasing 3.2% from May.
Overall, Hanoi has recorded robust economic performance in the first half of 2016, with its gross regional domestic product (GRDP) gaining 7.3%. The capital's agro-fishery sector grew 2.1% year-on-year in the period, while the industry and construction sector secured an annual growth of 7.8%.
Trade balance reaches a plateau in Q2
Viet Nam's trade balance surged slightly and reached a plateau in Q2, according to the Viet Nam Institute for Economic and Policy Research (VEPR).
In its macro-economic report in Q2, 2016, the VEPR reported that the trade balance shifted from a  surplus to plateau after two quarters. Export still weathered a low growth rate at 5.2% and imports rebounded, making the trade balance reach the stable level.
In the first half, export turnover fetched US$82.2 billion, representing a year-on-year surge of 5.9%. Meanwhile, import volume was estimated at US$43.5 billion, up 2.2% against the same period last year, bringing the total number to US$80.7 billion in the first half, down 0.5%.
Excluding price factors, import turnover valued US$87.5 billion, up 7.9% against the same period last year, according to the General Statistics Office (GSO).
The VEPR warned that rising commodity and energy prices would worsen the trade balance in the coming time, leading to a trade deficit as recorded in the post-2012 period.
Export turnover fetches US$162.57 billion in H1
As of late June, total trade turnover valued US$162.57 billion, up 2.4% or US$3.76 billion against the same period last year, according to the Viet Nam Customs Department.  
In the first half, Viet Nam ran a trade surplus of nearly US$1.7 billion.
Total export turnover was over US$ 82.13 billion, up 5.7% or nearly US$4.44 billion against the same period last year.
The FDI sector gained an export turnover of over US$57.34 billion, representing a year-on-year growth of US$4.69 and accounting for 69.8% of national total figure.
The General Statistics Office assessed that structure of exports merely kept unchanged in comparison with last year of which heavy industries and mining made up 45.5%; light industries and handicrafts 40.7%; and the agro-forestry-fishery sector 10.1%.
The U.S. remained the largest importer of Viet Nam; followed by the EU, China, the Republic of Korea, ASEAN, and Japan.
Import volume reached over US$80.43 billion, representing a year-on-year decline of 0.8% (or US$684 million). The FDI sector held 58.6% of total import turnover and the domestic sector accounted for 41.4%.
In the January-June period, import of machines, equipment, and spare parts saw a year-on-year decline of 0.6% and accounted for 41% of total import turnover; raw materials and fuel witnessed a year-on-year decrease of 0.6%; consumption commodities experienced a year-on-year growth of 0.7%.
China was the largest importer of made-in-Viet Nam products; followed by the Republic of Korea, ASEAN, Japan, the EU, and the U.S.
Microfinance sector targets sustainable development
The State Bank of Vietnam (SBV) and the French Development Agency (AFD) have jointly held a workshop to map out development orientations for the microfinance sector in Vietnam.
The event took place in the northern province of Thai Nguyen on July 15-16 as part of a technical assistance project to improve legal framework and enhance management and inspection capacity in the field.
Deputy Director of the Department of Credit Institutions and Banking Activities Licensing Management under the SBV's Supervision and Inspection Agency Hoang Quoc Manh said the project has been implemented since October 2013 to help the SBV develop sustainable and effective microfinance sector, providing various financial products for low-income people, and micro and small enterprises.
Participants discussed microfinance development trends and strategies, as well as difficulties and challenges faced by microfinance projects.
Microfinance constitutes an effective tool to reduce poverty in many countries around the world, including Vietnam, experts said.
They suggested micro financial institutions diversify their services and improve quality to ensure sustainable poverty reduction.
Vietnam has three formal micro financial institutions and 300 semi-formal programmes. 80 percent of the programmes have outstanding debts of below three billion VND (135,000 USD).
Vietnam to host Asia-Pacific cooperative ministers' conference
The Vietnam Cooperative Alliance (VCA) will host the 10th Asia-Pacific Ministers' Conference scheduled on April 18-21 next year in Hanoi.
The VCA said that the conference is a significant event to boost cooperation between Governments and the cooperative sector in the context of deep regional and global integration.
Earlier, leaders of regional cooperatives gathered at consultation conferences, discussing the five main issues, namely food sovereignty and security, new approach to cooperatives, the informal economy and transitions to formality, regional and global participation of cooperatives, and a fair environment in terms of legal framework and policies.
The conferences adopted 16 conclusions and nine recommendations, to be submitted to the ministers' meeting.
According to the VCA, the overriding priorities were placed on youths' involvement in cooperatives, access to food and socio-economic services, green economy and public-private partnership.
The previous Asia-Pacific Ministers' Conference was hosted by Thailand on February 27-29 in 2012.
Integrated solutions required to attain 2016 socio-economic targets
The Ministry of Planning and Investment (MoPI) has been asked to take integrated solutions to realise this year's socio-economic development targets, following a growth slowdown in the first six months.
At a conference in the central province of Khanh Hoa on July 16, Deputy Prime Minister Vuong Dinh Hue requested the ministry to strengthen coordination with other ministries and localities, and integrate economic restructuring solutions with fiscal and monetary policies to achieve the targets set at the 12th National Party Congress in January.
He told the MoPI to carefully prepare a master plan on economic restructuring for 2016 – 2020 to submit to the National Assembly for approval, while promptly designing a medium-term investment plan.
The Deputy PM noted the need to shore up agricultural activities following damages caused by the acute drought earlier this year.
In terms of industrial production, the MoPI needs to adjust domestic oil exploitation in line with fluctuations in the global markets, accelerate garment and footwear industries' growth, and foster exports to the EU, ASEAN and new markets.
At the conference, MoPI Minister Nguyen Chi Dung said the six-month gross domestic product (GDP) growth rate was posted at 5.52 percent, lower than both this year's target of 6.7 percent and the 6.32 percent rate a year earlier.
The slowdown was mainly attributable to the shrunken agriculture and mining as a result of drought, saltwater intrusion and marine pollution. The lingering oil price plunge also led to a decrease of oil exploitation volume.
Meanwhile, total export revenue from January to June climbed by 5.9 percent, the slowest pace for the same period since 2011 and well below this year's target of 10 percent, he noted.
However, the macro-economy was stable with low inflation and a surging disbursement of FDI capital with 7.25 billion USD, Dung said.
Australia deliberates on imports of Vietnam dragon fruit
Australia has started a process of evaluating Vietnam dragon fruit for imports, thus opening wider doors for Vietnam dragon fruit to enter the highly lucrative market if the process is successful, according to the Ministry of Industry and Trade.
The Vietnam Trade Office in Australia said a group of experts from the Australian Department of Agriculture and Water Resources had made fact-finding tours of Ho Chi Minh City, Long An, Tien Giang, and Binh Thuan late June to inspect the plantation and production process in Vietnam and pinpoint risks.
The Australian government will by the end of this year announce a draft report on the evaluation process for public consultation.
Fruit and vegetable imports up 40% in first half
Fruit and vegetable imports hit US$351 million during the first half of this year, up 40% over the same period of two years ago, the General Department of Vietnam Customs reports.
Higher volumes of imported fruit and vegetables came from key markets- Australia (up four times to nearly US$20 million), and New Zealand (double to nearly US$11.3 million).
Other markets like the Republic of Korea, India, South Africa and Brazil also experienced relatively high import growth while imports from China saw a slight increase of 30% to US$80 million.
Thailand remained the top fruit and vegetable exporter of Vietnam.
Vietnam spent US$200 million importing Thai fruit and vegetables last year and US$144 million for the first half of this year.
The US was also among top three biggest importers with US$32 million during the corresponding months.
Judging from the Vietnamese market, prices of imported fruit from the US, Australia and New Zealand are much higher than those of domestic and Chinese fruit.
Finance firms raise $1bn with deposit certificates
Finance companies have mobilised capital more effectively after the authorities let them issue deposit certificates, experts told Thoi bao Ngan hang (The Banking Times).
Nguyen Hoang Minh, deputy director of the State Bank of Viet Nam's (SBV's) HCM City branch, said finance companies raised up to VND23 trillion (about US$1 billion) through deposit certificate issuances during the first half of this year.
This was 64 per cent higher than the amount they mobilised last year.
Viet Nam defines finance companies as non-banking credit institutions that use their own equity and mobilise money for lending and investment.
They can provide financial and monetary consulting services, but may neither deal in payment nor accept deposits with terms of less than a year.
On December 31, 2013, the SBV issued Circular No 34/2013/TT-NHNN, allowing non-banking credit institutions to issue valuable papers, including deposit certificates, to mobilise capital.
Organisations and individuals from Viet Nam and abroad can buy the certificates. However, credit institutions and their subsidiary companies, as well as foreign bank branches are not allowed to buy the certificates when they are issued for the first time on the primary market, the circular said.
Finance companies said now they only had to inform the central bank about the volume of certificates after they issued them, enabling the firms to proactively manage time and costs related to capital mobilisation.
This is different from the situation before the circular was issued, when finance companies had to either issue bonds or borrow from banks to have money.
The companies could issue bonds only after receiving the approval of the central bank, after completing certain procedures. They also had to cover significant costs while borrowing capital from foreign banks, which claimed charges for money exchange and exchange rate-related risk prevention charges.
Nguyen Thanh Phuc, director of capital sources at the HCM City-based FE Credit Company, said the firm mobilised more than VND14 trillion (US$622.2 million) by issuing deposit certificates during the first half of this year.
The firm, a subsidiary of the Viet Nam Prosperity Bank, offered certificate buyers interest rates of between 5.5 per cent and 12 per cent per year.
Phuc said these rates were more attractive to customers, compared with interest rates that banks set for deposits with terms of more than a year. Such bank deposit rates now hover at about 6 per cent per year.
Consumer finance
He said the potential growth of consumer finance, broadly known as the financing of goods and services for consumers, was driving more deposits at finance companies.
Economic stability is gathering momentum in Viet Nam, with growing per capita income, and thus increasing purchasing power. More than half of its 94 million people were willing to spend more to improve living standards, Phuc said.
Dam The Thai, deputy general director of consumer finance company HD Saison in HCM City, said his firm also had increasing demand for capital.
HD Saison, initially known as Societe Generale Viet Finance Co Ltd, is under the HCM City Development Bank, with Japanese financial group Credit Saison as a strategic investor. Its deposit certificates have terms of one to three years, with coupon interest rates of between 9 per cent and 10 per cent per year.
"Our company will consider issuing more deposit certificates with more attractive interest rates to lure investors in the future," Thai said.
A meeting held by the Viet Nam Competition Authority under the industry and trade ministry in Hà Nội last week was informed that consumer loans in Việt Nam totalled $10.4 billion, equivalent to 6.6 per cent of the country's gross domestic product, as of August 2015.
The authority said companies providing consumer credit services were seeing rapid growth, while the SBV reportedly said consumer loans grew on average by 20 per cent per year over the last seven years.
Long-term capital
However, finance companies reportedly face difficulties in managing medium- to long-term capital.
SBV Circular No 06/2016/TT-NHNN said from July 1, 2016, non-banking credit institutions were to reduce the ratio of short-term capital used for medium- to long-term lending from 200 per cent to 100 per cent. This ratio must be further lowered to 90 per cent in early 2017, and 80 per cent in 2018.
This means finance companies must try to manage more medium- to long-term capital. Bond and deposit certificate issuances would continue to be effective channels meeting this capital demand of the firms, but demand might exceed supply if all firms just counted on these channels, industry insiders said.
Meanwhile, SBV Circular No 21/2012/TT-NHNN currently allows most non-banking credit institutions to borrow capital from domestic banks with terms of only one year or less. Consumer finance firms may approach local banks for medium-term loans with terms of up to three years.
To supplement medium-term capital, finance companies will have to seek more capital from foreign credit institutions, which offer lower interest rates than that of domestic banks. But with money exchange and exchange rate-related risk prevention charges taken into account, the overall costs for finance companies are likely to increase significantly in this case.
Industry insiders said finance companies backed by parent banks might find it easy to manage medium- to long-term capital, but this was truly a puzzle for independent finance firms. Circular No 21 should be revised in a sense to help firms diversify their capital mobilising channels, they said.
Minh from the SBV's HCM City branch said Circular No 21 limited the terms of local bank loans for finance companies to one year or less, because banking authorities wanted to restrict the risks coming from finance firms under economic groups and corporations. But this virtually causes obstacles for consumer finance firms.
Minh said it was necessary to have separate regulations to manage consumer finance firms and finance companies in other areas. He would ask the SBV to work out measures to ease difficulties for consumer finance firms in seeking medium- to long-term capital, he said.
Vietnam to increase steel imports
The Vietnam Steel Association (VSA) said Vietnam is likely to increase steel imports, especially at the year's end when the construction demand surges.
Since the beginning of 2016, the country has imported over 9.6 million tonnes of steel of all kinds, worth around 3.42 billion USD, showing a year-on-year rise of 48 percent in quantity and 1 percent in value.
Up to 60 percent of the imported steel was from China, according to the VSA.
Vice Chairman of the association Nguyen Van Sua said Vietnam remains the biggest steel importer in Southeast Asia and seventh in the world.
In 2015, the country imported about 18.7 million tonnes of finished and semi-finished steel.
Businesses are still importing steel billets and finished steel, though the Ministry of Industry and Trade imposed temporary safeguard duties of 14.2 – 23.3 percent on the products.
China's cheap steel is forecast to continue flowing into Vietnam to the end of this year. If Vietnamese businesses do not take self-protection measures, they would face declining productivity and even bankruptcy, Sua said.
He suggested imposing safeguard duties in the foreseeable future and encouraged domestic enterprises to forge links to enhance their competitiveness and quality of their steel products in the long run.
Local enterprises upbeat about business production in H2
Most of the local processing and manufacturing enterprises feel more upbeat about their business prospects in the second half of the year, according to a recent survey by the General Statistics Office (GSO).
The GSO's statistics revealed that 55.4 percent of local enterprises expect a surge in production, 35.3 percent expect things to remain stable and only 9.3 percent anticipate their production to dip in the six-month period ending in December.
Business looks more promising in the third quarter from the previous quarter as evaluated by 47.7 percent of enterprises in the processing and manufacturing sector. About 39.1 percent believe it would be unwavering and 13.2 percent think there would be difficulties.
As much as 48.5 percent of businesses surveyed expect more orders to come in the July-December period, while 42 percent said it would remain stable. Only 9.5 percent were pessimistic about fewer orders for the second half of the year.
About 38.2 percent, 12.1 percent and 49.7 percent of the businesses predicted export orders to increase, dwindle or remain steadfast in the third quarter, respectively.
Regarding employment, the survey indicated that 26.5 percent of firms planned to hire more workers, with 66.5 percent expecting their head-count to remain stable in the period.
According to the GSO, 55.6 percent of correspondents foresaw their inventories of finished products to be stable, 29.7 percent predicted reduction and 14.7 percent projected their goods in stock to grow.
Total revenue from retail and service sales in the first six months of this year was estimated at 1,724 trillion VND (76.2 billion USD), a year-on-year increase of 9.5 percent. Robust growth in revenue was seen in Binh Duong, Nam Dinh, Thanh Hoa, Khanh Hoa, Quang Nam, An Giang and Bac Giang provinces and Hai Phong city, the GSO said.
German garment & textile technologies introduced in Hanoi
Germany's latest textile and apparel technologies have been introduced to local enterprises in Hanoi on July 5.
The event was held by the Vietnam Textile and Apparel Association (Vinatas) in collaboration with the Textile Machinery Association under the Germany Engineering Federation (VDMA).
The forum had the participation of around 650 business representatives and experts from Vietnam's textile and support industries.
At the forum, Truong Van Cam, Deputy Chairman of Vinatas, said a considerable proportion of technologies in Vietnam's textile and apparel industry need to be replaced to improve quality, especially for supplying cloth for for-export garment making.
Vietnam's garment and textile export is forecast to grow around 10 percent this year.
The VDMA Textile Machinery Association groups 130 companies manufacturing textile machines and equipment with a value of 3.1 billion EUR (3.46 billion USD) in 2015.
A similar event will be held in HCM City on July 7.
FDI flow into Hai Phong soars
The northern port city of Hai Phong absorbed 1.8 billion USD in foreign direct investment (FDI) in the first half this year, 3.5 times higher than the same period last year, the Dau Tu (Investment) newspaper reported, citing statistics of the municipal Department of Planning and Investment.
The figure represents 93 percent of the city's yearly target.
With 23 new projects and 17 expanded ones licenced in the period, Hai Phong was among the top localities in terms of FDI attraction.
Most noteworthy among the newly-licensed projects was the 1.5 billion USD factory in Trang Due Industrial Park invested by LG Displays Co. Ltd from the Republic of Korea (RoK).
Together, the new FDI projects created jobs for nearly 27,000 labourers, Director of the Department Duong Ngoc Tuan said.
According to the director, Hai Phong is now home to 470 operational projects, with a combined registered capital of nearly 12.68 trillion USD.
Among FDI enterprises allowed to raise capital, Regina Miracle International Ltd from Hong Kong, China in VSIP Hai Phong IZ, producing women's underwear and sportswear adjusted its capital from 150 million USD to 235 million USD.
Meanwhile, Chilisin Holding Limited, another Hong Kong-funded project in the IZ almost doubled its registered capital, from 22.6 million USD to 46 million USD.
According to Mai Xuan Hoa, Vice Head of Hai Phong Economic Zone management board, Hai Phong has become the choice of numerous big economic groups from Japan, the RoK and Belgium.
He underlined the city's favourable investment climate and developed infrastructure facilities as advantages to help Hai Phong attract more FDI.
Public transport firms act to woo bus commuters
A number of public transport firms in HCMC have put into service new buses replacing aging ones in an effort to improve service quality and thus woo back passengers.
Dong Nam Transport and Service Cooperative has launched new 40-seat buses replacing 12-seat buses on Route 51 connecting Mien Dong Coach Station and Binh Hung Hoa.
Viet Thang Transport and Tourism Cooperative has replaced all of its old buses plying Route 100 between Cu Chi Coach Station and Tan Thai Bridge with new 40-seat buses. The enterprise has increased daily bus services on the route by 24 to 124 and changed departure schedules for the first and last trips.
May 19 Transport Cooperative has put into operation new 47-seat buses on Route 23 that starts from Cho Lon Coach Station, passes through Nga Ba Giong and ends at Lon Bridge.
Most of the new air-conditioned buses meet Euro 3 emissions standards and have surveillance cameras.
According to a bus service development project approved by the HCMC government in the 2015-2017 period, the city will replace 1,680 aging buses, and there will be 300 locally-assembled vehicles running on compressed natural gas (CNG).
The replacement is a top priority given a sharp fall in the number of bus commuters in recent years due to poor service as pointed out by the HCMC Department of Transport. The city plans to shift to electronic bus tickets by the year-end to create more convenience.
Many bus commuters suggested the city restructure inconvenient bus routes to lure back passengers.
Burdensome rule on bonded warehouse area kept in draft decree
A number of logistics services providers have bemoaned that they would have to continue to struggle with a burdensome rule governing the area of bonded warehouses as it is added to a draft Government decree.
The draft has prepared by the Ministry of Finance. Article 10 of the draft regulates that the minimum area of a bonded warehouse should be 5,000 square meters and its storage facility alone should be at least 1,000 square meters.
Meanwhile, a special-purpose warehouse must be at least 1,000 square meters or have a minimum goods storage capacity of 1,000 cubic meters. The special-use area of a 1,000-square-meter warehouse at ports must be 10,000 square meters.
The area requirement is the same as that in the Government's currently Decree 08/2015/ND-CP, according to bonded warehouse operators.
Since the decree took effect one year and a half ago, bonded warehouse operators have many times complained at their meetings with the customs in HCMC that the area requirement is no longer appropriate in the sector.
Logistics firms proposed the Government allow them to build bonded warehouses depending on their capacity and demand as in previous years.
A couple of customs units acknowledged that it is easy for logistics firms to find areas of 1,000-5,000 square meters in provinces where land remains abundant. However, it is hard for logistics firms in HCMC to meet this requirement.
At a recent conference held in HCMC to collect comment on the draft, logistics firms said it would be impossible for them to observe the area rule in the draft decree.
The HCMC Department of Customs said it will forward comments of logistics enterprises on the area requirement to the General Department of Customs under the Ministry of Finance to find a way out.
At a Government meeting on law making in Hanoi last month, Prime Minister Nguyen Xuan Phuc ordered ministries and agencies to stop the bad practice of copying some contents in old circulars and legal documents, and paste them onto new ones.
UK finances solar power projects in south
A major program funded by the UK will be executed to support firms in HCMC and neighboring Binh Duong, Long An and Dong Nai provinces to install solar panels on the roofs of their buildings, the Vietnam News Agency reported.
The program was announced by the UK's Foreign and Commonwealth Office (FCO), Dragon Capital Group and the HCMC Energy Conservation Center.
With financial support from the UK's Prosperity Fund, the first phase of the program for solar power development in southern Vietnam (Solar Hub) will be implemented until end-March next year to create clean and stable energy for enterprises to use.
The Solar Hub will provide firms with technical assistance to conduct the pre-feasibility studies for their solar power projects, measure solar radiation, and gauge the economic efficiency of the solar power systems. It also covers legal assessments and administrative procedures for supporting mechanisms for solar power projects.
Data will be collected to help develop a database of solar power to provide information for State agencies, equipment suppliers, consultants, and enterprises interested in solar power production. The final results will be published on a website designed for solar energy as a source of widely shared reference material.
Andrew Holt, representative of the Prosperity Fund from the British Embassy in Hanoi, said the 1.3-billion-British-pound fund was launched last November and that Vietnam was one of the first countries to benefit from it.
He expected the Solar Hub will promote solar energy development in Vietnam.
Gavin Smith, director of the Clean Development Fund of Dragon Capital Group, said Vietnam's solar energy industry is still in its infancy and the provision of accurate and reliable information in such a new market is important.
Smith said the Solar Hub will encourage private firms to invest in the solar energy industry. It will focus on the rapidly growing trade and industrial sectors which have increasing power demand and can make full use of solar power.
Dragon Capital Group will contribute to helping HCMC become a solar hub of the country, he said.
Huynh Kim Tuoc, director of the HCMC Energy Conservation Center, said after the success of a pilot program to support solar power in HCMC last year, the city has installed over 1 MWp of solar electricity and that firms are expected to invest in projects with a combined 2.5 MWp this year.
VEF/VNA/VNS/VOV/SGT/SGGP/Dantri/VET/VIR