The Ministry of Industry and Trade (MoIT) has proposed the development of large textile and garment industrial zones (IZs) to attract investment in dyeing, and fabric and yarn production.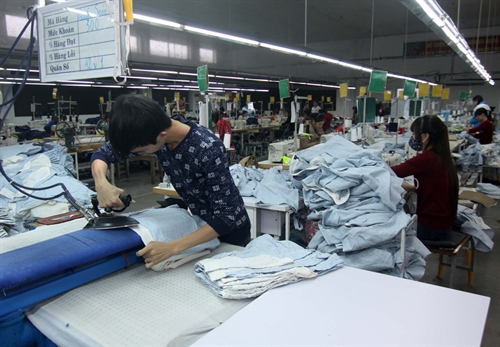 Employees of Vinh Oanh Garment Co Ltd in Nam Dinh Province's Y Yen District produce protective gear for export. The company earned VND120 billion in revenue last year.
The 500ha to 1,000ha zones would attract local and foreign investment for high-end products.
The ministry has also proposed that the Government provide full support for the building of textile and garment industrial zones located in provinces and cities expperiencing socio-economic difficulties in order to create conditions for the success of small and medium startup enterprises, according to the ministry.
The proposal also targets the development of transport infrastructure connecting the large industrial zones to ports and logistic centres and reduce transportation costs.
The Viet Nam Textile and Apparel Association (Vitas), which sent to the Government a document detailing the difficulties of textile and garment enterprises and proposed solutions, supports the IZ plan.
The association also suggested the Government provide credit for enterprises to build waste water treatment centres at those industrial zones.
Exports in H1
Textile and garment exports grew in the first half of this year, but local firms face difficulties in obtaining production and export contracts for the second half of 2016, according to the Ministry of Industry and Trade (MoIT).
The ministry reported a six-percent export increase in the first half of this year to US$12.8 billion.
The industry also saw growth in export value to its major markets, including the US, increasing by 5.9 per cent to $4.29 billion; Japan with an increase of 2.9 per cent to $1.04 billion; South Korea with exports 15.58 per cent higher at $764.9 million.
Nguyen Thi Huyen, Director of the Garment 10 Joint Stock Company, said she was not optimistic about production by the end of the year, while Brexit is expected to harm the price competition for garment exports.
According to Tran Van Khang, Director of Dong Binh JSC, there has been a lack of export orders since the beginning of the year, triggering stiff competition among domestic manufacturers for customers.
Khang said his firm experienced a 30-percent drop in the number of orders in the first five months, for which he blamed overstocking and falling demand in import markets.
In addition, export prices have plunged by 10-15 per cent, while the firm still has to pay wages, insurance and transportation costs, which are on the rise, he added.
Phi Viet Trinh, Deputy Director of Ho Guom Garment SJC, said the company's overseas orders fell significantly in March and April, and only started to rebound in June.
Several trade deals, including the Trans-Pacific Partnership (TPP) and the Vietnam-EU Free Trade Agreement, have not yet come into effect so that Vietnam's garment customers could not benefit from a preferential tax regime and turned to other foreign manufacturers with more tariff advantages.
Many of Viet Nam's traditional customers shifted their orders to Myanmar, Laos and Cambodia, which enjoy reduced import duties in the US and the EU, the two largest buyers of Vietnamese garments, said the Chairman of the Viet Nam Textile and Garment Association (Vitas), Vu Duc Giang.
Viet Nam's 2016 textile and garment exports are expected to reach a total value of $31 billion. 
VNS