PM urges industry and trade to restructure
Prime Minister Nguyen Xuan Phuc urged the industry and trade sectors to accelerate restructuring and renew management towards a market-based economy and strive to maintain export growth at at least 10 per cent.
Phuc made his comments at the Ministry of Industry and Trade's conference held yesterday to review works in the first half of this year and discuss tasks for the remainder of the year.
Under discussion at the conference were a number of problems including a slowdown in industrial production, rampant food safety violations, weak management towards multi-level marketing and fake fertilisers.
The implementation of development strategies for industries such as steel, automobile and mechanical production were not as efficient as expected while efforts to promote the dynamism of the business community amid rapid international integration remained inadequate, Phuc said.
"All of these problems press the Ministry of Industry and Trade to hasten restructuring, especially renewing management approaches towards improving productivity through innovations and application of high technology," Phuc said.
Opportunities from free trade agreements (FTAs) were there, but institutional reforms and policies must be raised timely to enable firms to grab the available opportunities, Phuc said.
Phuc urged the ministry to create favourable conditions to promote the participation of the private sector in business and production.
"Most importantly, the sector must strive to maintain export growth at at least 10 per cent," Phuc said.
"This is a Herculean task amid the slow recovery of the world economy," Minister of Industry and Trade, Tran Tuan Anh said, adding that greater effort and determination were needed.
Tuan Anh said the ministry would focus on trade promotion, dissemination of market information as well as enhancing firms' awareness of free trade agreements and eliminating unnecessary business conditions.
The ministry's statistics showed that export value in the first half of this year touched US$82.24 billion, representing a rise of 5.9 per cent over the same period last year.
Capital for power projects
At the conference, Minister Tuan Anh proposed to the Prime Minister to allow Viet Nam Electricity (EVN) to use official development assistance (ODA) and preferential loans in developing power projects to ensure stable power supply.
Tuan Anh said this would help reduce credit risks for power development projects. He said a majority of power projects were faced with capital shortage, adding that there were around 40 power generation projects and hundreds of power transmission projects.
A report to the Government by the Ministry of Finance revealed that EVN's Government-backed debts totalled US$9.7 billion as of the end of 2015, accounting for 37 per cent of the total Government-backed debts of State-owned enterprises.
Regarding the divestments of State capital out of Saigon Beer-Alcohol-Beverage JSC (Sabeco) in the south and Hanoi Beer-Alcohol-Beverage JSC (Habeco), Minister Tuan Anh said that the two largest brewers in Viet Nam were underway to develop plans for State capital divestments.
He said that the divestments would be based on the principle that the State would hold less than 50 per cent of the charter capital or even no stake at all, adding that the ministry would evaluate the divestment plans of Sabeco and Habeco.
Firms optimistic about H2 results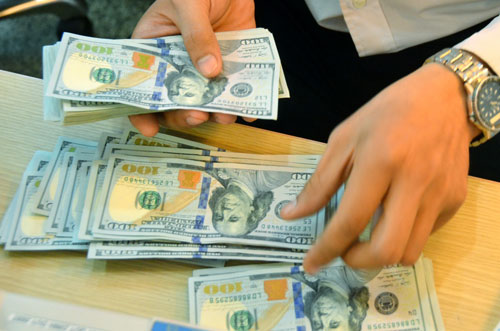 Most local enterprises are optimistic about production and business in the second half of this year, according to the General Statistics Office (GSO).
About 55.4 per cent of local enterprises expected the production volume to increase by this year-end while 9 per cent said production volume would be reduced. Around 35 per cent predicted stability in production.
With regard to production orders, 48.5 per cent of them expected orders to increase while 9.5 per cent of them estimated they would reduce. About 42 per cent of them said export orders would increase.
The office said 48 per cent of local businesses expected the processing and manufacturing industry to improve, while 44 per cent thought production orders in the third quarter would increase against the second quarter.
Meanwhile, 55.6 per cent of firms surveyed predicted their inventory of products would stabilise by the end of this quarter and 14.7 per cent hoped their inventory would be reduced.
The office also reported the total retail sales and services and consumption revenue in the first six months of this year gained a year-on-year increase of 9.5 per cent to VND1,720 trillion.
Excluding inflation, this marked an increase of 7.5 per cent, lower than the 8.8 per cent increase in the same period last year, according to the GSO.
In the first six months, retail sale revenues reached VND 1,310 trillion, 9.8 per cent higher than the same period last year, accounting for 76.2 per cent of the total.
Provinces and cities that achieved high growth rate in retail sale revenues included Binh Duong, Nam Dinh, Thanh Hoa, and Khanh Hoa, in addition to Quang Nam, An Giang, Bac Giang and Hai Phong.
PVN told to grow by restructuring
The Viet Nam National Oil and Gas Group (PVN) should promote further restructuring of its enterprise and products to increase competition and efficiency in operations, Deputy Prime Minister Trinh Dinh Dung said.
He was speaking at PVN's conference on tasks in the second half of this year.
At the conference held in Ha Noi yesterday, the group said it accomplished all targets for the first half this year. Its industrial production value gained a year-on-year growth of 9.1 per cent and crude oil exploitation volume achieved increase of 7.7 per cent to 569,000 tonnes against its target.
The group reduced production cost of electric, fertiliser, petrol and oil products by 20 per cent against its plan.
During the first half of this year, PVN promoted the equitisation process in its member companies, including PVPower, PVOil, BSR, PTSC and Petrosetco.
The second half of this year is forecast to still have difficulties in production and business, including the impact from the crude oil price that has not yet seen a strong recovery, Brexit and the difficult conditions for development of domestic and international oil and gas projects.
Deputy Prime Minister Trinh Dinh Dung highly appreciated the PVN's production and business results in the first half of this year.
However, the group still had many problems, including low efficiency in some projects and even suffering losses in some other projects, he said. The group also expanded its investment activities to non-core businesses.
The deputy prime minister said its main tasks until year-end would include restructuring the enterprise, products and investment activities of the group and its member companies to increase efficiency in production and business, and competitiveness, as well as ensure the national energy security.
The group should review all its projects to improve efficiency of the projects and focus its investment on products and sectors that need priority, he said.
For restructuring the enterprise, the group should focus on equitisation, restructuring of corporate management, and revamping its technology to increase quality and ability of management as well as labour productivity.
Dung also said the PVN should anticipate market risks to have reasonable investment and production plans.
At the conference, PVN predicted that the average crude oil price would be between $45 and $50 per barrel and the group could exploit 12.6 million tonnes of crude oil and 4.5 billion cubic metres of gas. It would achieve its targets in production and business, it added.
Government targets smuggled and counterfeit goods
The Market Surveillance Agency under the Ministry of Industry and Trade will step up supervision on smuggled and counterfeited food and beverages.
It is considered one of the key tasks that the agency needs to accomplish in the last half of this year, the agency's deputy head Nguyen Thanh Binh said.
The agency will conduct supervision at areas near borders or wholesale markets in the provinces of Cao Bang, Lang Son, Quang Ninh, Lao Cai, Quang Tri, Ba Ria-Vung Tau and cities of Hai Phong, Hanoi and Ho Chi Minh City.
Statistics from the Ministry of Industry and Trade revealed that more than 54,400 violations were found in the first half of this year, a 1.5 percent decrease compared to the same period last year, contributing nearly US$14.7 million to the State budget.
Imported packages of cigarettes, bottles of beer and wine, beverages and fertilisers were among the products with the most violations.
The agency said that smuggling and counterfeiting has become more complicated with more and more "sophisticated" tricks to disguise and hide the products.
Meanwhile, there are several difficulties in cooperating with businesses and associations to ask them to provide information to support the agency to monitor and punish violations.
The work is also obstructed by high costs on counterfeit assessment and shortages of equipment and devices.
Binh said that the agency would work more closely with customs, border soldiers and inspectors to strengthen the crack down on smuggling, counterfeiting and trade fraud.
He also proposed the Ministry of Industry and Trade asks for Government permission to establish a mobile market management team in order to improve the efficiency of the work.
Deputy Minister of Industry and Trade, Do Thang Hai, said that the Ordinance on Market Management which was newly approved by the National Assembly and will take effect in September this year is an important milestone to help overcome difficulties and improve efficiency of market management.
The Ordinance deals with issues like the organisation and function of the market management force, policies for market watch officers, the mechanism for cooperation with other agencies and inspection of market surveillance forces.
"The first market management Ordinance has recognised the legal function of market management nationwide. The effective implementation of regulations in the Ordinance will enhance effectiveness of the fight against smuggling and trade fraud," he said.
With the increase in smuggling cases and trade fraud, Tran Vinh Tuyen, Vice Chairman of HCM City's People's Committee, said at a meeting held on July 8 that violators engaged in smuggling, trade fraud and counterfeit goods would be strictly punished.
Tuyen said the police, customs and market management officials would work together to fight smuggling via Tan Son Nhat International Airport and from the southern provinces of Long An and Tay Ninh to HCM City.
Enforcement will also be strengthened against smuggling at bus stations such as Mien Dong (Eastern) Coach Station, Mien Tay (Western) Coach Station and An Suong Coach Station.
Waterways, where a number of smuggling cases have occurred, especially on Thay Cai Canal, will be monitored as well.
Policies and regulations will be established to closely supervise imports for re-export, as well as business activities related to food safety.
Phu My Urea named among Forbes Top 40 valuable brands
Phu My Urea, a brand of fertilizer produced by the PetroVietnam Fertilizer and Chemicals Corporation (PVFCCo), was listed in the Top 40 valuable brands in Vietnam voted by Forbes Vietnam.
The brand was ranked 30th with the brand value of US$27 million and described by Forbes as the country's leading brand in the fertilizer industry. It is also the only fertilizer brand named in the list.
Phu My Urea currently holds 50 percent of the market of the Mekong Delta, Southeast region, Central Coast and the Central Highlands.
Forbes Vietnam has shortlisted the 40 most valuable brands in Vietnam for the first time. These were selected from more than 300 domestic brands, excluding international brands manufactured locally, with a total value of about US$5 billion.
The list was led by giant dairy milk producer Vinamilk, followed by military telecom group Viettel in the second place. It also includes private realty group Vingroup, State-owned brewer Sabeco, technology group FPT, Vietinbank, Vietcombank, Masan Group, and flag carrier Vietnam Airlines.
According to Forbes Vietnam, most of the valuable brands were formed after 1986 under the "doi moi" (reform) era when Vietnam turned to the open economy under the market mechanisms.
The method of evaluation was to rate how brands contributed to the financial results of the firms. The calculation of the contribution must be based on transparent financial statements.
Firms with brands of over 20 years with good value such as Kinh Do (KDC), Vinacafe Bien Hoa, Vinh Hao Mineral Water JSC were not included because they sold more than 50 percent of stakes to foreign partners.
Cashew market remains volatile after Brexit
The country's kernel exports for the first half of 2016 jumped 4.4% in volume and 11.1% in value when compared to the first half of last year, says the Vietnam Cashew Association.
In its most recently released report, Association figures show overseas consignment of cashew kernels for the January-June six-month period tallied in at 156,000 metric tons valued at US$1.2 billion.
The market will largely remain unaffected by the UK's decision to exit the EU over the long-term, said Nguyen Duc Thanh, chairman of the Association, in a recent speech, although it is certainly being hit hard as a result of currency fluctuations in the short-term.
The country is still on track to hit this year's plan to process and export 350,000 metric tons of kernels at US$2.5 billion of revenue, he said, though that prospect is becoming increasingly more unlikely.
The Chairman underscored the importance for the cashew industry as a whole and agriculture in general to beef up efforts to strengthen the country's national sanitary and phytosanitary framework.
The benchmarks for the industry as set forth by the International Standards Organization (ISO) have been in place since 2009, said Mr Thanh, but according to one recent official study, only 22 out of 371 smallholder farmers surveyed in the country meet with those standards.
With the Vietnam-EU free trade agreement winding its way through the ratification process and still on target for implementation in 2018, there is no issue of greater importance for cashew farmers.
The EU health and safety standards are some of the strictest in the world and even when tariff barriers come down as a result of the trade deal, an inability to comply with ISO rules such as those regulating acceptable pesticide residue levels will prevent their exports from entering EU commerce.
"To fully capitalize on the potential – and to be competitive – product coming from production cost environments such as Vietnam, must meet these high quality standards," said Chairman Thanh.
He added: "The EU is a huge economy and therefore presents great opportunities for not only cashews but all of the country's ag producers. As we speak, agricultural exports to the EU are on the rise and boosting food safety is crucial for the country's smallholders to fully enjoy access to it.
The competition from African nations is tough and African smallholders are now looking to re-ignite trade in the EU, with many already having signed free trade agreements that have gone into effect eliminating tariffs on cashew and other ag imports.
They are also putting in place major food and safety projects in an all-out effort to strengthen their sanitary and phytosanitary-related institutions and establish a larger footprint for themselves in EU commerce.
The country's industry faces continual challenges both with putting in place the necessary legislative frameworks and procedures for implementation, said Mr Thanh, basic requirements for building capacity among its producers and exporters to take full advantage of access to the EU economy.
"The best way to promote the country's cashew industry is to shift the focus from price to quality," said Thanh, adding until that happens the market will most likely remain unnecessarily volatile.
Binh Dinh mulls constructing MSW power plant
Outgrow Energy Consult Co Ltd (OEC) based out of Bangkok, Thailand has unveiled its proposal to oversee construction of an electricity power plant utilizing municipal solid waste (MSW) technology at the Nhon Hoi Economic Zone.
Details of the proposition were discussed in specific detail by Tipanan Sirichana, managing director of OEC at a recent meeting with the Binh Dinh Provincial People's Committee.
The Managing director said MSW technology is a more cost effective and environmentally friendly alternative to landfilling or composting technologies, which would require the province to purchase fuel to incinerate the waste.
In contrast, MSW facilities are paid by the fuel suppliers to take the fuel (known as a 'tipping fee'). The tipping fee is comparable to the fee charged to dispose of garbage at a landfill and would result in significant cost savings for the province.
OEC specializes in project development services related to obtaining approval of power purchase agreements, engineering construction and funding services for power plant projects, said the OEC managing Director.
The company has previously been actively involved in the construction of five power plants in Vietnam.
Making Ho Chi Minh City a Start-up hub
Ho Chi Minh City is a dynamic place for start-ups to develop their business ambitions. The city has recently launched a program to make itself a start-up hub.
Ho Chi Minh City intends to become a start-up hub whose investment and commercial environment inspires a start-up spirit among would-be entrepreneurs in every sectors.
Truong Hoang Phi, Director of HCM City's Center for Young Start-ups, said "With the goal of turning HCMC into a seed bed for start-ups, especially by young people, we aim to promote young people's creativity and innovation and provide them with financial support to realize their ideas. The program has been welcomed by young businesspeople, start-ups, students, and people who are nurturing a business dream."
The HCMC Youth Union, the Vietnam Youth Federation, the Vietnam Student Association of HCMC, and the HCMC Young Business Association have cooperated to assist young start-ups.
The HCM City Startup Investment Fund (HSIF), which has a starting capital of VND30 billion, will invest directly in smart phone and Internet applications and high-tech agricultural production.
Nguyen Tuan Quynh, Vice President of the HCMC Young Business Association, said,  "The HCMC Young Business Association has worked with the Center for Young Start-ups to organize contests on start-up ideas, conduct training courses, and finance projects.
We provide technical support and senior businesspeople will give advice to the juniors. We finance trade promotion activities to give young people opportunities to market their products. We also sometimes invest in projects or provide loans."
Secretary of the city's Party Committee Dinh La Thang said HCM City intends to lead the start-up movement in Vietnam.
The City authorities and vocational organizations are collaborating to make HCMC a start-up hub for young people.
Footwear: EU free trade benefits don't outweigh the costs
Vietnam became the world's third largest footwear manufacturer in 2014, commanding a 3.7% market share, trailing China and India in first and second place, respectively, according to the World Footwear Yearbook.
The nation's footwear exports subsequently jumped 15% year-on-year in 2015, crossing the US$12 billion benchmark, according to statistics of the Vietnam Leather, Footwear and Handbag Association (Lefaso).
Roughly 70% of the nation's footwear exports are sports shoes, said Phan Thi Thanh Xuan, secretary general of Lefaso, with the US and the EU the two largest markets accounting for a 33.9% and 33.1% market share, respectively.
China with a 6.3% market share and Japan at 5% follow far behind as the third and fourth biggest export markets.
The increase in overseas sales for 2015 were largely attributable to an increase in the allotted sales quotas for the EU, said Mr Xuan.
Now with the Vietnam-EU free trade agreement having been signed and moving through the ratification process with a 2018 target date for implementation, prospects for the market appear bright.
About 79% of the nation's footwear exports are attributable to the foreign manufacturing sector, principally companies based out of Taiwan and Republic of Korea (RoK), with the domestic sector accounting for the balance of 21%.
With regards to home retail market, the domestic manufacturing sector has roughly a 50% market share with the remaining 50% comprised of imports from China, Thailand and a handful of other countries.
Due to increasing production costs in China, a large number of foreign manufacturers have been relocating their existing facilities out of China to Vietnam over recent years, said Mr Xuan.
This redirection of sales away from China to Vietnam was the primary factor explaining the increase in the nation's exports for 2015.
To a more limited extent the nation has seen an increase in foreign direct investment and sales as companies reposition themselves to take advantage of the Vietnam-EU free trade agreement.
Pursuant to that agreement, about 80.3% of import tariffs on footwear will be eliminated immediately upon the creation of the free trade region with the remainder phased out over the subsequent seven years.
The biggest challenge facing footwear said Duong Le from Lefaso is that the rapid development of leather and footwear manufacturing is creating environmental pollution concerns and tremendous added cost.
Particularly with regards to leather tanning and fabrics for shoes, he said. Making the leather and synthetic materials in Vietnam entirely too costly if one figures in the additional cost to safeguard the environment.
From a cost benefit perspective, it may be best for shoe manufacturers to continue buying raw materials from China and the RoK and forgo all tariff reductions afforded by the Vietnam-EU trade deal.
Currently the domestic manufacturing sector can satisfy just 30% of the demand for tanned leather, however foreign investors don't find it cost effective to construct more tanning and fabric facilities as the benefits just aren't there.
Tien Giang: FDI projects double in first half
The Mekong Delta province of Tien Giang drew nine foreign direct investment (FDI) projects in the first half of 2016, doubling the figure for the same period last year, with seven landing in its industrial parks.
According to Nguyen Thanh Liem, deputy head of the provincial Industrial Zones Authority, the new projects have a total registered investment of US$328 million, a 16-fold increase year on year.
The outcome was largely owing to the local authorities' efforts to improve the business climate and simplify investment procedures to attract more investors.
The locality has been working to formulate preferential policies for investors and offer incentives for investment in key industries.
The province has to date had 84 investment projects located at industrial parks, including 58 FDI projects worth more than US$1.7 billion, while its industrial clusters host 86 investment projects with a combined registered capital of approximately VND2.8 trillion (US$125.6 million).
These projects have provided job opportunities for about 87,000 workers. In the first six months of 2016, they generated over VND22 trillion (US$986.7 million) in industrial production value, up 35.74% against the same period last year and fulfilling nearly 55% of the yearly target.
They also earned more than US$675 million from exports, up 32% year on year.
Hanoi to host handicraft fair 2016
A 200-booth handicraft exhibition will take place at the Thang Long Royal Citadel in Hanoi from August 26-29, said Ngo Quang Trung, Head of the Agency for Regional Industry Development under the Ministry of Industry and Trade.
The exhibition is part of a programme to grant the "People Artisan" and "Meritorious Artisan" titles to stand-out craftsmen.
An exhibition zone will be arranged to display products made by excellent artisans, including rattan, embroidery, silk and porcelain items. Local businesses will also introduce rural industry products at the fair area.
Along with honouring great craftsmen who have made significant contributions to building and preserving traditional craft villages, the event also popularises Vietnamese fine art products to international friends, aiming to seek business partners and enlarge consumer markets.
The event also serves as a valuable opportunity to introduce the achievements made in the protection and development of Vietnamese traditional villages.
Skills performances, as well as conferences on handicraft product designs and a seminar on the orientations for handicraft exports are scheduled during the event.
EVN highly uses thermal power in July
Electricity of Vietnam (EVN) will make full use of its coal and gas power plants in July to meet the maximum load capacity of the national power system, which is estimated at 28,690 MW.
The group will increase the utilisation of hydropower reservoirs in the basin of the Red River and Dong Nai River as well as coal- and gas-fired thermal power plants in the central and southern regions.
Flood season in the north and central region this month could affect electricity generation, transmission and distribution. Therefore, the EVN has directed all units to employ measures to ensure safe and sufficient power for locals and facilities, while preparing staff to quickly address incidents caused by natural disasters.
The power grid management agencies will also tighten inspection to detect landslide-prone areas.
Betweeen January-June, the EVN coordinated with the Ministry of Agriculture and Rural Development, the Water Resource Directorate and localities to operate hydropower reservoirs to ensure water for agricultural production and drive back saltwater in the Central Highlands and central regions, which have been affected by serious and prolonged drought.
EVN produced and bought 84.75 billion kWh of electricity in the period, a year-on-year rise of 10.75%. As much as 28.3% of electricity came from hydropower plants, 29.36% from gas-fired turbine plants, and 39.87% from coal-fired thermal power plants.
Commercial power output reached 76.44 billion kWh, a yearly increase of 11.73%.
Dragonfruit paves way for Vietnam's fruit exports to Thailand
More than 100 tonnes of dragonfruit have hit the shelves of retail chain BigC in Thailand, the first step to boost the shipment of Vietnamese farm produce to one of the world's biggest agricultural producers, the Cong Thuong (Industry & Trade) newspaper reported.
Vietnam's fruit and vegetables were shipped to over 40 countries and territories, bringing home about US$2 billion, in 2015. Though this revenue is an impressive figure compared to other agricultural exports, it is still modest when taking into account the global fruit and vegetable market, which has a trading value of US$100 billion each year.
Vietnam has touched just a small part of the world's vegetable market, agricultural specialist Nguyen Dinh Bich said, adding that this is a big opportunity but also a considerable challenge to Vietnamese farm produce.
Dragonfruit currently makes up 40% of Vietnam's total fruit export turnover, he noted.
After buying wholesaler Metro Cash & Carry Vietnam in January 2016, Thailand's TCC Holding group has been looking for Vietnam's flagship agricultural products for export to its homeland.
Phidsanu Pongwatana, who is in charge of TCC's retail system in Vietnam, said: "The first batches of Vietnam's dragonfruit satisfied Thai consumers with their freshness. The market's demand for this product is very high. TCC hopes to increase the exports of this fruit to Thailand in the future."
The firm is also seeking suppliers of sweet potato, starfruit, orange, avocado and lime. Da Lat flowers and frozen catfish products from Vietnam also hold potential in the market, he added.
Cao Thanh Phat Export – Import Co. Ltd, based in the central province of Binh Thuan – a dragonfruit growing hub of Vietnam, provided the 100 tonnes of the fruit for TCC.
Its Managing Director Nguyen Cong Kinh said Thailand is a leading exporter of farm produce in the world. Vietnamese goods must be of high quality to enter this market.
The company has contracted farmers whose production activities follow the Vietnamese and Global Good Agricultural Practices (VietGAP and GlobalGAP), he said, noting that its packaging factory has met US standards. The firm also has quality control staff to ensure product quality.
Many agricultural experts said it is not easy for Vietnamese fruits to make inroads into Thailand, but there are plenty of opportunities as bilateral trade relations are expanding, especially as the two countries are now members of the ASEAN Economic Community.
Bac Ninh creates best conditions for enterprises
The White paper: "Vietnam Private Economic Forum – Opportunities, Challenges and Solutions," debuted at a press conference in Hanoi on July 8.
The paper details a joint statement and thematic declarations adopted by the 2016 Vietnam Private Economic Forum, including an analysis of general context and firms' viewpoint on the state of Vietnam's private economic sector.
It also features major proposals on policies for the digital economy, agriculture, vocational training, distribution and logistics, financial market and capital mobilisation, the support industry, clean energy and energy saving, as well as recommendations on start-up and innovation, industrial clusters, integration and globalisation.
The first Vietnam private economic forum held on June 3 attracted more than 700 businesspeople representing seven fields and three economic sectors, representatives from the government and international organisations, domestic and foreign economists, scholars and experts in investment, finance, industry and agriculture.
According to the organising board, the annual forum aims to maintain the public-private dialogue mechanism, becoming a launch pad for promoting connectivity and international cooperation.
Chairman of the Vietnam Young Entrepreneurs' Association (VYEA) Bui Van Quan said the forum is expected to become a more important driver of the country's development and integration amid the setting of globalisation.
The conference was co-hosted by the VYEA, the Central Committee of the Ho Chi Minh Communist Youth Union and the Vietnam Youth Federation.
Automobile sales decrease in June
Vietnam's automobile sales in June totaled 24,421 units, dropping 6% against the previous month, announced the Vietnam Automobile Manufacturers' Association (VAMA) on July 8.
They include 12,916 passenger cars, down 8% from May, 10,325 commercial vehicles, up 0.1%, and 1,180 special-purpose vehicles, down 30%.
While 18,014 units sold were assembled domestically, a 6% decrease from the previous month, 6,407 were completely built units (CBU) imported from other countries, dropping by 7% month on month.
However, overall sales turnover in the first half of this year surged 31% compared with the same period last year. The sales of passenger cars, commercial cars and special-purpose cars rose 24%, 40% and 50%, respectively.
From July 1, 2016, under the latest Law on Special Consumption Tax, cars with a cylinder capacity of 1.5 litres and lower will now be taxed at 40% – 5% lower than previously.
Auto businesses said car sales in June decreased as consumers waited to buy cars after the Government tax came into effect.
First Vincom Plaza shopping mall breaks ground in Dong Thap
Construction on Vincom Plaza shopping complex, the first of its kind in the southern province of Dong Thap, began in Cao Lanh city, on July 11.
The five-story mall, will gather famous brands in fashion, consumer goods, cuisine at home and abroad, a recreational area for children, and a modern cinema across a site of over 12,000 sq.m.
Managed by Vingroup's Vincom Retail, which currently operates 25 shopping malls nationwide, Vincom Plaza Cao Lanh is expected to be operational in April 2017 as the most modern in the Mekong Delta.
Le Khac Hiep, Vingroup Vice President, said the complex will contribute to boosting trade and changing the face of Dong Thap and adjacent localities.
Founded in Ukraine in 1993 under the name of Technocom, Vingroup has become Vietnam's leading private sector real estate company. It comprises such subsidiaries as Vincom for high-end shopping centres, Vinhomes for residential properties, Vinpearl for tourism and recreational facilities and Vimec for hospitals.
The firm was twice named winner of the "Best Developer Vietnam" category at the annual South East Asia Property Awards in 2013 and 2014. Recently, together with Vinamilk, Vietcombank, FPT Corporation and Petrovietnam Gas Joint Stock Corporation, the group made it into the Nikkei Asian Review's Asia 300 list, which names Asia's most dynamic companies.
Last year, Vingroup opened 10 shopping malls across the country and the ambitious company plans to make nearly 50 trading centres operational in 2016, aiming to nudge international-standard products and services ever closer to Vietnamese people.-
Hai Duong exports 5,000 tonnes of lychee so far
The northern province of Hai Duong shipped 5,000 tonnes of lychee to foreign countries during this year's crop.
China remained the largest importer with over 2,000 tonnes, followed by the Republic of Korea (500 tonnes), France (90 tonnes), Thailand (80 tonnes) and Australia (18 tonnes).
To assure the quality of lychee exported to fastidious markets, the province has zoned off an additional 300 hectares of lychee cultivation in Chi Linh town and Thanh Ha district for VietGAP and GlobalGAP standard production.
Hai Duong, one of key lychee cultivation localities in the country, has nearly 11,000 hectares of lychee and uses the VietGAP and GlobalGAP standards for about 250 hectares.
This year, its lychee output was estimated to reach 50,000 tonnes.
VPBank wins best mobile banking award
Vietnam Prosperity Bank (VPBank) has been recognised as the "Best Mobile Banking Vietnam 2016" by Global Banking and Finance Review, due to its continuous efforts to improve its products.
The VPBank Mobile application has been considered to be a small bank available on mobile phones, providing many financial services, such as account management, money transfers, bill payments, and access to saving accounts and loans.
This is one of the first e-bank applications in the country allowing operation on iOS, Android and Windows Phones. The latest 2016 version has very fast speeds, is more user-friendly and has doubled the number of transactions, accounting for 30 percent of total online transactions. Further, its back-end system has helped protect customers' information.
VPBank plans to upgrade and develop its products to meet the increasing demand of customers while maintaining its first position in the digital banking area.
Binh Dinh resort worth 311 million USD to open in July
The FLC Quy Nhon complex in southern Binh Dinh Province is scheduled to open on July 30.
The 7 trillion VND (311.1 million USD) complex includes an 18-hole golf course, high-end luxury resort, FLC Luxury Hotel Quy Nhon with some 900 rooms, 500 villas and a 1,500-seat international convention centre, along with swimming pools and entertainment areas.
Launched in May 2015, FLC Quy Nhon's Golf course, called Golf Links, opened after only six months and is considered one of the three most beautiful golf courses in Asia.
Many experts expect that with an area as rich in tourism potentials as Quy Nhon, and with its scale and impressive design, FLC Quy Nhon will become a blue ocean paradise in the Central region, attracting large numbers of domestic and international tourists.
Located in Nhon Ly, FLC Quy Nhon embraces 3km of coastline, in which Eo Gio offers what is believed to be the most beautiful sunsets in Vietnam.
Honda Vietnam recalls nearly 10,000 cars due to airbag error
Honda Vietnam said that it began recalling 9,764 Civic, CR-V and Accord cars from July 8 to replace airbag inflators for passenger seats.
The recalled include 6,288 Honda Civics produced from 2007 to 2011, 3,317 CR-Vs made from 2009 to 2011, and 159 Accords manufactured in 2004 and from 2009 to 2011.
All affected customers will be contacted via emails or direct phone calls. People can also make free-of-charge calls to 1800-555-548 or 1800-8001 to know if their cars will be recalled or not.
All relevant costs will be paid by Honda Vietnam.
Central Group, MOIT showcase Vietnamese products in Bangkok
A fair featuring some of Viet Nam's finest products has opened in Central World, Bangkok's largest shopping centre.
Organised by Thai Central Group in conjunction with Viet Nam's Ministry of Industry and Trade, the week-long showcase includes products from leading Vietnamese enterprises such as Binh Phu Furniture Company, fine porcelain and chinaware producer Minh Long, Vietnamese brewery Sai Gon Beer and Dien Quang Electrical, as well as textile company Hoa Tho; food producers Bich Chi, Hoan Chau and Tan Hue Vien; Tam Lan tea company; and Highland Coffee.
"This is a tremendous opportunity for us to take Viet Nam's culture and products to the people of Thailand and underscores our company-wide commitment to increase opportunities for Vietnamese companies to increase their market share beyond their borders thanks to our network of stores and companies around the world," Central Group spokesperson Sudhitham Chirathivat said.
"This will be the first time the Viet Nam Fair has ventured to Thailand and the twelfth staging of the event overall, having showcased the nation in numerous other countries in the past," Viet Nam's Deputy Minister of Industry and Trade Ho Thi Kim Thoa said.
"We look forward to partnering with Central Group more often in the future for such exhibitions around the world," she added.
Viettel to help develop Da Nang as 'smart city'
The central city and the military-owned telecommunications group Viettel last week signed a memorandum of understanding (MoU) for building Da Nang as a 'smart city'.
According to the agreement, Viettel will support Da Nang to develop information technology (IT) applications for smart management in health and education and training in the 2016-20 period.
Vice-Chairman of the city's people's committee Dang Viet Dung said the agreement was a milestone in the co-operation between the city and Viettel in IT, creating a smooth path for the development of a smart city in the future.
Da Nang, which is seen have potential to develop as a smart city, needs to adopt smarter solutions to manage the transport infrastructure, environment, power and water systems, besides population to tackle rapid urbanisation.
As a crucial step towards building a smart city, the city has launched the e-government system that has IT applications, policies and mechanisms on IT and communications and IT manpower resources.
According to the city's information and communication department, IT infrastructure is available to boost smart connections in sectors such as air control, water management, garbage collection and meteorology, as well as energy, earthquake and tsunami warning, floods and erosion and sewage, besides lakes, dams and bridge management systems.
The city is ready for the introduction of 4G LTE (Long-Term Evolution) and the Internet of Things by 2018.
The city has also introduced a paperless administration office in Lien Chieu District to ease the manual procedures for the local people.
Vietcombank's profits rise 38%
Bank for Foreign Trade of Viet Nam (Vietcombank) earned nearly VND4.2 trillion (US$186.7 million) in pre-tax profits till June 2016, up 38 per cent over the same period last year.
Vietcombank General Director Pham Quang Dung told a meeting in southern Kien Giang Province late last week that the H1 profits represented more than half of the target the bank had set for 2016.
As of June 30, deposits at the bank reached VND535.2 trillion, up 6.7 per cent over the end of last year. Its outstanding loans totalled VND437.6 trillion, increasing 10.8 per cent over the end of 2015.
During H1, revenues from international payment and trade finance amounted to $24.8 billion, an increase of 8.3 per cent year-on-year.
Dung said the bank maintained the leading position in the domestic market in terms of foreign currency and bank card services, while attaching special importance to international credit activities.
The bank saw progress in non-performing loan settlement and ensuring the capital adequacy ratio, he said.
Viet Capital Bank opens branch in Ha Noi
Viet Capital Bank last week opened a new branch in Ha Noi's Cau Giay District.
The Thang Long branch, at 375-377 Hoang Quoc Viet Street, provides the bank's full range of financial services.
On the opening morning it attracted more than 50 customers, who deposited nearly VND10 billion (US$448,430).
The bank now has two branches and five transaction offices in the capital.
It plans to open a branch each in Hai Phong, Quang Ninh and Kien Giang and six transaction offices in Binh Duong, Dong Nai, Tay Ninh, and Da Nang this year.
Demand for SPS shares surges
Twenty-five investors have registered to buy 9.3 million shares in Saigon Petroleum Service Corporation (SPS).
This is six times the number of shares offered by Saigon Trade Corporation- member limited liability holding (Satra), the auction organiser HMC Stock Exchange (HOSE) said.
Satra offered 1.53 million shares with a starting price of VND30,000 (US$1.35) on July 14.
Established in HCM City in 1992, SPS provides services for the petroleum industry, international and domestic travel services, restaurant and hotels and employment services and labour supply, besides vocational training and orientation, export of labour, real estate business and housing services, as well as leasing of houses, offices and warehouses.
In the last five years, SPS recorded almost no growth in profits, which remained at about VND6 billion. In 2015, the total net revenues reached VND200 billion, a marginal rise from the previous year.
At the end of 2015, the total assets of SPS were worth VND129 billion.
The firm planned to pay a dividend of 16 per cent for 2015.
Equitisation fails to meet the target
While the local stock market was waiting for the listing of major State-owned enterprises (SOEs) that were to go public, the Ministry of Finance reported that the pace of equitisation in the first half of 2016 had not reached its target.
Authorised agencies approved the equitisation plans of 39 State-owned enterprises, (SOEs) with a total value of VNĐ27.06 trillion (US$1.2 billion), in the first six months of this year.
State stakes accounted for VNĐ21.63 trillion of the total, according to a report on SOE equitization in the 2011-2015 period, as well as tasks and solutions for the next five years sent by the Ministry of Finance to the Government.
In the first half of 2016, the State received VNĐ4.17 trillion from selling its stakes in SOEs, well above the VNĐ2.09 trillion invested in the sectors, the finance ministry wrote in a report published early this month.
The figure includes VNĐ175 billion from non-core operations in real estate, securities, finance-banking, insurance, and investment fund management sectors, VNĐ1.17 trillion from SOEs in other sectors, and VNĐ2.82 trillion from the State Capital Investment Corp (SCIC).
During 2011-15, SOEs divested a combined VNĐ10.74 trillion from these five non-core sectors in which they earlier invested over VNĐ11.03 trillion (US$494.8 million), the report said.
SCIC withdrew state capital from 368 enterprises and collected more than VNĐ6.9 trillion, 2.4-fold higher than the sum invested earlier, earning a profit of VNĐ4.06 trillion from selling State stakes.
The corporation has taken over State stakes worth VNĐ8.72 trillion in 1,000 companies since its establishment.
However, State capital divestments had incorrectly stated their expectations, according to a six month report from the Corporate Finance Department, which also said that shares sold at the initial public offering (IPO) were lower than targeted, while State shares in equitised enterprises remained high.
As an example, State-owned Construction Machinery Corporation offered 5.3 million shares in its IPO today, however, only one per cent of the shares were registered by two investors.
Deputy Director Corporate Finance Department from Ministry of Finance Đặng Quyết Tiến said the speed of equitisations was improved in the second quarter, but it was still not reaching its target.
Tien noted that some of the SOEs' leaders did not fully understand the contribution of their firms' restructuring in the economy, adding that fears about their positions after equitisation might add to the problem.
Tiến also said the restructuring of large-scale SOEs, which work in diversified businesses professions, needed complex financial solutions for equitisation, while large investments and improved investments needed additional time to be carried out.
According to the SOE restructuring scheme through 2020, the number of SOEs would be reduced from 1,309 to 17, while corporations holding 100 per cent of state capital would fall to 200.
According to the report, 478 SOEs were equitised, while 80 others underwent restructuring from 2011-15. Additionally, after going public, enterprises saw their chartered capital rise by 72 per cent, total assets by 39 per cent, equity by 60 per cent and pre-tax profits by 49 per cent last year.
VEF/VNA/VNS/VOV/SGT/SGGP/Dantri/VET/VIR