Vietnam's industrial production index declines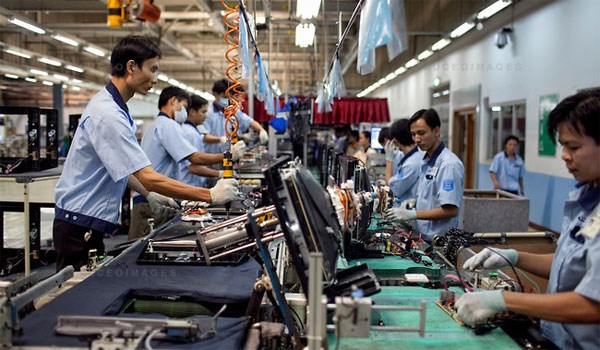 The country's industrial Production Index (IIP) increased 7.5 percent in the first half of this year, much lower than the rate of 9.7 percent during the same period last year, reported the Ministry of Industry and Trade.
The index decline was due to continuous output reduction in mining industry in the wake of crude oil price plunge. Crude oil extraction dropped by 6.1 percent in the second quarter.
The inventory index of processing and manufacturing industry hiked 9 percent over the same period last year. The highest inventory levels were of motor vehicle manufacturing, electronic products, computers, paper and paper products.
Vingroup secures $300 million syndicated loan
Vingroup, a major player in Vietnam's property sector, has secured an additional international syndicated loan of $300 million to finance its real estate project developments and reorganize its debts, following its first international syndicated loan of $150 million in 2013.
A representative from Vingroup's Public Relations Department preferred not to disclose to VET which projects would receive funding from the loan. "We cannot reveal at this time the projects to be invested in, as Vingroup has a series of projects in place," he said.
The loan will be implemented as soon as Vingroup converts the $300 million into its shares. It will pay a floating rate with a margin of 5 per cent compared to the current Libor rate of 0.75 per cent.
Apart from investment, the loan will fund Vingroup's debt restructuring. "The group's cash flow is fine and repaying liabilities will only account for a minor part of the loan," the representative told VET.
With a five-year term and a lower interest rate than the previous loan, this loan will help the company not only balance its local and foreign capital flows but also stabilize its internal finances, reducing risks due to interest rate fluctuations.
The term is double the 2013 loan, with Vingroup being the first Vietnamese real estate company to manage such financing.
Vingroup was also the first in Vietnam to issue offshore convertible bonds valued at $400 million through 2009 and 2012, followed by a $200 million investment by the Warburg Pincus consortium in the company's retail unit in 2013. The deal put Vincom Retail at a $1.1 billion valuation.
The Warburg Pincus private equity firm from the US injected $100 million in follow-on funding into the company in 2015. Recent Vietnamese media reports have indicated that Vingroup has acquired a land plot in western Hanoi from VinaCapital's VinaLand Limited for $16.2 million.
Vingroup's projects real estate projects include Vinhomes Vingroup Central Park, Golden River Vinhomes, Vinhomes Gardenia, Vinhomes Metropolis Lieu Giai and a range of Vincom Shophouse project in major cities.
Retail is a new focus for Vingroup. The number of Vinmart and Vinmart+ supermarket and convenience store outlets in Vietnam stood at 880 as at June.
Vietnamese fruits introduced in Czech Republic
A "Vietnamese Fruit Day" was held at the Makro Stodulky supermarket in Prague, the Czech Republic on July 11.
The event, organised by the Ministry of Industry and Trade in collaboration with the Vietnamese Embassy and the Makro Group, was aimed at promoting Vietnamese fruits in and seeking opportunities for the farm produce to enter into the Czech Republic and other Eastern and Central European countries.
At the event, 19 kinds of Vietnamese fresh fruits, including longan, lychee, custard-apple, banana, sapodilla plum, dragon-fruit, rambutan, mango and jackfruit, were on displayed and sold. Customers had a chance to taste and learned about the use and benefits of the tropical fruits.
Vietnam gained a 33 percent year-on-year increase in the fruit and vegetable export value to reach 1.17 billion USD for the first half of 2016, said the Vietnam Fruit and Vegetables Association.
The country expects to make 2 billion USD on fruit and vegetable exports this year.
Last year, Vietnam's fruit and vegetable export value reached 1.8 billion USD, 23.7 percent higher than 2014.
Call for Eximbank BoD to be dismissed
A member of the Board of Directors (BoD) of the Vietnam Export Import Commercial Joint Stock Bank (Eximbank) has proposed the current BoD be dismissed due to its inefficiency.
Mr. Dang Phuoc Dua, who represents a group with a 10.3 per cent stake, sent a letter to the State Bank of Vietnam (SBV) and relevant authorities on July 1.
In early June a group with a 11.71 per cent stake demanded some of the current BoD members be dismissed.
Mr. Dua wrote that the current Board is not working effectively and not respecting shareholders. Some members hold none or less than 0.1 per cent of shares. They are not sufficiently responsible, which has led to a decline in financial activities and a loss in market share.
He also wants to allow shareholder groups with more than 10 per cent to be able to nominate representatives to the Board, to be voted on at the next meeting.
Eximbank announced on June 30 an extension to the deadline to receive nominations to the Board, from June 30 to July 14. Six representatives had nominated, the bank announced on July 4, representing groups holding more than 10 per cent, and included Mr. Dua, Mr. Nguyen Trung Kien, Mr. Pierre Erik Theron, Mrs. Nguyen Thi Xuan Loan, Mr. Diep Quang Nhan, and Mrs. Ngo Thu Thuy.
There has been no final decision made on the addition of one or three delegates to the current Board, which currently has nine members.
The bank planned to organize an extraordinary meeting in August. The first two annual Board meetings earlier this year failed to gain a quorum (65 per cent of shareholders). A third Board meeting must be called before an extraordinary meeting can be held.
Eximbank holds a significant market share in the export and import sector, with an extensive network throughout the country consisting of a head office, 44 branches, and 163 transaction offices, and it has one subsidiary and one joint venture. Its main shareholders are the Sumitomo Mitsui Banking Corporation, with 15 per cent, and Techcombank, with 8.19 per cent.
The bank has more than 6,100 employees and is listed on the stock market (EIB), with total charter capital of VND12.4 trillion ($556 million). It recorded accumulated losses of VND820 billion ($36.8 million) in 2015 with net profit in 2014 and 2015 of VND340 billion ($15.3 million) and VND40 billion ($1.9 million), respectively.
Mr. Dua was appointed Deputy Chairman of Eximbank's BoD in March 2014 and was a former consultant to the bank's BoD from December 2015 but resigned last May.
Last year Eximbank postponed its annual board meeting three times, to the end of July. In December an extraordinary meeting was held in order to vote for the BoD but a representative of a main shareholder group was been selected. Questions were then raised about the vote's transparency.
Exports to Mexico show upturn
Mexico is one of Vietnam's leading trade partners in Latin America, according to the latest statistics from the General Department of Vietnam Customs.
Total trade between Vietnam and Mexico hit US$1.1 billion in the first half of this year, up 18% against the corresponding period last year.
Vietnam's exports to Mexico rose 25% to nearly US$900 million and imports from the country dipped 6% to US$221 million in six months, helping Vietnam enjoy trade surplus of more than US$660 million from the Latin American market.
Import-export products saw positive changes this year. Key export products to Mexico included coffee, farm and seafood products, electronic components, machines, equipment, garment and footwear.
Exports to Mexico in the rest of this year and coming years are expected to rise high if bilateral trade and investment programs are effectively implemented after the signing of the Trans-Pacific Partnership (TPP) Agreement.
Amata seeks incentives for Halong
Thailand's Amata Group is asking for special incentives from the Vietnamese government for its US$1.6 billion industrial park and township complex in Quang Ninh province, enabling the complex to be competitive with neighbouring VSIP Haiphong and Dinh Vu industrial parks.
According to Amata's latest press release, the group will establish Amata City Halong JSC this September, in which Amata will hold a 70% stake, with 29% owned by Tuan Chau Investment Hi-tech Infrastructure Development JSC and 1% held by Dao Thi Doan Trang.
Trang is the daughter of Dao Hong Tuyen, chairman of Tuan Chau Group, the holding company of Tuan Chau Investment Hi-tech Infrastructure Development JSC.
This movement confirms Amata's determination to develop the large-scale complex, the first of its projects in the northern Vietnam.
According to the group's initial plans, the 5,800 hectare complex will feature an industrial park (IP), a residential township, a hospital, schools, an exhibition centre, a shopping centre, and an amusement park.
Under Vietnam's existing legal regulations on tax incentives for such projects like Amata's, companies investing within Amata's future complex can get only two years of tax exemption and four years of a 50% reduction on the 22% corporate income tax (CIT) rate. In addition, there is no personal income tax reduction for workers in the industrial park's tenants.
In comparison, as VSIP Haiphong and Dinh Vu are located within Dinh Vu-Cat Hai economic zone (EZ), their tenants are by default enjoying tax incentives offered to EZ including a 10% CIT over a 15 year period, with the first four years exempt and the following nine years at a 50% reduction. The rates are considered the highest of their kinds in Vietnam.
Therefore, Amata is seeking the Ministry of Planning and Investment's (MPI) support to enable Amata City Halong's tenants to enjoy a 10% CIT rate over 18 years, with the first five years fully exempt, 50% reduction on this rate over the next eleven years.
In addition, it requested an 8% CIT rate for hi-tech companies for the entirety of their lifetime, and a reduction by half of the personal income tax rate for hi-tech companies' workers at the site. Amata also asked for an exemption on their land and water rentals.
However, the MPI said that Amata's proposals far exceeded the existing tax incentives that the Vietnamese government had granted to IP tenants in an EZ.
Somhatai Panichewa, president of Amata (Vietnam) JSC, the developer of the Amata Bien Hoa industrial and township complex, and CEO of Amata VN Plc. (listed on Thailand's stock exchange, and the developer of all future projects in Vietnam), explained that Amata asked for this support package from the Vietnamese government because it wished to increase its competitiveness against VSIP Haiphong – situated only 16 kilometres from the proposed Amata City Halong.
Amata has been investing in Vietnam since 1994, with its maiden project of Amata Bien Hoa, in the southern province of Dong Nai.
Investors reduce Hoa Phat holdings
The VinaCapital-managed Vietnam Opportunity Fund (VOF) and Vietnam Investment Property Holdings Limited have sold 1.03 million and 550,000 shares, respectively, in the Hoa Phat Group (HPG).
According to an announcement from HPG, VOF's ownership falls from 5.21 per cent to 4.99 per cent with the sale and it is no longer a major shareholder.
A communication officer with VinaCapital, told VET that announcement documents on the transaction have been sent to the Ho Chi Minh City Stock Exchange and to HPG.
"The sale of HPG shares is just a regularly activity in updating Vinacapital's investment portfolio," she told VET. "VinaCapital still appreciates the development potential of HPG."
In August 2015 Mr. Andy Ho, Executive Director and Chief Investment Officer at VinaCapital, resigned as a member of the board at HPG.
Some foreign funds have also sold large amounts of HPG shares recently. In June, Private Equity New Markets II under PENM Partners, an independent Danish private equity company offering equity capital and strategic partnerships to unlisted Vietnamese companies, sold 8 million shares in HPG.
In mid-2015, foreign funds including VinaCapital, Deutsche Bank, and Dragon Capital reduced their holdings. Foreign investors now hold 36 per cent of shares.
Some investors say that foreign funds are fleeing HPG while others say it is part of investment restructuring and is nothing specifically connected to the Group.
HPG's revenue in 2015 stood at $1.2 billion and after-tax profit VND3.5 trillion ($155.5 million). Steel production made the largest contribution to revenue and profit, with 79 per cent and 82 per cent, respectively.
Starting last year HPG has made many changes to its strategy, deciding to invest in agriculture, particularly livestock feed production. It also invested further in coated steel sheets, in which it has long dominated the market.
Early this year it established the Hoa Phat Agricultural Development Co. in the field of animal husbandry and feed production, with charter capital of VND2.5 trillion ($111.1 million). The project's objective is to create a closed feed chain for the group's livestock and to supply feed to the market.
The company has imported 500 pigs from Denmark for breeding and anticipates providing clean pork to the market in 2018. By 2021 it targets having over 1 million pigs around Vietnam. It has also spent millions of dollars on building a farm to prepare for importing 3,000 heads of cattle from Australia next month.
HPG has promoted its investment in animal feed with the aim of claiming market share form dominant foreign groups such as CP, Proconco, New Hope, Cargill, and Green Feed.
Despite diversifying its business lines, HPG still promotes its core businesses. It recently began construction of a factory producing coated steel sheets with a capacity of 400,000 tons per year, which is expected to come into operation in 2018.
For 2016 it targets revenue of VND28 trillion ($1.25 billion) and after-tax profit of VND3.2 trillion ($142.2 million).
Singaporean palm oil giant strengthens Vietnam presence
The world's largest palm oil processor and one of the largest soybean buyers is strengthening its share in Vietnam's cooking oil market.
The Singaporean-based Wilmar International will buy 45 per cent of Bunge Ltd's oilseed crushing factory, the company announced on July 5. The terms were not disclosed.
The Quang Dung Company, a soybean meal distributor in Vietnam, will retain a 10 per cent share in the factory, creating a three-party joint venture, according to Reuters.
With an annual capacity of 1 million tons, the factory crushes 3,000 tons of soybeans every day into 600 tons of soybean oil and 2,500 tons of soybean meal. The soybean oil is used for consumer products while the soybean meal is used as animal feed. The oilseed crushing operation was established in 2011 and is located at the Phu My I Industrial Zone in southern Ba Ria Vung Tau province.
Bunge is Vietnam's largest producer of soybean oil. Its chartered capital stands at VND560 trillion ($25.1 billion) with revenue for 2014 reported at VND12.8 trillion ($574 million). "This joint venture will strengthen Bunge's operations, marketing and logistics," Wilmar's CEO Mr. Soren Schroder was quoted as saying.
Wilmar is "a partner who really knows what they're doing in oil marketing," said Mr. John Baize, President of the international agricultural trade and policy consultancy John Baize and Associates. "It makes sense for Bunge because they get to pull out capital, which they can put back into their core businesses."
Wilmar's target after the deal is to "integrate operations that are both a source and sales outlet for oil in Vietnam," according to the statement. "It will also help the company to remain a low-cost operator with the highest efficiency possible," Mr. Schroder added.
In 2008 Wilmar bought the Hung Phu factory established in 2003 by the Cai Lan Oils & Fats Industries Company (Calofic) in the Mekong Delta's Can Tho city. With a daily capacity of 500 tons, the factory produces rice bran meal as animal feed and rice bran oil for consumer products.
Calofic, in which Wilmar holds a 76 per cent stake, is the leader in Vietnam's cooking oil market with a 37 per cent market share. It reported total 2015 revenue of VND11 trillion ($493 million), three times higher than its nearest competitor, the Tuong An Vegetable Oil Company. Calofic has won the trust of a wide range of customers with its famous brands, including Neptune, Simply and Meizan.
The Vietnam Vegetable Oils Industry Corporation (Vocarimex) announced on June 27 that it will sell 24 per cent out of its 51 per cent holding in Tuong An. It seems likely that Vocarimex will sell the stake to the KIDO Group Corporation, who confirmed with VET that it would increase its stake in Vocarimex to 51 per cent in the second half of this year. With KIDO aiming to cooperate with Vocarimex and with Wilmar's strategic deal, the country's cooking market is set to see fierce competition.
Vietnam's cooking oil market now has 40 companies producing and selling cooking oil products, 70 per cent of which are palm oil, 23 per cent soybean oil, and 7 per cent vegetable oil, according to data from the Ministry of Industry and Trade.
It is a growing market for oilseeds due to increased demand in the livestock industry, where soybean meal is a major animal feed. The country is projected to import 5.2 million tons of meal in 2016/17, up from 2.291 million a decade ago, according to data from the US Department of Agriculture.
Muong Thanh developing five-star hotel on Phu Quoc
The Muong Thanh Hospitality Group acquired land last year on Phu Quoc Island at Sonasea Villas & Resort, developed by the CEO Group, and has been building a five-star hotel, a source from Muong Thanh revealed to VET.
Located at the center of Truong Beach in the west of Phu Quoc, Sonasea Villas & Resort covers a total area of 80 ha on a 1 km stretch of beach and is one of the two largest hospitality projects with the longest beaches on Truong Beach.
Muong Thanh Phu Quoc is expected to provide 300 rooms once completed in October, the source added.  
Phu Quoc Island is emerging as an ideal destination for hospitality investment, with major advantages from its natural conditions, strategic location, and the support and investment from the local government and enterprises. Its attractions come from ten stunning beaches along a 150 km coastline, an unspoiled ecosystem and rich biodiversity, a safari park - the second largest in the world - and casino developments being given approval.
Under its revised general master plan to 2030, Phu Quoc Island will have three urban areas, 15 eco-tourism areas, two tourism complexes, and five golf courses. By 2020 it will be a Special Economic Zone (SEZ).
Many key infrastructure projects such as Phu Quoc International Airport, the An Thoi International Seaport, and south-north axis road have been completed or upgraded. The Ha Tien - Phu Quoc underground electric cable was completed in 2014.
There were a total of 2,500 units launched on the island in 2015, according to Savills Research Consultancy, including apartments, land plots, and villas. Among the local developers on Phu Quoc Island, Vingroup leads the villa market with a 76 per cent market share.
Muong Thanh is one of the largest hotel chains in Vietnam, operating more than 50 three- to five-star hotels nationwide with each featuring the characteristics of its local region. With more than 17 years of experience in the hotel service industry, Muong Thanh Hospitality has developed rapidly and expanded its services and service quality to cater to thousands of domestic and foreign guests every year.
First batch of Vietnamese dragon fruit for sale at Thai Big C
Cao Thanh Phat Import and Export Company in Binh Thuan province has signed a contract with Thai TCC Group to sell the first 100 tonnes of Vietnamese dragon fruit at Big C supermarkets in Thailand.
This is also the first Vietnamese fruit shipment distributed by TCC Group in the supermarket.
To ensure the quality of exported agricultural products, Cao Thanh Phat has worked with farmers to cultivate dragon fruit following GlobalGAP and VietGAP standards.
The packaging factory also meets US standards, Cao Thanh Phat CEO Nguyen Cong Kinh said, adding that the company has developed quality inspection departments to work with farmers and the factory to ensure the best quality.
In addition to importing dragon fruit at a volume of 100 tonnes per month, TCC Group is stepping up plans to import other key Vietnamese agricultural products such as sweet potatoes, milk fruit, avocado butter, and lemon.
HCMC seeks to build Cat Lai bridge
HCMC has asked for the Government's approval to build a VND5.7-trillion bridge connecting District 2 and neighboring Dong Nai Province as a replacement for the current Cat Lai ferry service.
According to a document sent to the Government on Wednesday, HCMC proposed adding the bridge to the city's master zoning plan for transport development by 2020 with a vision afterwards.
The cable-stayed bridge is envisaged stretching four kilometers and having at least four lanes. It would start at My Thuy Roundabout in District 2 and end at Nhon Trach Urban Area in Dong Nai's Phu Huu Commune, which is 1.2 kilometers from the existing ferry terminal.
The bridge, which is designed to be 55 meters above the Dong Nai River, is estimated to cost VND5.7 trillion (about US$256.5 million), excluding loan interest, while VND1.23 trillion would be needed for site clearance.
HCMC expects the bridge will help ease vehicular traffic at the Cat Lai Ferry area and shorten traveling time between HCMC and Dong Nai.  
If the Government okays the bridge project, the city would pick an investor who would have to arrange financing and draw up an investment plan for the project.
In May, Construction Investment Corp. No. 194 proposed constructing the bridge under the build-operate-transfer (BOT) model at a cost of less than VND5.72 trillion. The authority of Dong Nai Province has thrown its weight behind the project.
Earlier, HCMC did not include the Cat Lai bridge in its master zoning plan for transport development until 2020 as it had HCMC-Long Thanh-Dau Giay Expressway, which is three kilometers from the existing Cat Lai ferry terminal. The Ministry of Transport was also concerned that the bridge would obstruct container ship traffic in the area.
TISCO seeks help for steel scrap imports
Thai Nguyen Iron and Steel Joint Stock Company (TISCO) has asked the general departments of customs and environment and the customs of Haiphong City for approval to complete customs clearance procedures for steel scrap imports.
TISCO said the company has not yet been granted an environmental protection certificate for steel scrap imports although it has applied for it. This means the customs cannot clear steel scrap it bought abroad.
The company signed a contract to import 5,200 tons of steel scrap for recycling in April and another 3,000 tons of steel scrap would enter Haiphong Port soon. However, on June 15, the General Department of Customs said it only clears scrap imports that meet all requirements.
TISCO also bemoaned the high ship docking cost of about US$4,500-5,000 per day in Haiphong Port. It added that steel companies are facing various procedure problems and fierce competition triggered by cheap steel imported from China.
The company said its production plan would be seriously affected due to insufficient materials and that it would not be able to timely deliver products to customers as pledged. This will affect incomes of TISCO's more than 5,000 employees.
Therefore, TISCO urgently requested competent agencies to allow it to complete customs clearance procedures for imported steel scrap shipments at Haiphong Port while the company is awaiting an environmental protection certificate from the Ministry of Natural Resources and Environment.
The company also asked relevant agencies to apply consistent policies and promptly inform enterprises of changes to help them adjust production plans.
Govt Inspectorate looking into land lease to Formosa
The Government Inspectorate is in the final stages of inspecting some projects in Ha Tinh Province to see how they comply with regulations on investment, and land management and use, including a longer-than-allowed land lease to Formosa.
The local news site Dan Tri quoted Ngo Van Khanh, deputy chief of the Government Inspectorate, as saying that after carefully reviewing conclusions, the agency would report them to the Prime Minister. The agency will clarify responsibilities of those involved in awarding a 70-year investment license for the Formosa steel complex as it ran counter to the investment law.
Under the 2005 investment law, the lifespan of foreign-invested projects is no more than 50 years, and the longer period which cannot exceed 70 years must be decided by the Government.
The Government Inspectorate did not notice the Government's permission regarding the valid period of the Formosa project in the north-central province of Ha Tinh.
Commenting on Deputy Prime Minister Truong Hoa Binh's order to find if there was corruption concerning the licensing of the Formosa project, Dr. Le Dang Doanh, former head of the Central Institute of Economic Management (CIEM), said competent authorities should clarify responsibilities of those involved.
According to Doanh, that the project got a license to develop a vast area sensitive to national security and defense was beyond what the investment law specifies. Ha Tinh Province did not have authority to decide but still did it.
Similarly, lieutenant general Nguyen Quoc Thuoc, former commander of Military Region 4, said it was unacceptable when the project got a 70-year investment license while the law only permitted 50 years or less.
On the same side, Professor Nguyen Minh Thuyet, former deputy head of the National Assembly Committee for Culture, Education, Youth, Adolescents and Children, noted the case must be handled properly to prevent similar incidents from happening in the future.
Deo Ca Tunnel ready in end-July
Deo Ca Tunnel linking the central provinces of Phu Yen and Khanh Hoa will be opened to traffic on July 31 after four years of construction.
The opening date was decided during Deputy Minister of Transport Le Dinh Tho's trip to the construction site, according to a report released by the ministry.
Deo Ca Investment Joint Stock Company said contractors are building a road section inside the tunnel and installing equipment. The project is scheduled to be put into use on July 31, two months ahead of schedule.
The investor said it takes vehicles just over 10 minutes to pass through in the tunnel, instead of traveling around 45 minutes on the pass. Moreover, vehicles using the tunnel can avoid rockslides, which often occur in the rainy season.
Deo Ca Tunnel will help boost trade and tourism in the central region in addition to creating a link between Phu Yen's Nam Phu Yen and Khanh Hoa's Van Phong.
With a total length of 13.4 kilometers, the Deo Ca Tunnel consists of the 3.9-kilometer Deo Ca Tunnel and the existing 500-meter Co Ma Tunnel. Bridges and roads leading to the two tunnels have a combined length of over nine kilometers.
In the original plan, the project would be implemented under the build-operate-transfer (BOT) and build-transfer (BT) formats, and cost an estimated of over VND15.6 trillion (around US$699.5 million). However, the total length of tunnel and road was revised down by two kilometers, so the cost was lowered to almost VND11.4 trillion (US$510 million).
After the project is complete, Deo Ca Investment JSC will commence work on the second phase of Hai Van Tunnel, which requires over VND5.89 trillion.
Work starts on shop area at VSIP Nghe An
VSIP Nghe An Co Ltd has commenced construction on phase one of the ready-to-use shop area at its VSIP complex in the north-central province of Nghe An, a Vietnam News Agency report said.
Phase one of the 5,000-square-meter area will be developed at a total cost of US$6 million and will provide workshops for tenants in light and clean industrial sectors. Each workshop has office and production areas with full supply of power, water and telecom services.
The shop area is designed for enterprises in need of production sites in the early stage of development at the Nghe An VSIP industrial-urban-service complex. Tenants can get advice on legal procedures, employment issues and other services.
Anthony Tan, general director of VSIP Nghe An, told the groundbreaking ceremony that the shop area would help investors shorten preparations for their production projects and cut startup costs.
He said the shop model is appropriate for firms that want to implement small-scale production projects in the initial time. VSIP has reaped success in deploying such a model at its industrial park in the southern province of Binh Duong.
According to Nghe An Province, the 750-hectare VSIP Nghe An complex got off the ground in September last year. VSIP has developed infrastructure on 128 hectares for phase one of the complex.
VSIP Nghe An is constructing an operation building, an integrated wastewater treatment plant, and pumping and fire facilities toward the end of this year. It is expected that the first tenants could move in in the fourth quarter of this year.
Equitization plans approved for 39 SOEs in H1
Competent agencies approved equitization plans for 39 State-owned enterprises (SOEs) with total value of VND27.06 trillion in the first months of this year.
State stakes accounted for VND21.63 trillion of the total, according to a report on SOE equitization in the 2011-2015 period as well as tasks and solutions for the next five years sent by the Ministry of Finance to the Government.
SOEs got VND4.17 trillion from their divestments from non-core operations in real estate, securities, finance-banking, insurance and investment fund management sectors in the first half, well above VND2.09 trillion they invested in the sectors.  
SOEs divested a combined VND10.74 trillion from the non-core operations in the five-year period although they earlier poured a total of over VND11.03 trillion (US$494.8 million) in these sectors.
State Capital Investment Corporation (SCIC) withdrew State capital from 368 enterprises and collected more than VND6.9 trillion, 2.4-fold higher than the sum invested earlier, so it earned profit of VND4.06 trillion from selling State stakes.
The corporation has taken over the State stakes worth VND8.72 trillion in 1,000 companies since its establishment.
From 2011 to 2015, 478 SOEs were equitized and 80 others underwent restructuring. After going public, enterprises saw their chartered capital rising by 72%, total assets by 39%, equity by 60% and pre-tax profit by 49% last year.
However, State capital divestments from the five abovementioned sectors have mismatched expectations. Shares sold at initial public offering (IPO) auctions are lower than targeted and State shares in equitized enterprises remain high, according to the report.  
Notably, the report pointed out many leaders of SOEs have intentionally delayed equitization plans as they are afraid of losing their leadership positions after the enterprises go public.
PM okays disbursement time extension for home loan package
The Prime Minister has given the nod to the State Bank of Vietnam's proposal to continue the disbursement of loans agreed by banks and borrowers under the VND30 trillion home loan package, mainly for low-income homebuyers.
The Government Office announced the Prime Minister's 'in principle' approval for the extension of loan disbursements for the package with an annual interest rate of 5%.
The package should have been completed on June 1 after three years of implementation in line with Resolution No. 02/2013. However, experts requested the program to be lengthened as many of the loans signed by eligible banks and borrowers had not been disbursed when it came to a close.
The SBV was assigned to cooperate with the Ministry of Construction and relevant agencies to review and revise the regulations governing the implementation of the package, Saigon Giai Phong newspaper reported.
In May, the SBV proposed the Government leader allow the program to continue until December 31 for banks to fulfill their lending contracts struck before March 31 this year with individuals and households who buy, lease, build and repair houses.
As of May 10, banks had pledged a total of VND34.83 trillion (about US$1.56 billion) in loans for 56,240 borrowers and VND25.8 trillion of it had been disbursed. About 56,112 individuals had secured bank loans worth a combined VND27.447 trillion with disbursements totaling VND20.812 trillion.
Banks reported they had disbursed VND26.73 trillion in total as of May 20, including roughly VND21.67 trillion for individual borrowers.
Biggest hotel in Tien Giang makes losses
Tien Giang Lottery Company may have to sell Mekong My Tho, the biggest hotel in Tien Giang Province, if losses continue. The property was put into service in October last year.
The hotel in the Mekong Delta province is incurring monthly losses of around VND500 million (around US$22,420), provincial vice chairman Tran Thanh Duc said at a press conference on the province's socio-economic performance on Wednesday.
Duc said the hotel is expected to rack up losses in three years. But with the current ineffective management, it is unlikely to perform better after the period.
The province, therefore, is finding ways to lease or sell Mekong My Tho Hotel to non-state firms to mitigate the pressure on the local State budget. It may take one year to complete required procedures to sell the hotel located on Tet Mau Than Street in My Tho City.
"Tien Giang Lottery Company's profit can cover such losses, but we could not do it that way," Duc said.
Duc said Mekong My Tho is the only four-star hotel in the city but it cannot organize events to woo guests. In addition, recreational activities in My Tho are not diverse and attractive enough for tourists.
The hotel project cost VND370 billion, with VND360 billion (97.3%) of it contributed by the lottery company, VND5 billion (1.35%) by the Tien Giang Development and Investment Fund and another VND5 billion by HCMC Infrastructure Investment Joint Stock Company (CII).
The 10-storey hotel has 114 rooms, including one President and four VIP suites, meeting rooms and restaurants.
Binh Thuan seeks to lift PCI, improve business climate
Representatives from over 110 enterprises in the central coastal province of Binh Thuan gathered together at a conference on July 12 to discuss how to improve the business climate and provincial competitiveness index (PCI) in the locality.
Participants focused their discussion on analysing the reasons behind the decreased PCI ranking of the locality, and proposed solutions to the situation.
Difficulties facing businesses operating in the locality were spotlighted at the event.
Vice Chairman of the Binh Thuan Business Association Nguyen Trac said local public servants are slow to catch up with policy and mechanism reform, thus failing to provide support to businesses. He asked the local authorities to promote administrative reform and devise more policies on capital assistance, tax incentives and land rental prices, further making it easy for small- and medium-sized enterprises to foster their development.
According to Chairman of the provincial Tourism Association Nguyen Van Khoa, many enterprises in Binh Thuan have hesitated to invest in the tourism industry because they come up against difficulties related to the tourism strategy and land planning.
He suggested the local authorities build suitable regulations on land rental prices to attract more investors in the tourism industry, one of the province's strengths.
Other enterprises complained about obstacles in land clearance and land-related procedures, which delay the pace of many projects.
In his remarks, Chairman of the provincial People's Committee Nguyen Ngoc Hai requested local departments and sectors to hasten administrative reform and ensure a safe and stable business climate for enterprises in the locality.
He said businesses can make their complaints directly to the provincial People's Committee and pledged to promptly address their concerns.
Binh Thuan ranked 26th in PCI in the country in 2015 with 58.85 points, down three levels compared to the previous year. Criteria which recorded point reduction were costs to join the market, time taken to complete administrative procedures, information transparency, time taken to implement State's regulations, dynamism of the local authority, and legal institutions.
The province is one of Vietnam's major tourism destinations, and a national centre for sea sports and leisure tourism. It aims to welcome 4.6 million tourists this year, and collect 9 trillion VND (402.1 million USD) in tourism revenue.
About 4.2 million people spent their holiday in the province in 2015, a year-on-year increase of 11.7 percent.
Thailand aims to be among top 10 investors in Vietnam
Thailand hopes to become one of the 10 biggest investors of Vietnam in the next two or three years from the 11th ranking at present, the Dau Tu (Investment) newspaper said, quoting President of Thailand-Vietnam Business Council Sanan Angubolkul.
President of Thailand-Vietnam Business Council Sanan Angubolkul said at a recent workshop in Hanoi that Thai investment into Vietnam increased around 35 percent from 5.9 billion USD in 2012 to nearly 8 billion USD in mid-2016.
He noted that Thai businesses have mapped out specific plans to increase investment capital in the fields of their strength such as retail, construction material production, thermal power, and cattle feed.
Close to 2,000 Thai businesses have said they want to enter Vietnam while some experienced ones hoped to increase their market shares in the country.
According to Thai Minister of Foreign Affairs Don Pramudwinai, many Thai businesses consider Vietnam their second hometown and want to carry out future business plans in the market.
Thai companies pledged to supply Vietnam with high-quality products and services as they do in the Thai market, he confirmed.
The establishment of the ASEAN Economic Community (AEC) at the end of 2015 serves as a driving force for Thai businesses to pour investment in Vietnam in order to tap not only the 93 million-strong Vietnamese market but also the greater AEC market with a combined population of 600 million.
In addition, the success of major Thai business players in Vietnam, as seen in Central Group's purchase of Big C Vietnam, Charoen Corp's acquisition of Metro Cash & Carry, or the booming business of Siam Cement Group (SCG), CP Group, helps persuade potential Thai investors to the country.
CP group, which entered Vietnam in 1988, now dominates the animal feed and meat product market in the country.
Meanwhile, SCG posted 150 million USD in sales in Vietnam in the first quarter of this year, up 17 percent year on year, boosted by its packaging and tile business.
Thammasak Sethaudom, Director General of the SCG Group in Vietnam, said SCG is ready to cooperate with Thai enterprises and Vietnamese partners to create a solid foundation for the bilateral investment activities.
Thai companies also hope to receive support from Vietnam and believe that with better business environment Vietnam will welcome more investors from Thailand, he added.
German investor to build solar power plant
The German ASEAN Power Company plans to build a solar power plant in the central city with an investment of US$400 million, a senior official of the company has said.
In a meeting with the central city's people committee, the company's general manager, Moritz Sticher said Da Nang was seen as a potential city in Viet Nam with development of renewable energy in the future.
Moritz said the plant is designed with a capacity of 40 megawatt (MW), and the study and survey would start later this July.
He said the company will cover construction and technology transfer for the city.
Vice Chairman of the city's People's Committee, Tran Van Mien said the city always ensures top priority for high-tech and clean technology investment projects as Da Nang plans to build as a 'green' city by 2025.
According to a report from the city's Industry and Trade department, around 30 per cent of the city's population is using solar power for heaters, while five-star hotels and resorts have been using the solar power heater system as a saving and as an environment-friendly solution.
The first solar power system of Da Nang was built in FPT Complex project -- the Information Technology (IT) Service Centre of Viet Nam software giant, FPT Corporation in 2014. The system supplies 12kWh each day and a solar-power heater system with a capacity of 1,500 litres.
Da Nang is seen as the first city in Viet Nam to promote clean energy solutions for residential use as the city has been developed as a tourist attraction with green and high-tech industries.
In 2014, the city's Science and Technology department began a one-year pilot project of installation solar power system for deep-sea fishing vessels.
Last year, Viet Nam's first solar power with 19.2MW capacity project was built in the central province of Quang Ngai.
Vietinbank's profit rises 10.3%
 Vietinbank on Monday reported a profit of VND4.273 trillion (US$190.75 million) in the first half of the year, up 10.3 per cent against the same period last year.
Vietinbank General Director Le Duc Tho said the bank's total assets also increased nine per cent to reach VND850 trillion by the end of June.
In the January-June period, the bank mobilised VND780 trillion, up 9.6 per cent, while its outstanding loans were worth VND729 trillion, up 7.7 per cent.
The bank's return on assets (ROA) and return on equity (ROE) by the end of June were 1.1 per cent and 11.5 per cent, against one per cent and 10.3 per cent, respectively, in the same period last year.
Earnings per share to grow by 10.5%
VN-Index has increased by 15.1% from the beginning of the year till July 7, 2016. Earnings per share (EPS) on HSX shall rise by 11.3% and the VN-Index shall be traded at P/E of 13.5x, which is currently 14.9x (as of July 7, 2016).
Cyclical industries such as real estate, financial services and technology are expected to be top performers, whereas commodity-based stocks will record low earnings. These are the key findings of FiinPro Talk #1 held by StoxPlus on July 8, 2016, in HCM City.
Our database for calculation and analysis was extracted from the financial data of listed and public companies on FiinPro Platform, StoxPlus. The forecasted EPS was based on net income by management estimates, mostly from the annual general meeting of shareholders (AGMs), analyst forecasts from sell-side reports and our own forecasts.
In fact, Viet Nam is still considered a frontier market, and international investors mainly bet on the growth potential of Vietnamese enterprises, particularly the growth potential of earnings per share or EPS. Based on our comprehensive data source of FiinPro Platform, it is estimated by StoxPlus that EPS 2016 on HSX and HNX shall increase to touch VND2,028, up by 10.5% compared with 2015.
Cyclical industries with a high growth rate of EPS 2016 consist of real estate (up by 48.9%), banks (up by 30.7%), and technology (up by 30.4%). Meanwhile, oil and gas and chemicals are predicted to have negative EPS.
Among the three exchanges UPCoM, HSX, and HNX, companies on UPCoM are expected to increase its earnings by 206.3% in 2016. Not only attracting investors by EPS, UPCoM also has active trading activities after SOEs divesture. These two factors imply that UPCoM is very attractive with a lot of potential investment opportunities in 2016.
Methodology for calculation of P/E forward:
 Forward P/E ratio (share price/earnings per share) is calculated by dividing the market capitalisation of all firms in the sample by the net income of these firms (sample includes all the companies listed on HSX, HNX and UPCoM)
Net income 2016 is based on (i) net earnings by management estimates mostly from their AGMs; (ii) analyst forecasts from sell-side reports; or (iii) industry earnings CAGR 2011-2015 by StoxPlus (excluding JVC, HAG and adjusting profit after tax of KDC)
Our database for calculation and analysis covers more than 990 tickers on HNX, HSX and UPCoM. Price data was calculated on June 30, 2016. Stock price for calculating P/E was as of June 30, 2016.
VEF/VNA/VNS/VOV/SGT/SGGP/Dantri/VET/VIR