VN markets may decline after gains: analysts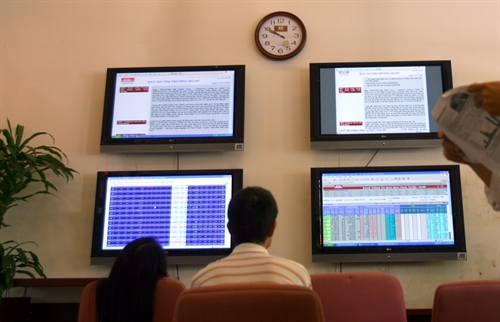 Investors at Sai Gon Securities Inc. Local market indices are expected to decline this week as investors may take profits after stocks' hot gains.
Viet Nam's stock indices may decline this week, as investors continue to take profits from stocks after recent gains and lower oil prices could push energy stocks down, analysts warned.
On Friday, the benchmark VN Index on the HCM Stock Exchange edged down 0.4 per cent to finish last week at 658.68 points. The southern market index ended up 2.9 per cent over the week, finishing higher than previous analysts' forecasts.
The HNX Index on the Ha Noi Stock Exchange fell 0.7 per cent to end Friday at 87.57 points, retreating from a five-day rally of 4.1 per cent. The northern market index rose 2.8 per cent from the previous trading week.
Nguyen Ngoc Lan, senior analyst at Agribank Securities Corp (Agriseco), said local markets would decline this week as profit-taking could continue and global markets remained volatile.
"However, the decline is not especially significant, as investors may rotate their investment portfolios among listed companies," she said.
Le Duc Khanh, head of the investment strategy division at Maritime Securities Inc, noted that markets would head down in the first three days, before returning to positive territory during the rest of the week.
Hoang Thach Lan, a securities analyst, said the markets had increased because they had been too "hot" since June 24. During this period, the price-to-earning (P/E) ratio in some blue chips in the VN30 basket, displaying the largest 30 listed companies in terms of capitalisation and trading liquidity, reached above 20.
Investors might also seek profits in those large stocks when the companies announce their profits for the second quarter. Those stocks would not be able to receive support from foreign investors, as they already hit the limit of foreign ownership, he added.
Stocks that made significant gains last week included Tien Len Steel Group JSC (TLH), Dream House Investment Corp (DRH) and Viet Nam Construction and Import-Export Corp (VCG). These stocks soared 31 per cent, 24 per cent and 28 per cent, respectively, during the week.
Meanwhile, pharmaceutical businesses, such as Traphaco JSC (TRA), Domesco Medical Import-Export JSC (DMC) and DHG Pharmaceutical JSC (DHG), also recorded large gains in recent weeks and could run into profit-taking in the future.
Investors should also watch for energy stocks, which could be affected by lower oil prices. London-traded Brent crude on Friday finished up 0.8 per cent at US$46.76 per barrel, though it plunged 7.1 per cent during the week.
"This week, investors may count on banks and securities firms," said Nguyen Ngoc Lan, Agriseco's analyst.
Profits for securities firms in the third quarter might increase strongly, as market trading liquidity remained high in recent weeks, she said.
Last week, market trading liquidity increased significantly from the previous week. The market's daily average trading volume was more than 210.6 million shares, worth VND4 trillion ($179 million), 37 per cent higher in volume and 36 per cent higher in value.
Securities stocks that investors might take a look at included Sai Gon Securities Inc (SSI), HCM City Securities Corp (HCM) and VNDirect Securities Corp (VND).
The Joint Stock Commercial Bank for Foreign Trade of Viet Nam (VCB) will also be a factor that helps drive markets up, according to Chau Thien Truc Quynh, Viet Capital Securities Corp's analyst.
"VCB will provide gains on expectations that the bank will offer support for the Government in case the domestic financial system has problems," Quynh said.
Tax sector aims to prevent losses in 2016
The tax sector will focus on creating a decree to prevent tax losses and transfer pricing in the second half of the year, said Do Hoang Anh Tuan, deputy finance minister.
Tuan spoke at a conference to review the sector's activities in the first half of the year, held in Ha Noi last Friday, saying that the decree would be a legal framework to restructure the sector, while creating significant changes in the prevention of tax losses.
In addition, the sector needed to improve competitiveness and administrative reform, focusing on e-tax payments, as well as building data about taxpayers.
Furthermore, he said that reported tax collections of 48 per cent in the six month period were relatively high. Tax collections from individuals, value added and corporate incomes increased 12 to 16 per cent.
"It means that both the business's activities and tax management have been effective," he added.
Additionally, Da Nang and HCM City reported high increases of 18 to 22 per cent in tax collections for the January-June period.
Phi Van Tuan, deputy chief of the General Department of Taxation, said tax collections from production and business in the first six months of the year were high, reaching some VND393.5 trillion (US$17.56 billion) and meeting 48.6 per cent of the set targets. Of this, tax collections from crude oil were VND21 trillion, while domestic tax collections were VND373.2 trillion.
Also, tax collections from the industrial and service sectors increased by 23 per cent, reaching 54 per cent of the set targets. Taxes paid by foreign directed companies met 49 per cent of the set targets, while personal income tax reached 56 per cent of the targets.
Nguyen The Manh, director of Ha Noi Taxation Department, said they have often monitored businesses to develop correct overviews about incomes. At the same time, they also helped firms resolve difficulties in preparing their tax reports.
Viet Nam should accelerate the review and amendment of its tax policies to maintain the country's advantages after joining free trade agreements (FTAs) and Trans-Pacific Partnership (TPP). This could help Viet Nam retain its position as a key investment destination for multinational companies.
Tuan also told the BEPS Action Plan – International Practices and Viet Nam's Perspectives conference held here last week that the approval of the Base Erosion and Profit Shifting (BEPS) action plan by OECD and the G20 in 2015 has been an important effort for overall reform in international tax regulations.
"The reform aims to ensure equality and improve effectiveness of the tax system around the world," Tuan said.
He added that the national 2016-20 socio-economic development plan foresees continued tax reforms, modernisation of policies, and enhancement of transparency while increasing tax collections.
Dang Ngoc Minh, deputy chief of the General Department of Taxation, said BEPS was a technical term referring to the negative effects of multinational companies' tax avoidance strategies on national tax bases.
BEPS is used in a project headed by the OECD which produced detailed reports in September 2014 in response to seven actions agreed previously. The project is said to be an "attempt by the world's major economies to try to rewrite the rules on corporate taxation to address the widespread perception that the corporations do not pay their fair share of taxes.
On October 5, 2015, OECD announced the completion of the project with 15 action programmes to prevent tax evasion of multinational groups.
"Statistics from OECD showed that the yearly tax losses due to BEPS were between $100 billion and $240 billion which was equivalent to 4 to 10 per cent of annual corporate income tax," Minh said.
He added that in developing countries, including Viet Nam, which have been dependent on corporate income tax, BEPS's effects on tax collections were huge.
He also said that BEPS had often been implemented by multinational companies by exploiting tax gaps and asynchronous regulations in tax policies. The companies would take advantage of the shortcomings to reduce their profits or shift profits into other countries or territories which have low taxes or tax exemption. This could help them lower their corporate income tax. — VNS
Diego Conzales, advisor of OECD Tax and Development Programme, said developing countries needed to upgrade the rules for taxation of multinationals to reflect changes in the underlying and digitalised economy and ensure that the system is perceived as fair.
Fish exports to US to be tested
 Siluriformes fish products, meant for export to the United States, will undergo safety tests from July 17 to October 15, the National Agro–Forestry–Fisheries Quality Assurance Department (NAFIQAD) said.
Siluriformes fish include tra, basa, tre and lang fish.
Samples will be taken from all batches of fish products manufactured by factories that are eligible to export their products to the United States. These samples will be tested for the presence of salmonella, malachite green/leuco malachite green, enrofloxacin/ciprofloxacin and crystal violet.
Only when the samples clear the tests and are certified by regional centres for Agro – Forestry – Fisheries Quality can the batches be allowed to be exported.
The Ministry of Agriculture and Rural Development's NAFIDAQ has requested all relevant firms to register for the examination and certification of their products.
In March this year, the United States released a list of eligible catfish exporters from four countries, including 23 from Viet Nam, who could ship their products to the American market.
The total export value of tra fish reached US$616 million in the first six months of this year, according to the Viet Nam Association of Seafood Exporters and Producers (VASEP). The European Union and the American markets account for about half of the total tra fish exports.
The VASEP said tra fish exports turnover this year would touch $1.5 billion, a fall of 5 per cent compared with 2015.
The decrease could be attributed to the enforcement of trade and technical barriers in many import markets as well as low consumption demand there.
Viet Nam is now shipping tra fish to 150 countries and territories worldwide.
HCMC seafood exporters' concern
Seafood exporters were worried by the announcement of HCM City Seafood Security and Quality Management Department to stop granting catch certificates for fish caught outside the city from August 1.
This was because many seafood exporters in HCM City bought raw fish from a number of provinces in Thanh Hoa, Ba Ria –Vung Tau, Binh Thuan, Soc Trang to Ca Mau provinces to be processed at their plants based in the southern city for exports.
It would take more time and be more costly for firms as they might have to travel to other provinces rather than HCM City to ask for catch certificates, according to Pham Hai Long, general director of Agrex Saigon Foodstuffs Joint Stock Company.
According to the department's director Tran Đinh Vinh, the department would not grant catch certificates for firms which did not buy fish caught in HCM City, in line with the Ministry of Agriculture and Rural Development's Circular 50/2015.
This might create problems for seafood exporters, Vinh said.
Vinh said that the department was willing to provide support to seafood exporters if it was permitted by the Directorate of Fisheries.
VASEP's general secretary Truong Đinh Hoe said catch certificates were compulsory for firms to export seafood products to the European markets.
The US might also require catch certificates in the future, Hoe said.
The association proposed to local departments that they link up with each other to make the granting of catch certificates more convenient.
The association's statistics showed that seafood exported touched US$3.1 billion in the first half of this year, rising by 3.8 per cent over the same period last year.
Viet Nam, Thailand urged to enhance economic ties
Viet Nam and Thailand needed to strengthen co-operation to seize the opportunities that global economic trends presented to the two countries, Thailand's Minister of Foreign Affairs Don Pramudwinai has said.
This requires stronger collaboration between the two governments, the governments and business sectors, and the two business communities as well.
Pramudwinai made this statement during a press meeting hosted by Thailand-Viet Nam Business Council on Friday in Ha Noi.
Bilateral trade has grown over 40 per cent over past five years despite unpredictable trends in the global economy. Trade hit US$13 billion in 2015.
"This reflects the solid foundation of our economic relations and strong complementarities between our two economies. Both countries will be able to work together to increase trade value to the shared target of $20 billion by 2020," he said.
Besides trade, investment relations between the two nations has continued to rise. Over the years, Thai companies have expanded their investments in Viet Nam, he said.
The latest report from the Foreign Investment Agency revealed that as of June 2016, Thai investments in Viet Nam had totalled more than $9 billion, ranking 10th among 116 countries and territories investing in the country.
During the event, Vice President of the Thai Business Association in Viet Nam, Tussin Mahamongkol emphasised the importance of small-and medium-sized enterprises (SMEs) in two-way economic co-ordination.
This SME sector, if well facilitated, could make a great contribution towards enhancing bilateral commercial relationships, he said.
On behalf of the Thai private sector, Thammasak Sethaudom from SCG Group in Viet Nam, said his company was ready to co-operate with Thai enterprises and Viet Nam's partners to establish a sustainable foundation for the economic co-operation between the two countries.
Over the past 20 years in Viet Nam, SCG makes efforts to invest in advanced technology and management system to comply with Vietnamese Government's requirements for environment standards, to create more than 6,900 local jobs and to contribute to local communities through various corporate social responsibility projects.
Firms promote use of CNG in transport sector
PVGas South and PVGazprom NGV have signed an agreement to promote use of natural gas in Viet Nam's transport sector.
The companies said they will collaborate in building programmes to develop the natural gas market, construct gas stations, and provide technical advice to enterprises purchasing and using equipment that consumes natural gas.
PetroVietnam Gas Corporation (PVGas), the parent company of PVGas South and an affiliate of the Viet Nam Oil and Gas Group, said in an online report that many localities in the southern part of the country are accelerating the use of compressed natural gas (CNG).
HCM City and neighbouring Binh Duong, Ba Ria – Vung Tau and Dong Nai provinces are using more CNG as fuel for public means of transport such as taxis and buses – an ongoing trend in the world.
CNG vehicles have higher emission standards and save between 20 per cent and 30 per cent of fuel costs compared to diesel vehicles. Although CNG buses are more expensive, lower operation and maintenance costs make them attractive to investors, the report said.
Binh Duong has developed five routes for CNG buses, while HCM City plans to have about 150 CNG buses operating on four similar routes by the end of this year.
PVGas South is committed to supplying adequate gas for these localities to run the vehicles, creating better living conditions in major southern cities, the report said.
PVGas South, or PetroVietnam Southern Gas JSC, is based in HCM City with VND500 billion (US$22.2 million) in equity.
PVGazprom was established in this city last October with a charter capital of VND200 billion. PVGas contributes 29 per cent to the amount, while Russian firms – Gazprom International Projects B.V. and Gazprom Engine Fuel LLC – each represents 35.5 per cent.
Local property market grows
The local apartment-for-sale market, which saw positive developments in the first half of this year, is expected to maintain growth till the end of 2016, experts said.
According to a CBRE Việt Nam report on the Hà Nội property market in the second quarter of this year (Q2), 6,100 new units were launched via 17 projects in Q2, a 19 per cent increase compared to the previous quarter, but falling 23 per cent year-on-year (y-o-y).
Sales continued to show positive signals. A total of 4,860 units were sold during this quarter, an increase of 20 per cent compared to the previous quarter, but falling 7.2 per cent y-o-y. It is noteworthy that the portion of transactions in high-end apartments reached a certain level, especially in newly launched projects.
In the first half of 2016, 8,900 apartments were sold, with mid-end apartments comprising 40 per cent, CBRE Việt Nam said.
In terms of pricing, it is noted that some projects had increased the price by four to 6 per cent compared to last year, especially those with good locations, situated at an average distance from the city centre, and in the vicinity of infrastructure projects that were under construction, it said. The rise in prices took place mostly in the high-end and mid-end sectors. In the high-end sector, prices rose in large-scale projects that had well-known investors and provided sufficient facilities and amenities. In the mid-end sector, projects with reasonable prices and good locations were in favour as there were greater chances for the investors to increase the resale price.
Meanwhile, the HCM City market saw a fall in sales volume of 5,887 units, a cutback of 45 per cent and 35 per cent on both y-o-y and q-o-q basis, respectively, according to the CBRE Việt Nam report on the HCM City market in Q2.
But the condominium market saw a continued strong increase in launch supply in Q2, adding 10,107 units, up 20 per cent q-o-q, but falling just 9 per cent y-o-y. This quarter reported the highest number of new launches in the mid-end segment, which accounted for 41 per cent of the total new supply.
"This led to the first concern about oversupply, when the sales volume could not catch up with the new launches every quarter," the CBRE Việt Nam report said.
 "Despite a quiet Q2, CBRE expects the market to regain its momentum in the second half of 2016, as some developers plan to launch their new projects in HCM City's market," Dung Duong, director of research and consulting at CBRE Việt Nam, said.
The Jones Lang Lasalle (JLL) company said in the Hà Nội market, the large sales momentum in recent quarters would continue with most of the activity being in the affordable and mid-end segments till the end of 2016, while in the HCM City market, the sales of apartments were expected to remain at levels as high as in recent times.
Prices were expected to remain on the uptrend in the coming quarters in both markets, JLL said.
According to a forecast by Savills Việt Nam, 22,000 units in 41 projects, predominantly Grade B, are expected to be launched in the Hà Nội market in the second half of this year, focused in Từ Liêm, Thanh Xuân and Cầu Giấy districts.
In HCM City, more than 35,000 units are expected to enter the market between the third quarter of this year and 2018. Some developers have begun making strategic movements toward denser populated districts riddled with obsolescent housing in the west of the city.
Bảo Việt Securities Joint Stock Company (BVSC) also said in the first half, the high-end segment was still hot with many projects that offered an increase in transaction volume.
The mid-end segment remained the most stable with high demand and diversified products.
BVSC said the property market would continue to grow in the second half of this year, with more development of high-end projects and stability in the mid-end segment.
Competition in the market would increase further and the decision to buy property would belong to buyers, it said.
PetroVietnam Power Corp to divest from affiliates
PetroVietnam Power Corporation (PV Power) plans to sell its entire 2.88 million shares or 7.85 percent stake in affiliate EVN International JSC in Ha Noi on August 1.
The shares will be sold at a starting price of VND10,800 ($0.48) each, according to auction organiser the Ha Noi Stock Exchange (HNX).
HNX also added that registration and deposit submissions for the auction would be accepted between July 4 and 25.
PetroVietnam Power would also sell 100,000 shares of PetroVietnam Electrical & Mechanical Joint Stock Company on July 12 at a starting price of VND10,900 each.
These sales are part of PV Power's restructuring plan for this year. The firm, the second largest power producer in Viet Nam, is planning to have an initial public offering this October.
Ho Chi Minh City mobilises capital for urban infrastructure
The Ho Chi Minh City Transport Department and the State-owned Ho Chi Minh City Financial Investment Company (HFIC) signed a set of rules to jointly mobilise capital for urban development.
At the request of the municipal People's Committee, both sides will coordinate in sharing information, establishing a land fund, and devising financial plans for public-private partnership (PPP) projects, among others.
HFIC General Director Pham Phu Quoc said the company is partnering with capable investors to launch PPP infrastructure projects, focusing on public investment projects approved by the municipal People's Council and those listed in the city's seven breakthrough programmes.
In 2010-2015, HFIC offered credit worth 14 trillion VND (636.3 million USD) to 131 infrastructure projects, including 34 in the field of technical infrastructure, 32 in healthcare and 54 in education.
Tran Vinh Tuyen, Vice Chairman of the municipal People's Committee, asked HFIC to promptly draft a scheme to draw in capital for the city's infrastructure and major works in the near future.
HFIC is the city's major strategic public financial institution in attracting capital for infrastructure, according to Quoc.
Numerous factors hamper inflation control: experts
It will be difficult to control the inflation rate this year at under 5 percent, many experts said, pointing to the relatively high consumer price index (CPI) during the first half of 2016.
CPI in June expanded by 2.35 percent from last December, and the average six-month figure rose by 1.72 percent from a year earlier.
The growth was fuelled by the scheduled increases of medical and educational services prices and minimum wage, the slight recovery of global commodity prices since February and decelerated agriculture due to unfavourable weather conditions, Le Quoc Phuong, Deputy Director of the Ministry of Industry and Trade's Industry and Trade Information Centre, said at a seminar in Hanoi on July 7.
Global commodity prices tend to increase until the year's end. The continued price hike of medical and educational services and a possible credit growth rate of over 20 percent in 2016 are likely to boost the year's CPI to 5 – 5.5 percent, he forecast.
Phuong also predicted that Vietnam might fail to achieve many other economic targets such as GDP with a targeted growth rate set at 6.7 percent and exports with an expected revenue rise of 10 percent.
Economist Ngo Tri Long said with prudent control, the inflation rate in 2016 will be posted at around 4.2 percent. However, it could exceed the 5 percent target due to such factors as higher medical and educational services fees and natural disasters.
Nguyen Duc Do, Deputy Director of the Institute of Economics and Finance, said price changes in the remaining months depends on how the State adjusts medical services fees, as other factors such as oil and food prices are unlikely to surge.
In a longer period, inflation will slow down as overall economic growth may fall short of expectations, and this will be the biggest factor in curbing CPI expansion, he added.
Conference explores TPP impacts on economic, financial sectors
A conference on the Trans-Pacific Partnership (TPP) agreement and its impacts on Vietnam's economic, financial and intellectual property sectors took place in Vinh city, the central province of Nghe An on July 7.
The event was organised by the National Assembly (NA)'s Committee for External Relations, Committee for Economic Affairs, Committee for Finance and Budget and Committee for Science, Technology and Environment.
During the conference, attendees discussed opportunities and challenges posed by the TPP on several industries and how enterprises have prepared for the trade deal. They also conferred on its impacts on finance and intellectual property sectors, and proposed institutional and legal solutions.
Tran Van Hang, Head of the NA's Committee for External Relations, said the TPP will touch every part of the economy and all domestic enterprises. It will provide opportunities for Vietnam to improve its institutions and create a more dynamic, transparent and effective business climate, he noted.
Perfecting the country's institutional and legal systems, on the other hand, is also a challenge, Hang noted, adding that the country needs to restructure its economy and enhance the competitiveness of enterprises before the pact takes effect.
According to the World Bank, the TPP may expand Vietnam's GDP and exports by 33.6 billion USD and 68 billion USD, respectively, in 2025, as the zero customs duties in large markets like the United States, Japan and Canada would create a huge advantage for the country's exports, particularly of key industries including clothing, footwear and timber products.
Vietnamese consumers and businesses will have access to high-quality goods and input materials with lower prices, while a new wave of foreign investment into the country is also expected.
However, he voiced concern over the TPP commitments on fair treatment to be given to both foreign and local enterprises, which means less government subsidy for local businesses. It is also more difficult for the government to manage capital flows and ensure a safe financial market, he added.
Dau Anh Tuan from the Vietnam Chamber of Trade and Industry (VCCI) said it is not easy for local businesses to understand the TPP commitments when there is very little information provided by the state agencies on these matters.
In addition to this are many other barriers in terms of taxation policies, customs procedures, infrastructure and local labour, he noted.
Tuan suggested the competent agencies examine the compatibility between TPP regulations and Vietnam's legal system in economic, financial and intellectual property fields and continue dialogues with those touched by the trade deal to support the policy-making process for the future implementation of the pact.
Indian engineering firm wants to enter Vietnamese market
General Manager of International Business at Escorts – India's leading engineering group operating in agriculture and construction machines, Sonal Tyagi, has expressed his wish to build tractor manufacturing facilities in Vietnam and transfer technology to Vietnamese partners.
During a working session with a delegation from the Vietnamese embassy's Trade Office in India, Tyagi hailed Vietnam as a market with human resources of importance to Escorts.
He hoped that Vietnam could become a centre of manufacturing tractors for domestic use and export to third countries, particularly ASEAN member states.
Escorts was established in 1944 and began manufacturing tractors in 1969. Its major markets are Europe and Africa, not to mention a massive distribution network spreading across more than 40 countries, including Laos, Cambodia, Myanmar, Indonesia and Malaysia.
It has a 600-strong staff working in seven factories in Faridabad city and a training centre in Bangalore city, he said.
Vietnamese Ambassador Ton Sinh Thanh, for his part, urged Indian firms, including Escorts, to invest in building factories and assembly lines in Vietnam.
He pledged that the Vietnamese embassy in India is ready to offer all possible support to Indian firms and Escorts in particular to seek business opportunities.
Both sides discussed Escorts' strength and potential as well as the possibility of partnering with major Vietnamese engineering enterprises in farming and construction.
Following the working session, the Vietnamese delegation visited Escorts' tractor manufacturing factory.
Singaporean palm oil giant strengthens Vietnam presence
The world's largest palm oil processor and one of the largest soybean buyers is strengthening its share in Vietnam's cooking oil market.
The Singaporean-based Wilmar International will buy 45 per cent of Bunge Ltd's oilseed crushing factory, the company announced on July 5. The terms were not disclosed.
The Quang Dung Company, a soybean meal distributor in Vietnam, will retain a 10 per cent share in the factory, creating a three-party joint venture, according to Reuters.
With an annual capacity of 1 million tons, the factory crushes 3,000 tons of soybeans every day into 600 tons of soybean oil and 2,500 tons of soybean meal. The soybean oil is used for consumer products while the soybean meal is used as animal feed. The oilseed crushing operation was established in 2011 and is located at the Phu My I Industrial Zone in southern Ba Ria Vung Tau province.
Bunge is Vietnam's largest producer of soybean oil. Its chartered capital stands at VND560 trillion ($25.1 billion) with revenue for 2014 reported at VND12.8 trillion ($574 million). "This joint venture will strengthen Bunge's operations, marketing and logistics," Wilmar's CEO Mr. Soren Schroder was quoted as saying.
Wilmar is "a partner who really knows what they're doing in oil marketing," said Mr. John Baize, President of the international agricultural trade and policy consultancy John Baize and Associates. "It makes sense for Bunge because they get to pull out capital, which they can put back into their core businesses."
Wilmar's target after the deal is to "integrate operations that are both a source and sales outlet for oil in Vietnam," according to the statement. "It will also help the company to remain a low-cost operator with the highest efficiency possible," Mr. Schroder added.
In 2008 Wilmar bought the Hung Phu factory established in 2003 by the Cai Lan Oils & Fats Industries Company (Calofic) in the Mekong Delta's Can Tho city. With a daily capacity of 500 tons, the factory produces rice bran meal as animal feed and rice bran oil for consumer products.
Calofic, in which Wilmar holds a 76 per cent stake, is the leader in Vietnam's cooking oil market with a 37 per cent market share. It reported total 2015 revenue of VND11 trillion ($493 million), three times higher than its nearest competitor, the Tuong An Vegetable Oil Company. Calofic has won the trust of a wide range of customers with its famous brands, including Neptune, Simply and Meizan.
The Vietnam Vegetable Oils Industry Corporation (Vocarimex) announced on June 27 that it will sell 24 per cent out of its 51 per cent holding in Tuong An. It seems likely that Vocarimex will sell the stake to the KIDO Group Corporation, who confirmed with VET that it would increase its stake in Vocarimex to 51 per cent in the second half of this year. With KIDO aiming to cooperate with Vocarimex and with Wilmar's strategic deal, the country's cooking market is set to see fierce competition.
Vietnam's cooking oil market now has 40 companies producing and selling cooking oil products, 70 per cent of which are palm oil, 23 per cent soybean oil, and 7 per cent vegetable oil, according to data from the Ministry of Industry and Trade.
It is a growing market for oilseeds due to increased demand in the livestock industry, where soybean meal is a major animal feed. The country is projected to import 5.2 million tons of meal in 2016/17, up from 2.291 million a decade ago, according to data from the US Department of Agriculture.
Call for Eximbank BoD to be dismissed
A member of the Board of Directors (BoD) of the Vietnam Export Import Commercial Joint Stock Bank (Eximbank) has proposed the current BoD be dismissed due to its inefficiency.
Mr. Dang Phuoc Dua, who represents a group with a 10.3 per cent stake, sent a letter to the State Bank of Vietnam (SBV) and relevant authorities on July 1.
In early June a group with a 11.71 per cent stake demanded some of the current BoD members be dismissed.
Mr. Dua wrote that the current Board is not working effectively and not respecting shareholders. Some members hold none or less than 0.1 per cent of shares. They are not sufficiently responsible, which has led to a decline in financial activities and a loss in market share.
He also wants to allow shareholder groups with more than 10 per cent to be able to nominate representatives to the Board, to be voted on at the next meeting.
Eximbank announced on June 30 an extension to the deadline to receive nominations to the Board, from June 30 to July 14. Six representatives had nominated, the bank announced on July 4, representing groups holding more than 10 per cent, and included Mr. Dua, Mr. Nguyen Trung Kien, Mr. Pierre Erik Theron, Mrs. Nguyen Thi Xuan Loan, Mr. Diep Quang Nhan, and Mrs. Ngo Thu Thuy.
There has been no final decision made on the addition of one or three delegates to the current Board, which currently has nine members.
The bank planned to organize an extraordinary meeting in August. The first two annual Board meetings earlier this year failed to gain a quorum (65 per cent of shareholders). A third Board meeting must be called before an extraordinary meeting can be held.
Eximbank holds a significant market share in the export and import sector, with an extensive network throughout the country consisting of a head office, 44 branches, and 163 transaction offices, and it has one subsidiary and one joint venture. Its main shareholders are the Sumitomo Mitsui Banking Corporation, with 15 per cent, and Techcombank, with 8.19 per cent.
The bank has more than 6,100 employees and is listed on the stock market (EIB), with total charter capital of VND12.4 trillion ($556 million). It recorded accumulated losses of VND820 billion ($36.8 million) in 2015 with net profit in 2014 and 2015 of VND340 billion ($15.3 million) and VND40 billion ($1.9 million), respectively.
Mr. Dua was appointed Deputy Chairman of Eximbank's BoD in March 2014 and was a former consultant to the bank's BoD from December 2015 but resigned last May.
Last year Eximbank postponed its annual board meeting three times, to the end of July. In December an extraordinary meeting was held in order to vote for the BoD but a representative of a main shareholder group was been selected. Questions were then raised about the vote's transparency.
Two multi-level marketers suspend operations
Two multi-level marketing (MLM) companies - the Zija Co. and the Gano Excel Vietnam Company - have decided to suspend their operations, according to the Vietnam Competition Authority (VCA) under the Ministry of Industry and Trade (MoIT).
Enterprises can suspend their operations for a maximum of 12 months. Beyond this time their business certificate will be withdrawn, under Decree No. 42 on MLM activities.
Zija's has suspended its operations from July 1 to June 30, 2017 as it must reorganize its company structure and human resources. It is located at 17 Thuy Khue Street in Hanoi's Tay Ho district but has a sales point on the 22nd floor of the Icon 4 building in De La Thanh Street, Ba Dinh district.
Gano has suspended its operations from July 17 to January 1, 2017, as it must resolve issues relating to office rentals.
Decree No. 42 stipulates that, despite suspending operations, MLM enterprises must still protect the rights of its agents under Vietnamese law.
It is recommended that individuals involved in the MLM business be fully conversant with official information from VCA to protect their rights.
Agents and business partners have only 30 days from the announcement of suspended operations to send a request to VCA to address their rights relating to commissions and salaries and even compensation. If no one does so, the companies will be recognized as having completed all their responsibilities.
In June, VCA requested that all MLM companies submit reports before July 15 on their business activities in the first half of this year. Reports are to include MLM sales, the number of MLM products, the number of MLM agents, and the commissions, bonuses and economic benefits paid to agents. Enterprises must also submit audited financial reports for 2015 and information on tax payments in 2015 and the first half of this year.
Since the beginning of the year many MLM companies have been inspected, with some being fined or shut down. On June 14 VCA named four MLM companies and their business violations. Unicity Marketing Vietnam was fined VND130 million ($5,829) for not completing procedures to update its business license after adjusting its business activities, conducting business in cities and provinces where it doesn't have an office while not informing the local departments of industry and trade, and not training or not fully training agents.
In April, Hanoi's Department of Industry and Trade requested the closure of eight MLM companies. Their business licenses had expired but they had not ceased conducting business.
Upscale hotels see falling RevPAR
A standard industry measurement (RevPAR) of room utilization and return, experienced a downturn of 8.6 per cent from $59.3 in 2014 to $54.2 in 2015, according to the Vietnam Hotel Survey 2016 released by Grant Thornton on July 6.
The change in RevPAR was primarily caused by a fall in average room rates from $87.2 to $72.3.
The analysis of upscale hotels was performed by star ranking, region, and hotel size. In terms of star ranking, four-star hotels experienced a downward trend in average room rates of 17.1 per cent, from $87.2 to $72.3. Five-star hotels saw better performance, recording 1.2 per cent growth, with average room rates increasing to $111.4 in 2015 from $110.1 in 2014.
Regarding annual average occupancy rates, the rate for upscale hotels increased slightly, by 1.2 percentage points, from 60.3 per cent to 61.5 per cent, and by 1.6 percentage points, from 61.1 per cent to 62.7 per cent, for four-star and five-star hotels, respectively.
The upscale hospitality sector saw poor performance in 2015, with an overall EBITDA of 29.7 per cent; 4.3 per cent lower than in 2014. The downturn was due to changes in cost structure. It was particularly affected by an increase in total departmental expenses and other operating expenses, by 3.6 per cent and 2 per cent, respectively.
Regarding purpose of stay, individual tourists, tour groups and business travelers were the three most prominent segments for upscale hotels in 2015, with 35.6 per cent, 28.8 per cent and 13.5 per cent, respectively. The most noticeable change was in business travelers, which declined 5 per cent.
In reservation channels, there were more online sales in 2015 than in 2014 although traditional travel agencies and direct booking remained the two most common approaches for hotel reservations. The percentage for both traditional travel agencies and direct booking fell by 5.3 per cent and 4.9 per cent, respectively, while the proportion of online sales increased 4.9 per cent.
Vietnam welcomed 7.9 million international visitors last year, less than the forecast of 8.3 million set by Vietnam National Administration of Tourism. It was an increase of 0.9 per cent but lower than the 4 per cent growth recorded in 2014. The survey also revealed a decline in the proportion of international guests staying at four- and five-star hotels, which was 81 per cent, or 2 per cent lower than in 2014.
Despite declining growth in international arrivals, Vietnam's hospitality sector earned VND338 trillion ($15 billion) in 2015, higher than the $10.75 billion recorded in 2014, due to significant growth in domestic visitors, by 48 per cent to 57 million.
The Vietnam Hotel Survey 2016 marks the 13th consecutive year Grant Thornton has conducted the only comprehensive research on high-end hotels and resorts in Vietnam. Similar to last year, in this year's survey Grant Thornton did not include three-star hotels because of the level of response and change in hotel mix in this category, focusing instead on the upscale hotel industry, covering four- and five-star hotels.
State-owned firms beg for protection against poor business
State-owned firms are depending too much on government's subsidies and protection rather than improved competitiveness.
A prime example are Vinalines, a state-owned shipping firm that was once considered the market leader. However for over ten years, it has only achieved losses. The firm has racked-up so many losses that it has developed a reputation as a second-rated firm. Recently, amid difficulties and debts, Vinalines proposed to government to persuade coals firms to let them be their transporter.
Despite opposition and displeasure from other firms, the Ministry of Transport sent an official letter to the prime minister to create a chance for Vinalines to improve its foreign trade market share. The ministry also reminded that government once said they would prioritise Vinalines as transport provider for local firms but for various reasons, this hadn't been carried out.
On July 6, Thai Nguyen Iron and Steel Joint Stock Corporation (Tisco) sent out an urgent call for help. According to Tisco, the Environment Administration had issued guidance on how to import scrap even though the custom procedure for environmental safety certificate is still on-going to help firms. The company already have four thousand tonnes of scrap ready to be imported but the General Department of Vietnam Customs refused to let them import goods without the certification.
Previously, Tisco also asked for VND1trn (USD45m) to renovate and expand their factories while this VND8trn project is on the verge of bankruptcy and has little chance of surviving after nine years in operation.
A number of state-owned iron and steel companies are also asking for protection from imported products by increasing import duties. The Vietnam Sugar Association opposed the Hoang Anh Gia Lai Group's proposal to import 30,000 tonnes of sugar from the group's factory in Laos's Attapeu Province at a cheaper price.
It looks like they are asking for too much when these firms had already received a lot of preferential treatments, from being allocated huge plots of land to preferential taxes and bank loans. Now they even want the government to provide them with customers.
The government should stop listening to those pleas and let the firms compete fairly. With advantages given to them in early stages such as land and bank loans, they should be able to develop just as well as the Viettel Group or Vinamilk.
However, according to report from the Ministry of Finance, as of December 21, 2015, the total outstanding loans guaranteed by the government reached USD21bn, about 11.1% of GDP. Many of the firms benefited from the loans have recorded bad business results including Ha Long Cement JSC and Phuong Nam Pulp and Paper Company.
Despite government efforts in lowering taxes and rescheduling debts to help their operations, these state-owned firms continue to record bad results. It's time to let those firms go bankrupt and leave the playing field to more capable businesses.
UK supports intellectual property right enforcement in Vietnam
The British Embassy in Hanoi and the Market Surveillance Agency (MSA) under the Ministry of Industry and Trade signed an agreement to work together to increase the effectiveness of Intellectual Property Rights (IPR) enforcement in Vietnam.
Under a new project funded by the UK Government's Prosperity Fund, they will seek to enhance co-ordination among IPR enforcement agencies to reduce IPR infringements, leading to an improved business environment for domestic and foreign-owned enterprises, including British investors, in Vietnam.
With the support of the regional Intellectual Property advisor and experts from the UK's Intellectual Property Office, the MSA will hold training courses for investigators of enforcement agencies and workshops between the public and private sectors to raise IPR issues, as well as making recommendations to strengthen the effectiveness of enforcement activities.
The project also supports the forthcoming Decree guiding the implementation of the Market Surveillance Ordinance and setting out a clear organisation structure for MSA at both the central and provincial levels.
The UK has a special interest in IPR and has developed considerable expertise on IPR to support Vietnam, said First Secretary and Head of Political and Economic Section at the British Embassy Hanoi Andrew Holt.
According to MSA Director General Trinh Van Ngoc, with support from the UK during the implementation of the project on strengthening the effectiveness of IPRs enforcement in Vietnam in 2013 and 2015, nearly 400 investigators were trained and given guidance on how to assess IPR infringements using practical case studies.
A curriculum on IPR enforcement and a database on distinctions between counterfeit and genuine products were developed, said Ngoc, adding that in 2016 the project will focus on co-ordination mechanism and capacity building at the local level.
Vietnam is among the first countries to benefit from the new £1.3 billion Prosperity Fund announced in November 2015 under the UK Strategic Defence and Security Review, aimed at promoting the economic reform and development needed for growth in the UK's partner countries over the next five years.
The UK Government has allocated around £1.1 million to fund projects in Vietnam in the 2016-17 financial year, focusing on promoting energy security and lower carbon energy, and fostering an open and transparent business environment.
VEF/VNA/VNS/VOV/SGT/SGGP/Dantri/VET/VIR