Central Highlands seeks foreign investment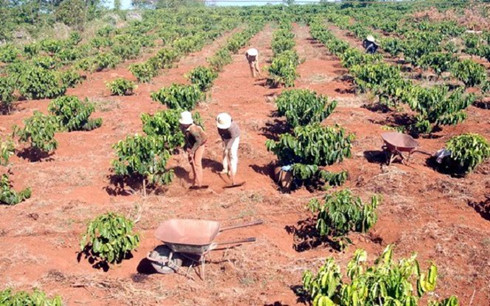 The Central Highlands Steering Committee held a working session with heads of Vietnamese representative agencies abroad led by Deputy Minister of Foreign Affairs Bui Thanh Son on June 8, with the aim of seeking investment from abroad.
The event, which was organised in Dak Lak province, also saw the participation of leaders from five Central Highlands provinces: Dak Lak, Gia Lai, Kon Tum, Dak Nong and Lam Dong.
Deputy Minister Son said that the working session aimed to provide heads of Vietnamese representative agencies abroad with further understanding about socio-economic development, defence and security in the Central Highlands, acting as a bridge between the Central Highlands and the international community.
He noted that heads of Vietnamese representative agencies abroad are also expected to study and seek foreign partners for investment in the Central Highlands, particularly in high-tech agriculture and to expand export markets for major farm produce in the region including coffee, pepper and rubber.
According to Deputy Head of the Central Highlands Steering Committee Tran Viet Hung, the Central Highlands has a total area of over 54,600 km2 (accounting for 16% of the total national area) and a population of 5.6 million (accounting for 6% of the total national population), with over 35% of the population from ethnic minority groups.
The region sees an average economic growth rate of 9% per year. Despite the prolonged drought in the first half of this year, the region reported a GDP growth rate of 7.2% over the same period last year, Hung noted.
The agricultural and forestry sectors account for 43% of the regional GDP in 2015 while the proportion was 71.4% in 2001.
The Central Highlands now has over 577,800 ha of coffee; 259,500 ha of rubber; 53,500 ha of pepper; 23,800 ha of tea; and 76,500 ha of cashew nuts; among other types of agricultural products.
Kiwi connection center opens in town
Augen Software Group, a New Zealand software developer that has been operational in Vietnam for 11 years, has inaugurated a Kiwi connection center at Quang Trung Software City in HCMC's District 12, targeting technology firms from New Zealand.
New Zealand Minister of Economic Development Steven Joyce attended the ribbon-cutting ceremony of the center on Monday. The facility will promote technology transfer from New Zealand to Vietnam and become an ASEAN hub for hi-tech companies of the island nation in the southwestern Pacific Ocean.
Mitchell Pham, chief executive officer of Augen Software Group, said the center's goal is to help New Zealand technology outfits expand their presence in Vietnam and improve interactions with domestic customers.
The Kiwi connection center will aid New Zealand technology companies in finding manpower, opening transaction points and offices, and taking better care of customers who have purchased and utilized their technological products.
Pham said health-related technology companies Orion Health and HealthTech and manufacturing optimization company ShapeShifter will be the first New Zealand companies to join the center.
Vietnam's information technology (IT) market is expected to outpace other Southeast Asian countries thanks to its strong growth and fast emerging as a new technology outsourcing destination in the region.
New Zealand has a number of strong companies in wireless infrastructure, IT for the healthcare, transport, digital content, geospatial and telecommunications sectors, said Tony Martin, New Zealand Consul General in HCMC.
Martin hoped the Kiwi connection center will attract many New Zealand technology firms.
Vietnam is the fastest growing commercial market for New Zealand in Southeast Asia. The opening of the center was among multiple events that mark expanding economic and tourism ties between the two countries.
Air New Zealand has launched flights between Auckland and HCMC.
Huge funding pledged for macadamia development
LienVietPostBank and its founder Him Lam Joint Stock Co have pledged a total of VND11 trillion (US$491.7 million) for macadamia development in Lam Dong Province.
Him Lam said it would spend VND1 trillion (US$44.7 million) on macadamia farming and processing in the Central Highlands province, according to a statement released by LienVietPostBank.
The bank will offer a credit line totaling VND10 trillion (US$446.9 million) at preferential interest rates for macadamia growers, and trading and processing firms. At the same time, the bank will coordinate with insurance firms to draw up a proper insurance scheme for macadamia farming.
Him Lam and LienVietPostBank have supported Lam Dong to survey the need of local people for growing macadamia and identify suitable farming areas in the province.
Lam Dong has favorable weather for macadamia growing and has announced a master zoning plan for macadamia development.
Safeguard duties sought for imported color-coated steel sheets
Domestic steel producers have requested an investigation into imports of color-coated steel sheets, including zinc- and black-coated products, as well as safeguard duties to protect local production, according to the Vietnam Competition Authority.
The authority under the Ministry of Industry and Trade said it has asked local galvanized steel sheet producers to provide information on their production and clarify the reason for a safeguard probe into the imported products.
The authority has not detailed the case in line with Vietnamese laws and the World Trade Center's requirements. Information about the plaintiffs and their evidence will only be announced after the ministry decides to open an investigation.
This is the fourth time steel firms in the country have urged safeguard measures against imports of steel products, including cold-rolled stainless steel, steel ingots and long steel, coated steel sheets and color-coated steel sheets.
In March, the ministry launched an anti-dumping probe into zinc-coated steel sheets imported from China (including Hong Kong) and South Korea. Preliminary conclusions of the case were expected to be announced on June 1 but delayed for 60 days.
Vietnam has slapped respective safeguard tariffs of 23.3% and 14.2% on steel ingots and long steel imports from a number of countries and territories from March 22 to October 7.
In 2014, the ministry decided to impose anti-dumping tariffs on cold-rolled stainless steel imported from China, Indonesia, Malaysia, and Taiwan. At the end of April, the ministry lifted duties on cold-rolled stainless steel imports from China and Indonesia while lowering taxes on imports from Malaysia.
Jan-May debt payments close to VND65 trillion
Total debt payments in the first five months of this year neared VND65 trillion (US$2.9 billion) and due debts were paid on time, according to the Ministry of Finance.
The figure was equivalent to 41.6% of the year's estimate and rose by 5.3% against the same period a year earlier, showed a report released by the ministry on June 7.
The Government issued over VND147 trillion of bonds in the period and the money raised from this channel helped finance budget spending needs.
Budget collections had exceeded VND396 trillion in the year to May, 39.1% of the full-year's estimate.
The budget deficit in January-May was put at VND70 trillion. Total spending in the period was VND466.3 trillion, up 4.7% year-on-year.
Of the total, around VND68 trillion went to development investment and VND332 trillion to socioeconomic development programs, defense, security and administrative management.
VASEP wants ministries to handle misleading news
The Vietnam Association of Seafood Exporters and Producers (VASEP) has written to the ministries of agriculture-rural development and industry-trade finding ways to deal with misleading news about seafood exports.
VASEP said in Dispatch 81/2016/CV that many members of the association have complained about negative news about seafood exports from Vietnam.
In Announcement No 16-841 dated May 24, the Directorate General for Health and Food Safety under the European Commission (EC) expressed concern over mass fish deaths on Vietnam's central coast in previous months and the possibility of heavy metal contamination in fish exported from Vietnam.
VASEP said rumors have spread that European Union (EU) may ban imports of seafood processed from materials in Vietnam.
To deal with such damaging news, VASEP proposed relevant authorities voice against Announcement No 16-841 as it may lead importers to misunderstand that all Vietnamese seafood is contaminated.
Earlier, VASEP said the quality of all seafood exported from Vietnam is still guaranteed.
Vietnam dong firmer against greenback
The Vietnam dong has continued appreciating against the U.S. dollar at commercial banks since the middle of last week, rising by VND20-40 per dollar on June 7.
On June 7 saw Vietcombank buying the dollar at VND22,315 and selling it at VND22,385, down VND35 against Monday.
At VietinBank, the respective dollar buying and selling prices were VND22,310 and VND22,390, while Eximbank quoted the buying price at VND22,320 and selling price at VND22,380.
Eximbank's price chart showed that the greenback has skidded since last Friday. It has dropped by some VND90 against the final trading day of last week.
The average daily interbank exchange rate between the two currencies has dipped steadily since last Friday.
The State Bank of Vietnam on June 7 announced the average daily interbank exchange rate between the U.S. dollar and the Vietnam dong at VND21,896, a fall of VND18 against Monday. The U.S. currency has edged down since last Friday's level of VND21,393 quoted by the central bank.
The average daily interbank exchange rate between the dong and the dollar depends on greenback supply and demand on the local market and developments on global markets.
Besides the dong, many other currencies including China's yuan have got firmer against the dollar following news that the U.S. Federal Reserve will not hike interest rates this month.
Fed chair Janet Yellen was quoted by international media as saying on Monday that unexpectedly weak job growth in America last month made the Fed rethink its rate hike plan this month. However, Fed officials are still thinking about raising rates in July or September.
Govt backs specific proposals to prop up startups
The Government stands ready to listen to and support detailed proposals of experts, enterprises and investment funds to promote startups, Deputy Prime Minister Vuong Dinh Hue told a conference in HCMC on June 7.
"We have talked much about the responsibility of the Government for improving institutions to prop up startups," Hue said. "We should stop talking about general things but focus on specifics like funding sources for startups."
The perception of startups is still new and Vietnam has little experience in this field, Hue said in his opening remarks at the conference on development of a capital market for startups.
Hue asked if the city has any special initiative or mechanism for this type of business.
Tran Vinh Tuyen, vice chairman of HCMC, said the city wants to create a breakthrough in terms of growth quality, so it will focus more on science and technology to turn itself into a Silicon Valley in Southeast Asia and the nation's center of startups.
Tuyen said the city has established a startup assistance fund with initial capital of VND30 billion (US$1.34 million) but the figure could climb to VND100 billion next year.
Vu Viet Ngoan, chairman of the National Financial Supervisory Commission, said a good startup ecosystem needs a variety of factors such as a favorable legal framework, activeness and creativity of startups, active participation of financial institutions, investors and services suppliers of startups.
Vietnam is still in the early stages of having such an ecosystem and the biggest challenge is how capital could be mobilized to fuel growth in startups.
An important factor relates to the negative way society thinks about the failure of startups and this greatly affects young people. Meanwhile, in many countries where people believe that entrepreneurs can learn from mistakes to succeed.
Regarding the idea of developing a special bourse to raise capital for startups, South Korea has much experience in building it to help startups look for capital from the public.
The Korea New Exchange (KONEX) designated for small firms and startups has been quite successful after three years of operation. The northeast Asian country is also assisting Malaysia in building a similar platform, heard the conference.
Chang Jung-moh from the Korea Capital Market Institute said a startup ecosystem could not grow without government support. However, governments cannot do everything, and the private and non-profit sectors need to share some responsibilities.
According to Noh Tae Huyn, head of the market unit at KONEX, this kind of bourse should not have strict requirements for listing and support policies are needed to facilitate its operations.
However, chairman of the State Securities Commission of Vietnam Vu Bang underscored the need for the Government to channel pump-priming funds into startups. For instance, the Government could indirectly invest in startups through startup promotion organizations and private funds, Bang said.
Vietnam has had sufficient legal grounds to establish a bourse similar to KONEX and should consider converting UPCoM, a bourse for unlisted companies where there are currently 306 active companies, into one for startups, Bang suggested.
Iron, steel production enjoys stable growth in five months
Iron and steel product manufacturing posted stable growth over the first five months of 2016 with an output of more than 5.8 million tonnes, rising by nearly 1 million tonnes or 19.3 percent year on year.
The expansion is about 2.6 times faster than the growth of the general industrial production index during the reviewed period, data from the General Statistics Office show.
It is also an auspicious start for the industry to achieve the record productivity of 14.9 million tonnes this year, compared to about 10.92 million tonnes in 2011 and 12.5 million tonnes in 2015.
The production growth is partly attributable to an increase in domestic demand as 12.53 million tonnes of iron and steel products were consumed from January to May, or more than 2.5 million tonnes each month.
Exports of those commodities also climbed to over 240,000 tonnes a month during the period, the highest ever volume. However, export prices dropped 26.3 percent from a year earlier following a 13.5 percent fall in 2015.
Meanwhile, over 1.58 million tonnes of iron and steel products were imported into Vietnam each month between January and May, much higher than the monthly average in the previous years.
Import prices in the five months sank 32.5 percent year on year, leading to a decline of 1.45 billion USD in iron and steel import turnover despite a 50.5 percent surge in import volume.
The strong import is said to help Vietnamese businesses prepare for future economic recovery but also put pressure on domestic manufacturing.
Branding of Vietnamese rice should first focus on domestic market
Rice firms need to build their own brands in the domestic market first before they make their way to the global market, said Huynh Van Thon, Chairman of Loc Troi Group, an agribusiness based in An Giang province.
The local market consumes 18 million tonnes out of over 25 million tonnes of rice Vietnam produces annually, or 72 percent of the total amount.
Branding of rice products should receive more attention, so local consumers can recognise and differentiate between them, before the products can attempt to gain a foothold in the international market where the competition is increasingly fierce, Thon said.
He added that rice companies should serve as a bridge between consumers and farmers in a bid to raise customer confidence in the rice quality.
According to Secretary General of the Vietnam Food Association (VFA) Huynh Minh Hue, the success of rice branding relies on the quality of the rice which satisfies customer demand, and which has competitive edge over other products. A set of national standards for rice should also be developed, he noted.
To build a strong national rice brand and trademark of quality, each business must build its own brand, said Le Thanh Khiem, Director of Tien Giang Food Company.
It is fundamental to create a strong link between business and farmers in which the farmers are aware of the importance of their rice quality, that only by ensuring the quality will they be able to generate a stable income, he stressed.
Deputy Minister of Agriculture and Rural Development Tran Thanh Nam requested that the VFA roll out the official design of a national logo for Vietnamese rice no later than February 2017.
The government and the ministry will assist the rice businesses in brand building through related policies, he said.-
Viet Nam's economy sees recovery momentum in Q2: HSBC
Despite a gloom in the Purchasing Managers' Index (PMI) in the region, Viet Nam's PMI continued to expand, reaching a ten-month high of 52.7 in May from 52.3 in the previous month.
According to the latest report on the prospects of Viet Nam's market released by the Hong Kong and Shanghai Banking Corporation (HSBC), economic indicators in the second quarter of this year showed a strong recovery of the national economy.
The number of new orders rose sharply, indicating that manufacturing operations are likely to grow in June. The index of industrial production and exports also recorded consistant growth in the period.
The lingering El Nino will likely continue to affect agricultural output, the report said, however, it also forecasts that the strong development of manufacturing industries and services will lift the GDP growth in this quarter to 6.1 per cent.
HSBC also kept its GDP forecast in the whole year of 2016 unchanged at 6.3 per cent.
The bank put forward medium-term solutions on financial reform in Viet Nam, including broadening the base of profit, and adjusting accounting methods in line with international standards.
Administrative measures to restrain tax evasion, the announcement of tax fraud cases and the simplification of the VAT refund process will be helpful solutions, the report stated.
BIDV works with 4 banks on VnSAT project
The Bank for Development and Investment of Vietnam (BIDV) and four chosen banks inked a sub-loan agreement to re-lend the credit loan borrowed from the World Bank on June 9.
The agreement was inked to deploy the Vietnam Sustainable Agriculture Transformation (VnSAT) project.
The VnSAT project, which borrowed total capital of US$238 million from the World Bank's preferential loan, aims to specifically support implementation of the new agenda in two sub-sectors -- high value rice production for export in the Mekong Delta and coffee in the Central Highlands.
The Ministry of Agriculture and Rural Development (MARD) is implementing the project, while BIDV has been assigned to manage and disburse the loan under the wholesale bank model.
The project will strengthen the ability of governmental agencies in research, design and transferring technologies to farmers, as well as implementing and supervising restructure and renewal of the agricultural sector.
In addition, the project will provide direct support to some 140,000 households planting rice in eight provinces — Kien Giang, An Giang, Hau Giang, and Tien Giang, as well as Long An, Dong Thap, Can Tho and Soc Trang, to access and apply advanced technologies.
The households will benefit from the project by being able to join the value chain from production to consumption. Their profits were expected to increase by 30 per cent per hectare, bringing the total additional value to between $40 million and $60 million per year for the whole region.
In the Central Highlands region, some 63,000 farmer households in the five provinces of Lam Dong, Dak Lak, Dak Nong, Gia Lai and Kon Tum will have access to technologies for sustainable coffee planting and re-planting, with expected additional income of 20 per cent per year and $50 million for the region.
BIDV was chosen by the government to manage and re-lend a credit loan worth $105 million of the total capital of $238 million. BIDV will disburse this loan for the chosen banks to assist businesses in renovating technology and rice processing equipment in the Mekong Delta and coffee in the Central Highlands.
Under the plan, BIDV will select some 10 banks to participate in the VnSAT project. BIDV is also striving to accelerate the project's disbursement soon, thus contributing to effective implementation of the project to restructure the agricultural sector.
Better VN corporate governance
Viet Nam needs to have a better corporate governance to boost the local equity market, said Phan Duc Hieu, deputy chairman of the Central Institute for Economic Management (CIEM) in Ha Noi yesterday.
Hieu gathered with more than 300 local and international participants at a conference held by International Finance Corporation (IFC), a member of the World Bank Group, and Deloitte Viet Nam, in partnership with the Ha Noi and HCM Stock Exchanges to help local listed companies adopt international best practices in corporate governance to boost their appeal to foreign investors and spur growth.
Hieu said under the World Bank's ASEAN corporate governance scorecard, Viet Nam ranked the lowest among six regional countries of Indonesia, Malaysia, the Philippines, Singapore and Thailand between 2012 and 2014.
Thailand had the highest score of 84.53 per cent while Viet Nam was placed lowest with 35.14 per cent, said Hieu, adding that the low rate also implicated high risks, thus not many investors would spend their money on such a market.
While the Government of Viet Nam was trying to mobilise more capital from the stock market, the low rate of corporate governance would minimise the attraction of the local market.
The conference, which also provided updates of the revised Enterprises Law as well as international best practices in corporate governance and their relevance for Vietnamese companies.
Under the revised law, put into effect last July, public and listed companies were also allowed to set up an audit committee under the Board of Directors, without having a supervisory board, subject to requirements.
This is the first time the definition and role of an independent director in the company's Board of Directors has been introduced in the Law on Enterprise.
"Businesses need to be aware of the vital role of corporate governance and a board's audit committee in overseeing the effectiveness and integrity of internal controls," said Ha Thu Thanh, chairwoman of Deloitte Viet Nam. Thanh added that her company was trying to support companies and the market improve transparency, increase efficiency and enhance resilience.
"As competition grows among countries in the region, improving corporate governance in line with internationally accepted practices will help Vietnamese companies become more sustainable and attractive to investors," said Chris Razook, IFC Corporate Governance Lead for East Asia and the Pacific.
Chris Razook also said "enhanced corporate governance will also strengthen the development of Viet Nam's capital markets and benefit the overall economy."
Nguyen Thanh Long, HNX chairman appreciated the revised law, saying that he would help listed companies adopt international best corporate governance practices, as part of the government's drive to ensure better corporate governance.
Long thought companies would benefit tremendously from attending this conference, which will help them take their corporate governance to a new level.
CIEM deputy chairman Hieu, who also contributed to the law said companies should be aware that the law only required the minor conditions for practicing corporate governance, adding they encouraged companies to perform better to build their own corporate governance.
Hieu thought further cost and human resources for better corporate governance might discourage some companies to apply such measures, however, they needed to recognise how it could benefit them in gaining investors' trust and develop the sustainability of their enterprises.
According to Nguyen Thi Nguyet Anh, corporate governance officer from IFC, said "Viet Nam needs to have a certain change in corporate governance in order to improve the quality of the local companies and to make the market more attractive."
Anh said more and more companies have been paying attention to the issue since 2007 when IFC started working with the Vietnamese government to improve the country's regulations and investment climate, raise public awareness of good corporate governance, build the capacity of its partners, and provide governance advice to individual companies.
Viet Nam property brokers' feast-day to open in Da Nang
More than 300 property exchange floors will take part in an event held by the Viet Nam Association of Property Brokers in central Da Nang City on June 25.
This is part of the programme to celebrate the property brokers' day, which falls on June 29.
According to Nguyen Van Dinh, General Secretary of the Viet Nam Association of Property Brokers, the event is aimed at boosting the real estate market's development through activities among project developers, investors, consultants, credit institutions, construction material suppliers and customers.
Attending the event will be more than 5,000 property brokers and big investors from Da Nang, Nha Trang and Phu Quoc.
Dinh said this would be an opportunity for businesses to introduce property projects to property exchange floors and brokers and link investors with customers nationwide.
Property brokerage was officially recognised in 2006. Since then, the number of brokers has developed strongly in both quantity and quality, playing an important role in solving difficulties in the property market and booting its sustainable development.  
India imposes anti-dumping duties on Vietnamese MDF products
The Indian Directorate General of Anti-Dumping and Allied Duties (DGAD) has announced its final decision on AD investigations on Plain Medium Density Fibreboard (MDF) imported from Vietnam and Indonesia.
According to the Vietnam Competition Authority (VCA), the DGAD concluded that three Vietnamese producers and exporters who fully cooperated and answered its questions were imposed dumping margins of 0-15% while others were levied dumping margins of 40-50%.
DGAD identified that the domestic production sector was significantly affected by imported products from Indonesia and Vietnam.
Anti-dumping duties will be applied in five years. One Vietnamese business enjoys duty below the minimum level and two others will be levied duties of US$14.84 per cub.m and US$15.95 per cub.m.
Duties for other businesses from Indonesia and Vietnam were US$64.35 per cub.m and US$63.99 per cub.m, respectively.
India lodged the anti-dumping lawsuit on MDF products after complaints of Greenply Industries Ltd and Mangalam Timber Products Ltd.
The investigation period ran from October 1, 2013 to September 30, 2014, however, the DGAD considered data on imports from April 1, 2011 to September 30, 2014 to analyse the damage.
Singapore's life insurer Great Eastern exits Vietnam: report
Singaporean life insurance company Great Eastern Holdings Ltd has reportedly pulled out of the Vietnamese market after nine years of operation to focus on other Southeast Asian markets.
The company is set to complete the sale of its business in Vietnam this June 21, The Strait Times said on June 7, citing Great Eastern's filing to the Singapore Exchange.
FWD Life Insurance Company (Bermuda) Ltd, a unit of Hong Kong's Pacific Century Group, has struck a deal to acquire the operation at S$48.2 million (US$35.49 million), compared to its net book value of S$47.5 million, according to the report.
Describing the exit as "a comprehensive strategic review," Great Eastern CEO Khor Hock Seng said in the website that it will increase its focus on its core markets of Singapore and Malaysia, as well as Indonesia and Brunei.
He promised to ensure "a smooth transition" for customers and employees in Vietnam, stressing that FWD pledged to "honor all in-force policies."
Figures from Vietnam's Ministry of Finance showed the Singaporean insurer accounted for only 0.08% of the premium revenue from new life policies recorded in 2015.
Local giant Bao Viet together with four foreign insurers -- AIA, Dai-ichi, Manulife and Prudential -- made up more than 75% of the market.
Vietnam now has 17 life insurance companies whose combined sales rose 29.5% year on year to VND36.65 trillion (US$1.61 billion) in 2015.
The Association of Vietnamese Insurers forecast the market to grow 20% this year.
MoIT to check Ninh Bình fertiliser plant for efficiency
The Ministry of Industry and Trade (MoIT) will, in June, inspect the Việt Nam Chemical Group (Vinachem) and Ninh Bình Fertiliser Plant, a member company of Vinachem.
Minister of Industry and Trade Trần Tuấn Anh made this announcement at the ministry's online meeting on June 6 in Hà Nội.
The Ninh Bình Nitrogenous Fertiliser Plant has faced numerous difficulties in technology with regard to production of nitrogenous fertiliser from coal and consumption of fertilisers, according to the ministry.
Therefore, the minister asked the ministry's Chemical Department and Vinachem to review the efficiency of the Ninh Bình and Hà Bắc nitrogenous fertiliser plants to understand the production and business of nitrogenous fertiliser and chemical plants nationwide with an eye on the future, vietnamplus.vn reported.
Tuấn Anh said the Ninh Bình fertiliser plant has completed the planned investment but until now has not made a final decision on its investment activities. That has affected the production and business plans of Vinachem. So, the ministry's inspectors together with the department should conduct an early inspection of the Ninh Bình nitrogenous plant.
Thereafter, the ministry will conduct an orientation on the development of the Ninh Bình fertiliser plant as well as other nitrogenous fertiliser plants in future based on the findings of the inspection at the plant and Vinachem.
For stability on the local market, Tuấn Anh said the department and Vinachem must work with the Market Watch Department in its fight against smuggling and trade fraud for fertiliser and chemical products.
The Chemical Department should also work with the Science and Technology Department to promote building of standards on inspections and granting of investment licences for fertiliser projects, he said.
The Ninh Binh nitrogenous fertiliser plant could soon shut down due to its huge losses, according to the Viet Nam Chemical Group (Vinachem).
In June 1, Chu Van Tuan, Vinachem deputy general director, said the group could stop operations of the Ninh Binh nitrogenous fertiliser plant because disadvantageous weather conditions have affected agricultural production which led to lower demand for fertilisers, including nitrogenous fertilisers.
In addition, farmers in the north mainly use phosphate fertilisers so nitrogenous fertiliser consumption has faced numerous difficulties, he said. In 2015, two Ninh Binh and Bac Giang nitrogenous fertiliser plants had an inventory of 180,000 tonnes and 70,000 tonnes of fertiliser, respectively, reported tienphong.vn.
To deal with that situation, Vinachem directed the two plants to restructure production and business to suit the demand of the local market and production ability in them, so that the two plants could each have an inventory of 20,000 tonnes to 30,000 tonnes of fertiliser, Tuan said.
The plant's construction was kicked off in May 2008 in Ninh Binh's Khanh Phu industrial zone and came into operation in 2012, 42 months after construction began.
In the nearly four years since then, the plant has been continuously operating at a deficit, accumulating altogether over VND2 trillion (US$89.9 million) in losses. Notably, in 2012, the company's losses amounted to VND75 billion ($3.37 million), which increased to VND759 billion ($34.12 million) in 2013, VND500 billion ($22.48 million) in 2014, and VND370 billion ($16.63 million) in 2015.
Vu Van Nhan, general director of Ninh Binh nitrogenous fertiliser plant, said the plant was forced to call a temporary halt to its operations in late March, but Vinachem decided against opening the plant's gates again. The company temporarily laid off 400 of its 1,100 workers, paying the monthly unemployment allowance of VND3.1 million to each worker.
By May 25, the plant had 19,200 tonnes of fertiliser in stock, he said. In June 1, the management met workers to discuss resumption of operations. The plant was expected to resume operations a week later.
However, Nhan said after restarting, the plant still faced many difficulties, including lack of workers, as some of them had moved to other businesses, and higher accumulated losses. According to the plant's report, its accumulated losses reached VND1.99 trillion in 2015.
The plant suffered huge losses because nitrogenous fertiliser price dropped on the world market when faced with a situation of excess supply, Tuan said. Also, since the plant was a new business it did not have experience in marketing activities and sold fertilisers at prices lower than those of Chinese fertiliser products. That selling price was lower than the production cost.
Thereafter, Vinachem proposed 11 plans for the plant to the government and the Ministry of Industry and Trade, including one of closure. If the Ninh Binh fertiliser plant closes, it would have to spend VND1 trillion per year towards repaying its debts.
Viet Nam, South Korea ink co-operation on stock
A memorandum of understanding (MoU) on stock co-operation was signed between the National Financial Supervisory Commission of Viet Nam (NFSC) and South Korean Financial Services Commission (FSC) on June 7.
Under the MoU, the two commissions will focus on exchanging and sharing experiences related to financial issues under the supervision of the two sides, in addition to financial supervision activities, training, technical support and research.
The MoU will help set up facilities for bilateral co-operation between the two countries on issues related to perfecting organisation model and operational methods for each side.
NFSC acts as an advisor for the prime minister, with key functions such as forecasting fluctuations between the financial market and macro-economy, and regulating activities of the national financial market.
Meanwhile, South Korean NFS is a financial regulator which has a legal position equal to a ministry, working as a State management body and under the South Korean government. It makes financial policies and directs the country's financial supervisory service.
Revised protocol on rice export to China announced
A revised protocol on plant quarantine for Vietnam's rice and rice bran exports to China was announced during a conference held in Ho Chi Minh City on June 7.
The document was signed by the Vietnamese Ministry of Agriculture and Rural Development (MARD) and the Chinese General Administration of Quality Supervision, Inspection and Quarantine on May 30, 2016.
As supplements to the protocol signed on October 7, 2004, the document requires that rice sterilisation will be under the watch of the MARD's Plant Protection Department instead of the China Inspection company, said head of the department Hoang Trung.
The department has asked nine rice sterilisation units and the Vietnam Food Association (VFA) to submit a list of qualified rice exporters to the MARD, which will be later sent to China for consideration.
If any violations are found, China is required to contact the Vietnamese government to seek solutions, he said.
The Chinese side also plans to make fact-finding trips to rice paddies, processing factories and warehouses in Vietnam.
VFA Secretary General Huynh Minh Hue said nearly 131 firms are currently qualified for exporting rice to China, 30-40 of them are regular suppliers, adding that the protocol will facilitate exports to China.
Pham Thai Binh, General Director of Trung An company based in the Mekong Delta city of Can Tho, said the signing of the protocol will help ensure transparency in rice exports to China.
China is currently Vietnam's largest rice importer with over 30 percent market share.
The British tourist who went missing while climbing Fansipan Summit in Lao Cai province a few days ago was still unaccounted for as of 6 p.m. of June 7.
Vice Chairman of the provincial People's Committee Nguyen Ngoc Hinh said that rescuers were working around the clock to search for Aiden Shaw Webb, 23, but they had not found any traces.
Webb and his girlfriend, Blue Bell Eloise Baugham, arrived in Sapa town of the northern province and booked a Quyet Tinh Hotel room on June 2.
In the early morning of the next day, Webb went climbing while his girlfriend stayed at the hotel. He started the journey in Sin Chai hamlet and followed the direction of the cable car system to Fansipan Summit.
His girlfriend said she received the last Facebook message from Webb at about 6 a.m. of June 4, where he said he had sustained injuries to arms and legs.
The last location of Webb as detected on Baugham's mobile phone was around areas No. 267 and 274 of Sin Chai hamlet in the Hoang Lien National Park.
Shortly after receiving notification of a missing person, police, staff members of the national park and local residents began searching for the British tourist in the last detected location, Hinh said.
On June 6, relevant forces expanded the search area and asked for help from neighbouring Tam Duong and Tan Uyen districts of Lai Chau province.
However, Hinh noted the possible areas where Webb went missing have complex terrain, even canyons, which rescuers had been temporarily unable to access. The rescue force will continue the search at every canyon and cliff.
The path to the 3,143-metre Fansipan Summit, the highest peak in Vietnam, through Sin Chai is said to be very dangerous and not suitable for inexperienced climbers. Tourists who want to reach the peak are suggested to begin at Tram Ton road or use the cable car.-VNA
Hanoi encourages sound production-sale links
Hanoi will create all favourable conditions and support policies for better links between producers and traders to bring safe farm products to consumers.
Nguyen Huy Dang, Vice Director of the municipal Department of Agriculture and Rural Development, made the statement at a conference in Hanoi on June 7.
A representative of the Fivimart chain stressed the necessity to clearly define standards and conditions on licences and certificates, particularly for semi-processed animal products, as well as making it easier for farmers to introduce more of their products into supermarkets.
Truong Kim Hoa, Director of the centre for varieties and transfer of breeding procedures , said the centre is strong in producing safe agri-products and is ready to cooperate with farmers to produce quality products.
Representatives of some cooperatives and breeding farms committed to following safe and organic production practices.
Hanoi currently has 157 large-scale fields and areas producing high-quality commercial rice, 157 hectares of fruit trees and over 80 hectares of tea meeting VietGap standards, and 5,000 hectares certified for growing safe vegetables – including 352.7 hectares applying VietGap standards and 40 hectares of organic vegetables.
The city has 76 key poultry breeding communes and 3,232 farms outside residential areas. It has 11 supply chains for safe vegetables and 21 supply chains for products of farmed animals.
Despite this progress, many limitations exist in production and distribution of agri-products, because of a poor connection between producers and traders.
Rice exporters anticipate 400,000 tonnes in May
Rice exports are expected to reach about 400,000 tonnes for May, a year-on-year reduction of over 31 percent, and the lowest ratio since the beginning of this year, the Vietnam Food Association (VFA) reported.
VFA Secretary General Huynh Minh Hue said rice export orders in April and May both reduced compared with previous average levels due to downward trends in both orders from China and rice exporting price.
He revealed prices of Vietnam's export rice in late April were higher than other suppliers, including Thailand, but then plummeted in May. The sector might have to adjust its initial target of exporting 1.8 million tonnes down to 1.3 million tonnes for the second quarter of this year.
The VFA does anticipate that exports of rice in the coming months will likely lift again due to more orders from other countries in the Southeast Asian region.
In 2015, Vietnam earned 2.68 billion USD from rice exports. Asian countries were the main buyers, accounting for 74.5 percent, followed by Africa (13.77 percent) and the US (6.72 percent).
In early April, the Ministry of Agriculture and Rural Development was assigned to closely monitor rice production and exports.
The move was intended to ensure domestic food security and effectively manage export activities, given that prolonged and serious drought and saline intrusion were hitting major granaries in the country, particularly in the Mekong Delta.
This year, the delta expected to plant over 4.3 million hectares of rice fields, which would yield approximately 25.7 million tonnes of rice.
According to preliminary estimations, drought and saltwater encroachment have reduced the expected output by 700,000 tonnes, which is equivalent to 350,000 tonnes of rice.
Vietnam, RoK boost cooperation in financial supervision
Vietnam's National Financial Supervisory Commission (NFSC) and the Republic of Korea's Financial Services Commission (FSC) on June 7 signed a Memorandum of Understanding on cooperation in financial supervision.
Under the MoU, the two sides will focus on sharing experience in issues relating to financial institutions under the supervision of the two commissions, including their financial supervision models and operation mechanisms, in line with the regulations and laws of each country.
The two commissions will also increase the exchange of information on financial supervision activities and financial institutions in accordance with regulations in each country. They also agreed to cooperate in personnel training, technical support and research.
Experts said the MoU will lay a foundation for bilateral cooperation in perfecting the organisation model and operation mechanism of each side.-
Quang Ninh, VCCI agree to develop enterprises by 2020
The People's Committee of the northern province of Quang Ninh and the Vietnam Chamber of Commerce and Industry (VCCI) have signed an agreement to support local enterprises by 2020.
This forms part of the activities in the framework of a conference on implementing Resolution No.35/NQ-CP on supporting enterprises' development till 2020 in Ha Long City on June 7.
The two sides will work together on improving the investment environment and local enterprises' competitiveness.
Incentives will be offered to domestic and foreign firms to boost their operation in the locality, thus developing a strong local community of businesses, according to the agreement.
Addressing the event, Chairman of the provincial People's Committee Nguyen Duc Long affirmed that the province has continuously attached significance to the role of local businesses in generating the local GDP.
With the cooperation of the VCCI, the local business climate has remarkably improved, Long said.
According to an action plan, by 2020, the province aims to have over 9,000 highly capable and competitive enterprises, including 250 large scale and financially strong enterprises.
The private sector will contribute between 50-55 percent of the GRDP, and account for about 70 percent of the total investment.
Annual labour productivity is also expected to increase by 15-16 percent in the period.
In the first five months this year, Quang Ninh has recorded 11,222 new enterprises registered a combined capital of nearly 129.12 trillion VND (5.8 billion USD).
In 2015, the locality drew 15.15 trillion VND (682 million USD) in foreign direct investment.
Local firms also contributed over 16 trillion VND (722 million USD) to the province's budget. Their employees earned an average of 4.5 million VND (200 USD) per month.-
Workshop seeks to develop capital market for startups
A workshop was held in Ho Chi Minh City on June 7 to develop capital market for startups.
Addressing the event, Politburo member and Deputy Prime Minister Vuong Dinh Hue said the private economy constitutes an important driving force for the country's socio-economic development.
The Party and State will create all favourable conditions for startups to do business, he added.
He suggested building a proper legal framework and support activities for startups, while calling on them to promote dynamisim and creativity and engage in investment funds.
The State and Government will be responsible for establishing and improving institutions to assist small- and medium-sized enterprises (SMEs), especially private businesses, he said.
However, he noted that the "start-up" idea is still novel in Vietnam , so there are a lot of restrictions in the field, adding that one of the biggest challenges is finding capital sources for startup activities.
As banks do not easily provide financial assistance for venture activities, startup businesses themselves must spend a large amount of money to do business before receiving backing from investment funds.
Experts also shared successful startup models from other countries, saying the Vietnamese Government should build an investment fund to support startups.
A clear and transparent institution is essential to ensure the effective implementation of the fund in line with the market economy's principles and international practices, they said.
Participants also proposed the Government put forth policies to attract venture investment funds to Vietnam while establishing stock exchanges specifically designed for startup activities.
More than 900,000 businesses nationwide have registered for operation, but only 528,000 are operating and receiving tax codes. The Government sets the goal of doubling the current number to one million by 2020.
VEF/VNA/VNS/VOV/SGT/SGGP/Dantri/VET/VIR