Airlines in Vietnam are finding it difficult to recruit pilots despite offering a monthly salary of VND150-200 million (USD7,142-USD9,518).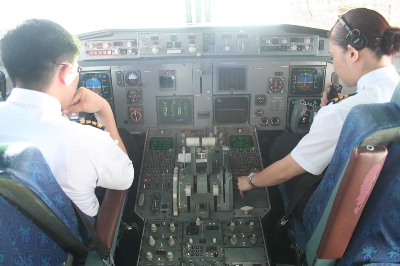 Air Mekong currently uses only American pilots; while Jetstar Pacific has five Vietnamese pilots and up to 60 foreign pilots. Vietnam Airlines has 400 Vietnamese pilots and 360 foreign pilots.
Pilot wages are the second highest business cost for Vietnamese airlines after fuel. However, it is not easy for them to recruit pilots when bigger carriers often offer higher salaries.
Aviation experts said that airlines in Vietnam pay a foreign pilot for driving Airbus 320 between USD7,000-12,000 per month, depending on their experience. The salary is just USD2,000 for a Vietnamese pilot because airlines take into account the training fees they have spent on their pilots. The highest payment is VND100 million (USD4,761) per month for a leading Boeing 777 pilot.
Meanwhile, airlines in China spend up to USD16,000 to pay an Airbus captain per month.
Most airlines, including Vietnam Airlines, recruit pilots through Direct Personnel, one of top ten aviation human resources brokerage firms in the world.
Currently, Direct Personnel helps Vietnam Airlines to recruit pilots for the Airbus 320 with strict requirements, including a minimum total 4,000 flying hours.
Direct Personnel recruited South Korean pilot Kim Tae Hun for Vietnam Airlines, who later was revealed to have made a false statement about his Airbus 320 flying hours. According to the company, he was operating small-scale airplanes in Laos.
Kim Tae Hun was investigated after failing to land Vietnam Airlines flight VN970 at Gimhae Airport, Pusan City, South Korea.
At a press conference on November 8, Lai Xuan Thanh, Deputy Director of the Civil Aviation Authority of Vietnam, said a South Korean agency had sent an official dispatch to the agency, saying that Kim Tae Hun, had never controlled an A320 jet. However, an Indonesian airline contested the information, saying the pilot had a total of 680 flying hours while working in the country.
After the case, the pilot was requested to provide Vietnam Airlines with his related flying experience papers. Kim said he wanted to return to Indonesia to ask for his certification papers. However, to date, Vietnam Airlines had not yet contacted him.
The Civil Administration of Vietnam has proposed that the Indonesian aviation authorities inspect the pilot's flying experience.
Under the aviation regulations, Airbus 320 pilots who have flown more than 500 hours are offered higher salaries.
Dtnews/Tien Phong