Uber introduces motorbike taxi app
Uber introduced uberMOTO in Vietnam on April 20, with fares of VND3,700 ($0.16) per kilometer and only VND200 ($0.008) per minute for travel by motorbike taxi (xe om). The minimum fare is VND10,000 ($0.44).
To celebrate the launch of uberMOTO Uber is giving away free trips to first-time users. From April 21 to 23 simply type in the "uberMOTO" promotional code in the promotions option to receive five free trips worth up to VND88,000 ($3.94) per trip.
"We are also making it easy to pay with cash or credit card, which makes Uber more accessible to more potential riders and drivers in Vietnam," said Mr. Dang Viet Dung, General Manager of Uber Vietnam.
"Whether you are behind the wheel or on the back of a motorbike, Uber is for everyone. uberMOTO is a great way to help millions of people gain access to the most affordable, comfortable and convenient transportation in town to get around Ho Chi Minh City and Hanoi with a little help from technology."
uberMOTO provides the same high quality Uber experience for a lower fare, so riders have more choice and no need to haggle over price, no more dirty helmets, and cleaner bikes, while drivers in Ho Chi Minh City and Hanoi have a new way to cover the cost of their trips by sharing the journey.
According to the Ministry of Transport (MoT), Vietnam has one of the highest motorbike ratios in the world, so its Decision No. 356.QD-TTg aims to limit individual ownership in an effort to reduce the number of bikes on the road and that's where uberMOTO can be part of the solution.
Phone exports reach $3.57 billion in March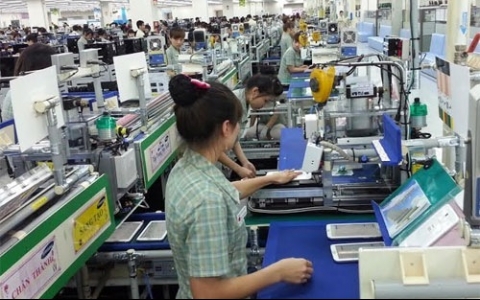 Export turnover of phones and components during March totaled $3.57 billion, bringing total export value in the first quarter to $8.27 billion, up 24.2 per cent year-on-year, according to Vietnam Customs.
The United Arab Emirates was the largest import market, with total import value of $1.12 billion, a 17.3 per cent increase year-on-year.
The US was second with an import value of $1.09 billion, 107 per cent higher, followed by South Korea, with $540 million, representing a three-fold increase.
Total value of imported phones and components in March reached $884.7 million, a 15.8 per cent increase compared to February and bringing the first quarter figure to $2.4 billion.
China continued to be the largest destination of phones and components imported into Vietnam in the first quarter, despite declining 20.7 per cent to $1.5 billion.
South Korea followed, with $771 billion, a 33.9 per cent increase year-on-year.
Import turnover from the two countries accounted for 94.8 per cent of the total.
Regarding computers and electronic items, Vietnam's export value reached $1.42 billion in March, a 36.3 per cent increase compared to February. The first quarter figure therefore came in at $3.73 billion, a 4.9 per cent increase year-on-year.
The EU remained the largest importer in March, worth $921 million, up 21 per cent. China imported $612 million worth, a 10.6 per cent increase, while South Korea imported $275 million worth, double the number in March last year. Japan, meanwhile, imported $133 million worth, an increase of 15.2 per cent.
MOIT celebrates Vietnam Value Day
On the occasion of Vietnam Value Day, April 20, the Vietnam Value council held a forum entitled "Vietnam Value with the Media and the Public", aimed at increasing awareness of the importance of Vietnam Value, or the National Branding Program, in the context of the country going deeper into its international integration process.
Deputy Minister of Industry and Trade Do Thang Hai told the forum that building Vietnam Value to create an advantage in international markets is the correct direction to take. Vietnam Value has bright prospects but will require time and a blueprint to flourish. Along with support from the State, the ministry and provincial units, the branding efforts of Vietnamese enterprises will create a breakthrough in the development of Vietnamese products.
The National Branding Program is an initiative of the government to promote the country's image through well-branded Vietnamese products and services. It is a long-term national trade promotion program fostering domestic and worldwide recognition of trade names, geographical indicators and the designation of origin relating to services and products made in Vietnam.
Approved by the Prime Minister in Decision No. 253/2003/QD-TTg dated November 25, 2003, the Ministry of Industry and Trade has been assigned to coordinate with other ministries and agencies to implement the program.
VN Pangasius denies sharp fall in tra fish output
The Vietnam Pangasius Association (VN Pangasius) has rejected reports by processing enterprises that output of unprocessed tra fish (pangasius) has plummeted in the Mekong Delta region this year.
A number of tra fish processing firms in the Mekong Delta told the media that tra fish output this year has dropped by up to 40% year-on-year and that some processing factories have shut down due to an undersupply of material.
The situation is not as serious as claimed by tra fish processing firms, VN Pangasius general secretary Vo Hung Dung said at a news conference in Can Tho City on April 19 on economic performance in the Mekong Delta in quarter one and activities of VN Pangasius.
Dung, who is also director of the Vietnam Chamber of Commerce and Industry (VCCI) office in Can Tho, dismissed as groundless reports on a steep fall in tra fish output in the Mekong Delta.
The latest report of VN Pangasius showed tra fish farming area and output contracted in the first months of this year compared to the same period last year but they did not shrink strongly.
Vo Thi Thu Huong, deputy general secretary of VN Pangasius, cited statistics of the association as saying that the new acreage of tra fish farming had reached 801 hectares as of on April 19, down 20% year-on-year, and the output had dropped by only 11%, or  more than 27,700 tons, to nearly 252,220 tons compared to the earlier-earlier period.
Huong said despite the smaller tra fish farming area, the average yield rose sharply to 316 tons per hectare in the first months from 285 tons per hectare in last year's same period.
Dung predicted that prices of unprocessed tra fish would grow in the coming time but stressed that the growth would depend on market demand.
A report of the Vietnam Association of Seafood Exporters and Producers (VASEP) said Vietnam had got US$298 million from tra fish export in the year to mid-March, up 4.2% year-on-year.
Particularly, tra exports to the U.S. rose by 9.7% to US$68 million, accounting for 23.1% of the total, China and Hong Kong by 39% to US$34 million (11.4%), and ASEAN by 3.1% to US$27 million (9.2%). However, shipments to Europe were down by 1.9% to over US$51 million (17.2%).
Nguyen Phuong Lam, deputy director of VCCI in Can Tho, said exports in the Mekong Delta totaled over US$2.8 billion in the first three months of this year, up 12.66% year-on-year, while imports dropped more than 10% to US$1.3 billion.
Therefore, the Mekong Delta enjoyed a trade surplus of around US$1.5 billion in the first quarter, Lam said.
China okays restarting of live shrimp imports
China's General Administration of Quality Supervision, Inspection and Quarantine (AQSIQ) has officially permitted four live tiger shrimp packaging facilities and 14 black tiger shrimp farms in Vietnam to restore live black tiger shrimp exports to the country.
AQSIQ banned imports of live black tiger shrimp from Vietnam on May 2, 2015 amid fears of disease. The Ministry of Industry and Trade, in cooperation with the Ministry of Agriculture and Rural Development and the Embassy of Vietnam in China, urged the country to quickly reconsider and remove the ban.
AQSIQ has actually allowed packaging facilities and black tiger shrimp farms in Vietnam to export products to China since late last year.
Figures from the Vietnam Association of Seafood Exporters and Producers (VASEP) reveal that Vietnam's shrimp exports to China have increased as exports to other main markets have declined.
In the opening months of the year the volume of shrimp exported to China has maintained the growth rate seen in 2015. China is now the second largest-shrimp export market for Vietnam, following the US.
This may represent a shift by Vietnam shrimp exporters away from traditional markets because of the high demand in China. The Chinese Government is encouraging its domestic enterprises to import raw shrimp for processing and exporting to cover the domestic shortfall caused by disease.
Vietnam urged to fasten reforms to benefit from FTAs
Vietnam should speed up reforms, including those in the labor union system, to benefit from the Trans-Pacific Pa rtnership (TPP) trade pact and other free trade agreements (FTAs) the country has signed, heard a seminar in Hanoi on April 19.
Speaking at the seminar on labor relations, a representative of the International Labor Organization (ILO) said the  FTAs Vietnam has completed negotiations over and signed are expected to fuel economic expansion and job generation in the nation. The International Monetary Fund (IMF) has projected higher GDP growth for the country after the FTAs take effect.
The ILO forecast around 6.5 million new jobs could be created in Vietnam by 2030, especially by producers of goods for export.
However, Maurizio Bussi, director of ILO Decent Work Technical Support Team for East and Southeast Asia and the Pacific, said Vietnam would have to carry out comprehensive reforms to improve the business environment, the legal system and market institutions.
Vietnam has ratified five out of eight basic conventions of ILO. With the completion of TPP talks, Vietnam has pledged to ratify the three remaining conventions with one on freedom of association, one on collective bargaining and one on abolition of forced labor.
Therefore, Vietnam needs to amend the laws on labor and labor unions to make them compatible with the bilateral agreement between Vietnam and the U.S.
In addition, only after Vietnam proves that it observes and implements required reforms for laws it can fully enjoy tariff reductions.
For this reason, there will be regular supervision, Bussi said, adding that the ILO will carry out a large-scale technical support program to help reform the labor relation system in Vietnam.
Laborers will have freedom to form or join organizations of their choosing under the TPP, which is a big change for laborers, the Vietnam General Confederation of Labor, employers and the Government.
According to Bussi, more than 5,500 strikes have been recorded in Vietnam since the 1994 labor code was adopted. Most of the strikes are spontaneous and no strike is organized by labor unions, which indicates that labor unions have not been able to represent laborers, the ILO representative noted.
Addressing the seminar, Deputy Minister of Labor, Invalids and Social Affairs Pham Minh Huan said international integration would affect labor relations at national and corporate levels in Vietnam.
According to Huan, Vietnam will revise regulations so that they are in line with international commitments. Meanwhile, Vietnamese export enterprises will have to meet strict labor requirements to improve working conditions and strengthen labor protections.
The labor union system will be changed after 2020 without the TPP, but with the deal the process will be put on faster track. The National Assembly is expected to ratify the pact this July, so Vietnam will have one year and a half to make institutional reforms before the pact goes into force, Huan said.
Virginia Foote, chair of the American Chamber of Commerce in Vietnam, said FDI enterprises, including those from the U.S., will benefit from changes in labor relations.
If the issue of labor relations is solved, enterprises and the economy will benefit from improved labor productivity, increased buying power and improved relations between employees and employers.
Steel prices up on rising demand
Steel prices on the domestic market have gone up again after one month of stability due to higher material prices and rising demand as the construction season has started in Vietnam, according to the Vietnam Steel Association (VSA).
The price of construction steel has risen from VND9.6 million (US$430.7) per ton to VND10.2 million (US$457.6) in the north while the price in the south has edged up to VND9.3 million (US$417.2) per ton from VND8.9 million (US$399.2). These prices exclude discounts and value-added tax (VAT).
In addition to increasing demand at the start of construction season, VSA ascribed the rise in steel prices to higher materials used for steel production.
Particularly, the price of steel ingots in the north has soared to VND8.3 million (US$372.3) per ton from VND6.9-7.2 million (US$309.5-323) early this year while the price in HCMC has shot up from VND6.9-7.1 million (US$309.5-318.5) a ton to VND8.1 million (US$363.4).
The domestic price of steel ingots has inched up as a result of higher material prices on global markets. The price of iron ore imported into China has gone to around US$55 from US$40-42.9 at the end of last year.
In Southeast Asia, a ton of steel ingots is now quoted at US$320 per ton compared to US$250 at the end of last year.
The local steel industry saw strong growth in domestic sales and exports last month. Domestic steel enterprises sold 1.4 million tons on the home market and shipped abroad 220,000 tons, up a staggering 56.3% over the same period last year.
In all, domestic steel consumption in January-March exceeded 3.5 million tons while outbound sales reached 570,000 tons, up 50% year-on-year.
In early March, steel prices soared after the Ministry of Industry and Trade decided to impose temporary safeguard duties on imported steel ingots and long steel products from March 22. At that time, steel prices could rise by up to VND2 million per ton in a day.
Nguyen Van Sua, deputy chairman of VSA, said the steel price fever was triggered by speculation.
Last year, steel consumption picked up 24.3% year-on-year to nearly seven million tons.
VSA said steel demand this year could not grow strongly against 2015 and that supply is ample, especially construction steel.
The country's annual steel ingot production capacity is around 11 million tons and construction steel output is over 11 million tons a year. In recent years, local steel mills have been running at 50-60% capacity.
New Director General of Vietnam Customs
The Department of Organization and Personnel under the Ministry of Finance has announced the retirement of the Director General of the General Department of Vietnam Customs, Mr. Nguyen Ngoc Tuc, and the appointment of Deputy General Director, Mr. Nguyen Van Can, as his successor, effective from May 1.
Mr. Can was born in 1963 and graduated from the Hanoi National Economics University before pursuing a Master's of Political Economy at the Ho Chi Minh National Academy of Politics and Public Administration.
He first entered the customs sector in September 1990. He has held a range of positions, such as Deputy Manager of the Accounting - Logistics Department of the Hoang Lien Son Customs Department and Deputy Director of Import-Export Tax Collection Inspection.
He was also Chief of the Office of the National Steering Committee on the Prevention and Control of Smuggling, Trade Fraud and Fake Commodities, known as Steering Committee 389.
Made-in-Thailand goods fair opens in HCM City
A trade fair displaying high-quality goods from Thailand kicked off in Ho Chi Minh City on April 20.
Organised by the Thai Business Association in Vietnam and Dong Nam Advertising and Commercial Promotion JSC, the event attracted a crowd of Thai firms and Vietnamese exporters exhibiting their products across more than 125 pavilions.
The event features a range of made-in-Thailand products such as food, beverages, clothes, home appliances, health care products, decorations and souvenirs.
According to Thailand's Consul General in HCM City Panpimon Suwannapongse, the five-day event is part of activities to celebrate Thailand's Songkran Water Festival and the 40 th anniversary of Vietnam-Thailand diplomatic ties.
Vietnam and Thailand established diplomatic ties in 1976. Vietnam is the fourth biggest trade partner of Thailand in ASEAN after Malaysia, Singapore and Indonesia.
Bilateral trade is expected to top 20 billion USD in 2020.
SJC launches jewellery display week
Sophisticated handmade jewellery made with gold, diamonds and rare natural precious stones are being displayed at the HCM City-based Sai Gon Jewelry Company (SJC)'s headquarters from April 20 – 26.
A variety of items can be used either for daily use or for special parties or events.
On the occasion, a special discount is applied for clients. In addition, consultancy, customer care and maintenance policy will be implemented on site.
Customers will also receive special consultancies on diamonds and precious stones and will be able to submit their own jewellery designs.
SJC's diamond is accredited under the international measurement certificate GIA.
SJC has had a leading position in the gold and precious stone industry. The company has recently focused on jewellery, a market segment with severe competition among local and foreign enterprises.
Bac A Bank set for IPO by 2020
Bắc Á Bank plans to make its initial public offering (IPO) during 2016-2020, Thái Hương, the bank's general director, said yesterday at the annual shareholder meeting.
The bank will also try to become one of the leading banks in the sector in business efficiency, information technology and human resources, she said.
The shareholders have also approved the bank to establish the Bắc Á Remittance Company Limited with charter capital of VNĐ77 billion (US$3.4 million).
This year, Bắc Á Bank plans to make after-tax profits of VNĐ400 billion and a total asset of VNĐ71 trillion, an increase of 7 per cent and 12 per cent from last year.
In 2015, the bank received an after-tax profit of VNĐ359 billion, an increase of one-third from the previous year's figure and its bad debt ratio fell to 0.65 per cent from 2.15 per cetn in 2014.
Diesel price rises while petrol kept unchanged
The joint working group of the Ministries of Industry and Trade and Finance has raised diesel price but kept that of petrol unchanged in their latest regular oil and petrol base price adjustment on April 20.
Accordingly, the base price of diesel oil will increase by 500 VND per litre to 10,373 VND as from 4 p.m on April 20.
The base prices of RON 92 petrol and E5 bio-fuel remained unchanged at 14,940 VND per litre and 14,442 VND per litre, respectively.
Since the beginning of the year, the price of petrol has been adjusted up twice with a total rise of 1,170 VND per litre.
The base fuel prices will be adjusted by the two ministries every 15 days, depending on the fluctuation of world oil and gas prices since the previous announcement and should be in accordance with the government's Decree 83/2014/ND-CP, and Circular 39/2014/TTLT-BCT-BTC.
Tool to boost urban development necessary for Vietnam
It is essential to develop the National Urban Development Strategy (NUDS) and consider it a main tool to boost urban development at both central and local levels, said Nguyen Thi Ha Anh, deputy head of the Construction Ministry's Urban Development Department.
Speaking at a workshop on building the NUDS in Hanoi on April 20, Anh stressed the importance of specific investment programmes to mobilise resources for the better development of the national urban system.
According to Deputy Minister of Construction Phan Thi My Linh, the legal framework related to urban development has grown rapidly for 10 years. It covers from urban planning, classification and investment management to sustainable urban development and climate change response.
However, the unpredictable urbanisation is requiring the completion of the legal framework and relevant policies, she noted.
NUDS is a tool for the Government to control the urban development work, while acting as a foundation for related decisions in the future. It will provide both domestic and foreign investors with guidance to approach investment opportunities.
Ajay Suri, advisor to the Cities Alliance, suggested assessing the urban development situation in Vietnam to find out strengths and weaknesses, and encouraging the involvement of localities to have general development orientations.
Meanwhile, Laurence John Wilson, a foreign expert on urban planning and development, stated that climate change adaptation is an urgent issue in urban development.
According to him, Vietnam has relatively sufficient urban policies but remains weak in realising them.
RoK businesses seek opportunities in Vietnam
A business delegation from Gyeongnam province in the Republic of Korea (RoK) participated in a "Vietnam-RoK trade exchange" held in Ho Chi Minh City on April 20.
The event was co-orrganised by the Vietnam Chamber of Commerce and Industry (VCCI) and Gyeongnam province's representative office in HCM City to boost cooperation between the two countries' enterprises.
Head of the RoK delegation Im Changho said the exchange programme serves as the first step for Gyeongnam's businesses to bring their products into the Vietnamese market, especially fruits and processed fruit products.
He also committed to helping Vietnamese agricultural products enter the global market.
Hoang Van Anh from the VCCI said the RoK side could assist Vietnamese enterprises in developing agricultural products and building brand names for them.
According to VCCI statistics, the RoK is among the leading foreign investors in Vietnam with over 4,000 projects. The East Asian nation is also the Vietnam's sixth largest trade partner.
Bilateral trade between Vietnam and the RoK has increased 57 folds over the past decades, from 500,000 million USD in 1992 to 28.8 billion USD in 2014.
According to the General Department of Customs, in the first 11 months of 2015, bilateral trade hit 33.6 billion USD, a year-on-year rise of 27.6 percent.
Binh Duong: More FDI poured into garment sector
More than 400 million USD in foreign direct investment (FDI) have been pumped into the garment-textile sector in the southern province of Binh Duong after the signing of the Trans-Pacific Partnership (TPP) Agreement, excluding billions of USD of 460 current active projects.
According to the provincial Department of Industry and Trade, most of new apparel projects focus on support industry and fabric material, a positive signal to support the domestic garment-textile industry.
Vice Chairwoman of the Binh Duong Garment-Textile Association Phan Le Diem Trang said domestic businesses have received numerous orders from traditional markets such as the US and Europe for 2016.
The advantages from free trade agreements (FTA) and TPP deal are forecast to bring more orders to domestic apparel enterprises, she said, adding that the increasing flow of FDI in Vietnam and Binh Duong in particular is a huge benefit, which helps increase the export proportion for Vietnam.
However, the TPP regulations on the origin of the products are posing a number of challenges for domestic investment enterprises.
Trang pointed to difficulties facing domestic firms such as lack of capital and human training.
This will push local businesses to do outwork or work for FDI companies, she analysed.
She also expressed her concern over the provincial business community is still seeking connectivity in TPP integration while hundreds of FDI businesses have taken a quick step to dominate and benefit from the Vietnamese playground.
Garment-textile is currently one of the 26 key export industries in Binh Duong. Since the beginning of 2016, the sector has exported over 550 million USD worth of goods, a year-on-year increase of 9 percent. The number of orders has filled the whole year.
In 2015, the local export turnover surpassed 2 billion USD partly thanks to the garment sector.
There are over 560 apparel firms in Binh Duong, including more than 100 domestic investment companies.
Communication work should be stepped up to promote national brand
Deputy Minister of Industry and Trade Do Thang Hai has lauded the media's role in promoting made-in-Vietnam products and services both at home and abroad.
Through cooperation agreements signed with leading news agencies and newspapers such as Vietnam Television, Radio the Voice of Vietnam, the Vietnam News Agency and Vietnam Economic Times, the ministry's Trade Promotion Agency, as the Secretariat of the National Branding Programme, has carried out a number of activities to raise consumers' confidence in Vietnamese goods, the official said at a forum in Hanoi on April 20.
Building a national brand to gain a position in the world market in the context of international integration is a right track, he affirmed.
The move requires time and a specific roadmap as well as endeavours of ministries, agencies, associations, localities and enterprises themselves, Hai noted.
The agency has exerted great efforts to support businesses in promoting their goods and services on par with the country's new position in the world, he said.
Nguyen Thi Thu Hien, Managing Director of the Hanoi Trade Corporation (Hapro), described national branding development as a way to help raise enterprises' position in a long term.
After being recognised as a national brand, Hapro has rolled out a specific plan with the aim of popularising the national brand "Vietnam Value" among the community, she said.
Bui The Duc, deputy head of the Party Central Committee's Information and Education Commission, suggested stepping up communication work in the time ahead to promote Vietnamese goods and services, explaining that many Vietnamese exporters have been unaware of building and protecting their own brand names.
Moreover, Vietnamese brands have lost their advantages right in the domestic market due to the flood of foreign rivals.
The National Branding Programme, also known as "Vietnam Value", is an initiative of the Government to promote the country's image through well-branded Vietnamese products and services.
It is a long-term trade promotion programme to foster domestic and worldwide recognition of trade names, geographical indicators and appellation of origin to services and products made in the country.
A major mission of the programme is supporting Vietnamese export products under the Vietnam brand so they become more competitive in the global market.
Binh Phuoc gives water tanks to drought-hit residential areas
The steering committee of the Humanitarian Fund in the southeastern province of Binh Phuoc on April 20 presented 100 water tanks to residential areas suffering from drought in 2016.
The 1,000-litre inox tanks, worth 250 million VND (11,000 USD) in total, were equally shared between Bu Dop and Loc Ninh districts.
Drought and scorching weather since the beginning of 2016 have caused great loss to Binh Phuoc, especially in areas without irrigation facilities.
According to provincial Department of Agriculture and Rural Development, around 28,829 hectares, including 1,691 hectares of rice, 482 hectares of vegetables, and 25,576 hectares of industrial trees, were affected by drought.
Up to 26,190 households are facing water shortages while 588 hectares of fishing farms and 1,000 domestic animals are in the same situation.
Besides Loc Ninh and Bu Dop, Binh Long town also bore the brunt of the drought. The province's total damage is estimated at 500 billion VND (22 million USD).
Truck seller HHS announces lower profits in Q1
Truck distributor Hoàng Huy Investment Service JSC (HHS) has announced a 72 per cent drop in after-tax profits in the first quarter of this year to VNĐ54 billion (US$2.4 million).
The sharp fall in the company's profit came after HHS reported a revenue of VNĐ493.6 billion in the first quarter, a decline of 17 per cent from last year's number, and a loss of VNĐ200 million in other business activities.
The company's earnings in the first quarter are equal to 12 per cent and 14 per cent of this year's targeted revenue and after-tax profit, which are VNĐ4 trillion and VNĐ398 trillion, respectively.
By the end of March, HHS reached total asset of VNĐ3.25 trillion, an increase of VNĐ316 billion from the end of last year. The company's inventories fell one-third to VNĐ528 billion by the end of the first quarter.
Seafood export reaches US$1.4 bil
At a meeting with seafood companies in the Mekong delta on the breeding and seafood export on April 20, the Vietnam Association of Seafood Exporters and Processors (VASEP) said that after a long time difficulty, the country's seafood export reached US$1.4 billion, 9 percent higher than same period last year.
The increase in seafood export showed a good sign of recovery, said VASEP. For detail, the export of shrimp and fish has seen a leap of 12.2 percent and 4.2 percent respectively. Demand of seafood in Vietnam's major markets increased by 12 percent for the US; by 33 percent for China and by 22 percent for ASEAN market.
The demand of Brazil for Vietnamese tra catfish leaped eightfold compared to same period last year. It is forecast that China has great demand to import Vietnamese fish and Brazil demand for Vietnamese fish will continue increasing.
Yet, fish export in the future will face difficulties also. VASEP's General Secretary Truong Dinh Hoa fretted that the Department of Commercial has decided to apply new tarrif on Vietnamese frozen catfish. As per the decision, Vietnamese catfish will suffer the tax ranging from US$0.41 – 0.97 per kilogram which caused difficulties for Vietnamese exporters in the upcoming time.
Accordingly, VASEP representative said that related agencies and enterprises should make more efforts to achieve fish export turnover of  US$7 billion in 2016, 6.3 percent higher than last year.
Stock investment funds to see growth this year
Stock investment funds would enter an opportunity of growth thanks to the on-going economic recovery and foreign capital inflows this year, said Trần Thanh Tân, vice chairman and CEO of the Viet Nam Investment Fund (VFM).
Tân said the year was forecast to boost the local stock market with many IPOs of giant state-owned enterprises as well as the possibility of joining the MSCI's emerging markets. In addition, foreign investment flows were returning through the Trans-Pacific Partnership (TPP) and free trade agreements. Also, positive businesses and better development of consumer goods, food and technology industries would also lift the market.
While Tân said the market potential was definitely a chance for local funds, especially open-end funds, to grow. Tân said an open-end fund is deemed to offer a more flexible investment option as investors can buy and sell shares directly from the fund itself. Closed-end funds typically issue all their shares at the outset, with such shares being tradable between investors thereafter.
Switching from closed-end funds to open-end funds became an inevitable trend that brought benefits to local investors and market developers, he said.
The majority of investors in Việt Nam are individuals, who do not have enough capital for real estate investments and have no intention of depositing their money in banks for little profit. As they have little experience in the stock market, the CEO said that an open end fund would be an individual investor's best choice.
Tân said many funds offered investors with programmes that only needed a small amount of capital, from VNĐ1 million, and had simple procedures. Currently, most of managed funds offered diversified products suitable for businesses and individuals.
Seeing the potential, nine open-end funds were established last year, including VF4. VFB and VF1, which were among the most profitable and successful in the local market.
However, not all funds achieved the same good results. According to the latest business results of seven funds which posted their financial results of 2015, four reported losses due to being less attractive to local investors.
The CEO said that investment funds were quite new for most local investors who did not yet trust others to manage their investments in such risky areas like the stock market. He added that local investors would spend their money on funds that were transparent and high profile.
According to the State Securities Commission (SSC), by the end of 2015, the fund industry has 30 stock investment funds including 17 open end funds.
Manulife Vietnam records 69pc growth in 2015 insurance sales
Manulife Vietnam, one of the Vietnam's Top 3 insurers, reported annualised premium equivalent (APE) insurance sales of VND1.68 trillion ($75.3million) in 2015, up 69 per cent from the year before.
Total premiums and deposits rose 39 per cent year-on-year to VND4.51 trillion ($202.2 million), while total assets under management increased by 24 per cent for the 12-month period to VND13.2 trillion ($592 million).
The company reached out to more customers as it increased the number of its agents by 15 per cent year on year to 20,100 and opened nine new sales offices, expanding its offices across the country to 45.
"2015 was a strong year for Manulife in Vietnam with a number of highlights including the start of a 10-year exclusive partnership with Saigon Commercial Bank, and the launch of Direct Marketing and Telemarketing. We made life easier for customers through solutions such as the 3-in-1 family financial solution "Manulife – My Beloved Family," said Paul Nguyen, CEO of Manulife Vietnam. "Going forward, we will continue to help our customers with their major financial decisions by offering innovative holistic life, health and wealth solutions through our diversified distribution channels."
In 2015 Manulife Vietnam strengthened its local basis reserves for policy liabilities by VND600 billion ($27 million) in response to lower prevailing market interest rates. Excluding the effect of this non-recurring reserve adjustment, the net income of the company would have been positive and double compared to 2014.
Manulife also injected VND175 billion ($7.8 million) of capital into its Vietnam operations in the fourth quarter of 2015, a sign of the company's commitment to the country's insurance market.
In June 1999, Manulife Vietnam became the first foreign-owned life insurance company licensed in the country. Headquartered at Manulife Plaza, District 7, Ho Chi Minh City, Manulife Vietnam has a nationwide network of 45 offices across 32 major cities and provinces as of December 2015.
In June 2005, Manulife Asset Management (Vietnam) Company Limited ("MAMV"), a wholly owned local subsidiary of Manulife Vietnam, was granted a licence to operate fund management and portfolio management services, further expanding Manulife Vietnam's product offering for its customers.
Throughout its 16 years of operations in Vietnam, Manulife has successfully built a strong reputation for its high quality products and professional services, maintaining its position as a top player in the market. The company offers a wide range of innovative insurance products, including traditional life, health, education, investment and pension solutions.
Vietnam's car sales fly through the roof in first quarter
Vietnam's automobile sales reached 56,264 units in the first quarter of 2016, up 38 per cent on-year, according to the Vietnam Automobile Manufacturers Association (VAMA)'s statistics published on April 8.
Notably, in the first three months of 2016, the number of passenger automobiles sold increased by 28 per cent to 32,320 units, while commercial automobiles shot up 52 per cent to 20,625 units, and special-purpose automobiles climbed 56 per cent to 3,319 units against the first quarter of 2015.
Thaco became the best-selling brand in the first quarter of 2016, with a total number of 23,485 units, up 60 per cent on-year, simultaneously making up 41.7 per cent of Vietnam's automobile sales.
The sales of imported automobiles stood at 13,068 units, equalling 66.42 per cent of the total number of imported automobiles in Vietnam.
In the first quarter of 2016, Vietnam imported over 19,700 automobiles, decreasing 16.8 per cent on-year. With the exception of trucks, the numbers of other kinds of imported automobiles decreased. Notably, the number of automobiles with nine seats and below was 6,900 units, decreasing 37.6 per cent on-year, while other kinds were 3,000 units, decreasing 45.6 per cent on-year.
Thailand overtook Korea and China as the largest import resource of automobiles in Vietnam with a total number of 7,800 units in the first quarter, up 64.5 per cent on-year, according to the General Department of Vietnam Customs' statistics published on April 15. 3,560 and 2,260 units were imported from Korea and China, a decrease of 41 and 58 per cent on-year, respectively.
Importers intensified trade-links with ASEAN members in general and Thailand in particular to capitalise on automobile tax incentives. According to the Ministry of Finance, the tariff on automobiles imported from ASEAN will decrease by 10 per cent, to 40 per cent, in 2016. The figure will decrease to 30 per cent by 2017 and zero per cent by 2018.
Along with the tax incentives, Thai automobiles have competitive prices to take up the gauntlet thrown by Korean and Chinese carmakers.
GDT executes U-turn on loss carryforward
Enterprises with many subsidiaries from now on may be free to apply loss carryforward to any income streams that benefits them most in terms of taxes saved, according to a recent decision from the General Department of Taxation.
Lixil Vietnam's criticism of Dispatch 97/TCT-CS initiated a change of policy for the General Department of Taxation
The latest directive from the department (GDT) came after Lixil Vietnam, a subsidiary of Japanese manufacturer Lixil Group, voiced its opposition to a previous policy released by the GDT in January this year.
The earlier policy, from Dispatch No.97/TCT-CS dated January 8, rejected a proposal by Lixil Vietnam that the company could use previous losses to first offset the income from factories that were granted tax incentives, and then apply the balance to factories that do not enjoy the same incentives.
"The company [Lixil Vietnam] must not transfer remaining losses to business activities as they wish, because the company does not separately record and account the revenues and costs of each factory," the dispatch stated.
Instead, the GDT requested that Lixil Vietnam carry forward its loss to the factories that had not been granted tax incentives first, and then transfer them to the plants that do enjoy tax incentives, which is in the opposite order to what the company wished to do.
In 2014, Lixil Vietnam (Vinax) merged with Lixil Inax Danang Manufacturing Co., Ltd (Dinax) and Lixil Inax Saigon Manufacturing Co., Ltd (Sinax) into two dependent branches. These branches had total accumulated losses for the year 2014, which Lixil Vietnam wanted to offset against the taxable income of Vinax's eight factories.
However, according to Lixil, the GDT's argument was far from persuasive. While not allowing enterprises to offset losses against income at their discretion,  such income is determined under allocation methods instead of being separately recorded, the GDT required the firm to offset such losses against the income from non-preferential activities, which is also determined by allocation method.
The GDT's method would give Lixil Vietnam fewer benefits than the company's proposed method, due to the fact that only Vinax's No. 4 and No. 5 factories have corporate income tax (CIT) incentives applied to them. If Lixil must first transfer its losses to its other Vinax factories, which are no longer eligible to enjoy tax incentives, the amount of taxes due would be larger.
Lixil pointed out that the method recommended by the GDT is inconsistent with Circular No.78/2014/TT-BTC on CIT, which allows enterprises to "choose to clear such losses against its taxable incomes from income-generating business activities".
Moreover, Circular 78 does not state that firms must separately account for profits and losses of each business activity in order to perform loss carryforward.
In practice, if enterprises have multistage investments and various investment incentives, separate records of profits and losses are not only not required by the Law on Accounting, they are unfeasible.
Eventually, the GDT capitulated, saying that "enterprises may choose the order of loss carryforward," as stated by deputy head of the GDT Cao Anh Tuan.
However, Tuan reaffirmed that company losses could be used to offset income from property transfers or project transfer activities, along with many other exceptions regulated in Circular 78.
Thien Tan in talks over airport venture
Vietnam's Thien Tan Group is negotiating with the US-based Global Universal Inc to form a joint venture to invest in the Chu Lai airport expansion project in the central province of Quang Nam.
Huynh Kim Lap, the group's chairman, told VIR that "After discussions, Thien Tan and Global Universal have agreed to establish a joint venture (JV). However, we have not yet reached any agreement on each other's stake in the JV."
"Thien Tan hopes that the two sides will reach a consensus on the issue at a meeting on April 27 or 28 to fast-track the project, which lies in the central economic hub," he disclosed, adding that "The company has engaged a Japanese consultancy firm, which is also working on the Long Thanh international airport project, located in the southern province of Dong Nai. We plan to submit a report on the investment opportunities to the Ministry of Transport (MoT) and the Airports Corporation of Vietnam for approval soon before making further steps on the project."
According to Lap, Global Universal is very interested in the Chu Lai airport expansion project.
To help speed up the project, Global Universal has approached Hong Kong-registered JK&D International Ltd to join the project as project manager and administrator. JK&D has financed and constructed many similar projects worldwide, including the $700 million Nikola Tesla airport expansion project in Belgrade and the $3.5 billion New Almaty airport in Kazakhstan (as well as renovations to the existing Almaty airport).
"JK&D has already taken steps to have our Tier 1 lenders ready to issue the necessary Letters of Intent (LOIs) as soon as the JK&D assessment is complete, 45 days from our commencing activities. Our team is primed and ready to depart for Quang Ngai to start the JK&D process," Brian G. Dennard, managing director of JK&D International, told VIR.
"The Tier 1 EPC (engineering, procurement, and construction) team for Chu Lai consists of Yooshin Engineering, Heerim Architecture, and Saehan Engineering.  This is the team that designed, engineered and constructed Incheon international airport, the number one airport in the world for the past 10 years. Tier 1 financial institution partners include Shinhan Investments Asia, Meritz Securities, CIMB, KDB Daewoo, Mirae Asset, Kookmin Bank, and KoFC," he disclosed.
Approved in January 2016 by the MoT, Chu Lai airport will be expanded towards the neighbouring province of Quang Ngai, with the estimated investment capital of $1 billion. The expansion is expected to help save costs and time for investors seeking to do business in the two localities.
Thien Tan earlier proposed upgrading and expanding the airport under a build-operate-transfer (BOT) format. Once finished, the facility will help boost investment in Dung Quat and Chu Lai economic zones as well as the development of tourism in Quang Ngai and Quang Nam provinces.
Covering a total area of over 3,400 hectares, Chu Lai airport currently handles 34 weekly flights with three airlines: national flag carrier Vietnam Airlines, Vietjet, and Jetstar Pacific. In 2015, the airport served 154,550 passengers, up 284.5 per cent from 2014. The expanded airport is expected to become an air cargo transport hub, shifting five million tonnes of cargo per year.
VEF/VNA/VNS/VOV/SGT/SGGP/Dantri/VET/VIR