Carlsberg forays into high-end segment of Vietnam's beer market with Tuborg
Carlsberg Vietnam expects to overtake its rivals in the domestic high-end beer segment by officially introducing its premium international brand, Tuborg to Vietnam.
Carlsberg Vietnam will spend VND450 billion ($20.2 million) on its marketing programme for Tuborg, which is the number one beer brand by volume in Carlsberg Group's portfolio. Accordingly, Brand Ambassadors will go to restaurants to introduce the new product. It is considered an important part of the marketing programme, helping Tuborg to penetrate the Vietnamese market.
According to Tayfun Uner, Carlsberg Vietnam's general director, Carlsberg Vietnam has been planning to launch Tuborg in Vietnam since 2015. With the slogan "Open for fun", Tuborg represents a dynamic and pioneering lifestyle.
Along with the VND450 billion ($20.2 million) marketing programme, Carlsberg Group also spent $1 million on the bottle design. Accordingly, the unique packaging design includes an easy-to-use pull-off cap.
According to Carlsberg Vietnam's representative, the company is trying to make Tuborg become one of three most favourite beer brands.
According to the Vietnam Beer Alcohol Beverage Association (VBA)'s statistics published in January, as of 2015, there were 129 beer companies and facilities with a total capacity of 4.8 billion litres per year. In 2015 alone, the figure stood at 3.4 billion of litres.
Tuborg is the number one beer brand by volume in Carlsberg Group's portfolio. It is currently present in more than 70 countries and territories around the world. In Vietnam, a bottle of Tuborg's price at retail stores is between VND13,000 ($0.58) and VND15,000 ($0.67).
Bad debts weaken local banking system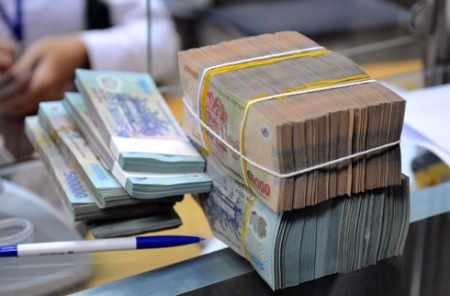 In a review meeting on state budget revenue in 2015, the National Assembly's Committee on Finance and Budgeting highlighted that income from the banking sector had reduced considerably.
Insurance market revenue in 2015 increased by 24.42 percent on the previous year and stock market capitalisation increased by 14 percent, while foreign investments into Vietnam also reached over USD15bn. However, bank revenues were low.
Cao Sy Kiem, a member of the National Monetary Policy Consulting Committee, said the banking system contributed tens of thousands of billions VND each year so a drop of 20 percent is huge.
Can Van Luc, deputy director of BIDV Bank, said banks had struggled to cut bad debts from five to less than three percent and contributed to the risk management fund at the same time. "Bank profits have dropped sharply. Of course there are banks that saw profits but a lot of small banks incurred losses. That's why the return on equity of the banking system increased but much lower than other regional countries. Our return on equity is six percent while the average return in the region is 10 to 15 percent," Luc said.
The banking system plays an important role in the structure of domestic financial market as it accounts for 75 percent, while the remaining 25 percent is the stock, bond and insurance markets.
The Vietnamese financial market was equal to 191 percent of GDP in late 2014 when a huge number of credit facilities and insurance companies were founded. However, they were small and incapable of competing on a regional basis.
"The banking sector reflects the health of our economy. When profits and contributions to the state budget drop then it indicates the economy isn't particularly healthy," Kiem said.
In addition, the insurance companies, especially state-owned ones, mainly deposit their money to earn interest instead of making investments.
Vietnam records US$1.36 billion worth of trade surplus in Q1
Vietnam enjoyed a trade surplus of US$630 million in March, much higher than the estimated figure of US$100 million posted by the General Statistics Office, raising the total trade surplus in the first quarter of this year to US$1.36 billion, announced the General Department of Vietnam Customs.
In the first quarter of 2016, Vietnam posted an export revenue of nearly US$38.77 billion, up 6.6% compared to the same period last year while the import revenue was reported at US$37.41 billion, down 4% over the same period last year.
In March alone, the country saw a sharp increase in both import and export revenue with US$15.12 billion worth of export revenue, up 49.7% against the previous month and US$14.49 billion worth of import revenue, up 40.8% against the previous month.
In particular, the Foreign Direct Investment (FDI) sector posted an export revenue of US$27.28 billion in the first quarter, a 10.8% year-on-year increase, accounting for 70.4% of the total national export revenue.
FDI import revenue reached nearly US$22.49 billion in the first quarter, down 4.5% over the same period last year.
As a result, the FDI sector enjoyed a trade surplus of US$4.79 billion in the first quarter of 2016 which meant that the domestic sector posted a trade deficit of US$6.15 billion in the period.
Vietnam's top ten export products include phones and phone components; garments and textiles; computers, electronic products and components; footwear; machinery and equipment; wood and wood products; seafood; transport vehicles and spare parts; coffee; bags and suitcases.
Quarter of state budget earmarked for debt repayments
Vietnam is forecast to use up a quarter of the state budget for debt repayments in 2016 and this rate may reach a record high between 2022 and 2025, said a local economist.
According to Dr. Luu Bich Ho, former head of the Ministry of Planning and Investment's Development Strategy Institute, in 2015, Vietnam had to spend 16% of the national budget to repay debts.
To date, recurrent expenditures have accounted for up to 80% of budget revenues. Meanwhile, Vietnam has seen a rapid rise in its public debts in recent years, approximately to the local government's payable level of 65%. The payment terms are a problem for Vietnam, because they are almost short, putting a pressure for Vietnam's public debt repayments, particularly in the context of the country's high budget deficit.
Dr. Vu Dinh Anh from the Ministry of Finance's Institute of Vietnam Economics said that in 2018 Vietnam may see a record high public debt. Until now, Vietnam has depended on ODA for repaying debts. However, ODA and preferential loans for Vietnam have decreased as the country has become a middle income country. The World Bank plans to stop providing ODA for Vietnam from July 2017, while the Asian Development Bank will do the same from January 2019.
Regarding tax increases to address the budget deficit, Anh said that taxes on trade were related to international commitments. He, however, noted that management agencies should tighten control over tax collecting to deal with fraud and tax evasion. This is expected to partially mitigate the pressure on the government's coffers.
At a recent meeting of the 13th National Assembly, deputies said that the government should early work out solutions for the post-ODA period to avoid shocks when the country needs around USD90 billion for economic development between 2016 and 2020. They urged the government to restructure the state budget and balance income and expenditures to reduce the public debts.
According to some local economists, domestic loans are also a solution for Vietnam when ODA end, but the government would then be forced to pay the same interest rates as local businesses.
Quang Nam to expand automobile industry
The Truong Hai Automobile Joint-Stock Company (Thaco) will begin construction on the expansion of the Truong Hai-Chu Lai Mechanical Automobile Industrial Zone with an investment of VND794 billion (US$35.3 million) in central Quang Nam Province.
The ground-breaking ceremony of the expansion project will take place in the zone on April 23, an official from the Chu Lai Open Economic Zone Authority (EZA) confirmed to Viet Nam News.
He said the expansion project, which covers 210ha of land, would include a new Mazda plant and other supportive industries for several car models.
Thaco, the country's largest local car-maker, has been negotiating with Mazda for mass production of its most popular cars in Viet Nam, with an anticipated capacity of 100,000 Mazda cars per year, according to the EZA.
EZA said the expansion project in the Tam Hiep Industrial Zone would connect with the Tam Anh Industrial Zone and the seaport systems in the zone.
Earlier this year, Thaco began the operation of a new production line of trailers and special purpose vehicles in the Truong Hai-Chu Lai Mechanical Automobile Industrial Zone.
The Quang Nam-based car producer, which claims 44.7 per cent of the market share of the Viet Nam Automobile Manufacturers' Association (VAMA), currently manufactures and distributes models of Kia of South Korea, Mazda of Japan and France's Peugeot at the Truong Hai-Chu Lai Auto Complex in central Quang Nam Province.
The Truong Hai Automobile Company has invested US$400 million to build the Chu Lai-Truong Hai Industrial Complex – which has the first logistics centre, car production factories, a vocational training college, and a sea port and storage system, as well as a shipping service – in the zone.
Squid and octopus exports down
Squid and octopus exports dipped 6.9% to US$54.08 million during the first two months of this year, according to the Vietnam Association of Seafood Producers and Exporters (VASEP).
In February alone, exports to key markets saw a steep decline, for instance the Republic of Korea (down 35.8%) and Japan and the EU (more than 20%).
The RoK has retained its position as the biggest squid and octopus importer of Vietnam for many years.
Last year, Vietnam frozen squid exports to the RoK ranked first in value and fifth in volume at its selling prices higher than other markets.
Generali Vietnam Life appoints Tina Nguyen as CEO
Generali Vietnam Life Insurance Co., Ltd on April 13 announced the appointment of Nguyen Thi Hong Thanh, Tina Nguyen as its new CEO.
The personnel change was approved by Vietnam's Ministry of Finance earlier.
Tina Nguyen took over the CEO position from Chung Ba Phuong, who is said to move to Hong Kong to take the position of general manager for Generali's businesses there.
Before joining Generali Vietnam, Tina Nguyen held various senior leadership roles the insurance field. She possesses over 20 years of international experience in the financial and life insurance sector in North America (USA, Canada) and in Asia (Hong Kong, Vietnam). Tina started her career at Ernst & Young and holds a US Certified Public Accountant (CPA).
"Generali is a relatively new brand in Vietnam, but I believe that with focus on being simpler, smarter and customer centric, Generali will continue to differentiate itself and become the choice brand for customers," said Tina Nguyen.
Jack Howell, Generali's regional officer for Asia, commented on the appointment, "We have an ambitious growth strategy in Asia and Vietnam is an important market for us. I am pleased to have Tina Nguyen on board to steer and grow our business in Vietnam. I am confident that under her leadership, the business will benefit from her extensive international experience."
Generali Vietnam started operation in Vietnam since April 20, 2011. After only five years, the insurance company currently serves over 80,000 customers and insured members of over 500 Vietnamese and foreign owned companies, with branches over 12 major cities nationwide.
Kantar Worldpanel: FMCG momentum dips
Vietnam's fast-moving consumer goods (FMCG) market continues to increase in terms of sales but momentum has slowed versus a year ago, according to a report from Kantar Worldpanel released on April 13.
Consumers seek value for money and are more selective when shopping, and healthy and convenient products have attracted new buyers.
Street shops (including provision stores and Ma & Pa stores) offering proximity still dominate the market. Specialty stores, mini-stores and online channels are continually emerging, recording double digit growth.
"Vietnam is experiencing a strong transformation, both economic and demographic, which is changing the needs and behaviors of consumers," said Mr. David Anjoubault, General Manager of Kantar Worldpanel Vietnam.
"We see the emergence of the middle class and as a result Vietnamese households are better equipped, more and more connected to the internet, and are investing in the education of their children to offer them a prosperous future. Overall they are rather optimistic about the future."
However, daily expenses for consumer goods represent and will continue to represent the largest share of their monthly spending. The beverage, dairy, packaged food, personal care, and home care categories have seen an exponential development over recent years.
"Today the consumer has access to a wider choice of products and the competition is increasing as fast as consumer needs, which are becoming more diversified," Mr. Anjoubault said.
Major EVN projects to boost power supplies
Electricity of Vietnam (EVN) has announced that at least ten large electricity projects are to come into operation in 2016 to meet increasing demand for electricity supply.
Many projects, including hydroelectric projects, will be completed this year, such as Lai Chau, Huoi Quang, Trung Son, and Song Bung 2, as well as thermal power projects such as Duyen Hai 3 (expanded), Vinh Tan 4, Thai Binh 1 and Da Nhim (expanded).
In the first stage, total power capacity of these new electricity projects this year is estimated at 3,893 MW, with 2,081 MW from hydroelectric plants and 1,380 MW from thermal plants.
Capacity will then be increased gradually.
Hydroelectric power plants in central Vietnam and the central highlands are now facing a range of difficulties due to severe drought. EVN has said that water levels in reservoirs are much lower than the annual average.
The total water in reservoirs in the central region, the central highlands and the south is only 3.3 billion cu m, or 1.9 billion cu m lower than expected.
Because of the drought EVN must mobilize thermal power from coal, oil and gas to avoid electricity shortages. Water in reservoirs, meanwhile, has been prioritized for daily life and agriculture.
TPP to impact on Vietnam's financial sector
A conference entitled "TPP: Opportunities and Challenges for the Financial Sector and Vietnamese Enterprises' Business Development" was held in Ho Chi Minh City on April 12 by the Multilateral Trade Policy Department at the Ministry of Industry and Trade with joint sponsorship from Vietinbank and the PetroVietnam Fertilizer and Chemicals Corporation.
Participants heard an overview of the TPP agreement, the negotiation and signing process, the impacts on and recommendations for Vietnamese enterprises, the opportunities and challenges for the banking sector, Vietnam's ability to attract capital, and the TPP's effect on investment management in Vietnam.
Ms. Vu Minh Chau from the International Cooperation Department (ICD) at the State Bank of Vietnam told the gathering about new facets in the TPP, such as electronic information transfer, management solutions and electronic payment services for card transactions, and, significantly, the Investor - State Dispute Settlement (ISDS) regime.
The ICD recommended that Vietnam, after joining the TPP, should complete legal documents and institutions for banking to ensure the stable development of currency and financial systems and enhance the competitiveness of local financial institutions. Improved assessment, forecasting and research will also create more advantages for Vietnam's financial organizations in the global market.
Mr. Huynh The Du from the Fullbright Economic Teaching Program pointed to some lessons learned from Vietnam's integration into the WTO. "Controlling business speculation and the major expectations of the WTO in Vietnam created a real estate bubble, which lead enterprises in the wrong direction," he noted.
From these lessons some questions can be raised from the current circumstances about how to control expectations of the TPP, he said, as the agreement may lead to booming waves of investment into Vietnam.
Concluding the conference, in the Q&A session speakers answered questions from enterprises on the difficulties in applying for credit and how to make it more approachable for Vietnamese enterprises in the context of the TPP.
The Krista celebrates topping out
CapitaLand Limited and its joint developer the Khang Dien Real Estate JSC announced the topping out of The Krista in Ho Chi Minh City's District 2 on April 13.
The ceremony marks the successful structural completion of CapitaLand's fifth residential project in Vietnam.
"Following the success of PARCSpring, which is 100 per cent sold, The Krista is another CapitaLand residential project in District 2 that is tailored to suit the needs and lifestyles of young families," said Mr. Chen Lian Pang, CEO of CapitaLand Vietnam.
The Krista is an urban living community along the river promenade in Binh Trung Dong ward in District 2. It has been jointly developed by CapitaLand and Khang Dien, with CapitaLand owning a majority stake of 95 per cent.
Strategically located on the fringe of the city center residents will enjoy easy access to Thu Thiem Tunnel and the future Ho Chi Minh City-Long Thanh-Dau Giay Expressway.
The Krista will offer extensive landscaping and a range of communal facilities within a safe environment.
Apartments will be designed with functional layouts to maximize living space. The project will comprise 344 residential apartments in two 18-storey buildings. More than 85 per cent have been sold to date, according to Mr. Pang.
Vincom Shophouse Yen Bai opens doors
Vingroup opened the Vincom Shophouse Yen Bai on April 12, with an official launch ceremony to be held at 9 am on Sunday April 24 at the Yen Bai Provincial Convention Center in the northwestern province.
Vincom Shophouse Yen Bai is located in Vincom Plaza in Nguyen Thai Hoc Street, Yen Bai city, and is the first shophouse project of the group in the northwestern area.
The project includes 104 shophouses of three and a half floors with areas ranging from 75 sq m to 198.2 sq m. Owners can use the first floor for business and the upper floors as living space.
Vincom Plaza in Yen Bai will feature a Vinmart supermarket, a VinPro electronics store, and a modern cinema, attracting thousand of visitors from the northwest region for shopping and entertainment.
Customers who register to buy a shop at Vincom Shophouse Yen Bai can borrow up to 50 per cent over a period of 25 years and receive tax exemptions for 12 months from the date payment is made. Thirty buyers will receive five free nights at Vinpearl's five-star resorts on Phu Quoc Island and in Nha Trang and Ha Long city.
Foreign firms dominate city's logistics sector
Foreign-invested enterprises now dominate HCMC's logistics market with annual revenue amounting to billions of U.S. dollars, heard a meeting in the city on April 11.  
At the meeting held to collect comments on the 2016-2020 action program for HCMC's international integration, the municipal Department of Customs said foreign companies are now responsible for 80% of logistics services though local enterprises can provide many services.
The customs agency put the annual value of import-export shipments via the nation's southern economic hub at billions of dollars. Foreign firms hold the lion's share.    
Le Duy Hiep, chairman of the Vietnam Logistics Business Association (VLA), said hundreds of global logistics firms have opened representative offices in Vietnam over the past ten years.
Regarding seaport services, Hiep said Vietnamese companies dominate port operation and warehouse services, but are weaker than foreign rivals in other services like international and container transport services and transport network.         
Hiep told the Daily that import-export logistics service fees make up around 20% of Vietnam's gross domestic product (GDP), so huge revenue and profit have gone to foreign firms.   
According to the HCMC Institute for Development Studies, under the action program for international economic integration in the 2016-2020 period with a vision towards 2025, the city would have to enhance information and communications, institutional reform, competitiveness and green growth; develop supporting industries; and support enterprises to join the global value chain.
HCMC will speed up the restructuring of State-owned companies, administrative reform and create favorable business conditions for enterprises in different sectors. The city will remove hindrances to business operations, attract resources from developed nations and help companies adjust structures of goods for export.
HCMC will spare no effort to make it to the top five list of the Vietnam Provincial Governance and Public Administration Performance Index (PAPI), the Provincial Competitiveness Index (PCI) and the Public Administration Reform (PAR) Index.
The city ranked sixth in last year's PCI after Danang, Dong Thap, Quang Ninh, Vinh Phuc and Lao Cai, two notches lower than the year earlier.
Speaking at the meeting, HCMC chairman Nguyen Thanh Phong said improving growth quality and competitiveness is among the top priorities of the city government. This means businesses will have to invest in machinery and raise labor productivity to make their products competitive.
Phong underscored the importance of creating favorable conditions for businesses to help the city maintain its role as the nation's key driver for economic growth. The city contributes nearly 32% to the State budget.
Firms urged to brace for TPP challenges
Nestor Scherbey, senior advisor to the Vietnam Trade Facilitation Alliance, has told domestic businesses to get ready to face challenges to be brought by the Trans-Pacific Partnership (TPP) trade pact.
Scherbey told a conference co-held by the HCMC Investment and Trade Promotion Center (ITPC) and HR Media for experts to discuss TPP challenges and opportunities last week that the trade pact is the most comprehensive one in the world's trade history.
The TPP combines complex and technical rules of the Harmonized System of customs tariff classification of goods, with the complex rules of Customs Valuation of the General Agreement on Tariffs and Trade (GATT) 1994 agreement. There are additional rules and exceptions for the TPP agreement and these are challenges for both companies and government officials to understand and apply to specific situations.
Vietnamese enterprises can prove the origin of products by themselves but have to keep relevant documents for a period of five years for later inspection. If irregularities relating to their product origins are detected by customs agencies, they would face sanctions. Therefore, they have to concentrate on studying and observing the Rules of Origin (ROO) of the TPP.  
Scherbey said it is not important whether the TPP agreement takes effect in 2017 or 2018 and that businesses have little time to make preparations. They will have to hurriedly identify and find ways to overcome the challenges posed by the TPP and the ROO, among others.
Pham Xuan Hong, chairman of the Vietnam Textile and Apparel Association (VITAS), said most material used by the apparel sector is imported, with China accounting for 60%. Many companies in the sector have expressed concern about material purchases to meet the ROO because the TPP is expected to go into force 2018.
Experts at the conference said local firms can make the most of the opportunities by cooperating with foreign-invested enterprises to join the global value chain.
Virginia Foote, president and chief executive officer at Bay Global Strategies and co-chair of Vietnam Business Forum (VBF), told the conference that domestic and foreign businesses have to team up with one another as this is an essential part of the TPP.
Foote said she has not seen such cooperation in Vietnam since foreign direct investment (FDI) companies usually invest 100% in their facilities in the country.
Hong of VITAS said a number of FDI companies have set up textile and dying plants in Vietnam and that FDI firms should not build up their own facilities but join hands with local enterprises to better capitalize on Vietnam's advantages in the apparel sector.
Nguyen Xuan Thanh, director of the Fulbright Economics Teaching Program, said FDI companies account for 60% of Vietnam's export turnover at present. However, they have loose links with domestic firms in supporting industries, which is different from China and other ASEAN nations.
Foote of Bay Global Strategies said U.S. Congress can start the ratifying process of the TPP agreement this summer. A dozen Pacific Rim nations are expected to conduct their own procedures to ensure the TPP could take effect in 2018.
She said Vietnam will have to adjust many regulations soon.
The TPP will become effective 60 days after all Pacific Rim nations ratify it. If the agreement is not ratified by all the 12 members in two years, it would go into force 60 days after 85% of the member states ratify it. Other member states can join the TPP after they have completed their ratification.
Saigon Co.op opens consumer cooperative
The Saigon Union of Trading Cooperatives, better known as Saigon Co.op, has established a consumer cooperative allowing customers to contribute capital to become shareholders of the Co.opmart supermarket chain.
Nguyen Anh Duc, deputy general director of Saigon Co.op which owns the Co.opmart supermarket chain, told reporters about the new business model and preparations for the 20th anniversary of the store chain in HCMC last week.
Duc said that with registered capital of VND30 billion (US$1.35 million), the consumer cooperative is the first large-scale business model of its kind that shows Co.opmart's spirit of sharing with and dedication to customers.
Co.opmart customers who hold VIP cards and others can contribute capital from VND100,000 to VND6 billion to the cooperative and will enjoy many privileges based on their spending in the store chain. As planned, they can start contributing capital from May.
Saigon Co.op said this method of capital contribution is similar to that at joint stock companies. Depending on capital contributions and goods purchases, customers will get different interest rates from the cooperative, just like dividends offered by joint stock companies.
The consumer cooperative will enable Saigon Co.op to gain a better competitive edge on the home market.
Besides electricity, water and telephone payment services, Co.opmart stores will sell movie tickets, travel tours, and air tickets.
Since the opening of its first Co.opmart on Cong Quynh Street in HCMC in 1996, Saigon Co.op has become the country's leading store chain operator in Vietnam with over 80 outlets in 38 provinces and cities.
Saigon Co.op also owns a number of other businesses, including Co.op Food store chain, Co.opXtra hypermarket chain, Sense City trade center, HTV Co.op shopping channel and Ben Thanh shops with tens of thousands of workers.
Saigon Co.op said last month that it had entered into the second round of the highly competitive bid for Big C Vietnam operations owned by French retailer Casino. Asked about the plan to acquire Big C assets in Vietnam, Duc confirmed Saigon Co.op is serious about it but declined to elaborate.
CMIT recruits chairman to boost restructuring plan
Cai Mep International Terminal Co Ltd (CMIT) in Ba Ria-Vung Tau Province is looking for a chairman who can help improve governance and restructure debt for the joint venture.
The venture between Vietnam National Shipping Lines (Vinalines), Saigon Port and Denmark-based APM-Maersk Group has posted the recruitment announcement on Vietnam's major job service website Vietnamworks.com.
The firm wants a new chairman aged between 37 and 47 and having at least three years' experience in maritime and seaport operations. In addition to the management of production and business activities, the new chairman would be responsible for negotiating with creditors of CMIT projects over debt rescheduling.
Previously, the chairman of CMIT was appointed by Vinalines and Saigon Port. The current general director of CMIT is a foreigner appointed by APM-Maersk.
CMIT was established nine years ago with chartered capital of US$62.7 million, with  36% contributed by Vinalines. In 2014, CMIT racked up losses of VND18 billion (US$807,300), well below the planned figure of VND72 billion (US$3.23 million) and down considerably compared to previous years.
The company is now still running at a loss due to lower-than-expected business results, its revenue lower than operation costs, and high borrowing costs.
CMIT had had total accumulated losses of VND2.1 trillion (US$91.2 million) by the end of 2014. Therefore, shareholders should inject more capital if they want to maintain the operation of CMIT.
Despite losses, Vinalines has sought the Ministry of Transport's nod to keep its stake at the joint venture, instead of withdrawing it.
Vinhomes Golden River launched to the market
Savills Vietnam and Vinhomes on April 12 introduce its latest project - Vinhomes Golden River to the market.
Savills Vietnam becomes the first agency to organise the special event introducing Vinhomes Golden River project in Ho Chi Minh City. The event aims to provide a close look at Vinhomes Golden River, one of the major projects in 2016.
In this event, Vinhomes will share the development strategy of Vinhomes Golden River project as well as its dedication in building an elite riverside ecological urban area in the heart of District 1 of Ho Chi Minh City. Savills will introduce the overall picture of the project and the value it brings to city centre planning and its residences.
Vinhomes Golden River is located at No.2 Ton Duc Thang street, with its facade running along the Saigon River, where the residences could conveniently travel by road, rail and waterway. The project is near major address of Ho ChiMinh City such as Ben Thanh market, the Ho Chi Minh City People's Committee, and the Independent Palace. Especially when the Ben Thanh- Suoi Tien metro line is completed, with station No.3 right inside the project, Vinhomes Golden River is uninteruptedly connected with Vinhomes Central Park, creating a brand new look by Saigon river, modern and prosperous.
Vinhomes Golden River has a total area of 25.3 hectares, is planned under riparian ecological urban model. Construction density is only 18.6  per cent, including major subdivisions: apartments and luxury villas, office for lease, shopping center, hotel, utility system, and riparian green park area.
Navigos: Recruitment demand for managers up 48% in Q1
Recruitment demand for mid-level managers and senior managers in Vietnam in the first quarter saw rapid growth, according to Navigos Search's latest report based on requests from clients. The recruitment requirements of its clients in the first quarter increased by 48 per cent compared to the first quarter of 2015.
Recruitment demand for mid-level managers in the Industrial and Manufacturing sector ranked first, with 29 per cent, followed by Consumer Goods & Retail and Banking - Insurance - Securities - Finance, with 16 per cent and 12 per cent, respectively.
The most recruited positions involved Sales & Marketing, IT Engineering, Electricity / Electronics Engineering, and Human Resources, among others.
The first quarter also saw remarkable movements in senior managers in Food & Beverages and Logistic & Supply Chain Management, according to the report.
The Food & Beverages sector has been increasingly competitive with more and more foreign companies entering the local market. Many senior managers working for enterprises in the sector have been replaced by foreigner counterparts sent from overseas groups.
A similar situation has been seen in Logistic & Supply Chain Management, with many changes made in senior management. They are often replaced by foreign managers who are internally appointed by overseas groups.
In the first quarter Navigos Search received many recruitment requirements for senior managers from Vietnamese groups and corporations.
One common point among these groups and corporations is that they wish to develop professionally after a long period of applying family-based management models. "They are ready to pay high salaries to attract Vietnamese or overseas Vietnamese talent to work for them," the report noted.
Thăng Long GTC looks to acquire Vindemia SAS
Thăng Long GTC has officially asked to buy 65 per cent of Vindemia SAS - a France's Casino Group subsidiary.
It is a joint venture registered as Big C Thăng Long International Trade and Supermarket Service Company.
Big C Thăng Long International Trade and Supermarket Service Company Limited is a joint venture company with two members, of which 35 per cent shares belongs to Thăng Long GTC, while the remaining are owned by the Casino Group.
Being the joint venture partner, Thăng Long GTC is the first Vietnamese business to make an active move in the competition to buy shares currently owned by the Casino Group. If the offer is accepted by Casino Group, Big C Thăng Long International Trade and Supermarket Service Company Limited will be a 100 per cent locally-funded retail business.
The Casino Group is expected to respond positively before the end of this month. After 18 years in Việt Nam, the brand "Big C" is considered a leading retailer with a chain of 32 supermarkets throughout the country. This includes five supermarkets now successfully operating in Hà Nội owned by Big C Thăng Long International Trade and Supermarket Service Company Limited.
Coalimex to list on HNX
 The Coal Import and Export Joint Stock Company (Coalimex) will list its 11 million shares on the Hà Nội Stock Exchange (HNX) from April 15.
The shares, coded CLM, will be traded at VND16,000 (US$0.71) each.
Coalimex, established in 1982, is a subsidiary of Vietnam National Coal - Mineral Industries Corporation Holding Limited (Vinacomin). The company's main activities include the import and export of coal, imports of materials and equipment, office rental, labor export and other businesses.
Last year, Coalimex earned VND1.406 trillion in revenue, 7.4 per cent higher than 2014. The company's profit after tax in 2015 reached VND12.15 billion.
As of December 31, 2015, the company's charter capital was VND110 billion.
Thousands view new TWO Residence apartments
Gamuda Land Vietnam officially opened three model units at its The TWO Residence – the second apartment development in Gamuda Gardens on Saturday.
Visitors could view three show units featuring the designs of The TWO Residence, which including a one bedroom studio, as well as two three-bedroom standard and dual-key rooms.
The studios, ranging from 37 to 54 sqm, suit young individuals or newly-married couples. Also, families of two to three generations prefer a standard apartment of 78 to 126 sqm.
Commenting on the showing of the apartment models, Yap Chin Hua, Chief Operating Officer of Gamuda Land Vietnam said, "This marks a significant milestone in the opening of The TWO Residence. These three model units were carefully chosen and decorated to bring out the best of the Two Residence."
Strategically located in the heart of the apartment district of Gamuda Gardens, heading towards Ring Road 3 and the magnificent Red River and backing up to the greenery of the township, TWO Residence represents excellent design, along with multi-purpose and full facilities.
Spanning over 73.571 sqm, the TWO Residence is built in an L-shaped block consisting of a 27 and 30 story tower, three parking lots and a shopping center.
Singaporean group invests in HCM City's property market
SynGience, a financial group from Singapore, signed a contract on April 10 with Minh Nguyen Long company and L&L-Luckyland company on the development of a property project worth VND400 billion (US$17.3 million) in Ho Chi Minh City.
The DepotMetro Tower-Tham Luong project, featuring about 660 apartments, will be built near Tham Luong station on the city's Metro Line No.2.
At the signing ceremony, SynGience representatives said that Vietnam is an attractive market for international financial groups, especially after the country lifted a number of trade barriers and signed a series of free trade agreements, including the Trans-Pacific Partnership (TPP).
In other HCM City real estate news, Dat Xanh Group recently launched the Opal Riverside resort complex project along the Sai Gon river, worth nearly VND1 trillion (US$43.4 million) with 648 apartments.
Also, Hung Loc Phat is developing the Golden Star project worth VND932 billion (US$40.5 million) in District 7 with 478 apartments.
Japan's Mizuho backs Vietnam confectionery firm
Pham Nguyen Foods, a known producer of choco pies and crackers in Vietnam, has received US$9.3 million from Mizuho Asia Partners Ltd., a wholly-owned subsidiary of Japan's Mizuho Financial Group, according to local media.
It was the first time the family-run company raised outside funding, news website Saigon Times Online cited the company's statement as saying on Friday.
The funding will allow Pham Nguyen to expand its activities, including production and distribution, according to the company, which currently owns more than 52,000 outlets around the country and ships its products to 15 countries around the world.
Pham Nguyen expects to achieve revenue of around VND800 billion (US$35.32 million) this year, up 23% from last year, the website reported.Economic restructuring might hinder growth rate in 2016
Vietnam is forecast to grow 6.5 percent or less in 2016, depending on economic restructuring progress, said Truong Dinh Tuyen, a former trade minister and senior adviser to the Government in negotiations on the Trans-Pacific Partnership (TPP) deal.
At a conference held in Ho Chi Minh City on April 8 to analyse challenges and opportunities brought about by the TPP, Tuyen said free trade agreements (FTAs) that Vietnam has participated in will have little impact this year, and difficulties have arisen in the local market with the global economy's slow recovery. It will take a while for new portfolios to gain momentum after the transition of power, he added.
According to Tuyen, drastic action to restructure the economy will lead to slower growth in the short term. The slowdown is healthy, and will soon be balanced with a significant improvement in the business climate.
Participating experts forecast the TPP agreement will take effect in 2017. The pact and other FTAs will stimulate the global economy. In Vietnam, by then, the management apparatus at levels will be operating more smoothly, with start-up businesses on the rise. These factors are expected to boost growth in 2017 and 2018.
Herb Cochran, executive director of the American Chamber of Commerce in Vietnam (AmCham), stressed that Vietnamese enterprises should invest in production of goods right now.
They need to work on papers to accredit their products' origins and components for export to a TPP member state, he said.
Le Van Khoa, Vice Chairman of the municipal People's Committee, said Ho Chi Minh City is committed to helping local firms prepare for TPP through information updates and guidance on trade commitments, intelligent property laws and labourers, among other things.
Cybersecurity essential for all businesses
The Institute of Chartered Accountants in England & Wales (ICAEW) has emphasised the need for businesses and organisations to improve their understanding of cybersecurity.
This should help businesses take better advantage of the opportunities brought by global IT trends while effectively managing their associated risks. The topic was raised at the ICAEW Thought Leadership Roadshow, which brought together IBM Vietnam, Ernst & Young (E&Y) Vietnam and the State of Audit.
Enabled by the enormous growth in computing power and storage in recent years, the world is now producing enormous amounts of data, characterised by high velocity and complexity. These days, the capability of businesses to capture and process entire data sets and even handle unstructured data has improved greatly. As more and more areas of business operations move online, many high-profile security breaches have occurred as a result of vulnerabilities in supply chains, opening up access to the systems of larger businesses. This can cause serious damage to their reputation, heavy costs for breaches and loss of their competitive edge.
"In this challenging environment, there is growing pressure for companies to better articulate their management of cyber risks, provide greater transparency on mitigating actions and strengthen lines of accountability," said Kirstin Gillon, a technical manager with the ICAEW IT faculty at the roadshow in Ha Noi and HCM City this week.
"Coping with breaches requires organisation-wide capabilities that go far beyond technology and IT departments. It is therefore important to consider the whole value chain of the organisation."
"As such, cyber security needs to be treated as a high priority that requires the attention of companies at the management board level," she said.  
According to a report released by Viet Nam's Public Security Ministry late last year, Viet Nam is placed 7th in Asia for use of the internet. About 50 per cent of Vietnamese enterprises are using e-commerce and 100 per cent of companies use the internet for their business. Last year, 2,045 agencies and business websites were hacked, of which 220 websites were attacked by Chinese hackers. However, the number of cyber security experts was too few to cope with all of these incidents.
In his keynote presentation at the roadshow, Henri Hoang, ITRA partner, E&Y Vietnam, pointed out that "in such an environment where 68 per cent of 18- to 24-year-olds engage in risky online behavior, only 32 per cent take the right steps to protect themselves -amongst the lowest in the Asia Pacific region."
However, awareness of cyber security has improved, as 87 per cent of Internet users in Viet Nam admitted they were worried about it, the report said.
"Regardless of the company's organisational structure or risk management approach, corporate risk governance needs to be extended to all levels in the organisation. The effective use of committees can be a bridge and coordination tool between multiple levels of the organisation," Hoang added.
According to ICAEW, the corporate finance community is the custodian of large amounts of sensitive information on the activities, strategies and financial details of companies and is seen by those with malicious intent as a valuable source of information waiting to be mined.
Furthermore, in his meeting with the State Audit of Vietnam on April 4, ICAEW President Andrew Ratcliffe pointed out that the current auditing standards had never envisioned the emergence of data analytics." The regulators need to keep abreast of how auditing is developing in order to adapt accordingly. It is in no one's best interest for innovation to be frustrated by regulation that is no longer fit for the purpose," Ratcliffe said.
Hence, he said it was crucial for those engaging in corporate finance to strictly comply with good security processes throughout the due diligence process, whereby vast quantities of information will be gathered, collated and circulated to inform the relevant participants, such as suppliers, buyers and investors, and to verify information. This could include strategic information on pricing, valuable IPs, customer and supplier data and personal financial data.
Speaking of solutions to address cyber threats, Luu Danh Anh Vu, Country Manager for Cloud, IBM Vietnam, suggested that a key step for businesses to protect themselves against increasing cyber risks would be to infuse business processes run on a hybrid cloud with a cognitive capability that can sense, respond and learn about suspicious online behaviour.
The guidelines issued today are a significant step forward in managing cyber risks. Besides this, Kirstin Gillon urged businesses to accept the reality that their security might be compromised and to consider the cyber aspect in all their activities as well as focus on protecting their critical information assets.
FPT fund provides capital to start-ups
FPT Ventures has disbursed more than US$1 million for start-up projects in the last year.
Some of the projects have seen initial success, such as CyRadar, which provides cyber-security solutions for businesses and was ranked among the top 10 in Echelon Thailand's Startup Launchpad 2015.
FPT has been Viet Nam's leading player in launching and supporting startups and boasts several success stories, including e-commerce site Sendo.vn; advertising platform Ants.vn; streaming service FPT Play; music portal Nhacso.net; Gostudybooking.com, an information website for people searching for study-abroad opportunities; and household service viecnha.vn.
FPT Ventures made its debut in May 2015. The fund will focus on startups valued at under $1 million and that focus on technologies related to the Internet, mobiles, small and midsized businesses and health, as well as education and traffic.
VEF/VNA/VNS/VOV/SGT/SGGP/Dantri/VET/VIR