Vietnam Expo to enhance regional, global economic links
The 26th Vietnam International Trade Fair (Vietnam Expo), slated for April 13 – 16 in Hanoi, is considered an effective channel to tighten the country's economic connections with regional and global partners.
The trade fair features 600 stands from about 500 companies, representing 23 countries and territories including India, China, Singapore, Turkey, Russia, Switzerland, and Australia, an executive of the Vietnam National Trade Fair and Advertising Company said on April 7.
The annual event will provide a platform for Vietnamese enterprises to market their products, expand the domestic market and seek partnership with foreign peers, according to Director General of the Vietnam Trade Promotion Agency (Vietrade) Bui Huy Son.
Notably, it will be attended by many companies with products that have obtained the Vietnam Value title – a symbol of prestige and quality, including Vietnam Electrical Equipment JSC, the Tran Phu Electric Mechanical JSC, the Binh Minh Plastics JSC, the Hanoi Trade Corporation, and the Hoa Tho Textile – Garment Joint Stock Company.
Meanwhile, foreign firms can gain an insight into local markets and discuss investment oppertunities, Son added.
Belarus will be the guest of honour at the expo, he said, noting that Vietnam signed a free trade agreement with the Eurasian Economic Union, of which Belarus is a member, in 2015. The signing will herald more development in trade and investment between Vietnam and the union.
Additionally, a space will be designated for displaying a special range of high quality, highly designed products. They are the result of a business support programme between Vietrade and the Republic of Korea. The programme has helped over 3,500 firms improve their product design and development since 2010.
The Vietnam Expo 2016 will also include an export promotion forum, a trade promotion discussion, workshops and contract signing. It is expected to welcome 20,000 visitors.
BMW World Expo to be held in Hanoi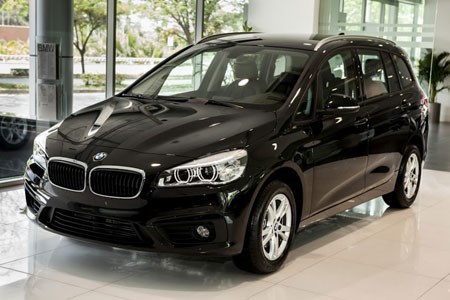 Some 100 models of BMW Rolls Royce, Mini and other cars and Motorrad motorbikes will be on display at the BMW World Expo to be held from May 6 to 9 at Hanoi's National Convention Centre.
The "Future of the automobile" expo will be organised by BMW Group to celebrate its 100th anniversary.
Among its interesting events will be one called "Together we build the history of the future" in which customers can show how they see the world in the next 100 years on the expo fanpage and website.
In another development, Euro Auto, the sole importer of BMW in Vietnam, launched the seven-seat BMW Series 2 Gran Tourer.
This is the first luxury seven-seat vehicle in the MPV segment. The Gran Tourer has a 1,499cc engine and costs 1.49 billion VND (68,700 USD).
From today Euro Auto is offering a summer promotion programme with free insurance for BMW cars, credit without interest rate for the first month and a rate of 5.99 percent for the next six months.
Toyota Vietnam sees sales double in March
Toyota Motor Vietnam Co., Ltd (TMV) sold 4,693 vehicles in March, up 25 percent against the same period last year and 98 percent from February, the company announced on April 7.
The northern and southern markets together captured the lion's share of 87 percent of the total figure. The remaining 13 percent or 664 cars were consumed in the central region.
The Vios model led the saloon segment with 1,332 cars sold – an annual increase of 13 percent. Meanwhile, sales of the Camry model reached 440, up 313 units against the same period last year.
Innova and Fortuner also made great contribution to Toyota's car sales in March with 1,180 and 928 units, up 52 percent and 8 percent, respectively.
Hilux remained its sales with 209 units, while the Yaris model was 204 units and Land Prado with 63 vehicles.
Toyota Motor Vietnam said the sales in the first quarter of this year reached 12,061, a year-on-year increase of 11 percent.
Hong Kong firm eyes Da Nang hotel
Success Dragon International Holdings reveals plans to fully buy company that owns 45% of One Opera Danang.
Success Dragon International Holdings, a Hong Kong casino service provider, has announced plans to expand in Vietnam.
In a document sent to Hong Kong's stock exchange, where it is listed, Success Dragon noted its intention to outlay $14.13 million on buying all shares in Vabis Building Consultants and Engineering.
Vabis holds a 45 per cent share of a company in Vietnam that owns the One Opera Danang hotel and associated land plots. By negotiating, the Hong Kong company can own the hotel and expand its business in Da Nang.
One Opera Danang is a five-star hotel on 1,916 sq m with a gross floor area of 28,493 sq m on 24 floors, including a commercial area.
It also owns a 3,286 sq m plot of land for extensions and is in process of obtaining a license for a casino business.
Success Dragon noted, however, that the deal is still only under consideration.
Excise taxes on car imports adjusted
Excise tax rates on imported cars will be adjusted as a result of the recently-approved Law on Amendments and Supplements to a Number of Articles of the Law on Value Added Tax, the Law on Excise Tax and the Law on Tax Administration.
The rate on imported completely-built-unit (CBU) motor cars of up to nine seats and a cylinder capacity of up to 1,500 cu cm will be reduced from the existing 45 per cent to 40 per cent from July 1, 2016 and then to 35 per cent from January 1, 2018.
Those on motor cars with a cylinder capacity from over 1,500 cu cm to 2,000 cu cm will remain unchanged at 45 per cent until December 31, 2017 and then be reduced to 40 per cent from January 1, 2018.
The rate on motor cars with a cylinder capacity from over 2,000 cu cm to 2,500 cu cm is unchanged.
Excise tax rates will also be increased, meanwhile, on motor cars with a cylinder capacity exceeding 2,500 cu cm.
Rates imposed on motor cars with a cylinder capacity from over 2,500 cu cm to 3,000 cu cm will be increased from the current 50 per cent to 55 per cent from July 1, 2016 and then to 60 per cent from January 1, 2018.
A rate of 90 per cent will be imposed on cars with a cylinder capacity of over 3,000 cu cm to 4,000 cu cm, 110 per cent on cars with a cylinder capacity from over 4,000 cu cm to 5,000 cu cm, 130 per cent on cars with a cylinder capacity from over 5,000 cu cm to 6,000 cu cm, and 150 per cent on cars with a cylinder capacity of over 6,000 cu cm. The new rates will be effective from July 1, 2016.
Elderly foreigners keen on Vietnamese housing
Residential buildings in Vietnam are becoming more attractive to elder foreign investors.
At CBRE's client conference held at Lotte Hotel Hanoi on April 7, managing director Marc Townsend revealed that the proportion of offshore buyers in the condominium sector has increased from zero per cent last year to 13 per cent this year, with the majority being 50 years old and over. They include Korean, Japanese, Taiwanese, Singaporean, Malaysian, and a few European buyers.
One of the reasons for the sudden surge in offshore buyers is that the pricing and value of Vietnamese property is appreciating faster than their peers in Singapore or Bangkok.
According to CBRE's report, luxury condominiums in the central business districts are priced at $2000-5000 per square metre in Hanoi and at $4000-7500 per square metre in Ho Chi Minh City. Meanwhile, the price for one square metre in Bangkok is between $7,500 and $10,000, still lower than the $17,500-26,000 offered in Singapore.
"Over-50 people, like me, are still the biggest buyers. This is because they either wish for a long term residence in Vietnam, possibly due to having a Vietnamese spouse, or because they have a business here, or they think everything is cheaper compared to where they live, or they feel like the climate is better than back home," said Townsend.
Though the Vietnamese government has authorised selling houses to foreigners since July last year, there are still difficulties that make foreigners hesitate to buy, such as the lack of property title insurance or the limited length of ownership.
However, Marc believed that these problems would not have a significant effect on the intention to buy because the majority of buyers are over 50.
"Every investor has a different perspective. When you are 50 and over, you have more money and a high level of acceptance of the law. Therefore, you will not need neither an insurance nor a bank loan," he said. "Moreover, when you are 50, the 50-year-limit is not a problem like if you are 20."
"The map of who is buying, why they are buying, and what they are going to do with the property is beginning to change. It will take newcomers to the market a lot of time to get comfortable with the law and the investment climate. If they cannot adapt then they will not buy anything at all and move on," he added.
VSIP to kick off contested project in Hai Duong
VSIP Hai Duong Co., Ltd. (VSIP Hai Duong) has kicked off the construction of Cam Dien-Luong Dien industrial park (IP) in Cam Giang district by starting to construct the technical infrastructure.
Accordingly, the investor mobilised over 100 trucks to transport construction materials and 20 excavators to start to leveling the ground. At the same time the construction of a fence surrounding the construction site was also started, which is expected to be completed within a week.
Previously, the project's construction faced protests from local residents who refused to receive site clearance compensation as well as relocate to new locations.
However, on March 31, Deputy Chairman of the Hai Duong People's Committee Vuong Duc Sang committed that the province would try its best to hand over land and enable VSIP Hai Duong to start the construction of Cam Dien-Luong Dien IP in April. Sang added that if some households continued to refuse to relocate, the committee would use coercive measures.
The plan for Cam Dien-Luong Dien IP in Hai Duong was ratified by Prime Minister Nguyen Tan Dung in 2008, committing an area of 205.28 hectares to the investor Phuc Hung Ltd. In 2009 and 2010 Phuc Hung started construction of the infrastructure but was stopped by local households.
In 2014, the prime minister allowed the province to transfer the project to Vietnam Singapore Industrial Park and Township Development Joint Stock Company (VSIP JSC). In April 2015 Phuc Hung finished the transfer to VSIP Hai Duong, a subsidiary of VSIP JSC.
VSIP Hai Duong then submitted plans to carry out the first phase of the project on an area of 150 hectares, which were ratified by the Hai Duong People's Committee in October 2015.
Electronics, refrigeration retail to make gains
Việt Nam's consumption of electronic and electrical appliances is expected to rise from 7.3 per cent to 11.9 per cent by 2020, thanks to a new focus on its youthful consumers.
Market research results from GFK Retail and Technology Market Research Vietnam Limited show that improvement in average earnings has greatly affected household consumption expenditure, especially in household electrical and electronic appliances. The country's GDP per capita topped US$2,109 last year, but household expenditure will increase to around $3,737 per household per annum.
Besides, local rising demand in the electronic and electrical retail markets has not been fully tapped. The retail market in Việt Nam has currently only satisfied 25 per cent of the demand. The figure is estimated to reach about 45 per cent in 2020.
Expenditure on electronic and electrical appliances alone is estimated at around VNĐ157 trillion ($6.8 billion), of which, electronic products accounts for VNĐ60 trillion, led by mobile phones, notebooks and tablets. Meanwhile, household electrical products accounted for VNĐ97 trillion with flat-screen televisions dominating, followed by air conditioners, fridges and washing machines.
Đặng Trần Hải Đăng, deputy director of VietinbankSc Research Centre, explained that Việt Nam has become an official member of a number of free trade agreements, including EU-Việt Nam, Việt Nam–South Korea, the Trans Pacific Partnership, and recently the ASEAN Economic Community.
The Ministry of Finance has prepared a list of import tariffs to reduce to zero for all imported items from member countries. Firstly, high-quality electronic and electrical products from Japan, South Korea, and Thailand are entering into Việt Nam with competitive prices. This will boost domestic consumption in the future.
Although domestic demand for electronic and electrical products is increasing rapidly, the retail distribution network is only in the hands of a few enterprises and in big cities. A market survey by VietinbankSc says that in the genuine mobile phone market, Thế Giới Di Động accounts for 30 per cent of market share, FPT 10 per cent, provincial stores and electronics supermarkets 20 per cent, and small mobile phone stores 40 per cent.
As for the electronics market, there are fewer distributors but on a larger scale, including Home Center, Nguyễn Kim, Điện Máy Xanh,  Điện Máy Chợ Lớn, Pico, Trần Anh and MediaMart. In May last year, leading Vietnamese property firm Vingroup also entered the consumer electronics retailing sector with the introduction of the brand VinPro.
Vingroup set a target to bring the total number of VinPro and VinPro+ stores to 25 and 100, respectively, last year.
According to Huỳnh Phước Cường, retail director of GFK, foreign investors opt for buying well-known and prestigious distribution networks and stores instead of building a new risky distribution network. At present, legal factors allow them to carry out this objective easily.
Power Buy Company Limited, a company of Thailand's Central Group, has already acquired a 49 per cent stake in Nguyễn Kim Trading Joint Stock Company, one of the biggest home appliance store chains in Việt Nam. In addition, Central Group has also bought a 49 per cent stake of Pico. Japanese corporations owned a 49 per cent stake, a 91 per cent stake, and a 30 per cent stake of Citimart, Trần Anh, and Fivimart respectively. A few shopping centers have been bought by investors from South Korean and Hong Kong.
With the market is changing so rapidly, concerns have been raised whether Vietnamese businesses will be able to withstand the intrusion of experienced and rich competitors from other countries. Deputy Minister of Industry and Trade, Trần Quốc Khánh, said that there will still be a place for small businesses as long as they are proactive and learn to adapt to the new situation.
M&A information to be released
Information related to mergers and acquisitions (M&As) of credit institutions is awaited as the season of annual shareholders' meetings is around the corner.
Late last year, the central bank said that the number of credit institutions would be cut from the current 34 to roughly 17 to 19. Therefore, it is possible that more M&As will be announced.
According to Đầu tư (Vietnam Investment Review) newspaper, the most likely targets are banks with overlapping ownerships, small or financially weak financial institutions, and those that have seen their bad debt ratio rising over the past few years.
Some banks have been asked by the State Bank of Việt Nam (SBV) to raise their registered capital. However, in case they cannot raise it by issuing more shares, they will have to explore M&As.
Saigonbank, for example, was allowed to raise its capital from VNĐ3.08 trillion (US$136 million) to VNĐ4.08 trillion, but it has failed to carry out the increase.
There are currently at least four other commercial banks that have the charter capital roughly around the level of Saigonbank's VNĐ3 trillion. Those are Kienlongbank, Viet Capital Bank, Nam A Bank, and VietBank. They will have to increase their capital in order to meet new international standards.
According to banking expert Nguyễn Trí Hiếu, there remain some ailing banks that would probably fall in the central bank's special supervision list. These banks will have to undertake M&As with others if they do not want to be acquired at zero đồng by the central bank.
However, experts said that M&As should not be seen as the last resort to help ailing banks avoid intervention from the central bank.
Hiếu said that M&As must help banks increase their competitive edge and financial status as well as contribute to the sustained growth of the whole banking system.
Ailing credit institutions must be unearthed and given a boost through an increase in capital or M&As with strong credit institutions the next time, Hiếu said, adding "if that is not possible, it is advisable to allow ailing institutions to go bankrupt."
Besides ailing banks, experts from the Vietcombank Securities said that as the competition in the banking system becomes fierce, small- and medium-sized banks must explore M&As to be able to compete against larger ones if they want to survive.
HDBank offers exemptions for Mon City
HCM City Development Bank (HDBank) is offering promotional interest rates on loans to buy apartments and houses in Mon City in Hà Nội. They will only be available this month.
The promotional rate for apartment buyers is 3.5 per cent, while that for loans to buy houses will be zero for the first six months. For the next six months, the rate will be 8 per cent, before it becomes market-driven.
The bank also announced that it has given a guarantee of VNĐ1.4 trillion (US$63.6 million) to Mon City's key investor, one of the first housing projects to get a bank guarantee as stipulated in the Housing and Property Law, which was amended last July.
HDBank is one of the biggest joint stock lenders in Việt Nam.
Mon City is being developed by Hải Đăng Real Estate Company and will be completed in the second quarter of next year.
Mechanical firms ask for additional support
Businesses in the mechanical sector in Ha Noi are facing shortage of capital, production area and high quality human resources, as well as shortcomings in import taxes levied on materials.
Nguyen Xuan Phu, chairman of management board of Sunhouse Group, said that barriers in administrative procedures have deterred the development of mechanical firms.
Phu said his group had bought land in the city's Hoai Duc District in 2007 to build a factory, but they have still to complete the administrative procedures. They have found it difficult to access bank loans with low interest rates. In addition, the lack of technology and equipment together with small production scales has made it difficult for mechanical companies to meet the strict requirements.
"Mechanical firms need support from the Government in administrative reforms and trade promotions while facilitating them to build their brand," he said.
He said the Government should support companies which have already built their brand nationally, and added that with the current level of support it would not be possible for Viet Nam to have prestigious trademarks.
Participants at the meeting between the Ha Noi Small- and Medium-sized Enterprises Association and the Department of Industry and Trade held in Ha Noi earlier this week also said that one of the barriers facing the sector were the shortcomings in the tax policies.
For example, the imported tax on mechanical products is zero per cent while for imported spare parts it is five per cent. These tax policies have discouraged domestic businesses which have preferred importing products to producing their own.
Moreover, the anti-dumping tax levied on stainless steel, which is used in home appliances, has not benefited small firms.
Sharing these ideas, the department's director Le Hong Thang asked the association to collect proposals from mechanical companies and find timely solutions to the difficulties they face.
Firms must play part in sustainability push
Local businesses were urged to play their roles in meeting sustainable development goals (SDGs) to promote a more inclusive, sustainable and equal global economy by 2030, a conference heard yesterday.
The conference "Meet to meet the SDG" was co-organised by the Viet Nam Chamber of Commerce and Industry (VCCI) and the United Nations Industrial Development Organisation (UNIDO), under the umbrella of the UN Global Compact Network Viet Nam, as an initiative for all interested stakeholders to share experiences, ideas and support to achieve sustainable goals.
Leaders of 193 United Nations member states in September 2015 adopted the Agenda 2030 with 17 SDGs addressing challenges of economic development, social inclusion,environmental sustainability, and good governance.
Seen as a call for innovation, reform and inclusion, the Agenda 2030 saw businesses as the key driver to achieving SDGs, with responsibilities and opportunities for the private sector of critical importance.
Speaking at the conference, Pratibha Mehta, UN Resident Coordinator in Viet Nam, said that SDGs are particularly suited to complex issues faced by middle income countries like Viet Nam.
In order to meet SDGs, the Government, businesses and civil society must all participate, Pratibha said.
"The role of businesses will be central in achieving SDGs. Businesses have the power lead change for social good. And businesses can innovate for inclusive and equitable societies."
There should be no inherent conflict between economic, social and environmental impacts with SDGs, Pratibha said.
According to Nguyen Quang Vinh, deputy general secretary of VCCI, making SDGs come true is not only a duty, but also a great opportunity for businesses.
Vinh said that VCCI with its Office for Sustainable Development for Business will provide the private sector with guidance, networking, know-how, and recognition to make SDGs succeed for all businesses in Viet Nam.
Florian Beranek, UNIDO's lead expert on societal responsibility, said that meeting SDGs will depend on inspired, creative and successful entrepreneurs.
Economic expert Pham Chi Lan said at yesterday's conference that meeting SDGs is critical for Viet Nam to achieve the aspirations of "Viet Nam 2035: Towards Prosperity, Innovation, Equity, and Democracy" – the report launched last month by the World Bank and the Government of Viet Nam. The government, businesses and society will all benefit from meeting SDGs.
Lan said that Viet Nam must speed up institutional reforms, improve the business climate, and renovate the growth model from extensive to intensive.
In addition, businesses must strive to enhance competitiveness and to improve productivity and efficiency to compete amid rapid global integration.
Tax authority eyes large firms
The General Department of Taxation will inspect the tax compliance of numerous big firms this year.
According to the tax inspection plan that the department submitted to the finance ministry recently, supermarket giant Big C, Nguyen Kim Trading Joint Stock Company which distributes electrical appliances, Binh Son Refining and Petrochemical Company Ltd, and An Phong Investment Corporation, were included on the list for inspection this year, Vietnam News Agency reported.
The tax authority said it would focus on the large trading companies and firms that had a high potential for tax evasion.
In the first quarter of this year, the focus would be on inspecting about 10 companies in Ha Noi, HCM City and the southeast region that were considered high risk for central budget collection.
As of March 25, the tax authorities had carried out inspections and checks at more than 6,500 firms nationwide, or 7.2 per cent of the plan for the full year, collecting an additional VND1.6 trillion (US$714.3 million) in taxes.
Earlier, the General Department of Taxation said that it planned to inspect and check at least 18 per cent of the total number of firms and collect an additional VND13 trillion.
The tax authorities will pay special attention to new sectors such as e-commerce, online businesses and multi-level marketing.
Canadian exporters discuss pork trade
Canadian pork exporters attended a seminar held in Hà Nội on Wednesday by Canada Pork International (CPI) and the Embassy of Canada in Viet Nam.
At the seminar, 13 firms met with a number of Vietnamese pork importers, processors and end-users to showcase Canadian pork and find opportunities for co-operation.
"Canada is the third largest pork exporter in the world, producing two million tonnes of pork processed from 26.7 million high-quality pigs," said Canadian Ambassador David Devine.
"CPI is bringing together a delegation of member companies to explore market opportunities and establish business links with Vietnamese importers," the Ambassador told Viet Nam News.
He added that the impressive growth of 230 per cent in Canadian pork exports to Viet Nam in 2015 confirms the high potential of the Vietnamese market for Canadian pork products. It also shows the confidence Vietnamese clients have in the quality and safety of the Canadian product.
Cesar Urias, CPI director of Market Access and Government Programmes Management, said Canada was recognised worldwide as a producer and supplier of high-quality pork, with a long history of sending pork across the world.
In 2015, Canadian agrifood and seafood exports to Viet Nam reached C$353.6 million (US$270.44 million), five times the number in 2010.
CPI is the export development and promotion agency of the Canadian pork industry, with its members representing Canada's pork exporting industry.
A similar event is taking place in HCM City at the Le Métridien Saigon Hotel today.
MOIT to host public consultation on tariffs for imported steel
The Viet Nam Competition Authority (VCA) will host a public consultation meeting on May 5 to collect opinions from agencies and businesses on the duties imposed on imported steel.
At the meeting, participants can present opinions on protective measures for steel products imported to Viet Nam, according to the VCA.
As previously reported by Viet Nam News in early March, MOIT announced safeguard duties on imported steel products as a temporary protective measure against inexpensive imports that were allegedly threatening the domestic industry.
According to Decision No. 862/QĐ-BCT, the ministry will issue temporary safeguard duties of 23.3 per cent on steel billets and 14.2 per cent on long steel products for a maximum of 200 days.
Explaining the extra tariff, the Ministry of Industry and Trade said the measure aimed at protecting the domestic steel industry from a flood of cheap steel, mainly from China.
The move also targeted to help local steel makers have more time to spend on business restructuring and competitiveness improvement.
However, many companies in the country do not consider the tariffs an opportunity to improve their production quality or enhance their competitiveness. They see them as taking advantage of the opportunity to raise steel prices, leading to a price surge in the domestic steel market.
About half a month after the tariffs were applied on March 7, steel prices increased from between VND10.3 million and VND10.7 million (US$460-480) per tonne to VND12.5 to 13.5 million per tonne.
"My new house needs around nine tonnes of steel," Duong Van Them, who is building a new house, told Tin tức (The News) newspaper. "I have paid a deposit of VND100 million for the steel seller in February, but as steel prices have increase after the new tariffs were applied in early March, I must spend an additional VND20 million."
That was just the losses suffered by one household. Building constructors, who use thousands of tonnes of steel per year, must spend more as well.
Many local steel suppliers are hoarding steel, which is putting additional pressure on consumers when, in fact, there is no shortage of steel for domestic consumption.
According to data from the Viet Nam Steel Association, steel production output in the first two months of this year reached more than 1.15 million tonnes, while consumption is only estimated at around 1.05 million tonnes, excluding steel companies' inventory of more than 500,000 tonnes.
World steel prices in the first two months of this year remained at $310 per tonne and increased slightly to $320 per tonne in March.
According to experts' calculations, even though safeguard tariffs have been imposed, the increase of VND2 million is unreasonable.
Instead of trying to raise steel prices, domestic producers should boost the production of steel billets and long steel products so they can meet domestic demand with high quality and competitive prices, said Nguyen Van Sua, vice chairman of the Viet Nam Steel Association.
F.HOME to launch apartment sale
The Da Nang City's joint-stock food company Danafood will launch the sale of the last 100 beautiful view apartments of Block A of project F.HOME on April 10.
It's the first condotel design project of the city that offers comfortable and convenient living conditions in the downtown Hai Chau District.
The project, built with two 26-storey buildings in Ly Thuong Kiet Street, was scheduled to be handed over to investors in the third quarter of 2016.
F.HOME has three kinds of room with one bed-room, two-bed room and three-bed room that measure 62.8sq.m to 126sq.m in area.
The project owner said investors could buy apartments starting from VNĐ2.4 billion (US$107,000).
Investors can benefit from a one-year 'zero' interest loan programme being offered by Sai Gon-Ha Noi commercial joint-stock bank (SHB) to buy apartments.
F.HOME is seen as a most comfortable residential area, with a retail podium, outdoor pool and luxurious facilities for business and entertainment purposes, even as it is located close to the city's administrative centre, Novotel Hotel, Han River Bridge and Rong (Dragon) Bridge, besides shopping centres, airport and railway station, and is just a 10-minute drive from My Khe Beach.
F.HOME apartments have imported furniture, kitchenware, air-conditioning system and bathroom accessories.
The project will be managed by Japan's K&B International with five-star standards, making it as the most luxurious project of Da Nang.
Director of Danafood Pham Tan Cung said investors could earn a lot by buying apartments with flexible financial aid terms and expectations of profit.
"Buyers can give their apartments on a 10-year lease deal, at 13.5 per cent" Cung said.
"We offer a promotion programme for the buyers of the apartments, as a lucky draw winner could pocket 1kg of 99.99 per cent pure gold bars," Cung said.
He said the buyers could participate in lucky draws for just 10 apartments that would be given away for just VND100 million ($4,400) each after handing-over ceremony of the apartment.
This means the buyers could get another apartment with only VND100 million via lucky draws after receiving the first apartment.
The project owners said the lucky draw winner of a VND100-million apartment could sign a five-year lease for an annual rate of VND100 million ($4,400).
"It's a zero-Vietnamese dong apartment under the promotion programme 'Buy one, Get One', or 'Buy two, Get One For Free'," Cung said, adding that F.HOME surely offered the cheapest apartments in Viet Nam.
The project owner also launched a 'Welcome to Da Nang' promotion programme for foreign investors, which includes 10 free return economy air tickets from Viet Nam to the concerned foreign country and a sub-lease rate of up to nine per cent per year, where the lease amount is calculated from the signing date of the lease contract, provided that 95 per cent of the first apartment's value has been paid.
F.HOME promises many profitable opportunities for domestic and foreign early birds, with flexible promotion and lease programmes.
Investors can also benefit from their 30-day vacation at the condotel-style apartments in the coastal city.
Da Nang is Viet Nam's most liveable city, attracting 4.6 million tourists, 1.25 million of them being foreigners, in 2015. The coastal central city with pristine beaches is well-known as a must-travel destination for tourists from across the world. This has developed as a potential opportunity for real estate investment as well as investors in the short term and long term.
Real estate tourism remains a favourite investment attraction in the central city, attracting 25 foreign direct investment (FDI) projects, worth US$1.8 billion, and comprising 54 per cent of the total FDI capital in the city.
The city has so far developed 16 tourist property projects, consisting of 749 villas, of which 609 are for sale and 140 for lease.
PM approves VEAM equitisation plan
Prime Minister Nguyen Tan Dung has approved the equitisation of the Viet Nam Engine and Agricultural Machinery Corporation (VEAM).
The plan involves selling part of the State's shares and issuing more shares to increase its charter capital.
Following the equitisation, VEAM will have charter capital of VND13.28 trillion (US$595.3 million), equivalent to 1.3 billion shares. Of this figure, the State will hold a 51 per cent stake.
The ministry of trade and industry will represent the state's capital at the company.
Meanwhile, strategic shareholders and employees will hold 36 per cent and 0.49 per cent stakes, respectively. The rest will be sold at the company's initial public offering on the Ha Noi Stock Exchange.
VEAM was established in 1990 and mainly manufactures agricultural machinery. The company has 20 subsidiaries nationwide, including Song Cong Diesel Limited Company, Southern Vietnam Engine and Agricultural Machinery Company Ltd and An Giang Mechanical JSC.
The company targets earning more than VND10.5 trillion ($467.56 million) in revenue this year, a 6 per cent increase compared with last year.
The corporation earned more than VND9.9 trillion ($440.6 million) in revenue last year, a 7 per cent increase compared with its target and a 38 per cent increase compared with 2014. Its export value was $35.6 million, up 7 per cent over 2014.
It also sold 3,219 units in 2015, 34 per cent more than the figure for 2014.
Lawmakers increase tax on vehicles with large engine displacement
Lawmakers decided to reduce tax on vehicles with small engine displacement, while increasing tax on vehicles with engine displacement of more than 2,500cc. Engine displacement is the volume swept by all the pistons inside the cylinders.
The changes are part of the revised Law on Special Consumption Tax approved by a majority of National Assembly delegates on April 6.
The Special Consumption Tax tariff on autos will see lot of changes with the new regulations.
Imported vehicles with nine seats or less - and engine displacement of 1,500cc or less - will enjoy a cut from the current tax rate of 45 per cent to 40 per cent, beginning this July 1. The tax rate will be further reduced to 35 per cent on January 1, 2018.
Tax on vehicles with engine displacement of more than 1,500-2,000cc will remain at 45 per cent of the car's value until December 31, 2017. The tax rate on this category of vehicles will then decrease to 40 per cent on January 1, 2018.
As for vehicles with engine displacement of more than 2,000-2,500cc, the tax rate will remain at the current rate of 50 per cent.
Lawmakers decided to raise taxes on vehicles with engine displacement of more than 2,500-3,000cc. The current tax rate of 50 per cent will rise to 55 per cent, as of July 1 this year. The tax rate for this category of vehicles will rise to 60 per cent on January 1, 2018.
Vehicles with high engine displacement of over 3,000cc will see their tax rate increase sharply from their current tax rate of 60 per cent.
A tax rate of 90 per cent will be levied on vehicles with engine displacement of more than 3,000-4,000cc. And a tax rate of 110 per cent will be levied on vehicles with engine displacement of more than 4,000-5,000cc. Vehicles with engine displacement of more than 5,000cc will be taxed at 130 per cent. And vehicles with engine displacment of 6,000cc will be taxed at 150 per cent.
Meanwhile, motorhomes will be taxed at 70 per cent as of July 1 this year. The motorhome tax rate will rise to 75 per cent on January 1, 2018.
The new tax rates will be effective as of July 1 this year.
The Viet Nam Automobile Manufacturers' Association (VAMA) predicts that about 260,000 autos will be sold this year, a 10 per cent increase from last year.
International Bicycle Exhibition to showcase brands
The Vietnam International Bicycle Exhibition 2016 will take place at the Hanoi International Exhibition Centre, 91 Tran Hung Dao Street, Ha Noi from April 7 to 10.
The event is expected to allow Vietnamese and international businesses to advertise their brands and advanced products and seek potential partners in Viet Nam and other South East Asian countries.
Vietnam Cycle 2016 will also give an opportunity to bicycle and electric bike manufacturers from developed countries to exchange experiences with participants.
Last year, the exhibition attracted famous brands such as Thong Nhat Bike, JettCycle, Trinx and Strongman, besides Asama, Bamboo bike and Fornix, and various products such sport bikes, electric bikes, children bicycles and bicycle accessories and components.
This show expects to attract about 16,000 visitors, including trade buyers and the public.
Businesses play central role in sustainable development: forum
How businesses benefit from the 2030 Agenda and their responsibility for sustainable development was highlighted at a forum in Hanoi on April 7.
With 17 goals, the 2030 Agenda for Sustainable Development calls on businesses to drive the economy towards equality, sustainability and deeper integration, according to Vice Secretary General of the Vietnam Chamber of Commerce and Industry (VCCI) Nguyen Quang Vinh, who is also Representative of the Global Compact Network Vietnam (GCNV).
He urged local enterprises to join the GCNV as this is a pragmatic access method, helping them turn sustainable development goals (SDGs) into reality.
The VCCI and the Vietnam Business Council for Sustainable Development (VBCSD) will work as pioneers in realising such goals and provide Vietnam-based firms with guidelines, networks, knowledge and acknowledgement on their path towards sustainable development, Vinh promised.
Established in 2010, the VBCSD now brings together 70 enterprises which have taken the lead in launching initiatives relating to sustainable development, he added.
Besides this, the VCCI has partnered with a number of international partners in a project aimed at connecting small-sized producers and households in Vietnam with their foreign partners in the global value chain.
Florian Beranek, Lead Expert on Social Responsibility at the UN Industrial Development Organisation (UNIDO), said businesses should be inspired to fulfill the SDGs.
Pratibha Mehta, UN Resident Coordinator in Vietnam, said the UN sees businesses as key development partners as they play a central role in reaching the SDGs. However, she said, it is also the responsibility of all people to meet the objectives.
Vietnamese businesses should directly take part in green growth in the context of climate change, particularly the ongoing severe drought and saltwater intrusion in the Mekong Delta, she said.
The delegates also discussed initiatives, opportunities and challenges during the implementation of the SDGs.
The 2030 Agenda for Sustainable Development, which is composed of 17 goals and 169 targets to wipe out poverty, fight inequality and tackle climate change over the next 15 years, was adopted by 193 members of the UN General Assembly on September 25, 2015.
VINASA the 17th member of APICTA
The Vietnam Software and Services Association (VINASA) has become the 17th member of the Asia Pacific ICT Alliance (APICTA), the association has announced.
VINASA representatives attended a conference on April 1 and 2 held by APICTA on international experience in boosting enthusiasm among enterprises to develop and apply information technology, where it was also granted membership.
According to Ms. Nguyen Thi Thu Giang, Deputy Secretary of VINASA, joining APICTA will open more opportunities to its members to promote and cooperate with partners in the Asia Pacific region. Winners of the Sao Khue Awards in Vietnam for products and services are also selected to participate in the APCTA Awards.
Nam A Bank targets 13% asset increase
Nam A Bank has set a target of acquiring total assets of VND40 trillion ($1.79 billion) this year, an increase of 13 per cent against 2015, according to documents submitted at its 2016 annual general meeting.
The documents included the bank's targets for 2016 and details of the new board of management for the 2016-2020 term.
Other targets set for 2016 include VND28.5 trillion ($1.27 billion) in capital mobilized from individuals and other economic components (excluding capital mobilized from the interbank market), a year-on-year increase of 17 per cent, and VND25 trillion ($1.12 billion) in credit granted, a yearly increase of 20 per cent, which is lower than the rate required by the State Bank of Vietnam (SBV). Non-performing loans are to be kept at less than 3 per cent.
Profit before tax is set at VND300 billion ($13.45 million), an increase of 19 per cent against 2015, and charter capital is to reach VND4 trillion ($179.44 million).
In the longer run, by 2020 the bank has set a target for charter capital of between VND5 trillion ($224.3 million) and VN6 trillion ($269.16 million).
Capital mobilized from individuals and other economic components are to increase by 25-30 per cent and reach VND80 trillion ($3.58 billion) by the end of 2020.
Credit granted is targeted at VND64 trillion ($2.87 billion) by 2020 and profit before tax VND800 billion ($35.88 million), for a yearly increase of 20-25 per cent. Non-performing loans are to be kept under 2.5 per cent.
Visitors to Da Nang up 11.5% in March
Central Da Nang city welcomed 369,339 visitors in March, an 11.5 per cent increase against March 2015, the city's Department of Culture, Sports and Tourism (DCST) reports.
In the first quarter total visitors numbered 1,040,169; 19.6 per cent higher year-on-year and accounting for 20 per cent of the annual plan.
Revenue from tourism was estimated at VND3 trillion ($135 million), up 17.5 per cent compared to the same period of 2015 and equal to 20.2 per cent of the 2016 plan.
Annual growth in tourist numbers to Da Nang averaged 20.14 per cent in the 2011-2015 period with revenue increasing 30.7 per cent a year on average.
Da Nang welcomed 4.68 million tourists last year, ranking it fourth in the country.
As at the end of 2015 it had received 74 projects in tourism and services with combined investment capital of $8.4 billion, including $1.2 billion invested in 16 projects by foreign entities.
FDI inflow to Vietnam up 125.2 percent in first quarter
The foreign direct investment (FDI) inflow to Vietnam in the first quarter rose to US$2.74 billion, up 125.2 percent compared to the same period last year reported the Foreign Investment Agency under the Ministry of Planning and Investment.
Across the country, by March 20, authorities have granted licenses to 473 new FDI projects worth US$2.74 billion. In addition, 203 other projects had increased its investment by US$1.28 billion, an increase of 107 percent compared to the same period last year.
Totally, fresh investment and increased investment are worth US$4.02 billion, up 119.1 percent compared to the same period last year.
It is estimated that FDI projects disbursed over US$3.5 billion, 14.8 percent higher than that last year.
There are 216 projects of industry processing and machinery, helping a surge of US$2.9 billion, accounting for 72.2 percent of total registered investment.
The second sector attract FDI project is realty with 11 new projects, making total investment increase by US$239.78 million, accounting for nearly 6 percent of total registered investment.
Finance Ministry gauges int'l bond demand
The Ministry of Finance, together with relevant ministries and agencies, has taken steps to gauge demand on international capital markets in preparation for a US$3-billion bond sale.
Truong Hung Long, head of the Debt Management and External Finance Department under the Ministry of Finance, told local media last week that the bond issue had been approved by the National Assembly (NA).
A working group comprising representatives of the Finance Ministry, consultants and relevant agencies held a road show two weeks ago to prepare for a plan to issue bonds abroad this year.
This is the second time the Finance Ministry has explored prospects on international capital markets after the NA gave the nod to the 2015-2016 bond issuance plan last November. After the road show in December 2015, the issue was postponed given unfavorable conditions.
Long said the ministry has not set a date for the issue.
However, there have been concerns that the ministry missed a good chance at the road show in December 2015.
According to banking experts, global bond markets are likely to see unfavorable developments. Government reports on public debt might make Vietnamese bonds less attractive.
Bond coupons now are not as low as at the end of last year, an expert said, adding the ministry should weigh selling bonds in the second quarter or before the summer holiday at the latest.
Bond yields might be unpredictable in the coming time, so the ministry should proceed with the plan now to reduce risks, the expert added.
Aside from the international bond issue, the Finance Ministry still has solutions to improve capital mobilization.
First, the local bond market has been most active since early this year but it is projected to cool. According to March data, the winning ratio slumped to 76.2% from 96.6% in the previous month.
At the session on March 30, the winning coupon for five-year bonds was just 40%. VND2 trillion worth of bonds was sold while VND5 trillion worth was put up for sale, down nearly half against the month earlier, although the bond coupon inched up from 6.35% to 6.38%.
As the ministry has almost used up the 30% quota for the issue of five-year or shorter bonds this year and banks are projected to see credit demand rising, the winning ratio of government bonds is expected to gradually fall in the coming time.
In case of barriers to the bond issue in the Vietnam dong, the ministry may offer foreign-currency bonds or continue taking out foreign-currency loans from local banks. Last year, the ministry borrowed billions of U.S. dollars from Vietcombank.
As foreign currency lending began to be tightened from April 1, banks have amassed more foreign currency funds to make loans to the State, instead of depositing them at offshore banks at low interest rates.
According to a banker, people still hold on to U.S. dollars as they expect the greenback to be firmer against the dong, so banks could raise see more foreign currency and thus provide more foreign currency credit.
Last, if the ministry issues foreign-currency bonds, citizens will use part of their interest-free foreign-currency deposits to buy bonds if allowed.
VEF/VNA/VNS/VOV/SGT/SGGP/Dantri/VET/VIR