Mai Linh to buy 100 French-made electric cars
Local taxi group Mai Linh would sign a contract with French automaker Renault in Hanoi this Friday to buy 100 electric cars, according to the French embassy in Hanoi.
The deal would see Mai Linh acquiring 100 Renault Fluence cars as part of the local firm's project to use environmentally-friendly vehicles in major cities in Vietnam to reduce air pollution.
Late last year, Mai Linh and Auto Motors Vietnam, the authorized importer of Renault cars in Vietnam, struck a memorandum of understanding on using electric cars for taxi services in the nation. Accordingly, 10,000-20,000 electric cars made by Renault would be imported into in a 5-year period and the domestic assembly of such cars would be weighed during the period.
According to the French embassy, French Ambassador to Vietnam Jean-Noel Poirier, and Hanoi chairman Nguyen Duc Chung will clinch an agreement on cooperation in sustainable urban development, especially improvement of air quality in the capital city.
The two sides will also collaborate in analyzing air quality in Hanoi every day, transferring technology in the field of sustainable urban development, and calling for development aid from France.
Finance Ministry opposes coal export proposal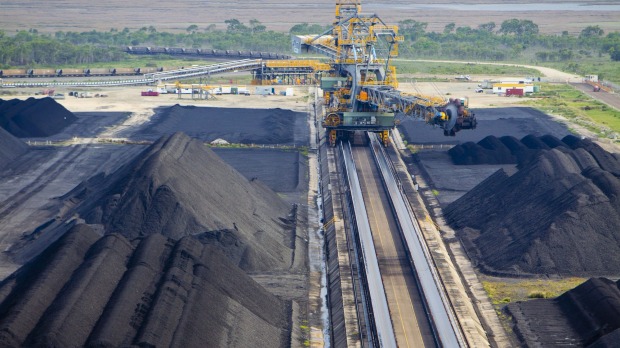 The Ministry of Finance has objected to the Ministry of Industry and Trade's proposal to export high-quality coal and coal dust in the 2016-2020 period.
The Ministry of Finance has written to the Government Office proposing a complete halt to exporting coal in line with Circular 15/2013/TT-BCT issued by the Ministry of Industry and Trade and an order of Deputy Prime Minister Hoang Trung Hai early last year.
The circular clarifies that only assigned enterprises are allowed to sell and export coal and that coal for thermal power plants cannot be exported.
Speaking at a meeting with the Vietnam National Coal and Mineral Industries Holding Corporation (Vinacomin) last year, Hai told the Ministry of Industry and Trade to assign relevant units to stop shipping abroad coal and coal dust from 2015 in order to reserve coal for electricity generation in 2018-2020.
However, the Ministry of Industry and Trade explained that Vietnam would face annual oversupplies of around 2.1-2.2 million tons of high-quality coal and coal dust in the 2016-2020 period.
However, the Ministry of Finance said high-quality coal and coal dust should be treated as reserves.
Vietnam is forecast to import around 20-30 million tons of coal a year in the 2016-2020 period and 40-50 million tons a year from 2020 to fuel thermal power plants.
ACV to hold design contest for Long Thanh airport terminal
Airports Corporation of Vietnam (ACV) is seeking the Ministry of Transport's nod for a contest to find the best design for the passenger terminal at an international airport planned in Long Thanh District in the southern province of Dong Nai.
ACV was quoted by the Vietnam News Agency as saying that the passenger terminal at the Long Thanh international airport is designed to have total floor space of around 400,000 square meters and handle 25 million passengers a year in the first phase. It should meet requirements of the International Civil Aviation Organization (ICAO) and the International Air Transport Organization (IATA) for services at leading airports around the world.
The passenger terminal should be connected consistently with infrastructure facilities at the airport and in line with the approved master zoning plan for the multi-billion airport, which is envisioned becoming an aviation hub in Southeast Asia.
ACV said the design should meet all criteria for function, architectural zoning and harmony with the surrounding landscape, among others.
Local and foreign firms and individuals are invited to take part in the contest, which is scheduled to take place from April to June this year. Based on the winning entry, ACV will work out a feasible design for the passenger terminal at Long Thanh airport.
Earlier, Japan told the Ministry of Transport about the possibility of providing US$4.3 million for carrying out the feasibility study for the terminal. The ministry later asked the Prime Minister for approval to work with Japan over the non-refundable aid and the feasibility study will be combined with the feasibility study of the whole airport project before it is submitted to the Prime Minister.
The ministry said the investment formats of components of the airport will be decided after the feasibility study of the project is completed.
The ministry expects work will start on the first phase of the long-awaited project in 2019 and be completed in 2022. One runway and one terminal of phase one should be put into operation by 2025 to handle 25 million passengers and 1.2 million tons of cargo a year.
The airport requires a total investment of more than VND336.76 trillion (over US$16 billion), including nearly US$5.5 billion for the first phase.
The project will be financed by the State budget, official development assistance (ODA) loans, capital contributed by enterprises, proceeds from equitization of State-owned enterprises and other sources.
The airport is envisaged having one more runway and terminal in the second phase to increase its annual capacity to 50 million passengers and 1.5 million tons of cargo. The respective figures for the third phase would be 100 million and five million tons a year.
Firms want cashew processing tech transfer to Africa stopped
Local enterprises have called for a number of ministries and the Vietnam Cashew Association (Vinacas) to not transfer cashew processing technology and machines to African countries for fear of copycatting.
In a document sent to the ministries of industry-trade, finance, agriculture-rural development, interior affairs and science-technology and Vinacas, domestic companies want Vinacas to propose the Government halt the transfer of cashew processing technology and equipment to African nations.
At the same time, they request Vinacas, organizations and individuals to call off technology transfer to African countries which produce unprocessed cashew.
According to data of Vinacas, Vietnam was the biggest importer of unprocessed cashew and the No. 1 exporter of cashew nuts in the world in the 2006-2015 period. This ASEAN nation imported 867,000 tons of cashew from 25 markets including 302,000 tons from Ivory Coast.
Vietnam's cashew processing technology has captured much attention of many nations like India, Brazil and those in Africa. Since 2006, many teams from India, Nigeria, Mozambique, Tanzania and Ivory Coast have come to Vietnam to study the technology.
Local enterprises said in the document that Ivory Coast has managed to enhance cooperation with Vietnam to get cashew processing technology transferred and open vocational schools in the African nation.
Many Vinacas members warned that when having the technology, African partners would restrict selling unprocessed cashew to Vietnam. At present, Ivory Coast, Ghana, Benin, Guinea Bisau and Mozambique are protecting domestic production and limit exports.
"This is why suppliers hike prices and delay shipments, resulting in an undersupply that causes huge damage to Vietnamese firms. A lack of material will lead thousands of local laborers to lose jobs while unprocessed cashew in Vietnam can meet half of demand", firms said in the document.
Big C wins two brand awards
Big C supermarket has received the 2015 Golden Dragon Award and Vietnamese Excellent Brand Award for its outstanding performance at a recent ceremony in Hanoi.
It was for the eighth consecutive year that it won the two awards.
Despite the economic situation last year, it managed to achieve satisfactory sales and opened two new stores to raise its total number to 33.
It also ran programmes to help small- and medium-sized suppliers, gave gifts to needy people during Tet (lunar new year) and International Children's Day, and undertook other charity others.
The supermarket exported more than 27 million USD worth of Vietnamese goods to over 20 countries and territories where Casino Group, its parent company, operates.
This year it will work with the Ministry of Industry and Trade and Casino Group to organise a Vietnamese Goods Week in France to promote Vietnamese goods internationally.
Given away by the Vietnam Economic Times and the Foreign Investment Agency since 2001, the Golden Dragon awards recognise the achievements of foreign-invested companies with respect to business performance, contributions to the development of Vietnam's economy, and investment and foreign trade.
Understanding rules of origin necessary to benefit from FTAs
Vietnamese enterprises should understand and meticulously apply the stringent rules of origin, as well as the exceptions of free trade agreements, to enjoy the best from preferential taxation, as free trade does not mean "free" absolutely.
The recommendation was made by Nestor Scherbey, senior adviser for the Vietnam Trade Facilitation Alliance (VTFA), at a workshop on coordination in action to facilitate trade in Ho Chi Minh City on April 6.
The Trans-Pacific Partnership (TPP) and the EU-Vietnam Free Trade Agreement (EVFTA) are considered the most complicated ever free trade agreements, requiring Vietnamese Government offices and businesses to invest time and increase their knowledge to take full advantage of these FTAs.
Herb Cochran, Executive Director of the American Chamber of Commerce (AmCham) in Vietnam, said that rules of origin within FTAs open up a new investment opportunity for multinational companies as well as their suppliers in Vietnam.
These companies will invest more in producing materials and intermediate goods to meet specific requirements in end-products at TPP markets and in Europe, he added.
As such, experts at the workshop emphasised the need for provincial authorities in Vietnam to establish a trade information database of FDI businesses and domestic suppliers, to help Vietnamese enterprises become FDI businesses' suppliers.
They also asked for more export market surveys conducted by trade information centres to clarify foreign markets' technical requirements for businesses, especially small and medium-sized ones.
Conference promotes investment in southwest inland waterways
The Steering Committee for the Southwest Region has asked the Government to consider increasing investment in the development of inland waterway routes in the region, towards promoting sustainable future development.
During a conference held in the Mekong Delta city of Can Tho on April 6, the steering committee required the Ministry of Transport and relevant localities to develop inland waterway routes in conjunction with regional and national planning, in order to optimise overall efficiency.
Deputy Transport Minister Nguyen Nhat underlined the need to enhance the State management of inland waterway transport in the region, saying that the conference offers a chance to review management at relevant agencies and localities.
The dredging of the Hau River will be completed this month, ensuring convenient travel for large vessels within provinces and cities in the southwest and to other regional nations upstream, he said.
Deputy Head of the steering committee Nguyen Quoc Viet said the region's existing inland waterway system does not match with its potential, citing the limitations of a number of upgrading and investment projects, and the high rate of waterway accidents.
According to Vice Chairman of the Can Tho city People's Committee Dao Anh Dung, the Mekong Delta region has a great number of rivers which can facilite the development of inland waterway transportation.
However, he also noted that investment, construction and management of the sector still remain limited due to shortages of investment capital.
The southwest region boasts over 14,826 km of inland waterway. But up to 109 out of 288 overpasses have yet to pass technical requirements and are in need of urgent upgrade.
Preliminary statistics show that as many as 15 waterway transport co-operatives and 387 enterprises with 1,302 vessels transport about 348.4 million tonnes of cargo and 1.9 billion passenger-km every year.
Tra fish production shifts towards sustainable supply chain
Tra fish producers in Vietnam's Mekong Delta region are changing their production models to a more sustainable supply chain, in an effort to improve fish quality and adapt to climate change.
One example of a more sustainable supply chain can be seen at the Phu Thuan fish farm of the Thuan Hung Company at Dai Thanh commune, Phung Hiep district, Hau Giang province.
The farm is divided into pools of 2,400 sq.m with signs indicating the number of fish, weight, size, and origin. Oxygenating devices are installed in the pools with pipes leading water in and out of the pools and all meet European standards.
Chau Thi My Dung, manager of the farm, said the changes helped significantly improve the survival rate of fish to 88-90 percent.
According to Associate Professor Duong Nhut Long from Can Tho University, the higher survival rate of fish from the new farming methods means a reduction of production costs and improved quality of fish.
Meanwhile, a number of fish processing enterprises have switched to energy- and water-saving technology. Huynh Duc Trung, Deputy General Director of the Vinh Hoan Company, said his company now uses smaller pipes and solar energy.
Trung said experts from the Vietnam Cleaner Production Centre (VN CPC) helped train his company's employees on the energy-saving process and as a result, the company saved 55 KWh on each tonne of fish, equal to 6 billion VND in 2015.
Developing sustainable supply chains in Vietnam is part of the SWITCH-Asia programme initiated by the European Union, which has been implemented in the Mekong Delta since April, 2013 and lasts for 48 months.
Le Xuan Thinh, from the VN CPC who manages the project, said Vietnam supplies 90 percent of the world's tra fish market, with an annual export volume of 700-800,000 tonnes and a value of 1.7-2 billion USD.
Hoang Thanh, from the European Union delegation in Hanoi, said the EU approved the project because it is a major market of Vietnam's tra fish, accounting for 40 percent of the country's tra fish exports. The EU is also promoting sustainable production and consumption in Asia.
The EU provided the project with nearly 1.9 million USD, or 80 percent of its costs. The project is being implemented by the VN CPC, WWF Austria, WWF Vietnam and the Vietnam Association of Seafood Exporters and Producers ( VASEP).
The supply chain development programme will cover all stages of pre-production, processing, trading, marketing and retail stores, to turn Vietnam into a sustainable and environmentally-friendly tra fish producer, processor and exporter by 2020.
The goal of the programme is to have at least 70 percent of tra fish production and processing enterprises on medium-to-large scales and at least 50 percent of all enterprises providing products which meet international standards, such as the Aquaculture Stewardship Council (ASC) and Global GAP.
WB: Vietnam sets successful example
Vietnam is a successful example in realising the strategic targets of the World Bank (WB) according to the bank's Systematic Country Diagnostic (SCD), an expert has said.
During an April 6 workshop on the growth quality and the role of the private sector in the national strategy of Vietnam in Ho Chi Minh City, Sebastian Eckardt from the WB also pointed to challenges that are arising.
He stated that Vietnam has had positive achievements in terms of GDP per capita reaching 5.5 percent from 1990 to 2014 on average, coupled with a sharp fall in the poverty rate and only a limited increase in gender inequality.
Vietnam is now aiming to grow at 6.5 percent in the 2015-2020 period and bring down its poverty rate, he said.
The country should narrow the gap between the rich and the poor, improve the living conditions of disadvantaged groups – particularly ethnic minorities, and reduce the environmental impacts resulting from fast growth, he added.
The WB expert also suggested Vietnam focus on equal growth and job creation, as well as sustainable management of the environment and natural resources.
The local Government also needs to develop infrastructure facilities and market institutions as well as focus on economic management, while tackling the impacts of climate change and modernising agriculture, he said.
Domestic credit growth expected to reach five-year high in 2016
Financial institutions in Vietnam expect the banking system's outstanding loans to increase 20.09 percent in 2016, the highest in the past five year, as per a report from the State Bank of Vietnam (SBV)'s Monetary Forecasting and Statistics Department.
The report was made based on a survey of business trends among credit organisations in the country.
It stated that credit institutions adjusted their expectations on the growth of capital raising and outstanding debts in the year to a more rational level, which is still higher than earlier forecast.
Capital mobilisation is anticipated to develop at an average 17.54 percent in 2016, compared to last year's expectation of 17.46 percent.
Meanwhile, the risk levels of customer groups are expected to drop significantly after 2015, providing a foundation for the banks to evaluate bad debt potentials in the future.
Some 80-90 percent of the financial organisations reckoned that the rate of bad debt will continue to fall in Quarter I and II from previous quarters. Most of the banks surveyed anticipate a lower bad debt rate this year, with 91.2 percent of them believing that the rate will be less than 3 percent.
Banks reported strong liquidity for both Vietnamese dong and foreign currencies over the entire banking system, and expect stable conditions for the whole year.
HCM City, int'l partners to improve TPP education
The HCM City People's Committee signed a memorandum of understanding (MoU) to improve the domestic business environment and increase education on trade agreements such as the Trans-Pacific Partnership (TPP) yesterday in HCM City.
The MoU was also signed by the Việt Nam Chamber of Commerce and Industry (VCCI) and the American Chamber of Commerce in Việt Nam, representing the Việt Nam Trade Facilitation Alliance (VTFA).
Under the MoU, the VCCI will support the city in organising research, surveying the business environment, consulting on administrative reform, helping with business start-ups, and enhancing corporate governance capacity and the competitiveness of small- and medium-sized enterprises.
The VCCI will offer training courses, conferences, seminars, workshops and trade networking.
The VTFA and VCCI will also work with authorities to organise training courses on market research; support enterprises in e-commerce development; and promote technological application, innovation, brand building and trade promotion.
"We would like to collect all support policies and programmes from local authorities that create trade benefits for the local business community. From such policies, one action plan should be established to effectively support enterprises," Võ Tân Thành, director of the VCCI – HCM City branch, said.
Herb Cochran, executive director of AmCham Việt Nam, said "The event aims to help Vietnamese businesses and Government to understand more about the new FTAs in general and the WTO Trade Facilitation Agreement and the TPP in particular."
In 2015, the Việt Nam Trade Facilitation Alliance was set up by AmCham in co-operation with VCCI to provide technical assistance to Việt Nam's customs authorities and state management agencies, and information to the National Assembly and business associations.
The purpose of the VTFA is to support Việt Nam's international integration through fulfillment of Việt Nam's international trade and investment commitments, with a special emphasis on implementation of the WTO Trade Facilitation Agreement in Việt Nam - as well as FTAs with similar provisions.
In addition, VTFA provides support to Vietnamese businesses to help them join global supply chains and inform them about the requirements needed in order to do so.
Nestor Scherbey, a VTFA senior advisor, pointed out that free trade is not really "free".
"It will take a significant investment of time, effort, specialist expertise and dedicated resources for state agencies, companies and traders to successfully implement the benefits of the TPP, the EVFTA and other free trade agreements with respect to their goods," he said.
"Tariff engineering" of goods for preferential tariff eligibility under these trade agreements requires details on products, processing and materials analysis to determine their status under each agreement's specific rules.
Companies and traders will have to assess the impacts of these agreements on their global supply chains, step up their visibility for multiple tiers of suppliers who, through lack of management and oversight of supplier relationships, might create difficulties.
Scherbey suggested that at the provincial level, local authorities should establish a trade information database of FDI companies and domestic suppliers, for the purpose of identifying specific opportunities for Vietnamese companies that aim to become suppliers to FDI companies.
With help from technical experts, they will conduct surveys of FDI companies to identify the materials and intermediate goods Vietnamese producers can supply to FDI companies in order to produce export products to qualify for TPP and EVFTA preferential treatment.
"A Trade Information Centre will notify Vietnamese producers of the opportunities that have been identified, as well as provide TPP, EVFTA and other FTA trade information resources," he added.
He said local authorities should sponsor and organise training courses and seminars for Vietnamese companies on global supply chains.
In addition, the New Trade Information Centre should conduct export marketing research on foreign technical standards and requirements for companies - especially SMEs.
"With the TPP, Vietnamese exports could reach US$307 billion by 2025, as opposed to $239 billion without the TPP," Cochran of AmCham said.
Việt Nam is expected to reap large gains, as there would be more exports of manufacturers (34 per cent more), more imports of consumer and production goods (27 per cent), more inward FDI due to investor optimism, stronger links to international supply chains, productivity gains from competition, and momentum for reforms that boost growth and opportunity.
To support Vietnamese enterprises, the VTFA, VCCI, AmCham, the US Agency for International Development (USAID) and Việt Nam signed an MoU on customs-business partnerships and other customs procedures and standards, including mutual assistance agreements and the creation of a national committee on trade facilitation.
VN vegetables export value rise
Việt Nam gained a year on year increase of 41 per cent from export value of vegetable and fruit to US$526 million in the first three months of this year.
According to the Ministry of Agriculture and Rural Development (MARD), Vietnamese vegetable and fruit products have made forays into some tough markets that include Japan, South Korea and the United States (US).
However, China remained the largest exporter of Vietnamese vegetable and fruit products, accounting for 71 per cent of the total vegetables and fruits, because this market does not need very high quality products as the other markets.
In the first two months of this year, China imported $236 million worth of vegetables and fruit from Việt Nam.
The ministry said Việt Nam has still had numerous challenges in finding more export markets to reduce the dependence on China's markets, reported Tuổi trẻ newspaper.
According to the Việt Nam Gardening Association, Australia has permitted Việt Nam to export litchi while New Zealand has considered importing some kinds of Vietnamese rambutan.
The domestic farming industry has implemented the necessary procedures and solved difficulties to export some kinds of fruits such as star apple, longan, litchi, rambutan and dragon fruit to Asian markets, including South Korea and Taiwan, the association said.
In 2015, Việt Nam had the first exports of fruit to the US, including 3 million tonnes of litchi and 100 tonnes of longan, Tin tức newspaper reported quoting the association.
Việt Nam expected to make $2 billion in vegetable and fruit exports this year because the nation can enter further three more tough markets, including Japan, the European Union and the US.
The ministry said the importer countries have two technical barriers including food safety and plant quarantine so only if Việt Nam's vegetable and fruit products meet standards of food safety and plant quarantine, can they enter the global market.
Last year, Việt Nam's vegetable and fruit export value reached $1.8 billion, 23.7 per cent higher than 2014, becoming one of top five farming export products in Việt Nam, including rice, coffee, cashew nut and rubber.
Vietnamese vegetable and fruit products have been exported to 40 countries and territories. Of these, 10 major export markets include mainland China, Japan, the US, and Russia, in addition to China, South Korea, Indonesia, and the Netherlands. The other countries are Thailand and Singapore.
Corporation 36 to auction 4.3m shares at IPO launch
Corporation 36 will offer 4.3 million of its shares at the company's initial public offering (IPO) on April 14.
The shares will be auctioned on the Hà Nội Stock Exchange (HNX) at a starting price of VNĐ10,100 (US$0.44) each.
Earlier this year, Prime Minister Nguyễn Tấn Dũng approved Corporation 36's equitisation plan, involving the sale of part of the State's shares and issuing a greater stake to increase its charter capital.
Upon equitisation, Corporation 36, which is under the management of the Ministry of Defence, will have a charter capital of VNĐ430 billion, in which the State will hold a 40 per cent stake.
Meanwhile, strategic shareholders and employees will hold a 42.21 per cent and 7.79 per cent stake, respectively.
The corporation was established in 1996 and operates in many fields, including civil engineering, transport infrastructure and irrigation works. It has an annual production value of more than VNĐ2 trillion, and employs more than 10,000 workers.
In 2015, the company earned a revenue of about VNĐ3.8 trillion, with revenue growth of 12 per cent per year on average.
The company has implemented about 200 projects in 50 provinces nationwide and also in Laos.
Credit institutions optimistic
Most credit institutions expected their business performance to see sustained growth this year due to good liquidity and decreasing risks and bad debts, according to a State Bank of Viet Nam (SBV)'s survey.
Under the survey, some 92 per cent of the surveyed institutions said their business performance this year would be better than in 2015. Among them, 37.6 per cent expected "a much better result."
The respondents expected their profits to rise by 12.67 per cent this year due to net income from interest, fees and services. Despite remaining relatively high, the expectation of profit had dropped compared with the Q1 survey conducted earlier this year, when it was set at 14.39 per cent.
Credit growth is expected to hit the five-year-high record, surging 20.09 per cent this year, while capital mobilisation will rise 17.54 per cent.
According to the institutions, the liquidity of the banking system is currently good for both the đồng and foreign currencies. They expected the strong liquidity to be maintained in the next quarter and throughout the year.
As for the first quarter, 68.3 per cent of the surveyed institutions said their business performance results had continually improved against the previous quarter.
Some banks have so far also targeted optimistic business performance results this year.
This week, Vietcombank said it would aim to add 10 per cent in pre-tax profits to reach VNĐ7.5 trillion (US$333 million) this year.
According to a statement prepared for its shareholders' meeting, due to be held in mid April, the Hà Nội-based bank's deposits are set to rise 15 per cent to reach VNĐ578.458 trillion in 2016, while its outstanding loans will rise 17 per cent to touch VNĐ452.967 trillion.
The bank, with total assets worth VNĐ673.910 trillion as of the end of last year, earned VNĐ1.3 trillion in revenue in the first two months of this year, after having to spend roughly VNĐ900 billion on provisional costs.
Nam A Bank also plans to report a pre-tax profit of VNĐ300 billion this year, an increase of 19 per cent over last year.
This year, deposits at Nam A Bank are expected to grow by 17 per cent year-on-year to reach VNĐ28.5 trillion, and its outstanding loans are expected to rise by 20 per cent year-on-year to VNĐ25 trillion.
BCG set itself a profit target of VNĐ75 billion in 2016
Bamboo Capital JSC has set itself a profit target of VNĐ75 billion on consolidated revenues of more than VNĐ1.8 trillion, this year, or year-on-year increases of 26 per cent and 87 per cent.
BCG has stakes in 15 companies operating in various industries, like Transport and Industry Development JSC (Tracodi), Thành Phúc JSC, Nguyễn Hoàng JSC, Bắc Hà Minerals Exploitation JSC, An Giang Joint Venture of Construction Material Exploitation and processing (Antraco), Vinataxi, ACG Việt Nam, including 50 per cent or more in many.
It expects Tracodi, Antraco, and Nguyễn Hoàng to contribute greatly to its profits in 2016.
This year it plans to acquire stakes in a number of companies such as 1-5 Auto Company, Thành Vũ Tây Ninh JSC, Đà Lạt Coffee Import Export Company.
These are large manufacturing companies that are expected to contribute greatly to BCG's bottom line.
This year the company will also, together with its partners, develop property projects in HCM City, Quy Nhơn, Hà Nội, and Long An,  including a 78,000sq.m shopping mall in Củ Chi, HCM City, the four-star Casa Marina Quy Nhơn Resort, and a five-star office and hotel building in HCM City's District 1.
It plans to raise its corpus from VNĐ407 billion ($18.17 million) to VNĐ1.08 trillion ($48.21 million) this year to serve its investment plans, including investing in companies and M&A activities in the automobile, agricultural processing and trading, coffee export and cattle breeding sectors, Vũ Trần Vĩnh Thụy, director of investment and project management at BCG, told an investors'meeting in HCM City on April 6.
Bamboo Capital plans to pay dividends of 8 per cent this year and 12 per cent next year, he added.
Hong Kong seminar highlights investment opportunities in Vietnam
A seminar was held in China's Hong Kong Special Administrative Region on April 6 to introduce business and investment opportunities in Vietnam.
Vietnamese Consult General to Hong Kong and Macau Hoang Chi Trung welcomed investors and trade groups from Hong Kong to the Southeast Asian country and pledged to give them maximum support.
Meanwhile, Vietnamese Ambassador to China Dang Minh Khoi spoke in length about the economy in Vietnam as well as its policies to attract investment.
He underlined the geographical proximity and cultural similarities as advantages for Chinese investors, including those from Hong Kong, to explore business chances in Vietnam.
The diplomat confirmed that Hong Kong plays a crucial role as a gateway for Vietnamese economy to reach out the region and beyond.
Vietnam 's engagement in regional free trade agreements (FTAs) and integration in global economy have created enormous opportunities for foreign businesses, especially those from Hong Kong , to run investment in the Southeast Asian country, he added.
Assistant to the Foreign Minister Vu Quang Minh said Vietnam is evaluated as an ideal investment destination thanks to its transparent policy and quick procedures, adding that the foreign investment capital poured into the country has been increasing in recent years.
As a member of the Trans-Pacific Partnership (TPP) Agreement, Vietnam is improving its investment environment and relevant policies as well as building a legal framework in line with international criteria to draw overseas investment projects.
Vice Chairman of the People's Committee in northern border Quang Ninh province Nguyen Van Thanh introduced Hong Kong investors about the business climate in the locality and pointed to the local prioritising fields such as tourism, services, processing industry, support industry and financial services.
He told businesses that Quang Ninh is building the Van Don Sepcial Economic Zone, the first of its kind in Vietnam, with favourable administrative procedures to attract foreign investors.
The official cited that Hong Kong is running 13 investment projects in Quang Ninh with a total registered capital of up to 989 million USD, ranking second out of the 18 countries and territories investing in the province.
He said he believes that an increasing number of investors from Hong Kong will arrive in Vietnam and Quang Ninh in particular to seek investment opportunities.
Representatives from the Ministry of Planning and Investment briefed the economic and investment collaborative relations between Vietnam and China and Hong Kong in recent years.
The Vietnamese and Chinese Governments have set up a number of cooperation mechanisms to bring new opportunities for the two countries' business communities.
Vietnam hopes major companies from China, including Hong Kong and Macau, will come to Vietnam to seek partners and explore investment climate, in a bid to drive the two nations' economic ties forward.
Vietcombank to curb bad debt below 2.5%
The Joint Stock Commercial Bank for Foreign Trade of Viet Nam (Vietcombank) aims to keep non-performing loans under 2.5 per cent.
It also aims to add 10 per cent in pre-tax profits to reach VND7.5 trillion (US$333 million) this year.
According to a report released this week, the Ha Noi-based bank's deposits are set to rise 15 per cent to reach VND578.458 trillion in 2016, while outstanding loans will rise 17 per cent to touch VND452.967 trillion.
It also expected to pay a maximum dividend of 10 per cent this year.
The bank also wants to increase its total assets by 13.5 per cent to reach VND765.438 trillion this year, and also raise its charter capital from VND26 trillion to VNĐ35 trillion through share issue to become more competitive. A member of the bank's management board Le Thi Hoa earlier said Vietcombank would make 10 per cent of its primary shares available to foreign investors to increase its charter capital.
She said the bank also planned to issue bonus shares at a ratio of 35 per cent.
Japan's Mizuho Bank, which owns 15 per cent of Vietcombank, would maintain at least their current ownership ratio, and may increase it to 20 per cent, Hoa said.
Foreigners are allowed to hold a maximum of 30 per cent of Vietcombank's shares. Currently, the ratio stands at 21 per cent.
The bank, with total assets worth VND673.910 trillion as of the end of last year, earned VND1.3 trillion in revenue in the first two months of this year, after having to spend roughly VND900 billion on provision costs.
Viet Capital Bank launches Visa cards
Viet Capital began to issue Visa credit cards in HCM City on April 5.
Viet Capital Visa classic and platinum cards use EMV chip technology to prevent fraud.
The platinum card is the first 3D credit card in Viet Nam, which would help prevent fraud and enhance security, Ho Minh Tam, Viet Capital Bank's deputy general director, said.
To enable more and more consumers to access the modern financial product and contribute to the development of non-cash payment system in Viet Nam, the bank would not collect card issuance and annual fees, and offer a majority of its services for free, he added.
Sean Preston, Visa's country manager for Viet Nam, Cambodia, and Laos, said Visa cards are accepted by more than 30 million merchants worldwide, including more than 2 million ATMs.
Edge accounts for 76 per cent of Samsung Galaxy S7 sales in VN
Samsung Viet Nam reported on April 5 that Edge has accounted for 76 per cent of Galaxy S7 sales.
Nearly two weeks after the two phones were launched in the country, it said gold was the most popular colour with customers.
The company did not reveal sales numbers.
Earlier it had said that pre-orders for the new phones were three times the number it had got for S6 and S6 Edge.
The S7 costs VNĐ15.99 million (US$733) and the S7 Edge, VNĐ18.49 million ($848).
YouthSpark 2016 launched with $270,000 investment
The YouthSpark 2016 programme was officially launched on April 4 with an investment of US$270,000.
Co-organised by Microsoft Viet Nam and the Viet Nam Chamber of Commerce Industry (VCCI), this year's programme is entitled "Career Readiness" and aims to empower the youth by providing them with opportunities for education, employment and entrepreneurship.
Of the total investment, Microsoft Viet Nam has funded about $230,000 and VCCI has provided more than $40,000. According to the programme's initial plan, about 4,600 adolescents would directly benefit from the support provided by the programme.
During the launching ceremony, nearly 200 participants including youth, lecturers and representatives of enterprises gathered to share their practical experiences in training and entrepreneurial opportunities. Experts provided youth with the latest information on education and business, and nurtured their passions while encouraging their entrepreneurial spirits.
There was also a discussion between local and foreign experts about the opportunities and challenges that the Vietnamese labour market is facing as Viet Nam has recently signed many Free Trade Agreements and joined regional and international economic communities.
This programme served as an open dialogue between experts, businesses and universities as well as vocational schools, aiming to strengthen the links between businesses and educational institutions, said General Secretary of VCCI Pham Thi Thu Hang.
"Not only do enterprises provide information about their demand for employers, but they also directly participate in the vocational training process so they can conduct an objective assessment of their labourers, providing them with practical knowledge and experiences," she said.
Microsoft's YouthSpark is a global initiative that aims to offer opportunities to 300 million youth in more than 100 countries around the world. The programme aims to provide technological skills in training, along with connections for employment and entrepreneurial opportunities for youth.
In Viet Nam, it focuses on three areas including employment, investment for youth and support for young leaders across the country.
Mercedes-Benz VN recalls cars to replace faulty airbags
Mercedes-Benz Viet Nam is recalling nearly 1,200 cars to check and replace faulty airbags at its official dealers nationwide to resolve the problem.
The car models being recalled are C200K and C230, produced from 2006 to 2009.
The recall campaign, which began on March 28, will continue till December 31, 2017. The time required to check and replace the faulty parts is estimated to be two hours per car.
As for units imported through unofficial suppliers but named in the list, if the car owner wants, the firm will check and replace the airbag under its recall campaign.
BMW to mark 100th birthday with auto expo
Some 100 models of BMW Rolls Royce, Mini and other cars and Motorrad motorbikes will be on display at the BMW World Expo to be held from May 6 to 9 at Ha Noi's National Convention Centre.
The "Future of the automobile" expo will be organised by BMW Group to celebrate its 100th anniversary.
Among its interesting events will be one called "Together we build the history of the future" in which customers can show how they see the world in the next 100 years on the expo fanpage and website.
In another development, Euro Auto, the sole importer of BMW in Viet Nam, launched the seven-seat BMW Series 2 Gran Tourer.
This is the first luxury seven-seat vehicle in the MPV segment. The Gran Tourer has a 1,499cc engine and costs VNĐ1.49 billion (US$68,700).
From today Euro Auto is offering a summer promotion programme with free insurance for BMW cars, credit without interest rate for the first month and a rate of 5.99 per cent for the next six months.
PetroVietnam appoints saviour for ailing fibre subsidiary
Vietnam's state-run oil and gas group PetroVietnam has recently appointed a new general director cum chairman of the board of directors to take charge of its ailing $325 million polyester fibre and yarn factory PVTex Dinh Vu Joint Stock Company (PVTex), according to newswire Vnexpress.
PetroVietnam charged new general director cum chairman Pham Van Chat to stop the continuous losses of PVTex within six months.
Chat said that Vietnam's participating in the Trans-Pacific Partnership Agreement (TPP) would offer an opportunity for PVTex to restore its manufacturing activity as well as streamline its operation.
PVTex's factory in the northern port of Haiphong was shut down in September 2015, merely a year after coming into operation. The company may be at the brink of bankruptcy due to higher-than-expected costs and uncompetitive products.
According to a report published by PetroVietnam, in 2015 PVTex incurred losses of VND1.2 trillion ($53.8), up VND120 billion ($5.38) on-year. PVTex's poor financial standing made it impossible to pay off its total bank debts of $221.3 million, including $70.7 million in short-term loans.
In March, PVTex requested the Vietnam government for an additional $34 million loan to invest in the plant, with a 23-year payback time instead of the nine years stipulated by a previous loan. PetroVietnam also proposed that the government adopt tariff barriers against imported fibers from China and Thailand, and asked for help in selling the factory's products to local garment-makers.
PVTex is 74 per cent owned by PetroVietnam, With the remaining 26 per cent held by PetroVietnam Fertilizer and Chemicals Corporation. The factory came into operation in May 2014 after six years of construction. The facility has a capacity of 236 tonnes of polyester fibre and yarn per day.
Vietnam Airlines leases aircraft
Vietnam Airlines JSC is planning to lease 20 A321 NEO Aircraft with delivery schedule in 2018 and 2019.
If there would be of your interest, please do not hesitate to contact us at the following address:
Ms. Nguyen Hai Thanh - General manager of Aircraft Acquisition Office, Investment – Procurement Department.
E-mail: thanhnh@vietnamairlines.com
and
Ms. Nguyen Hai Anh - Executive Aircraft Acquisition Office, Investment – Procurement Department.
Email: haianhnguyen@vietnamairlines.com
Vietnam Airlines finished out 2015 with an expanded flight network that includes 57 international flight routes to 29 destinations and 39 domestic flight routes to 21 destinations. It also increased its fleet, up from 76 aircraft in 2011 to 97 by the end of 2015. Last year, Vietnam Airlines became the first carrier in the Asia-Pacific region to operate the Airbus A350-900 and Boeing 787-9, the two most modern aircraft in the world.
SSI leads brokerage on both markets
Saigon Securities Inc. (SSI) led brokerage firms on both the Ho Chi Minh City Stock Exchange (HSX) and the Hanoi Stock Exchange (HNX) in the first quarter with market shares of 13.96 per cent and 11.04 per cent, respectively.
On HSX the Ho Chi Minh City Securities Corporation (HSC) followed SSI, with 13.67 per cent, then BanViet Securities Company (VCSC) with 10.18 per cent.
In bond brokerage on HSX, the Techcombank Securities Company held the largest market share, of 60.56 per cent, followed by the Bao Viet Securities Company and the VNDirect Securities Company with 33.09 per cent and 3.46 per cent, respectively.
In second place on HNX among brokerage firms was the VNDirect Securities Company, with a market share of 10.23 per cent, followed by the KIS Vietnam Securities Company with 7.09 per cent.
VEF/VNA/VNS/VOV/SGT/SGGP/Dantri/VET/VIR