VietNamNet Bridge - Nguyen Duc Kien, or 'mogul Kien,' and Tram Be once had long arms in the banking sector. But not now.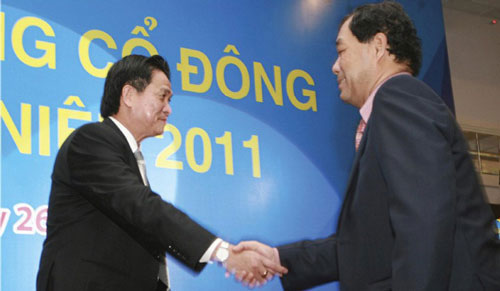 Sacombank is undergoing the restructure
Three years after Dang Van Thanh stepped down from the post of member of Sacombank's directors' board, his opponent – Tram Be – also had to say 'goodbye' to Sacombank.
The exit of Tram Be was officially approved in November 2015 by Sacombank's board of directors. By that time, Be had been in the banking sector for more than one decade.
Tram Be was the hidden influential businessman behind the hostile takeover of Sacombank. 
The deal was made at the time when commercial banks were forced to undergo restructuring to settle bad debts and clear the so called 'cross-ownership' status.
However, it seemed that the first effort to restructure Sacombank could not bring the desired effects.
Sacombank in the reign of Dang Van Thanh was found as having many problems as it provided big loans to Thanh Thanh Cong Group owned by Thanh's family. However, at that time, Sacombank was still among the best banks in the market with high profits.
Sacombank, after being taken over by a group of shareholders headed by Tram Be, saw big changes. Nguyen Xuan Thanh from FETP, commented that the bank's cross-ownership status got even more complicated, which related not only to non-finance businesses, but commercial banks as well.
Nguyen Duc Kien, or 'mogul Kien,' and Tram Be once had long arms in the banking sector. But not now.
The new shareholders after the takeover were Tram Be family and other institutional shareholders, including Eximbank, Southern Bank and the joint stock companies which have relations with the banks – Rong Viet Securities, Sai Gon A Chau Finance Investment and Sai Gon Exim Investment.
Sacombank witnessed many changes from 2013 to the day when Sacombank and Southern Bank merged in late 2015, when the State Bank began holding 51 percent of the bank's stake.
What happened with mogul Kien?
Before undergoing restructuring, ACB in 2011 was considered the bank which had the largest total assets and biggest outstanding loans. It was also listed among the banks with good financial health, high profitability and low bad debt ratio.
However, it was later found as having complicated ownership structure and investment activities. By 2012, it had held stake of four big commercial banks – Eximbank, Dai A, Viet Nam Thuong Tin and Kien Long.
There were three big groups of shareholders in ACB – Tran Mong Hung and his family's members, Nguyen Duc Kien and his family members and foreign investors (Standard Chartered Bank, Dragon Capital and Connnaught Investors. 
In 2008-2011, Nguyen Duc Kien controlled ACB's operation, while other shareholders did not have voice. However, due to a lot of illegal activities, Kien was arrested. Tran Mong Hung's family has returned to hold power.
M. Ha