VietNamNet Bridge – The Veterinary Department has confirmed that all Chinese chickens imported into Vietnam are illegal and the authorities of Vietnam and China have not yet signed any agreement on the export and import of livestock and poultry products.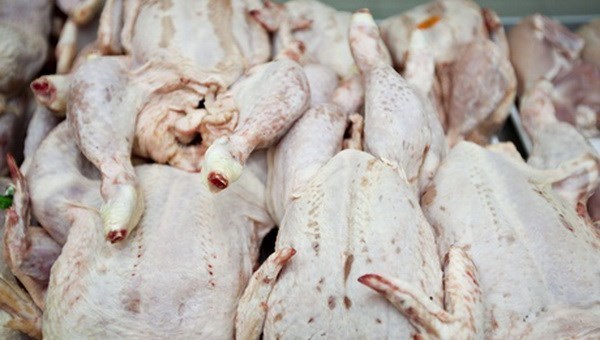 An official from the Veterinary Department told Infonet said the transport of livestock and poultry products across the Vietnam-China border is still going on. Particularly, Chinese chicken for meat and 1-day-old breeding chicken are imported into Vietnam while Vietnam's buffaloes, cows, pigs are exported
The transport of cattle, poultry and livestock products across the border is illegal as no agreement has been signed between the countries, he said.
The products don't have clear origin, and they may carry dangerous infectious pathogens such as avian influenza, foot and mouth disease... because they are not managed by veterinary professionals.
Based on the situation, the veterinary agencies of Vietnam and China held bilateral meetings on techniques to share information on the disease situation, especially avian influenza, foot-and-mouth disease of cattle and blue ear disease of pigs. The results of animal disease surveillance and experience in animal disease prevention were also discussed.
The most recent meeting took place in January 2016 with the support of FAO. This was the 4th bilateral conference on veterinary cooperation, strengthening of supervision and control of animal diseases across borders.
At the meeting, the two sides discussed long-term solutions to control and reduce the activity of illegal trade in animals and animal products across the borders.
This is in line with international practice in the context of global trade at present; countries have to build technical barriers based on quality standard norms, and specific technical limits for export and import goods.
For Vietnam, this is the task of the Ministry of Agriculture and Rural Development to develop quality standards for imported poultry; promulgate regulations and outline procedures for poultry imports.
On the Chinese side, the mission of the veterinary agency is to lookfor measures to minimize the risk of foot and mouth virus in cattle, blue ear virus in pigs, and avian influenza virus in ducks from Vietnam to enter China.
So far the two sides have not had any specific plan.
Many people are concerned that allowing the import of Chinese chicken will hurt the domestic livestock industry but in the context of globalization, the prohibition on international trade is difficult; countries can only apply technical barriers to restrict trade and protect domestic production.
There is no exception to the trade of animals and animal products. Technical barriers will help limit imported products and ensure food safety, the official said.
Linh Nhat