VietNamNet Bridge - With a score of 68.34, Da Nang once again ranks first in the country for provincial competitiveness. The next positions belong to Dong Thap, Quang Ninh, Vinh Phuc and Lao Cai.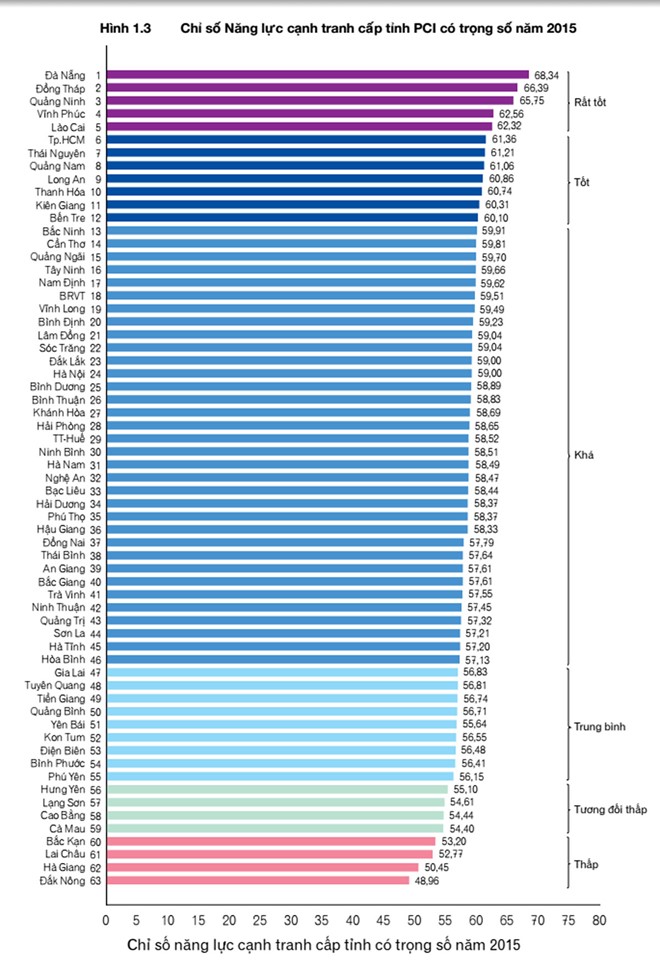 The PCI 2015. Source: VCCI.
According to the Provincial Competitiveness Index (PCI) report in 2015, released on March 31 by the Vietnam Chamber of Commerce & Industry (VCCI) and the US Agency for International Development Cooperation (US-Aid), Da Nang - the largest city in central Vietnam - maintains the first position in the PCI 2015, the third consecutive year.
Specifically, for administrative reform, thanks to the gathering of all administrative agencies into the same headquarters, the percentage of businesses that did not have to travel a lot to get stamps and signatures increased from 67% in 2014 to 70% in 2015. The percentage of civil servants working efficiently in this province also rose from 71% to 76%.
Among the northern mountainous provinces, Lao Cai makes the top 5, while its two neighboring provinces of Lai Chau and Ha Giang rank among the three provinces with the lowest PCI.
HCM City is praised for good competitiveness, in the top six with 61.36 points. Hanoi ranks 24th, far behind the Central Highlands provinces of Lam Dong and Dak Lak, but it is still a spot above the southern province of Binh Duong.
One of the new features of this year's report is the survey of 1,600 foreign-invested enterprises in Vietnam, to assessVietnam's business environment and effects of foreign direct investment (FDI) in provinces and cities.
Foreign investors said that Vietnam is a relatively safe environment to do business, with 60% of FDI enterprises agreed with the above statement.
Meanwhile, 30% said Vietnam has equivalent risks to other countries. The two main risks with foreign firms are the changes in the domestic or international financial system; and changes in laws, which caused their profits to decline.
The VCCI's report also said that about 70% of FDI enterprises admitted they have to spend more than 5% of the total amount of time to deal with administrative procedures.
Meanwhile, access to important documents such as planning and local budgeting tends to be more and more difficult for them.
Regarding the Trans-Pacific Partnership (TPP), the survey in 2015 showed that the understanding of this important agreement of local businesses was much lower than that of the foreign enterprises in Vietnam, which came from the TPP member states. However, domestic enterprises actively supported the TPP.
Nam Nguyen