VietNamNet Bridge – The Vietnam Food Association (VFA) has forecast that China would account for around half Vietnam's rice export volume this year as the northern neighbor did last year.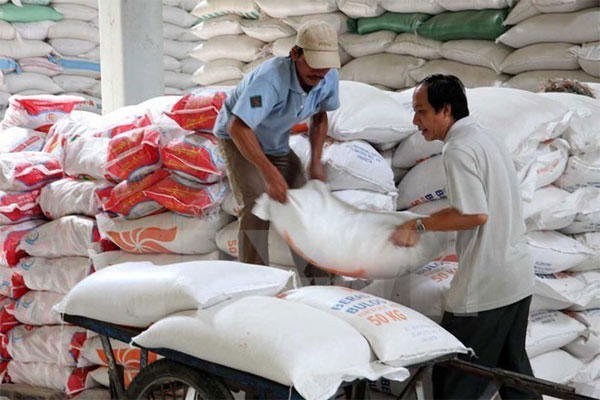 Illustrative image -- File photo
Huynh The Nang, chairman of VFA and general director of Vietnam Southern Food Corporation (Vinafood 2), said at a conference in Tien Giang Province last week that Vietnamese enterprises shipped more than four out of 8.3 million tons of rice for export last year to China via formal and informal channels.
The volume of rice going to China in 2016 would be the same as last year, Nang told the conference on the 2015-2016 winter-spring rice crop and plans for the upcoming summer-autumn and autumn-winter crops this year.
VFA said its member enterprises exported a total of 856,220 tons of rice in the first two months of this year, with shipments to China soaring 83.86% year-on-year and making up 18.55% of the total volume.
Meanwhile, data of the Ministry of Agriculture and Rural Development indicated more than 30% of the 6.6 million tons of rice shipped abroad through official channels last year went to the world's most populous country.
Nang warned that local exporters would continue facing payment risks and the unexpected closure of border gates in staple food trade with China this year as in previous years.
As for the 2015-2016 winter-spring rice crop, the ministry's Cultivation Department said that owing to a larger rice producing acreage in the period, total output dropped by only over 190,000 tons compared to the same crop of the previous year.
The department said paddy was sown on more than 1.66 million hectares in the 2015-2016 winter-spring crop, over 25,700 hectares higher than in the previous year. Of which, the Mekong Delta had 1.59 million hectares, down 186,144 hectares over a year earlier, and harvested more than 10.9 million tons of paddy.
Total paddy output of the 2015-2016 winter-spring crop exceeded 11.3 million tons, falling by 190,350 tons year-on-year.
However, Le Thanh Tung from the department said if the extra rice acreage had not been taken into account, the paddy output of the crop should have slid by around 378,000 tons against the 2014-2015 winter-spring crop due to drought and saltwater intrusion in the Mekong Delta as well as low productivity.   
The department calculated the calamity damaged 58,250 hectares of rice in the 2015-2016 winter-spring crop.
Tung said with the lower-than-projected drop in paddy output, rice supply of the winter-spring crop for export would be more than 3.8 million tons.
VFA said by March 17 Vietnam had secured rice export contracts for around 2.57 million tons, including 1.12 million tons carried forward from last year.
Despite ample supply in the Mekong Delta region, high demand from export markets lifted paddy prices in the winter-spring crop. IR 50404 paddy was sold at VND4,900-5,100 a kilo last week, up VND700-900 compared to the 2014-2015 winter-spring crop.
SGT