SBV: Still much room for property loans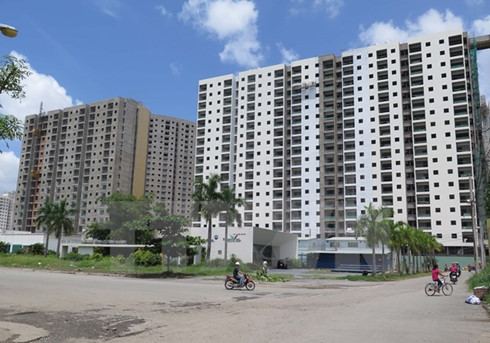 The State Bank of Vietnam (SBV) has said there will remain much room for banks to lend to the property sector even if credit tightening regulations drafted in Circular 36 apply.
Under the draft of the revised Circular 36 on which the SBV is seeking comments, commercial banks can use short-term capital for medium- and long-term loans at a maximum ratio of 40%, instead of the current 60%.
As explained by the drafting committee, the circular is revised to reduce liquidity risk for banks and too much lending to real estate.
The SBV said in a statement sent to the media on Tuesday that with the average ratio of short-term capital used for medium- and long-term loans at only 31% late last year, banks could continue providing more medium- and long-term loans for the economy, including the property sector. They could lend some VND540 trillion (around US$24.28 billion) but still meet the limit of 40% as proposed in the draft circular.
In addition, the risk weight of loans for real estate business, if adjusted from 150% to 250%, would place little impact on the capital adequacy ratio (CAR). The central bank calculated that credit institutions can still lend an additional VND650 trillion before they reach the CAR of 9%.
The SBV said the revision of Circular 36 would not cause significant impact on credit to the real estate market. The problem is that whether real estate investors and traders could meet safety standards and loan requirements or not.
Real estate speculators and investors with poor financial capability would be most vulnerable to credit tightening. They are among those responsible for market volatility and bubbles of the real estate market if no effective measures are adopted, according to the SBV.
People who buy homes to live or benefit from the Government's budget housing programs would not be affected by the revision of Circular 36, the central bank said.
It warned new bank credit risks surfaced last year as medium- and long-term loans soared 29% and accounted for nearly 50% of total outstanding loans. This could pile pressure on medium- and long-term capital mobilization as well as interest rates.
By the end of last year, outstanding loans for real estate trading and investment amounted to VND393 trillion, up 26% against 2014. If corporate bonds were taken into account, credit institutions' total outstanding loans for real estate totaled VND478 trillion.
The real estate market, according to the SBV, could not develop sustainably if it depends solely on bank loans. The current credit structure shows that banks lend to both property investors and buyers, meaning banks are facing a double-barreled risk.
Maltese firms eager for cooperation with Vietnam
Maltese firms wish to do business with Vietnam in the fields of infrastructure, financial service, tourism and training, and many of them are ready to make inroads into the country, a Vietnamese diplomat said following a business workshop in Malta's capital.
The workshop was held recently in Valetta by the Vietnamese Embassy for Italy and Malta and Malta's Chamber of Commerce, Industry and Investment.
At the event, Vietnamese Ambassador to Italy and Malta Cao Chinh Thien briefed participants on Vietnam's door-opening policies to promote cooperation in investment, economics and trade with foreign counterparts, and Vietnam's socio-economic development in the recent time.
He highlighted fruitful development of the bilateral political and diplomatic ties between Vietnam and Malta over the last 40 years, but noted that economic connection between the two countries has yet to match the existing potential.
Thien affirmed that economic and trade links will be a priority in bilateral relations in the coming time.
Vietnamese Trade Counsellor Bui Vuong Anh also provided detailed information about export-import and investment between Vietnam and Malta, stressing that the two sides should strengthen connection in Malta's fields of strength such as maritime transport, foreign trade logistics, banking-finance, and tourism service.
Maltese and Italian entrepreneurs who have done business in Vietnam shared their experience in operating in the Southeast Asian nation.
Earlier, Ambassador Thien and Trade Counsellor Anh had meetings with representatives from the Malta Financial Services Authority to discuss possibilities for cooperation in financial service.
Becoming a member of the Europe Union in 2004, Malta is said to be a gate to Europe and North Africa for international businesses, especially in maritime, logistic and financial service.
The country can be an entrepôt for Vietnamese goods before entering the EU, East-South Europe and North Africa, especially as Vietnam and the EU are expected to sign a free trade agreement in the time ahead.
The Malta Chamber of Commerce, Enterprise and Industry is scheduled to organise a market-research tour to Vietnam in 2017 for Maltese businesses.
Deputy minister urges wider use of IT in business, state offices
Application and development of information and telecommunications significantly contributed to national socio-economic growth during the 2011 – 2015 period, especially in HCM City, delegates heard at a meeting held in HCM City on Friday (March 11).
Speaking at the meeting, Phan Tâm, deputy minister of the Information and Communications Ministry, said: "2015 was a very special year as the information and telecommunications industry became the biggest tax contributor to the State budget. Turnover of the industry was more than US$42 billion."
The industry has gained an annual growth rate of 20 -25 per cent, and since 2009, Việt Nam has been listed in the top 10 nations considered to be the most attractive for software processing.
All ministries, industries and localities now have websites that provide public services.
The broad application of information and telecommunications in businesses has also helped to develop e-commerce and promote labour productivity and competitiveness.
HCM City was recognised as a leader in developing information and telecommunications' applications with many achievements, including expanding the Quang Trung Software City (QTSC) to other localities, and completing rehearsals to protect and rescue information systems in case of attacks from the outside.
"However, the functions of information and communications' networks and equipment haven't been fully used to increase efficiency in managing and operating State offices and enterprises. In addition, national database and information systems – the foundation for e-Government – have been deployed slowly," Tâm added.
He also pointed out that human resource skills in information and telecommunications were limited in both State offices and the business community.
This year, the ministry will submit a review, amendments and additions to provisions in the Information and Communications Law as well as complete guidance for the Network Information Security Law, which will begin operation in July.
"To remain in the leading position, HCM City's Information and Communications Department has set a goal to boost the software industry, IT services, micro chipset production and IT application in State offices. It will also aim for IT safety during the 2016-2020 period," Lê Thái Hỷ, director of the department, said.
Hỷ also asked the Government to offer support to the micro chipset industry by using Vietnamese-made chipsets in national projects.
Agreements signed to boost IT in HCM City
Also on March 11, the HCM City Computer Association signed a co-operation agreement with the municipal Department of Information and Communications to improve development of the city's information technology sector.
HCA also signed co-operation agreements with Panasonic, Sao Bắc Đầu Technologies Group, Luxoft Vietnam, Mắt Bão Joint Stock Company, VinaCIS Corp, ROBO and others at a meeting of the city's IT industry the same day.
According to HCA, the agreements will enable IT firms to access quality management programmes and participate in investment promotion programmes both in and outside Việt Nam.
In addition, the department, HCA and firms will join hands to organise exhibitions, trade fairs, and seminars in the field to help firms share information and seek business partners, including the Việt Nam Information and Communication Technologies Outlook seminar.
Speaking at the event, Chu Tiến Dũng, HCA's chairman, said the information technology industry enjoyed high growth last year, with many firms doubling their growth rate over the previous year.
"The competitiveness of Vietnamese IT firms in the domestic and global markets has increasingly improved," he said.
With the Government's determination to shift to e-Government and offer online public services to better satisfy citizens and corporations, the IT sector is expected to have more chance to grow this year, he said.
Dong Thap eyes $2.5m mango processing factory
The Russian Dialog group will develop a US$2.5 million mango processing facility in the Cuu Long (Mekong) Delta province of Dong Thap, the provincial People's Committee announced on Wednesday.
With a designed capacity of processing 18,000 tonnes of mangoes annually, the factory will come into operation in the first quarter of 2017, providing 200 local jobs. - Photo thuongmai
Construction work is set to begin in September.
With a designed capacity of processing 18,000 tonnes of mangoes annually, the factory will come into operation in the first quarter of 2017, providing 200 local jobs.
Thanh Nien newspaper quoted the committee as saying that Dialog Group's investment will help Dong Thap restructure the mango growing and processing sector as well as bring higher income to the locals.
Minh Nguyen strategic deal geared towards Samsung
Increasing cooperation with foreign enterprises in high-tech supporting industries will open numerous opportunities for Vietnamese enterprises to become suppliers for multinational corporations, especially Samsung.
On March 2, Korean plastic injection moulding machine manufacturer Woojin Plaimm and Minh Nguyen Supporting Industries Joint Stock Company (Minh Nguyen) signed a comprehensive strategic cooperation agreement to manufacture components for Samsung Electronics HCMC CE Complex in Saigon Hi-tech Park (SHTP) in particular and multinational corporations in general.
Accordingly, Woojin Plaimm will supply machines and maintenance services for Minh Nguyen's Phuoc Thanh high-tech research, application and production complex in SHTP.
Woojin Plaimm will undertake to support the training of machine operators in the country to enhance productivity.
"The Vietnamese supporting industries have ample opportunities to develop as several large foreign groups, such as Canon, Samsung, Huyndai, Nokia, Toyota, and LG, plan to increase localisation rates in the country. However, few Vietnamese enterprises can adapt to these foreign groups' requirements due to their low management capacity and lack of technology. Vietnamese enterprises manufacture almost exclusively packaging and simple spare parts, leaving the more sophisticated services to their foreign counterparts," said Le Hoai Quoc, head of SHTP's management board.
"Thus, increasing cooperation with foreign enterprises in high-tech supporting industries will enable Vietnamese enterprises to enhance their management and competitive capacities," he added.
Quoc noted that, to date, Minh Nguyen was considered the only first-tier Vietnamese supplier for Samsung HCMC CE Complex in SHTP.
Covering an area of four hectares, Minh Nguyen's $71 million complex has a designed annual capacity of 20 million products, including plastic and metal electronic components as well as moulds for the plastic industry. The complex's machines will be imported with a 70 per cent automation rate.  The complex, which is expected to come into operation in the second quarter of 2016, will create 1,000 jobs.
As of now, there are four Vietnamese first-tier suppliers that can adopt Samsung's strict requirements on quality, namely Viet Hung Packaging Company Limited, Thang Long Packing Import-Export and Production JSC, TDBH Pattern Manufacture Mechanical Commercial Co., Ltd., and Thanh Long Electronic Production JSC.
Apart from these four, Samsung currently has 28 other partners listed as second-tier suppliers.
Approx. 700 mln USD in FDI lands in Binh Duong in first two months
The People's Committee of southern Binh Duong province on March 4 granted the first investment licenses of 2016 to 32 foreign direct investment (FDI) projects and one domestic investment project, worth a total of 695 million USD.
Taiwan (China) led the way in registered capital with 205 million USD pumped into 4 projects, followed by Singapore (188.2 million USD), the Republic of Korea (64 million USD), and Japan (54.5 million USD).
Chief among these projects are a 100-million-USD fabric manufacturing project by Taiwan-based De Licacy Industrial Co., Ltd; and an 88-million-USD instant coffee factory by Singapore's Fovoline Global Trading PTE. Ltd.
By the end of February, the province has had 2,623 operational projects with a combined investment of 24.1 billion USD. Some 1,560 of the projects are operating at local industrial parks, worth 15.75 billion USD or 65 percent of the locality's total FDI.
On the same day, the province launched the Binh Duong Foreign Service Centre at the provincial Department of Foreign Affairs to provide timely and effective support to overseas investors, so as to attract more foreign investment.
It will assist investors in obtaining visas and investment licenses as well as provide them with all necessary information regarding the local business climate and investment incentive policies.
During the opening ceremony, the centre signed deals to cooperate with business associations of Japan, the Republic of Korea and Taiwan.
Work starts on Vinhomes Riverside Hai Phong
Vingroup, a key player in the Vietnamese real estate market, broke ground on its Vinhomes Riverside Hai Phong on the morning of March 4.
The project covers 78.5 hectares in Thuong Ly ward, Hong Bang district, northern Hai Phong city.
It is a high-end urban complex, the first of its kind in Hai Phong, which will consist of apartments, villas, shopping malls, parks, schools and other entertainment facilities.
The construction is scheduled to complete in 2020, marking the birth of a new economic hub in the locality.
According to Vingroup Vice President Nguyen Viet Quang, Hai Phong is a prominent investment destination of Vingroup.
The Vincom Plaza has recently become operational in the city, while the group's Vinmec hospital and Vu Yen island project are underway.
$446.6 million addition to Danang tourism scene
Vietnamese real estate developer PPC An Thinh Danang Joint Stock Company (PPCAT) has launched the implementation of its five-star hotel and luxury apartment complex project "Anh Duong-Soleil Danang".
The project has the total capital value of approximately VND10 trillion ($446.6 million). Vietnam Bank for Industry and Trade (VietinBank) took on the mantle of sponsor in providing credit for the project as well as benefit guarantees for customers.
The project is divided into two phases. The first phase's construction is expected to start in March and complete within 17 months, while the project's construction is expected within three and four years.
Covering an area of 170,000 square metres, the Anh Duong-Soleil Danang complex will be an impressive complex of three 47-storey apartment blocks with about 1,000 apartments and a 58-storey hotel designed with the principle of maximizing the sea view for each room.
Guaranteeing residents and visitors' full comfort, it combines a commercial centre, a SPA, a gym, restaurants, pools, and a variety of other amenities.
Being conveniently located in Danang, a city named as the most liveable city in Vietnam, Anh Duong-Soleil Danang lies between Pham Van Dong, Vo Nguyen Giap, and Hoang Sa-Truong Sa coastal roads. Specifically, the complex is only about 100 metres from My Khe beach-one of the six most breath taking beaches on earth, in front of East Sea Park's vast premises usually used to hold the city's important events and gatherings.
"The highlights of the project are green architecture, open spaces, as well as a humbling proximity of humans and nature.  Besides, PPCAT cooperates with the world's top designers: Aedas, French project managers Artelia, Singaporean utility structures from TyLin, and Vietnamese construction unit Coteccons, all to bring the highest quality for residents and visitors," said Nguyen Khang Chien, chairman of PPCAT's board of directors.
Established in February 1996, PPCAT operates in real estate business, specialising in the construction of industrial projects, hotels, residential areas in Hanoi and the northern provinces. PPCAT is currently expanding its operations in constructing infrastructure systems of industrial parks, golf courses, as well as other sectors namely production, trade and services and financial investment.
PPCAT is the developer of numerous projects namely An Thinh Hotel in Hanoi, An Viet and Phuc Tien golf courses in Hoa Binh province, Gia Khai and Ban Long golf courses in Vinh Phuc province, Yen Quang and Binh Xuyen industrial parks in Vinh Phuc.
Ha Noi lists qualified housing projects
Ha Noi Construction Department has announced upcoming real estate projects that have been approved for sale in the market and are being funded by 26 investors.
Here is an urban area being built in Linh Dam area in Ha Noi. The investors will have to present a land use right certificate and project documents to gain permission to sell the apartment or buildings to customers. - Photo vietnamplus.vn
This is the first time the department has published such a list.
As the projects are completed, they will add 10,163 apartments and 585 low-rise buildings in the capital city, Deputy Head of the department's Housing Management and Real Estate Market Division Vu Ngoc Thanh said.
The investors had previously informed the department of their upcoming projects to gain permission to sell the apartments or buildings to customers, Thanh told Tien Phong newspaper.
But now, things have changed, Thanh said, adding that the investors' projects would be confirmed by the department based on whether conditions for sale in the market were appropriate.
To qualify, the investors will have to present a land use right certificate, project documents, designs approved by an authorised agency and a construction licence.
"The announcement aims to help buyers avoid risks and to constrain the investors' mobilisation of capital for the wrong purpose," Thanh said. Thus, it prevents investors from using the capital provided by the buyers for conducting other business activities, instead of using it for the building project.
"It will also be a channel to cleanse the market. With the list, buyers will know which investors are qualified for sales. These announcements will be made regularly to protect the buyers' interests," Thanh said.
The list of 26 projects includes real estate developer Nam Ha Noi Urban Development Joint Stock Company, which is undertaking two projects with a total of 2,368 apartments; Tasco JSC, with 258 low-rise buildings; UDIC Urban Infrastructure Development and Investment Corporation, with a project of 324 apartments; and Hai Dang Real Estate Investment JSC, with the Hai Dang City project of 896 apartments.
Investors from other sectors are also included, such as Vietnam National Packaging Production and Import Export Corp (Packexim), with a project of 222 apartments in Tay Ho District, and Vicem JSC, with 100 apartments in Thanh Xuan District.
Chairman of Viet Nam Real Estate Association Nguyen Tran Nam said the mobilisation of capital and pay-in-advance purchase of houses always carried latent risks.
He said the announcement of qualified investors would help protect the rights and interests of customers because those investors were being monitored to ensure they followed regulations.
The qualified investors and their projects are listed on the Construction Department's website: soxaydung.hanoi.gov.vn.
Vietnam's Quang Binh Province keen to promote tourism after Kong crew's visit
Authorities in the north-central Vietnamese province of Quang Binh have locked in on a huge opportunity to promote local tourism after the filming of 'Kong: Skull Island' in the region.
Cha Noi Valley, Yen Phu Lake, and Chuot (Mouse) Cave in Minh Hoa District, where the blockbuster was filmed, remained quiet for years until the U.S. crew gave them a spotlight.
'Kong: Skull Island' filmmakers arrived in Vietnam on February 18 after finishing their shooting in Hawaii and Australia. The crew stayed in Quang Binh from February 22 to 25.
Since the news of the film shoot, people have started to pay attention to the remote, mountainous areas, and many want to take a trip to experience the landscape first-hand.
Ho An Phong, director of the provincial Department of Culture, Sport, and Tourism, told Tuoi Tre (Youth) newspaper that authorities will establish a special tour allowing tourists to visit popular filming locations, turning them into tourist destinations.
Authorities also asked the crew to leave some props that they no longer use, including the model of a crashed aircraft which appears in 'Kong: Skull Island' opening scene, to serve as authentic decoration along the planned tour.
A model of King Kong, the giant ape, will also be placed in the area.
Tourists will be able to experience the feeling of being a star thanks to a new, special service offered by resorts where Hollywood stars like Samuel L. Jackson, Brie Larson, and Tom Hiddleston stayed during their time in Quang Binh.
Tran Tien Dung, deputy chairman of the People's Committee of Quang Binh, said that the U.S. crew also predicted that a new wave of tourists will visit Vietnam after viewing the landscape in 'Kong: Skull Island.'
"This is a great chance for Quang Binh to promote its tourism," Dung emphasized, adding that provincial authorities have suggested local businesses develop tourism products to exploit the full potential.
During their time in Vietnam, Brie Larson and Samuel L. Jackson attracted tens of thousands of likes and hundreds of comments from their fans around the world on photos they shared depicting the country's culture, landscape, people, and cuisine.
Some of them said they want to visit the Southeast Asian country to try delicious, traditional food such as 'pho' (Vietnamese beef noodle soup) and 'banh mi' (Vietnamese sandwich).
On February 26, the U.S. filmmakers headed to Ninh Binh Province, where they continued their production at the Trang An Scenic Landscape Complex.
The shooting in Vietnam is expected to end on March 18.
'Kong: Skull Island' tells the story of a group of adventurers who set foot on an uncharted island in the Pacific Ocean – one so breathtaking that people consider it unreal. Little did they know they just walked into the territory of the legendary King Kong.
The film, produced by Legendary Pictures and distributed by Warner Bros. Pictures, is expected to hit cinemas in March 2017.
Car imports drop in February
Vietnamese auto businesses imported about 5,000 completely built-up unit (CBU) cars, worth US$131 million, in February, 1,000 cars less than the previous month, the General Statistic Office (GSO) said.
This was a sharp fall in car imports this year, but had been expected because of the nine-day Tet (Lunar New Year) holiday in February, during which business operations and transactions were suspended in the market.
In addition, the government began applying a new calculation of a special consumption tax on January 1, 2016, which caused the price of imported cars to rise by an estimated five per cent. Therefore, many people bought cars in the last few months of last year, before the new calculation came into effect.
The turnover of imported cars is predicted to increase this year, but the auto market will not experience a 'boom' as in 2015.
GSO said Viet Nam imported 11,000 cars in the first two months of this year, worth $280 million, a decrease of 31.1 per cent in quantity and 11.9 per cent in value year-on-year.
Ha Noi hosts forum for female entrepreneurs in ASEAN region
More than 350 women entrepreneurs from 10 ASEAN member countries participated in a conference titled Fostering Women Entrepreneurs in Advancing the AEC Development in Ha Noi on Friday.
As part of the ASEAN Women Entrepreneur Network's (AWEN) activities, the forum included discussions on the potential for women's economic participation, the pressures they face and business support solutions that will enable them to further develop their wisdom and talents to contribute to economic development in their respective countries and throughout the ASEAN region.
In her opening remarks, Vice President Nguyen Thi Doan hailed the practical significance of this event, saying that it partly shows Viet Nam's contribution to the development of the ASEAN Economic Community (AEC).
"ASEAN women entrepreneurs, including Vietnamese women entrepreneurs, need to focus on competitiveness enhancement, co-operation and linkages with other businesses in order to develop their own potential and strengths for deeper integration," Doan said
She said women entrepreneurs play an important role in the process of policy review and consultation of ASEAN governments, helping the association promote integration and creativity and affirm its prestige in the international arena.
ASEAN's Secretary General Le Luong Minh said that the coherence of the ASEAN entrepreneur community, especially women entrepreneurs, would create more motivation for the development of the AEC as well as help enterprises in the region share interests and seek business opportunities in the context of international economic integration.
"However, each entrepreneur needs to be more proactive in addressing the problems and difficulties existing in production and business, as well as further increase the application of science and technology and actively participate in improving the environment," Minh said.
Chairman of the Viet Nam Chamber of Commerce and Industry (VCCI) Vu Tien Loc said many women-run businesses have overcome difficulties and made notable achievements in recent years.
Loc said the ASEAN community's growth model is shifting towards in-depth development, which would create a favourable environment for women entrepreneurs to develop.
At the event - organised by the Viet Nam Chamber of Commerce and Industry (VCCI), the Ministry of Labour, Invalids and Social Affairs and the Viet Nam Women Entrepreneurs Council (VWEC) - attendees shared lessons and experiences pertaining to the economic empowerment of women.
AWEN was created in April 2014 with the target of supporting businesswomen with start-ups and developing their businesses, especially to elevate the role of women in society.
VN's cashew exports expected to stay stable
Cashew nut exports this year are expected to reach last year's figure or slightly increase, according to the Viet Nam Cashew Association (Vinacas).
In the first two months of the year, enterprises exported 37,000 tonnes of cashew nut worth US$278 million, a year-on-year rise of 5.3 per cent in volume and 11 per cent in value.
Speaking at a meeting in HCM City last Friday, Nguyen Duc Thanh, Vinacas's chairman, said global demand for the nut was expected to remain high this year, especially in the US, Middle East and Chinese markets.
But domestic cashew processors have not had enough materials to process for exports. Large cashew processing firms had just enough materials for processing until last month, Thanh said.
"Enterprises have had to wait for the main harvest time in Viet Nam and Cambodia to buy material sources for processing," he said. "But the impact of El Nino this year means a bumper crop is unlikely."
Nguyen Ngoc Khiem from Dong Nai Import Export Processing Agricultural Products and Foods Company (Donafoods) said raw cashews were selling at high prices, while export prices had not increased.
Enterprises, as a result, have not been buying input materials for fear of losses.
In the domestic market, the price of raw cashew nuts has increased by VND5,000-VND6,000 per kilo over last year, while the import price of the raw nut from other countries has also gone up significantly, he said.
With high import prices for the raw nut, processing for export will result in low profits, according to delegates at the meeting.
Lower tariffs under free trade agreements, including the Trans-Pacific Partnership, would enable Vietnamese firms to increase exports to member countries, Thanh said.
IIP rate slips due to low oil extraction
A fall in oil exploitation and lower growth within the processing and manufacturing sector have affected Vietnam's two-month industrial production.
At last week's meeting on Vietnam's socio-economic situation organized by the National Assembly's Economic Committee, Deputy Minister of Planning and Investment Nguyen The Phuong said that local production had recovered slowly over the past two months, as it had been hit by a drop in the exploitation of crude oil and natural gas, and a lower-than-expected rise in the processing and manufacturing sector.
The Ministry of Planning and Investment (MPI) reported that the two-month index for industrial production (IIP) increased by just 6.6% against a 12% rise for the same period last year.
The lower IIP in this year's first two months has been ascribed to a 2.5% on-year reduction in the exploitation of crude oil and natural gas. This stands in sharp contrast to the 9% climb in last year's corresponding period.
Last year, the 47% slump in oil price made a US$3.4 billion dent in Vietnam's export turnover, mostly from crude oil exports. The oil price averaged US$50 per barrel last year, and is currently sitting at about US$30 per barrel, which is believed by some to drop to as low as US$20 per barrel this year.
Additionally, so far in 2016, the processing and manufacturing industry-which contributes about 70% of industrial growth-grew 8.53% year-on-year, much lower than the 12% rise for the same period last year.
Deputy Minister Phuong attributed the industry's lower growth rate to the many days off work as a result of the Tet holiday, which ceased operations in almost all industries.
"Actually, local production and confidence among firms is rising strongly," Phuong said. "For example, in this year's first two months, power production and distribution climbed 13% year-on-year."
Many provinces and cities posted high on-year IIP growth for the first two months, including Quang Nam (65.5%), Thai Nguyen (29.9%), Haiphong (14.7%) and Can Tho (13.4%).
The less than impressive results for other key provinces include Danang (9.6%), Hai Duong (9.2%), Hanoi (8.5%), Dong Nai (8.4%) and Binh Duong (5.7%).
The MPI reported that nearly 14,000 new enterprises were established since the start of 2016, with a total registered capital of US$5.13 billion, up only 1% in the number of enterprises, but up 45.8% in capital.
The average registered capital of each enterprise is US$368,200, up 44.4% year-on-year.
Also, the number of enterprises resuming operations is over 7,400, up almost 70% year-on-year.
According to Nikkei, one of the most encouraging statistics in the latest data from the manufacturing purchasing managers' index is the rise in the growth of new orders at the start of 2016, which moved up from 51.3 in December 2015 to 51.5 in January 2016. This indicates that local firms are still able to generate new business despite a challenging global environment.
FocusEconomics Consensus, which features economic forecasts from the world's leading economists, predicted that investment in Vietnam would rise 9.6% in 2016. The firm also estimates that Vietnam's industrial output will grow 10% in 2016, higher than last year's 9.8%.
HCM City welcomes new business complex in hi-tech park
Ho Chi Minh City authorities expect that the construction of the OneHub Saigon complex in Ho Chi Minh City will give a facelift to the Saigon Hi-Tech Park.
At a meeting with Miguel Ko Kai Kwun, CEO of Ascendas-Singbridge group - the project's investor - in the city on March 7, Chairman of the municipal People's Committee Nguyen Thanh Phong also said the Vietnamese Government and local People's Committee will work to create safe and attractive business environment for foreign investors, and help them remove any difficulties.
The OneHub Saigon complex, valued at 130 million USD, is a joint venture between Ascendas Land Vietnam of Singapore and the UK's Saigon Bund company. It received investment license in September 2014.
The complex, the first OneHub venture in Vietnam, spans 11.9 hectares at the Saigon Hi-Tech Park and is implemented by Ascendas-Singbridge based on successful models in India and China.
Ford Vietnam sales hit record high in February
Ford Vietnam sold 1,524 units in February, a year-on-year increase of 65 percent, the best sales month ever recorded, the automaker announced on March 7.
The figure brought the total cars sold in the January-February period to 4,109, an increase of 68 percent.
According to the firm's General Director Pham Van Dung, the record sale was driven by continued strong demand on its three product lines – Ranger, Transit and EcoSport.
Sales of the Ford Ranger have continued to lead the pickup truck segment for the 12 th consecutive month, with more than 660 units sold in February, up 247 percent against the same period last year.
Ford Transit also remained the lead in the commercial vehicle segment with the sale of 577 units, up 110 percent year-on-year.
The EcoSport compact SUV was one of the trademark's leading vehicles with 222 units sold in February, up 2 percent.
Resort real estate market bustling
Coastal cities in Vietnam will soon welcome a number of new resorts as many projects have been launched since 2015.
Projects include Vingroup's Vinpearl resort chain, Grand World in Phu Quoc island invested by LDG group, Premier Village Phu Quoc Resort and Premier Residences Phu Quoc Emerald Bay from Sun Group, and FLC Villas & Condotel in Quy Nhon city.
Resort real estate is now an attractive investment channel, according to experts.
Savills Vietnam, a leading real estate service provider in Vietnam, asserts that the resort sector has attracted a number of investors from Hanoi and HCM City.
The market will continue to be optimistic as Vietnam is emerging as a new recreation destination and many foreign investors will expand their businesses in the country to take advantages of the Trans-Pacific Partnership deal.
In the first two months of 2016, the number of foreign arrivals to Vietnam reached 1.6 million, up 16 percent against the same period last year, according to the General Department of Statistics.
According to experts, the main factors luring foreign tourists to Vietnam include impressive economic growth, political stability and traffic infrastructure improvement.
Businesses boost cooperation with Guangxi's partners
A business forum was held in Hanoi on March 7 to embrace links between Vietnam and China's Guangxi province.
Vice Chairman of the Vietnam Chamber of Commerce and Industry (VCCI) Doan Duy Khuong described China as a top partner of Vietnam with two-way trade of over 66 billion USD in 2015.
Vietnam exported more than 17 billion USD worth of goods to China, mainly electronic spare parts, agro-seafood, and coal. The country imported machinery and equipment from its neighbour.
Currently, China is running over 1,300 projects in Vietnam with total capital of over 10 billion USD. The investment is forecast to surge in the near future, he noted.
Vice Chairwoman of Guangxi's trade promotion association Zhou Ling said the close geographical distance facilitates bilateral transport activities and cooperation in the spirit of making the best use of their strengths and potential.
Vietnam is expected to serve as an entrepot for China and Guangxi in particular to boost trade with ASEAN business community, she said.
Chinese businesses expressed their wish to seek investment opportunities and partners in the fields of hotel, food processing, health equipment, and agriculture.
Programme accelerates tax, customs reforms
Administrative reform in the tax and customs sector has been sped up thanks to a programme carried out by the Vietnam Fatherland Front Central Committee (VFFCC), the Finance Ministry and the Vietnam Chamber of Commerce and Industry (VCCI), a conference in Hanoi heard on March 7.
Under the programme, the agencies joined hands in supervising the effectuation of the Government's Resolution No. 19/NQ-CP on major tasks and measures to improve the business climate and raise national competitiveness in the tax and customs sector.
At the conference reviewing the implementation of the programme, VCCI President Vu Tien Loc said that through the programme, the business community has a chance to give feedback on the resolution for the first time.
The programme has helped connect State agencies and businesses, the official added.
Hailing the efficiency of the programme, VFFCC President Nguyen Thien Nhan asked the agencies, particularly the VCCI, to increase the popularisation of regulations on administrative reform, focusing on the tax and customs sectors.
In 2016, the entire economy will spearhead issues regarding international integration, he said, urging businesses to make thorough preparations to strengthen their competitive edge and ready themselves for integration.
Dau Anh Tuan, head of the VCCI's Legal Department, said a survey was conducted last year at 153 associations and 27 cooperative alliances in Hanoi, Lao Cai, Da Nang, Quang Nam, Ho Chi Minh City and An Giang.
Deputy Finance Minister Vu Thi Mai said the programme's outcomes reflect her ministry's reform efforts, as well as limitations that must be fixed.
Pham Thu Huong, a representative from the VFFCC, announced the programme's plans for 2016, which will target 100 units in Hanoi, Hai Phong, HCM City, Binh Duong, Ba Ria-Vung Tau, Can Tho, Dong Nai, Vinh Phuc, Quang Ngai, Da Nang, Bac Ninh, Khanh Hoa and Quang Ninh.
This year's survey is expected to focus on the implementation of e-tax declaration and payment procedures, inspections over customs agencies and coordination between agencies in administrative reform.
Local tax and customs agencies, associations and businesses operating in the fishery, garment-textile, steel, footwear and food sectors will be subject to supervision.
Bac Ninh's major industrial park expanded
Work started on the expansion of the Yen Phong 1 Industrial Park in Yen Phong district, the northern province of Bac Ninh, on March 7.
The industrial park will be expanded by 314 hectares at a cost of some 3 trillion VND (135 million USD), raising its total area to over 658 hectares.
The project is expected to transform Bac Ninh into a hub of electronics, telecommunication and green industries in Vietnam, said Tran Anh Tuan, Director of the Viglacera Infrastructure Investment Development Company.
The Viglacera Corporation, which owns the company, began building the industrial park in 2005. The park is considered as an attractive destination for investors from the Republic of Korea, Japan and other countries with major businesses operating there like Samsung, Orion, Flexcom, Dongsin, Mobase, Dawo Vina and Hansol.
Yen Phong 1 has drawn nearly 8 billion USD of investment capital so far, including 7.2 billion USD of foreign direct investment. Notably, Samsung earmarked an additional 3 billion USD for investing in the park last year.
Deputy Minister of Construction Le Quang Hung said it is one of the industrial parks with the most effective land use, elaborating that the park attracted 0.31 billion USD on each of the existing 246 hectares of industrial land. Enterprises based there also significantly contributed to Bac Ninh's total export of 28 billion USD in 2015.
He added that the firms have created jobs for over 60,000 workers, including local residents and labourers from around the nation.
Located at the centre of the northern economic development triangle (whose three points are Hanoi, Hai Phong city and Quang Ninh province), the Yen Phong 1 Industrial Park was built with the ultimate goal of turning Bac Ninh into a modernity-oriented industrial province.
Some foreign investors said the park's attraction comes from Viglacera's continual improvement of infrastructure and services. The facility also boasts an abundant and quality workforce.
Policy environment important to start-ups: US official
Sharing the US's experience in business development, senior advisor to the US Secretary of State David Thorne said the first important thing is a favourable policy environment.
Speaking at a press conference in Hanoi on March 7 following a n event to promote links in innovation and creativity between Vietnam and the US, Thorne stressed the importance of policies to allow the application of knowledge acquired in education to business reality, as well as of clear and effective measures to protect intellectual property.
An equitable and effective economic arbitration system is also necessary for developing the business ecosystem in Vietnam, he said.
Vietnam has a young, talented and dynamic population, which is a great potential and the important thing is how to realise this potential, according to Thorne.
The senior advisor to the US Secretary of State said his visit is part of the US programme to assist ASEAN countries, including Vietnam, in promoting the business and innovation spirit.
He said the discussions with Deputy Minister of Science and Technology Tran Van Tung gave him a deeper understanding about the challenges to business and innovation activities in Vietnam.
He made clear that finance is a big hurdle to start-ups not only in Vietnam but also in other countries. But in Vietnam, the problem is bigger due to a lack of legal framework on venture investment, he said, adding that he has suggested some possible support to Vietnam in this field.-
HCM City offers 'instant' business registration
The HCM City Department of Planning and Investment has launched a business registration service through switchboard and supporting services that can help businesses get a new or amended certificate within 15 minutes.
Local and FDI companies who want to apply for business registration certificates or make some changes in their existing certificates can call (08) 1080 to fix an appointment with the department's Business Registration Division.
The department says it has also launched services that will help businesses perfect their documents and procedures, tackle promptly cases of wrong names, forms, and other similar problems.
In most cases, each set of documents will be processed within 15 minutes free of charge, it says.
With sectors where the processing cannot be done immediately and a meeting is required, officials must provide instructions specifying the different papers that need to be submitted.
In these cases, businesses can expect to receive their certificates within three working days of submission of documents or have the certificates sent by post.
The department says that around 310 businesses register their documents through switchboard every day.
Deputy director Lê Thị Huỳnh Mai said they were working on the principle that "Whenever enterprises approach the department, they get their work done."
Between 1,000 and 1,500 businesses contact the department every day, mostly registration or supplementary documents. The submission and returning of supplementary documents were a bother for both the businesses and the department, which would be overloaded with work.
The support provided in perfecting the documents had helped reduce the number of documents the department receives daily to 900; and 96.25 per cent of documents are processed in time, Mai said.
The department is studying ways to establish a timer service on its website, aiming to save both time and cost for businesses, and upgrading the city's investment environment.
Last year, 29,771 businesses received guidelines from the switchboard to complete their registration papers at  home. Of these, 13,500 submitted their documents to the investment department and got their registration certificates.
Taiwan firms invest in Dong Nai
Dong Nai province People's Committee granted investment certificates to Taiwanese companies Great Kingdom Giang Dien Limited company and Great Kingdom Bien Hoa International Corporation last Friday, with total investment capital at US$65 million.
Great Kingdom Giang Dien company is allowed to invest $50 million in a new project in Giang Dien Industrial Zone, Trang Bom Commune and the Great Kingdom Bien Hoa International Corporation is permitted to add an additional $15 million to a project in Bien Hoa 1 industrial zone. The two projects are producing wood products for export.
Provincial chairman Dinh Quoc Thai said that the province has attracted $476 million foreign direct investment (FDI) from the beginning of the year.
 FPT IS wins $9.1m ERP bid in Bangladesh
FPT Information System (IS) Company has won a US$9.1 million bid to design, supply, install ERP/EAM software and handle management and training at Gas Transmission Company in Bangladesh (GTLC).
FPT IS beat several Indian contractors in scoring the winning bid.
This is the company's biggest project in Bangladesh in recent years. It is expected to be completed within 18 months, starting in April 2016.
This project will help Bangladesh ensure national security and access to safe energy and will enhance efficiency in the management and maintenance of thousands of natural gas pipeline systems across the country.
VEF/VNA/VNS/VOV/SGT/SGGP/Dantri/VET/VIR