Honda Vietnam (HVN) will work harder to contribute more to Vietnam 's vehicle industry, HVN General Director Minoru Kato said.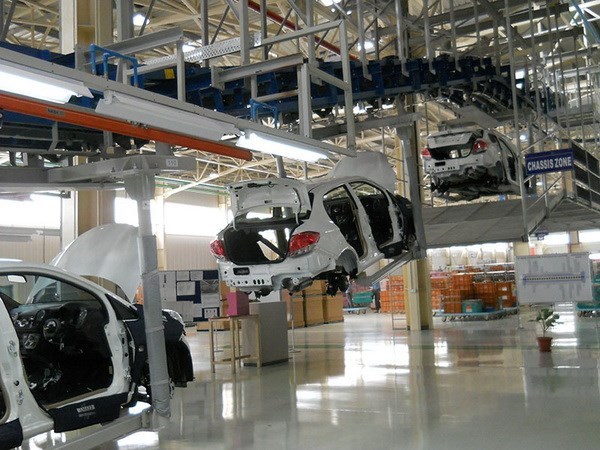 Over the last two decades, Honda has invested over 530 million USD in building three motorbike manufacturing plants and one automobile factory in Vietnam. It contributed over 40 trillion VND (1.78 billion USD) to the State budget.
Honda Vietnam officially started its operations in 1996 under a joint venture with the Vietnam Engine and Agricultural Machinery Corporation (VEAM).
With three motorbike manufacturing plants with a total annual capacity of 2.5 million units, Honda has so far sold nearly 20 million motorbikes to Vietnamese consumers, accounting for over 10 percent of its motorbike sales across the world.
It has developed 12 motorbike models, including some with striking tech features using advanced, environmentally friendly technologies.
Along with introducing new motorbikes, HVN also expanded the number of its authorised retailers to nearly 700 nationwide, ensuring provision of maintenance and warranty services in line with the firm's registered standards.
Along with its key plants in Vinh Phuc and Ha Nam provinces, Honda Vietnam has developed more infrastructure facilities, aiming to strengthen production of spare parts to increase the rate of locally made products to 96 percent and then serve its export.
The firm aims to turn Vietnam into a motorbike export centre. It is working hard to boost its production activities, increase output and build more factories across the country.
It has sold 225,000 motorbikes worth over 320 million USD to foreign markets as of 2015.
Regarding automobile manufacture, HVN has so far supplied 44,000 units to the market, with three key domestically-manufactured models: Civic, CR-V and City.
According to HVN Deputy General Director Ho Manh Tuan, the firm always contributes to social activities in Vietnam , especially safe driving courses, community assistance, environmental protection, building charitable funds to support poor students, and funding forestation projects in Hoa Binh and Bac Kan provinces.
HVN is one of the ten biggest income taxpayers in Vietnam, and create jobs for tens of thousands of locals, said Hoang Thi Thuy Lan, Secretary of the Party Committee of Vinh Phuc province, where three Honda factories are based.
Japanese Embassy Envoy Katsuro Nagai highlighted contributions made by HVN to developing the industrial sector in Vietnam – specifically support industries.
He said Japan wants more support from the Vietnamese Government to expand the vehicle industry in the country.
VNA