Vinatex to build second factory in Kien Giang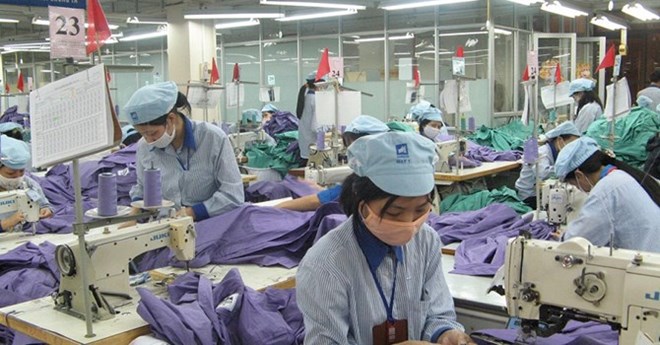 The Vietnam Textile and Garment Group (Vinatex) will invest 210 billion VND (91 million USD) into building its second factory in the Mekong Delta province of Kien Giang.
Construction of the 3.7 ha factory in An Bien district will start on March 14 and is expected to be completed in the first quarter of 2017.
The factory will have 32 production lines with a total capacity of 12 million products per year, bringing in annual revenue of about 850 billion VND (nearly 37 million USD).
It is expected to generate jobs for about 2,000 people and contribute about 5 billion VND (218,000 USD) to the State budget per year.
Last year, the group put into operation its first factory in Go Quao district, employing 2,000 locals.
So far, Vinatex and its affiliates have invested in 11 plants in the Mekong Delta region, creating 23,000 jobs.
Short-term deposits hit 5.5 percent cap chasing long-term highs
After pushing long-term rates to a two-year high of 8.38 percent, some commercial banks continue to raise short-term deposits to the 5.5 percent cap.
Currently, the central bank sets the cap of 5.5 percent per year only for short-term deposits of below six months while it floats the rate for medium- and long-term deposits.
It is estimated that 13 banks list the ceiling rate for short-term deposits. Most of them are small and medium size.
Ocean Bank lists the 5.5 percent rate per year for 5-month deposits. A lower rate between 4.9 percent and 5.45 percent is quoted by the bank for 1 to 4 month terms.
The cap rate is also applied at VietBank for 3, 4 and 5 month terms while the bank's rates for 1 and 2 month deposits are 5.4 percent per year.
Viet A Bank and BaoVietBank also applies the ceiling rate for their 'Online Saving' and 'EZ Saving' with terms of 1 to 5 months while the 5.4 percent to 5.45 percent rate is applied for other deposits with the same terms.
The ceiling rate is also seen in numerous small banks of NamABank, HDBank, NCB, and Viet Capital Bank, in addition to OCB and Kienlong Bank.
Sacombank is the first among large-sized banks to take part in the short-term deposit rate hike race as it raises the rate to 5.5 percent for 5 month terms this month, up from 4.5 percent to 4.9 percent applied last year.
Other large-sized banks still quote the rates for short-term deposits under the 5.5 percent cap, ranging between 4 percent and 5.2 percent per year.
Banks said that the rate hike was aimed at helping them attract depositors to meet rising capital demands. The central bank has planned to expand the issuing of credit to roughly 20 percent this year to meet the anticipated 6.7 percent growth in GPD.
Therefore, according to HCM Securities Corporation, to guarantee the expansion of credit, mobilisation needs to grow parallel, while banks have to allocate resources to purchase government bonds and handle bad debts, thus putting pressure on interest rates.
Besides, according to experts, inflation is predicted to reach between 4 percent and 5 percent this year, much higher than the rate in 2015, which indirectly puts pressure on the mobilisation of deposits.
Dutch businesses seek opportunities in Binh Duong
A delegation from the Netherlands went on a fact-finding tour of the southern province of Binh Duong on March 9 to seek investment opportunities in the locality.
The delegation, comprising businesses operating in the cheese industry, logistics, and agricultural imports, was led by Cees Bijl, mayor of Emmen city, and Karel Loohuis, mayor of Hoovegeen city.
At a working session with the delegation, Chairman of the provincial People's Committee Tran Thanh Liem said that local authorities will create favourable conditions for foreign investors, aiming to encourage investment in the locality. 
Meanwhile, provincial Party Committee Secretary Tran Van Nam and Cees Bijl appreciated the implementation of the signed cooperation agreement between Binh Duong and Emmen in late 2015.
Both sides hope that the investment cooperation between them will continue to grow in the coming years, especially in the fields of technology, logistics, hi-tech agriculture, law, education, and healthcare.
So far, Dutch investors have poured about 700 million USD into 41 projects in Binh Duong.
The province now has 28 industrial parks, attracting over 2,600 FDI enterprises with total investment capital of 25 billion USD.
Last year, Binh Duong's export turnover reached 21 billion USD, up 17.9 percent against 2014. The province enjoyed a trade surplus of 3.7 billion USD.
Vietnamese furniture introduced in Singapore
Furniture and lacquer products featuring Vietnamese cultural identities are being introduced by investment promotion centres from the southern province of Binh Duong and Hanoi at the 2016 International Furniture Fair in Singapore.
According to Vietnamese Trade Counsellor to Singapore Nguyen Viet Chi, the presence of Vietnamese goods at the event shows that many domestic firms and localities are seeking export opportunities in foreign markets.
Apart from the two centres, a number of domestic and foreign-invested enterprises are also displaying their products at the fair, attracting interest of many international businesses.
The event, taking place from March 10 to 13, is seeing participation from businesses from more than 30 countries and territories, which are exhibiting their goods in more than 400 booths.
Vietnam started attending the event from 2001, with the number of enterprises participating in the fair increasing every year.
According to statistics from the General Department of Vietnam Customs, Vietnam raked in over 6 billion USD exporting furniture in 2015. The commodity's export value to Singapore alone hit 16 million USD, accounting for 4 percent of Singapore's import value of furniture from foreign countries.
Industrial equipment corporation equitisation plan approved
The Prime Minister has recently approved the equitisation plan of the Machines and Industrial Equipment Corporation (MIE), which has a total charter capital of 1.42 trillion VND (63.7 million USD).
The plan allows the enterprise to launch its initial public offering (IPO) of 140,831,900 shares, accounting for 99.18 percent of the company's capital, for 10,000 VND each.
As many as 1,159,600 shares will be sold at preferential price to MIE employees, or 0.82 percent of the charter capital.
The MIE was established in 1990 under the Ministry of Industry and Trade. It consists of four dependent companies, seven subsidiaries and five associate companies. The company manufactures spare parts, machines, rolled steel, hand tools, environment protection equipment, among others.
A total of 109 state-owned enterprises (SOEs) completed equitisation by the end of September last year. The country targeted to equitise 289 SOEs in 2015.
As of September 28, 2015 total State capital divestment was estimated at nearly 8.7 trillion VND (388.5 million USD), of which 2.69 trillion VND (120.1 million USD) was divested from real estate sector and 1.36 trillion VND (60.7 million USD) from insurance, security and finance-banking sectors.
Price of export Vietnamese bananas soar following increased demand
The Vietnamese banana industry has seen a relatively sharp increase in export prices since early this year due to surging demand on international markets.
Tran Danh The, Director of Dong Nai-based Tran The Biology Company, which specialises in biological research and the production of bananas, said there has been a price hike in exported bananas.
"Last year, one kilogramme of bananas for export sold at about 5,000-6,000 VND (22-26 US cents), but since early this year the prices have increased to 12,000-14,000 VND per kilogramme, more than double last year's price," The told the Vietnam News.
Not only has the price risen, but orders have also increased.
The said that he has recently received numerous orders from local banana exporters, especially from those companies exporting bananas to the Middle East, Russia and Japan.
"In only the first two months of this year, these companies have exported about 400 tonnes of bananas to foreign markets," The said.
"Importers are quite satisfied with Vietnamese bananas as the quality of local bananas has improved," he said.
But Vietnam's banana industry is facing stiff competition from the Philippines, the dominant supplier of fresh bananas to Japan, the Republic of Korea, China and New Zealand.
The said the export price for Philippine bananas range from 17,000 VND to 18,000 VND per kilogramme, higher than Vietnamese bananas, however their fruit is much better quality. The care taken in the Philippines to transportation and preservation helps keep the bananas appearing unscratched and beautiful.
The hike in banana prices in the south is also reflected in the northern regions.
Nguyen Thi Nga, Director of Hong Lan company, one of the leading fruit exporters in the northern Lao Cai Province, said the price of exported bananas has risen sharply since the beginning of the year, and that a kilogramme of bananas is currently selling for 12,000 VND, much higher than last year.
However, Nga said, despite the higher price of exported bananas, her company is still facing a severe shortage of bananas to export.
"Last winter, extreme weather posed many obstacles to cultivation. The record-low cold spell that raged across the northern region over the last few months has badly damaged my cultivation zones and crops," Nga said.
"Most of our fruit crops were ruined in the cold snap. Frost and sleet wiped out almost all our agricultural produce. Bananas are in short supply for local needs, let alone for export demands," Nga said.
Nga said she has received a large number of orders for bananas from foreign partners such as India, the United Arab Emirates, Kuwait, China and Japan, but as a result of the current crop failure her company could not adequately satisfy demand.
In addition, due to low banana prices last year, many farmers reduced their plantation area, exacerbating low supplies this year.
"Currently, China needs around 20-30 tonnes per day, and Japan asks for 15-20 tonnes, but my company cannot fully meet their needs", The said.
Nga's company owns 700 hectares of banana plantation, producing about 150,000 to 200,000 tonnes of bananas in 2014, exporting 12,000 to 15,000 tonnes of bananas to the international market in the same year.
However, in 2015, she said, the harsh weather conditions have cut banana output drastically to half the previous year, leading to a decline in export volume, which was estimated to reach only around 6,000 tonnes of bananas.
According to a representative of the Department of Processing and Trade for Agro-Forestry-Fisheries Products and Salt Production, Vietnam is a tropical country and also home to many precious banana plants. Banana plants are cultivated over large areas with high yield. Areas under banana cultivation account for 19 percent of Vietnam's total fruit plant area, with an annual output of about 1.4 million tonnes.
"China remains the largest banana importer for our country. Other foreign markets of Singapore, the Republic of Korea, Japan and many Eastern European countries also have increasing demand for bananas imported from Vietnam, but we do not have sufficient bananas to supply them," he said.
Explaining the low supply, the representative said Vietnam's banana plantations are not always planned in the best areas. Vietnam's preservation technologies have yet to meet international requirements, so it is often impossible to keep the fruit looking good. Thus, only a relatively few Vietnamese products have been licensed to penetrate high-end markets, including the Japanese market.
In a bid to improve the status quo, the Ministry of Agriculture and Rural Development has identified five key plantation areas for growing export bananas, including the Northern Midland and Mountainous region, the Red River Delta, the Central Coastal region, the Southeastern region and the Mekong Delta, he said.
To fully meet international standards, banana growers have to be careful and selective when choosing banana varieties, deciding which ones are suitable for the production conditions of each key cultivation area, he said.
"In the long term, studies and research on banana cultivation have to focus on generating banana varieties that are high-yield, high quality, are of better appearance and are also resistant to several dangerous diseases," he said.
Banana growers and exporters need to apply scientific knowledge and advanced technologies in the planting, harvesting, storage and preservation of bananas to improve fruit quality and productivity.
To help the bananas industry gain a firmer foothold in the global market, Vietnam should formulate appropriate policies and measures to meet regional and international criteria, which will enable more Vietnamese bananas to reach world markets, he said.
WB appreciates Vietnam's growth prospects
Vietnam is among emerging countries in the world with strong economic growth forcasts for this year and the years to come, according to the World Bank (WB)'s recent Global Economic Prospects report.
In the context that investment in infrastructure and industry in Vietnam is increasing, the WB forecasts that the country's annual economic growth will reach 6 percent.
In the report, the bank asserted that Vietnam has strengthened development efforts and promoted privatisation.
The state-owned sector currently accounts for only 40 percent of the economy.
Meanwhile, the private sector is growing thanks to an abundant labour force, increasing salaries and stable prices.
The proportion of agriculture in the economy has dropped, making up only 18 percent of GDP last year while that of the production and service sectors was 82 percent.
Besides Vietnam, other countries with strong growth prospects include Myanmar, the Philippines, Indonesia, Bangladesh and Ethiopia.
EPC contract signed on Vinh Tan 4 thermal plant expansion
An Engineering, procurement and construction (EPC) contract on the expansion of Vinh Tan 4 thermal power plant at the Vinh Tan Power Centre in the central coastal province of Binh Thuan was signed between the Electricity of Vietnam (EVN) Group and four contractors at a ceremony held in Hanoi on March 10.
The 1.1 billion USD expansion project will be carried out by the Doosan Heavy Industries and Construction (the Republic of Korea), Mitsubishi Corporation (Japan), along with the local Power Engineering and Consulting 2 JSC and Pacific Ocean Engineering JSC.
Once becoming operational in the end of 2019, the 600MW-capacity plant is able to add some 3.6 billion kWh to the national grid.
The expanded plant will take advantage of available facilities of the under-construction Vinh Tan 4 Thermal Power Plant, including construction ground, port and roads. In addition, it will be built with advanced technology, which ensures rational costs and Vietnam's standards on environmental protection.
Construction of the plant will be commenced in the first quarter of this year.
The Vinh Tan Power Centre is comprised of four thermal power plants with a combined capacity of 5,600 MW. It will generate power mostly for the southern central region and localities in the south.
State leader hails business achievements of Viettel Tanzania company
President Truong Tan Sang visited the Viettel Tanzania (Halotel) Company – a member of the military-run telecom group Viettel in the East African country and talked online to Vietnamese workers at the company's branches.
Operating since October 2014, the telecoms company now has 250 Vietnamese employees and 1,400 Tanzanians. It boasts 1 million subscribers and has established an 18,000km optical cable system to Tanzania's far-flung areas.
Delighted at the company's business outcomes, the Vietnamese State leader asked the Halotel staff to maintain business efficiency in order to bring about benefits for both sides.
As the Tanzanian people wholeheartedly supported Vietnam during its past struggle for national liberation, Halotel, through its business activities, should maintain its commitments not to betray Tanzanians' trust, he stressed.
He also requested Vietnamese workers to promote the image of the Vietnamese land and people and culture to Tanzanian friends in order to consolidate the two countries' friendship.
At the meeting, a Halotel representative urged Party and State leaders to coordinate with Tanzania to fast-track the signing of an agreement on the avoidance of double taxation.
The same day, President Truong Tan Sang visited the Benjamin Special Economic Zone in Dar-es-Salaam city.
Tanzania is the first leg of President Truong Tan Sang's African and Middle East tour from March 9-15.
Dong Nai addresses difficulties for enterprises
A meeting to share opportunities and address challenges in business processes was opened in the southern province of Dong Nai on March 10 with the participation of over 300 enterprises.
According to the provincial People's Committee, the locality's socio-economic indexes have mostly been achieved or surpassed their targets due to efforts by the business community and localities.
However, some enterprises reckoned they are dealing with many difficulties such as access to markets, and low export prices of agricultural products.
Despite the ASEAN Economic Community having officially formed in late 2015, and Vietnam is signing and carrying out several free trade agreements (FTA), relevant authorities have not properly instructed localities and businesses in how to effectively carry out those agreements.
Vice Director of the Central Institute for Economic Management (CIEM) Vo Tri Thanh took note that the world's economy is changing rapidly, especially globalisation and regionalisation with the establishment of free trade zones, leading to greater flows of goods, services, investment, capital and labour.
Enterprises will have chances to access more quality manpower and bigger markets but with fiercer competition, hence they should take advantage of these opportunities in the next five to seven years, otherwise they might face tougher challenges, he added.
Participants at the meeting proposed more supporting policies those on tariff and, with land leasing for production prioritised for small and medium businesses , as they are the most vulnerable group during the integration progress.
Deputy Chairman of the provincial People's Committee Nguyen Quoc Hung requested authorities to create the best possible conditions to support enterprises, particularly in policy and administrative procedures.
Law review for EVFTA commitments lacks focus on trade facilitation
The review of Vietnam's laws to make them consistent with the country's EVFTA commitments on Customs and Trade facilitation has focused more on the field of customs with little attention on trade facilitation.
It was heard at a workshop to review Vietnam's laws to fulfill the country's commitments under the EU-Vietnam Free Trade Agreement (EVFTA) in Hanoi on March 10.
The Vietnam Chamber of Commerce and Industry (VCCI) has reviewed specific articles of Vietnam's laws and proposed vital amendments to comply with the commitments, said Pham Thi Thanh Hien, former deputy head of the International Cooperation Department under the General Department of Vietnam Customs.
However, the review should also involve the participation of state bodies relating to matters of foreign trade, for example, the Ministry of Industry and Trade and the Ministry of Agriculture and Rural Development.
Time taken to release goods depends on not only customs-related requirements but also regulations for each industry, Pham Thanh Binh, a customs official stated.
Furthermore, domestic enterprises have found it hard to look up and obtain information on customs, trade regulations and procedures; so it is needed to create an official website that provides all related information in one place, an attendee added.
Vietnam has fulfilled all 29 EVFTA commitments on Customs and Trade Facilitation.
Experts share experience in maintaining small-scale projects
Vietnamese and Japanese experts shared experience in the sustainable management of small-scale technical projects funded by the Japan International Cooperation Agency (JICA) during a workshop in Hanoi on March 9.
Nakamura Tomoki, a representative from the Nippon Koei Vietnam Limited Company, said the regular exchange of information on the progress and outcome of a project as well as arising problems is essential.
This will help adjust Japanese projects to suit reality in Vietnamese localities, allowing more effective implementation, participants said.
Doctor Ngo Tung Duc from Hue University of Agriculture and Forestry suggested involving local people in feasibility study for small-scale projects, in order to mobilize local resources for project implementation.
Projects must also prove their efficiency to local development before they are expanded, panels said.
JICA has been carrying out 81small-scale technical projects in various fields in Vietnam since 2002 under the Japan Partnership Programme (JPP).
As part of the Japanese Government's official development assistance (ODA) programme, JPP aims to support socio-economic development for developing countries, including Vietnam.
Binh Duong, Dutch law firms ink cooperation deal
The Netherlands' Twiceans International Law Firm and the Becamex Law Firm of southern Binh Duong province on March 9 signed a cooperation agreement on providing legal services and sharing experience during 2016-2020.
The cooperation is under a programme to enhance the relationship between Binh Duong and Emmen city, the Netherlands, following a memorandum of understanding on the establishment of the two localities' relations in economics, trade, services, investment and judicial affairs signed on November 17, 2015.
Accordingly, domestic legal cases in the Vietnamese province will be addressed by the Becamex Law Firm, while the Twiceans International Law Firm will take over foreign-related cases.
Through this agreement on sharing the lead in cases, the two companies will exchange their legal understanding.
Also on the day, Emmen Mayor Cees Bijl and Hoogeveen Mayor Karel Loohuis along with representatives of Dutch enterprise had a working session with Binh Duong leaders to seek further investment cooperation opportunities.
Binh Phuoc builds geographical indications for cashew products
Specialists and relevant agencies of southern Binh Phuoc province are working to develop geographical indications (GIs) for local cashew products, ultimately raising the goods' competitiveness in foreign markets.
The work is being carried out under a project on supporting GI development in Vietnam.
The project, by the National Office of Intellectual Property, is implemented at a total cost of over 1.35 million USD, including 1.09 million USD in official development assistance funded by the French Government. The remaining sum is being covered by Vietnam.
The project's specialists found that although Binh Phuoc's cashew products are not renowned in international markets yet, local soil and climate conditions are very favourable for large-scale cashew cultivation.
Forty-four cashew processing companies in the province have been recognised as meeting ISO standards. The quality of local cashew nuts is also much higher than that of those hailing from other Vietnamese localities.
The specialists said these are optimal conditions for developing GIs for Binh Phuoc's cashew products.
At a meeting on March 9, representatives of State agencies, businesses and farmers pointed out an array of problems in building cashew GIs such as how to help companies work with farmers to create large-scale, stable growing areas to ensure material supplies; or how to enhance cooperation among cashew processors who always compete with one another.
Another concern is that companies might source cashews from other localities to process and label their products with the Binh Phuoc origin.
Le Thi Anh Tuyet, Director of the province's agriculture and fisheries promotion centre, underlined the role of enterprises for successful GI development. It is necessary to make firms realise that they have to join hands in building brands, if they want the local cashew industry to enter global markets.
Binh Phuoc has 134,000 hectares of cashew which yields 190,000 tonnes of nuts annually, with an average productivity of 1.4 tonnes per hectare.
Developing national brand - a must
Developing a national brand is essential and urgent, especially in the context that Vietnam is integrating intensively and extensively into the world, said Deputy Minister of Industry and Trade Do Thang Hai.
Speaking at the 9th Forum on Vietnam National Branding in Hanoi on March 11, Hai, who is permanent Vice President of the National Brand Council, said that Vietnam has signed a number of free trade agreements, particularly the Trans-Pacific Partnership (TPP) agreement, which means that opportunities are coupled with challenges.
If there are no specific measures to build and promote the national brand, enterprises, over 90 percent of which are small and medium-sized, cannot take advantage of the opportunities afforded by the trade agreements, he affirmed.
Samir Dixit, Managing Director of Brand Finance Asia-Pacific, stated that Vietnam national branding was assessed at 140 billion USD in 2015, down 19 percent from the 172 billion USD of 2014.
According to him, the value of Vietnam's national brand name is four times lower than Indonesia's and three times lower than Singapore's and Malaysia's.
These figures show the weakness of the Vietnam brand name. Notable, the country is still weak in product quality and life cycle, and in enterprises' social responsibilities.
Although Vietnam holds great potential and advantages in tourism development, the country is defeated by the Philippines whose national brand ranks first in ASEAN in terms of value, he added.
Sharing the viewpoint, Thierry Noyelle, senior advisor to a technical cooperation programme between the Vietnam Trade Promotion Agency and Switzerland's State Secretariat for Economic Affairs, said that a survey of 63 websites from Vietnamese companies participating in the National Branding Programme showed their contents were poor and only 10 sites had the National Brand emblem –Vietnam Value logo – on their websites.
Therefore, he asked businesses to immediately foster brand promotion. Along with big companies, the National Branding Programme should be expanded to small- and medium-sized enterprises to help them intensify exports.
Vietnamese furniture introduced in Singapore
Furniture and lacquer products featuring Vietnamese cultural identities are being introduced by investment promotion centres from the southern province of Binh Duong and Hanoi at the 2016 International Furniture Fair in Singapore.
According to Vietnamese Trade Counsellor to Singapore Nguyen Viet Chi, the presence of Vietnamese goods at the event shows that many domestic firms and localities are seeking export opportunities in foreign markets.
Apart from the two centres, a number of domestic and foreign-invested enterprises are also displaying their products at the fair, attracting interest of many international businesses.
The event, taking place from March 10 to 13, is seeing participation from businesses from more than 30 countries and territories, which are exhibiting their goods in more than 400 booths.
Vietnam started attending the event from 2001, with the number of enterprises participating in the fair increasing every year.
According to statistics from the General Department of Vietnam Customs, Vietnam raked in over 6 billion USD exporting furniture in 2015. The commodity's export value to Singapore alone hit 16 million USD, accounting for 4 percent of Singapore's import value of furniture from foreign countries.
Three firms want strategic stake in Vissan
CJ of South Korea, Vietnam's International Agriculture Nutrition JSC (Anco) and Vietnam French cattle feed maker Proconco all want to become the strategic investor of Vietnam Meat Industries Company, better known as Vissan.
Vissan unveiled the names Monday during an initial public offering (IPO) auction on the Hochiminh Stock Exchange. The State-owned firm raised over VND900 billion (US$40.18 million) after selling a 14% stake.
Vissan put up for sale 11.3 million sharers (14%) with the starting price of VND17,000 each at the IPO on the southern bourse Monday. Meanwhile, 142 investors bid for 63.5 million shares.
Closing the auction, all the shares were snapped up by five individual and one institutional investor. The highest winning bid was VND102,000 per share and the lowest was VND67,000 per share.
The average winning price stood at VND80,053 per share and Vissan mobilized around VND907 billion.
Van Duc Muoi, general director of Vissan, told reporters that the company would hold another auction on March 24 to sell an extra 11.3 million shares (14%) to an strategic investor.
At present, each of CJ and Anco and Proconco has registered to purchase all the shares on offer.
Last April, Masan Group announced to hold a 52% stake in Proconco and a 70% stake in Anco via the acquisition of a 99.99% stake in Sam Kim Co Ltd. CJ also expressed interest in purchasing Vissan shares last year.   
Muoi said the three investors meet requirements to become the strategic investor of Vissan. Businesses are required to have operated in relevant sectors for at least five years and will present a business plan after the IPO. Besides, their equity last year was at least VND1 trillion each and they had racked up no losses as of September 30, 2015.
The strategic investor should not transfer its stake in Vissan in the first five years.
Regarding a timetable for the listing of Vissan shares on the HCMC exchange, Muoi said Vissan would announce a plan for holding a general meeting on April 29 and that the listing would take place soon.
AIA launches second customer service model in Vietnam
Life insurer AIA Vietnam has inaugurated its second customer service model called "nest by AIA" in Hanoi after opening the first one in HCMC last year.
Located at Vincom shopping mall, 191 Ba Trieu Street, Hai Ba Trung District, the second "nest by AIA" is also developed based on the one-stop shop mechanism like the first one.
Covering 300 square meters, the model includes spaces for organizing events, areas for families with children, coffee shops, library, lobby, and an area for customers to meet with customer relationship specialists.
Wayne Besant, general director of AIA Vietnam, said: "The first nest by AIA in HCMC has brought considerable success. It helps us approach customers in urban areas better and understand them more.
"With the second model in Hanoi, AIA expects to lure more customers, especially office workers and young families."
AIA Vietnam also encourages its partners and social organizations to choose "nest by AIA" as a destination for organizing events and seminars.
Temasek to eye finance, hi-tech, healthcare partnerships
Singapore's Temasek wants to step up investments in Vietnam and seek partnerships in finance, hi-tech, consumer goods and healthcare, Cheo Hock Kuan, Temasek International's Head of Strategic & Public Affairs, said at her meeting with Deputy Prime Minister Nguyen Xuan Phuc on March 2.
Temasek established a representative office in Vietnam in February 2005, with its investment list covering a range of sectors, such as natural resources, agro-fishery, information technology and banking, according to Cheo Hock Kuan.
She noted that Vietnam has paid attention and created favourable conditions for Temasek and other foreign investors, helping them operate productively and contribute to growing ties.
Deputy PM Phuc lauded Temasek's viable business in Vietnam as a contribution to reinforcing the partnership between the two countries.
He said Vietnam has been improving its investment and business environment and the Government is working to provide the most possible conditions for foreign investors.
He suggested the group investing in mineral processing, food technology and tourism.
Vietnam-Korea FTA Support Centre opens
The Korea Trade-Investment Promotion Agency (KOTRA) inaugurated the Korea-Vietnam FTA Support Centre in Hanoi on March 2 in an effort to help companies from both sides take full advantages of the bilateral free trade agreement.
The FTA between Vietnam and the Republic of Korea (VKFTA) came into effect on December 20 last year. It covers different matters from reduction or elimination of customs duties; rules of origin; customs administration and trade facilitation; to sanitary and phytosanitary measures; technical barriers to trade; competition; intellectual property and transparency.
The centre aims to provide enterprises with not only accurate information on the VKFTA but also support those who face difficulties particularly in terms of non-tariff trade barriers and certificate of origin granting.
According to Deputy Minister of Industry and Trade Do Thang Hai, the VKFTA has offered more opportunities in cooperation and investment between the two nations.
Trade between the two countries has expanded at an average growth of 23 percent annually over the past decade. Last year, the two-way trade hit 34.3 billion USD, up 29 percent from 2014, making the RoK one of Vietnam's three largest trade partners.
The RoK mostly shipped to Vietnam computers, electronics and components, machinery and fabrics while Vietnam's exports to the RoK include textile & garment, crude oil, seafood, wood and timber products.
Kim Jae Hong, KOTRA President said the centre would help companies from the two nations apply the VKFTA with flexibility and bolster their exports to China, the US and the EU.
The same day, the KOTRA and the Vietnam Directorate for Standards, Metrology and Quality inked a Memorandum of Understanding to simplify administration procedures that Korean companies have to go through when exporting to Vietnam. The Korean side also agreed to transfer technology in safety evaluation to Vietnam.
Int'l furniture fair to be held in HCM City
The 2016 Vietnam International Furniture and Home Accessories Fair (VIFA-EXPO 2016) to be held in HCM City next week will offer industry executives the chance to network and explore business opportunities.
It has attracted 245 domestic and foreign exhibitors who will set up 1,243 booths, an increase of 38 percent and 36 percent from last year, Huynh Van Hanh, Deputy Chairman of the Handicrafts and Wood Industry Association of HCM City (HAWA), said.
The increase reflects the strong demand from furniture manufacturers for trade promotion to boost exports, he told a press conference on February 29.
The fair will display a wide range of export-oriented indoor and outdoor furniture, handicrafts, and interior furnishing and accessories.
Hanh said 1,200 customers from 82 countries and territories had registered as of February 29 to visit the fair.
Organised by the city Department of Industry and Trade, HAWA and HAWA Corporation, the fair will also see the awards ceremony for the Hoa Mai Prize, a furniture design competition.
The expo will be held at the Saigon Exhibition and Convention Centre from March 8 to 11.
Last year Vietnam's exports of wood and wood products were worth 6.9 billion USD, up 10.74 percent from the previous year.
Renewable energy development needs more support policy
The development of renewable energy in Vietnam is hindered by inadequate mechanisms, limited technologies and a lack of funding, participants at a workshop in Ho Chi Minh City on March 2 said.
According to Nguyen Dinh Hiep, Vice President of the Vietnam Energy Conservation and Efficiency Association, Vietnam holds huge potential for renewable energy.
Solar energy is abundant with an average solar radiation of 5kWh/m2 per day across the country, while bio-mass output from agricultural production and waste are estimated at 10 million tonnes a year, he said.
Huynh Kim Tuoc, Director of the HCM City Energy Conservation Centre, said Vietnam has only the Law on Energy Efficiency while policies relating to renewable energy remain inadequate.
He pointed to the country's reliance on imported equipment and products in the field and the lack of a research and training system in the sector, resulting in low management capacity.
Other participants said the high cost for renewable energy projects is also a big challenge to the sector.
Tuoc described renewable energy as the best solution to deal with the country's energy shortage and called for stronger mechanisms and polices to lure more investors in this field.
The Vietnamese Government has adopted the National Strategy on Energy Development through 2020 with a vision towards 2030 which aims to raise the proportion of renewable energy from 3 percent of the total power generation output in 2010 to 5 percent in 2020 and 11 percent in 2050.
To meet these goals, the Government has outlined various preferential measures to support investors such as tax exemption for equipment import and land use for projects in this field.
World toy manufacturers seek to open factories in Vietnam
Ho Chi Minh City People's Committee Vice Chairman Le Thanh Liem met with Arthur Ruland, general director of Bullyland AG, who visited the city to seek partnerships on behalf of the world toy manufacturers' association.
Ruland spoke highly of the city's business climate, saying that Bullyland, the producer of hand-painted collectors' models and figurines, is looking to build a factory here and hopes that local authorities could facilitate the plan.
The world toy manufacturers' association also has plans to relocate its factories from Indonesia to Vietnam, he said, adding that he would introduce more international enterprises to the country.
Welcoming Bullyland to Ho Chi Minh City, Vice Chairman Liem briefed his guest on the economic hub. The city has a population of about 10 million people, including 1.4 million children, making it a promising market for toys, he said.
Liem noted that the city always opens its doors to high-tech toy manufacturing projects that provide good-quality, creative, intelligent toys for kids.
Bullyland was established in 1973 in Spraitbach, southern Germany.
Vietnam faces daunting challenge cracking the US market
Many economists say the outlook for export growth by companies operating in Vietnam to the US market has never been more favourable particularly for firms in the textile, clothing and footwear sector.
The increased exports, primarily by foreign invested firms doing business in Vietnam, will in turn fuel growth of good paying middle income jobs in the employment market and technological advancement of local firms in the sector.
The economists also say official statistics show exports to the US have been on a steady upward trajectory over the past 15 years and in 2015 climbed a hefty 16.9% year-on-year to a record high US$33.5 billion.
In addition, they point out that those same figures show Vietnam registered a US$25.7 billion trade surplus with the US last year, the largest ever recorded, though they caution about reading too much into the figure.
The biggest problem with trade surplus as well as deficit figures published by any country lies in the fundamental assumption that each finished product for export is 100% made in a single country.
In accordance with the 'rules of origin' established by the World Trade Organization (WTO), a finished good is wholly ascribed to the country where it underwent its last 'substantial transformation'.
However, in today's globalized marketplace, almost nothing – not clothing nor Nike shoes nor iPhones – are made in any one country.
Take the iPhone for example. It is, for the most part, assembled in China and then shipped to Vietnam and following WTO rules, factored into the Vietnam-China trade surplus/deficit calculations.
But iPhones are not really 'Made in China' and if one looks closely on the back cover of the phone they will find the words "Designed by Apple in California" and "Assembled in China" clearly inscribed.
All told, at least a dozen companies from at least five countries around the globe supply parts for the IPhone including those in Germany, Japan, and the US to name only a select few.
A similar analysis could be made for the IPad and tens of thousands of other products, but the point is the economists say, that balance of trade figures are somewhat nebulous and are intended solely to provide some indication as to the status of trade between countries.
They are statistics that need to be interpreted with great care by experienced professionals with economic training or completely erroneous conclusions would most likely result.
Trade surpluses are not necessarily good and trade deficits not necessarily bad as far too many uninformed people incorrectly perceive— but each individual situation needs to be carefully evaluated in light of the totality of the facts and circumstances.
Minister Counsellor of Trade Dao Tran Nhan at the Embassy of Vietnam in the US is one of the strongest advocates for Vietnamese local firms and he readily acknowledges they now have tremendous opportunities to sell their products in the US marketplace.
The US market is immense in its size and there has never been more opportunity for local firms and companies than there is today to not only access the US market he says, but gain entry into the entire North American market including Canada, Mexico and the Caribbean countries.
He specifically points out that the Trans-Pacific Partnership (TPP) Agreement, should it be ratified, would create many additional possibilities for local firms, particularly those in the textile, clothing and footwear sector – but make no mistake – the opportunities for Vietnam businesses are not dependent on the TPP, he says.
Nor he says is the TPP the panacea that many try to make it out to be and many claims to that effect made – in particular by members of the Vietnamese press – are outright false and misleading.
Intel's startup contest awards 1st prize to furniture company
Bizsofa, the furniture company that is the exclusive distributor of furniture for the UK embassy in Hanoi and some high-end suppliers in Ho Chi Minh City, has won the highest prize in the competition 'Make your start-up amazing with Intel'.
Bizsofa gained the highest score of 35 out of 40 and beat six other companies in the eloquent round to be awarded VND100 million ($4,700).
The company will also be supported by members of the judges who have experiences in e-commerce and traditional business including Dinh Anh Huan (CEO of Thegioididong and founder of Seedcom investment organisation), Tran Ngoc Thai Son (founder and CEO of Tiki.vn), Truong Ly Hoang Phi (director of BSSC), Nguyen Phuong Anh (head of marketing at Google Vietnam) and James Vuong (founder of Project Lana and representative of IDG Ventures Vietnam).
The competition 'Make your start-up amazing with Intel' was launched in March last year by Intel and Haravan, an ecommerce solutions provider, with the aim to encourage companies to start selling online. Participants created a shop with Haravan and tried to make the highest sales in order to win.
VEF/VNA/VNS/VOV/SGT/SGGP/Dantri/VET/VIR