Nguyen Vu Truong Son was yesterday appointed the general director of the Viet Nam National Oil and Gas Group (PetroVietnam).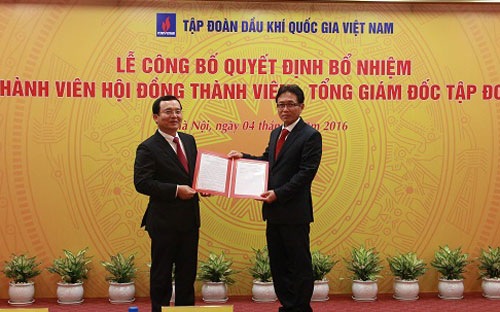 Deputy Minister of Industry and Trade Cao Quoc Hung presents the decision to Mr. Nguyen Vu Truong Son (right).
The decision was made in Ha Noi by Deputy Minister of Industry and Trade Cao Quoc Hung.
He was appointed to the position keeping in mind the record low petrol price in the world market, which had resulted in the petroleum sector facing various difficulties and challenges.
He committed that he would complete the group's key tasks by finding solutions in human resources, restructuring, business administration, and capital, in addition to investment administration and protecting the country's sovereignty.
Deputy Minister of Industry and Trade Cao Quoc Hung said PetroVietnam should strive to build a human resource management system with timely preferential policies for talented resources.
Hung said the group should find solutions to complete its restructuring process while improving market research as well as closely control project costs and progress.
In addition, it should have financial solutions to deal with the worst effects of decreasing oil prices this year, he said.
The deputy minister asked PetroVietnam to closely co-operate with ministries, sectors and localities to implement petroleum projects effectively.
PetroVietnam should also create favourable conditions for foreign investors to implement oil exploiting activities, said Hung.
Petrol price unchanged
The domestic retail petrol price remain unchanged yesterday despite an increase of two to seven per cent in the world market.
In a document sent to petrol traders, the ministry said it was allowing the use of the petrol price stabilisation fund to narrow the gap between domestic and world oil prices.
Accordingly, petrol RON 92 would be extracted VND370 per litre, the E5 RON 92 biofuel at VND363 per litre, diesel at VND983 per litre, and kerosene at VND995 per litre, while mazut would be extracted at VND69 per kilo.
The ministry said the world petrol price in the past 15 days was higher than the previo fortnight. The petrol price rose VND40,127 to VND51,273 a barrel or between 4.5 per cent and 7 per cent respectively.
The petrol RON 92 price was kept unchanged at VND13,750 per litre. 
VNS