Vietnamese law compatible with EVFTA's major commitments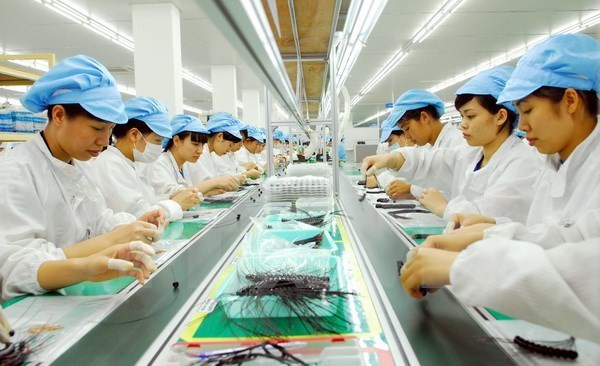 Vietnam's laws on intellectual property (IP) have conformed to most IP-related commitments of the EU-Vietnam Free Trade Agreement (EVFTA), according to an expert team in charge of reviewing domestic IP regulations.
Domestic laws are compatible to commitments in the EVFTA regarding the overall principles of IP protection, IP protection norms and requirements of the effectuation of the deal at border areas, said Nguyen Thi Thu Trang , Director of the WTO and Integration Centre under the Vietnam Chamber of Commerce and Industry ( VCCI ) at a workshop in Hanoi on March 1.
However, she said, domestic law needs to be supplemented to satisfy the pact's commitments on exclusive rights of performers and producers to publicise sound and image recordings; protection of 169 names of EU geographical indications listed in the EVFTA; pharmaceutical patent term extension to offset the loss of term due to delay in obtaining regulatory approval for a product, and presumption of the rights of people whose names are mentioned on works.
Several other commitments in the EVFTA have been mentioned in Vietnam's IP law but they are yet to entirely compatible, Trang said.
She suggested adjusting such inharmonious contents to conform to all international commitments, not just those with the EU.
Trang also called for efforts to strengthen law enforcement to ensure the strictness of IP protection-related regulations, and abide by the deal's commitments in a pragmatic manner.
Other participants called on competent agencies to increase their supervision over the enforcement of IP regulations to ensure legitimate rights and interests of authors as well as the balance between the interests of the society, the community and individuals.
Vietnam and the EU concluded negotiations on their FTA in Brussels last December. The FTA is said to be an inclusive and high quality agreement that ensures the balance of interests for both Vietnam and the EU, with due consideration of the gap of development between the two sides.
The pact covers the trade in goods, rules of origin, customs and trade facilitation, sanitary and phytosanitary measures, technical barriers in trade, trade in services, investment, trade remedies, competition, State-owned enterprises, Government procurement, intellectual property, sustainable development, cooperation and capacity building, legal and institutional issues, as well as new approaches to investment protection and settlement of investment disputes.
The EU is currently the second biggest trade partner of Vietnam, with two-way trade increasing from 17.75 billion USD in 2010 to 36.8 billion USD in 2014.
Exchange rate to be stable in 2016
The exchange rate in 2016 will not have big changes in order to ensure macro-economic stability and support economic growth in accordance with the Government's orientations, according to Bui Quoc Dung, head of the State Bank of Vietnam (SBV)'s Monetary Policy Department.
Dung said that before the SBV implemented its new exchange rate management by announcing the central rate daily, many economists and organisations had forecast an increase of 5-7 percent in the exchange rate.
However, the forecasts changed as the central bank's move helped stabilise the forex market and made the exchange rate decrease sharply.
The Standard Chartered Bank predicted a rise of 1-2 percent in 2016 while the Hong Kong-Shanghai Banking Corporation (HSBC) forecast a 3-4 percent increase. Several economists said that the exchange rate would be up around 3 percent this year.
To implement the Government's policy of gradually easing the dollarisation, the SBV's management measures have followed the goal of decreasing foreign currency speculation and only using US dollar in international payment.
The dollarisation rate fell from 16 percent in late 2011 to around 10 percent currently – the lowest rate recorded so far.
Stronger connectivity to capitalise on TPP opportunities
Stronger connectivity in the industrial sector are vital for optimising opportunities created by the Trans-Pacific Partnership (TPP), said participants at a forum in Hanoi on March 1.
Vice Chairman of the Vietnam Steel Association Nguyen Van Sua pointed out that a majority of industrial manufacturing companies are small-and medium-sized and lack financial strength, high technology and management experience.
As Vietnam will soon fully integrate into the TPP region, which is a vast market with stringent rules on origin and quality, businesses themselves must improve their product quality and establish connections to form a strong community able to compete with foreign rivals, he said.
He also asked authorised agencies to assist domestic enterprises by giving support relating to trade remedies and quality control regulations, and providing detailed information about TPP member nations.
The Ministry of Industry and Trade's Heavy Industry Department also urged for close coordination between State agencies and businesses to expand operation and export and minimise adverse impacts of market opening.
State agencies need to assess the TPP's possible impacts on local goods, investment and services areas so as to fine-tune policies designed for TPP-benefiting industries.
Meanwhile, companies should also acquire an in-depth knowledge of free trade agreements to grasp opportunities, the department added.
Deputy Minister of Industry and Trade Tran Quoc Khanh warned that many small industrial players will be out of the TPP game and urged them to promote their personnel's capacity and adapt their operation plans to the TPP.
TPP is a free trade agreement between 12 countries - Australia, Brunei, Canada, Chile, Japan, Malaysia, Mexico, New Zealand, Peru, Singapore, the United States and Vietnam. It aims to break down trade and investment barriers between these countries of 800 million people, which constitute 30 percent of global trade and about 40 percent of the world's economy.
It was signed by economic ministers from the member nations in New Zealand on February 4.
The pact will now undergo a two-year ratification period in which at least six countries - that account for 85 percent of the 12 nations' combined gross domestic production - must approve the final text for the deal to be implemented.    
Viglacera develops energy-saving construction materials
The Vietnam Glass and Ceramics for Construction Corporation (Viglacera) moves to develop energy-saving and environmentally-friendly construction materials in the future.
The company has recently launched smart sanitary wares and antibacterial bricks which help affirmed its competitiveness in the world market.
2015 was a remarkable year for the strong development of Viglacera, especially in terms of international integration in all aspects of business, from manufacturing to research and training.
In the year, Viglacera was the only Vietnamese enterprise to be granted the "International Skills Partnership of the Year" award in Birmingham, the UK.
Japanese company hopes to build gas storage in Ha Nam province
Japan's Tokyo Gas Chemicals Co., Ltd is considering the building of an industrial gas storage facility at Dong Van 3 Industrial Park in Duy Tien district of northern Ha Nam province.
Chief Representative of Tokyo Gas in Hanoi Yusuke Hirase told local authorities at a working session on March 1 that his company wants to expand investment in Southeast Asia.
He said the company chose Ha Nam for its good investment attraction policies, especially for Japanese businesses, and also for the province's convenient location in trade with Hanoi and neighbouring localities.
Secretary of the provincial Party Committee Mai Tien Dung pledged to create the optimal conditions for the Japanese company to carry out the project, from transport, electricity and water supply to labour recruitment and social order and security.
He said 175 foreign businesses are running investments in the province, including 61 from Japan.
Tokyo Gas Chemicals Co., Ltd is the biggest supplier of liquefied petroleum gas in Japan with over 11 million customers.
Value of goods and services rises
The national retail value of goods and services in the first two months of this year experienced the same growth rate as last year.
However, the strong surge experienced in several previous years was absent, the General Statistics Office (GSO) said.
The office said the total retail value of goods and services in the first two months gained a year-on-year surge of 9.7 percent to reach 587 trillion VND (26.6 billion USD). That is not a high growth rate as usual because of the high demand during the Tet festival in February.
Vu Manh Ha, a GSO expert, said the retail value of goods and services in the first two months of every year saw strong growth year-on-year because of a high demand for goods and services during Tet. The growth rate was about 27 percent in 2010, 23 percent in 2011, 22 percent in 2012, and 12.6 percent in 2013, as well as 11 percent in 2014.
This year, the low growth of purchasing power for goods and services in the local market in the first two months was due to high supply and diversification of goods, Ha said. Therefore, the prices of goods and services rose slightly before and after the Tet festival, leading the national consumer price index (CPI) in the first two months to rise by 0.42 percent year-on-year.
That was a positive result of the State's policies on the operation and management of markets for stabilising prices and the market, Ha said.
Some goods achieved strong growth in terms of purchasing power, with food and rice rising by 12.5 percent, garment by 10.6 percent and home appliances by 10.4 percent.
Some provinces and cities saw a great increase in purchasing power with regard to goods and services, with Hanoi's rising by 12.5 percent, Binh Duong's by 26.9 percent, Thanh Hoa's by 22.2 percent and Hai Phong's by 15.7 percent.
Small, medium firms attract foreign investors
Since early February the ASEAN Deep Value Fund has been acquiring more shares of Hong Ha Vietnam Joint Stock Company (PHH) and Thanh Nam Investment and Construction Joint Stock Company (CSC). It now owns 10.9 percent and 13.9 percent of the businesses.
Also during this period America LLC increased its holdings in Ha Dong Urban Environment Joint Stock Company (MTH) and PetroVietnam Power Service Joint Stock Company (PPS) to 5.9 percent and 7.1 percent respectively by buying steadily.
Meanwhile, Cambodia-based Calavi International Investment owns 22 percent of VECO1 Electricity Construction Joint Stock Company (VE1).
FCN PYN Elite Fund (Non-Ucits) recently bought 287,860 shares of FECON to increase its holding in this company from 6.42 percent to 7.05 percent.
Andbanc Investments SIF has registered to buy 700,000 shares of Vietnam Fumigation Joint Stock Company (VFG) between February 19 and March 19. If the deal is successful, the fund will own 3.98 percent of VFG.
Interestingly, most of them are small- or mid-cap companies.
Analysts say foreign funds have been in a race to buy small- and mid-cap stocks since mid-2015 when many such shares were more volatile and liquid than many large-cap stocks.
Explaining the trend, securities analysts say foreign investors usually prefer stocks that have good potential rather than just large market caps.
Most of the businesses they have recently bought into have good business prospects.
Many small- and mid-sized stocks saw their prices rise by 50-150 percent last year.
PHH, for instance rose 2.5 times between March 31 and July, and VE1 by 57 percent.
Some analysts say small-cap stocks are often investors' favourites especially when the big caps like banks and property firms become less attractive and when there is little macro information to move the market.
Others say small- and mid-cap stocks are attractive to foreign investors because they are likely to have more opportunities to develop in future.
This is because many free trade agreements, specially the TPP, have already been signed by Vietnam, and this will help speed up reform making many domestic firms more capable of competing when the competition arrives.
They also say large caps have become less attractive to foreign investors since many are grappling with problems like bad debts in case of banks and a resource crunch in case of others.
These problems are expected to worsen in future because the State Bank of Vietnam plans to tighten lending to the real estate sector to preclude bad debts and check the huge credit flows into the property sector.
Soc Trang: Canadian fund for creative businesses proves effective
A Canadian fund for small- and medium-sized enterprises has fertilised ground for several creative business ideas after its two-year implementation in the Mekong Delta province of Soc Trang.
Twenty-nine local firms have registered their projects so far.
In 2015 alone, three initiatives were selected from 13 submissions and granted nearly 800 million VND (36,000 USD). These included a project on cooperation models to produce and diversify abalone mushrooms, which secured an investment of more than 350 million VND (15,750 USD).
Beginning in 2014, the funding programme, which has a budget of 12 billion VND (54,000 USD), will last until 2017.
It aims to provide 49 percent of total costs of the project selected from across 11 local districts and cities.
Maximum funding per project is 500 million VND (22,500 USD) for enterprises, and 300 million VND (13,500 USD) for households and collectives.
According to Le Thanh Tri, Deputy Chairman of the provincial People's Committee, the Canadian government's support through the programme has encouraged local business creativity, contributing to economic development in the locality.
The firms recorded a revenue increase due to production growth and improved competitiveness. As such, they provided more training for employees and created more jobs.
AIA Vietnam sees excellent results in 2015
AIA Vietnam said on February 28 that it had excellent business results last year, as the value of new business doubled for three consecutive years and the AIA Exchange, an innovative agency branch model, was launched.
"For the third consecutive year, AIA Vietnam more than doubled its VONB (value of new business) compared with the prior year," said Gordon Watson, AIA Group's Regional Chief Executive.
"The agency continues to be our primary distribution channel in Vietnam, and our success in this market is due to a strong execution focus on our core pillars of quality recruitment and productivity enhancement," he added.
AIA Exchange aims to attract younger, full-time agents in the major metropolitan hubs of Vietnam.
"These branches and other recruitment initiatives have enabled us to grow the number of Active New Agents by more than 30 percent over the year," Watson said.
Wayne Besant, AIA Vietnam's CEO, said the company's strong business performance had been driven by growth across all distribution channels, agency and partnership distribution.
VN goods struggle in UAE
A lack of information about the market and a foreign culture are seen as hurdles that prevent Vietnamese businesses from trading in Dubai, in the United Arab Emirates (UAE).
General Manager of Viet Nam-Dubai Tradehub (Vietgate) company Dinh Cong Tuan said this at a conference to introduce the Market Survey and Trade Promotion of Vietnamese Goods Week in Dubai Programme last week.
Tuan said customers and partners in Dubai had little information on most Vietnamese products.
"Many Vietnamese businesses came to Dubai to do market surveys and work with local partners, but they rarely build links or partnerships with local enterprises in the most attractive trading location in the world," Tuan said.
He said Vietnamese businesses had little understanding about the market, culture, trading modes and consumer habits in Dubai.
He said more than 100 Vietnamese businesses were operating in Dubai, but 80 per cent of them were spas or massage parlours.
Tuan said the Lotus brand rice and dragon fruits were seen as the only successful Vietnamese products in Dubai.
Pham Van Nghia, commercial counsellor of the Viet Nam Embassy in the UAE, said trade between Viet Nam and the UAE had grown from US$508 million in 2010 to $5.7 billion in 2015.
"We saw exports from Viet Nam to the UAE earn $5.7 billion in turnover, with $4 billion coming from Samsung products, and only $1.7 billion coming from Vietnamese farm produce, seafood, footwear and garments, as well as electronics, confectionary, fruits and vegetables and foodstuff," Nghia said at a conference in Da Nang on Thursday.
He said Vietnamese products were favoured by customers in Dubai, but the made-in-Vietnam brand promotion was rarely seen there.
Nghia said on the Vietnamese Thieu litchi Day organised last year in Dubai, hundreds of kilograms of Thieu litchi from Viet Nam sold out within 20 minutes.
He said many partners in Dubai liked Thieu litchi and wished to import a large volume of the fruit in the coming years, besides confectionary and dry fruits.
He said the Dubai market was very open and positive to Vietnamese products, with import tax ranging from zero to 5 per cent, and no imposition of anti-dumping or protection duties.
Nghia said Viet Nam exported 60 products to the UAE, of which 18 had an export turnover of $10 million.
Le Ba Quy Don from Da Nang Seafood Product Company said his company had an export turnover of $6 million each year, but the Dubai market occupies several thousands of US dollars.
"We are yet to know more about the Dubai market as well as the complicated procedures for seafood export. We face strong competition in prices from Chinese rivals in Dubai," Don said.
Nguyen Thi Thanh Thao from Thanh Thao seafood export company said she has been trying to enter the Dubai market.
"We are yet to get much information about the market, the Arab language presentation on products and on partnerships with businesses in Dubai," Thao said.
"We need support from trade representatives of Viet Nam in accessing markets and information," she said.
The Trade Promotion of Vietnamese Goods Week and a business-to-business meeting entitled 'Connecting Viet Nam businesses to the Dubai Chamber of Commerce and Industry' will be held at Choithram market system in Dubai from April 16 to 21.
Fifty Vietnamese businesses from HCM City, Can Tho, Khanh Hoa, Da Nang and Ha Noi, have registered to take part in the Vietnamese goods promotion week in Dubai, and 30 enterprises will send samples of their products to the event.
 20 enterprises receive golden prizes at 2015 National Quality Awards
The Prime Minister has decided to offer 20 golden and 50 silver prizes for National Quality Awards in 2015 to 77 local outstanding businesses acorss the country.
20 companies received National Quality Gold Awards, including 10 large-scale manufacturing units, two large-scale service companies, seven small and medium scale manufacturing companies, and one small and medium scale service companies.
The National Quality Awards is an important annual award honoring companies' achievements that are based on quality standard in modes of production, sales and services during a year.
Started in 1996, the award aims to raise quality of Vietnamese goods and build a good reputation in domestic and international market.
Cement export faces severe competition
Cement consumption in the year will face difficulties and cement export is also under pressure of competition, reported the Ministry of Construction.
In order to reduce competition, many cement projects were delayed and it is scheduled that no more cement production lines were put into operation this year.
Total cement in stock across the country is around 2.95 million tons . Bangladesh is currently the most important market of Vietnamese cement. In the first month of 2016, Vietnam exported nearly 500,000 tons of cement to Bangladesh worth US$15.15 million equivalent to 34.4 percent of total exported cement.
Additionally, cement supply is abundant in the country.  As a result, entrepreneurs need to have proper measures and plans for production to release pressure,
The Ministry promised to promote construction to push domestic consumption to ensure the cement sector growth.
Deposit rate touches two year high of 8%
Some commercial banks have continuously increased interest rates to attract depositors, setting a record two-year high of 8 per cent per year.
Eximbank last week increased its deposit rate from 7.5 per cent to 8 per cent per year for some terms. The new rate was applied for deposits of at least VND10 billion (US$450,000) with 36 month term.
The Orient Commercial Joint Stock Bank (OCB) has also just listed the same rate for 36-month deposits. The bank even offered an additional 0.1 percentage points per year for depositors those make online savings.
SeABank is also offering the 8 per cent rate for 13-month deposits, however, beneficiaries must be the bank's regular customers for five years with deposits of at least VND200 billion.
Currently, other commercial banks list their highest rate between 7.4 per cent and 7.5 per cent per year for long-term deposits.
Under the current regulation, the central bank sets the cap of 5.5 per cent per year only for short-term deposits of under six months. The rates for medium- and long-term deposits are float.
According to a report from the Capital and Monetary Business Department under the Bank for Investment and Development of Viet Nam (BIDV), the speed of capital mobilisation this year can be improved slightly compared with 2015, reaching about 16 per cent to 17 per cent.
The reason was that the real savings rates of the dong still remained as attractive as expected and inflation was controlled to a low level, BIDV researchers said. At the same time, the recovery of other markets had not been completely stable. In addition, the central bank may inject more money to boost credit and stimulate economic growth.
Banks said that besides aiming to restructure their facilities to have more long-term capital sources, the deposit rate hike is also expected to help them retain their customers.
However, experts were concerned that it could initiate a rate hike race among banks to attract depositors. The deposit rate hike could also cause a rise in lending rates next time as input costs of banks increase.
Earlier, in the first month of the year, the central bank required credit institutions to obey legal regulations on deposit interest rates to ensure safety of institutions and stabilise the local monetary market.
The central bank said that credit institutions are not allowed to use 'technical measures' as a loophole to indirectly exceed the central bank's rate cap. The central bank prohibits any unhealthy competition in the capital attraction of credit institutions. — VNS
SMEs eye opportunities from integration
After finishing construction of a factory that makes plastic materials, Hung Phat Co, Ltd of HCM City's Binh Tan District has quickly imported modern machines to expand production.
Nguyen Hung, its director, said sales have increased strongly thanks to good quality and competitiveness compared even to other countries in the region.
The formation of the ASEAN Economic Community (AEC) and Viet Nam's free trade agreements have opened up export opportunities but also great competition even in the domestic market, he told Dau tu (Viet Nam Investment Review).
"To capitalise on the opportunities and overcome the challenges, I researched a lot to expand production scale to gain a firm foothold in the market and compete with foreign firms."
Hoang Thanh Thuy, after working for a foreign garment company for more than 10 years, set up her own in 2012 with 20 workers.
Two years later, with the country preparing to sign the Trans-Pacific Partnership (TPP) agreement and the imminent establishment of the AEC, she decided to expand.
Now her company, Van Tuong Garment Co Ltd, has a factory in Tan Phu District with nearly 100 skilled workers.
Last year she signed a large outsourcing order for the Japanese market.
Japan is a fastidious market with stringent technical requirements, and so her company had to methodically invest in technologies and technical processes, she said.
TPP would bring opportunities for her company to boost exports to Japan, she said, adding that she plans to buy more advanced machinery and equipment to expand production.
Besides the garment and textile sector, the wood processing sector, with a large number of small- and medium-sized enterprises, will also benefit from international integration.
Thien Huong Interior Co Ltd in Long An Province are busy fulfilling export orders from the US.
Nguyen Van Hoan, its director, said though he only runs a medium-sized company, he always keeps a close eye on information related to TPP and expects the wood products sector to enjoy its benefits since most Vietnamese companies import timber from and export products to member countries.
While they lack the financial strength of large companies, SMEs have developed close linkages among themselves in each stage of production, which enables them to make quality products that are able to compete in global markets, according to the HCM City Business Networking Club.
PM calls for higher GDP projection
Prime Minister Nguyen Tan Dung suggested Cabinet members raise the national GDP growth rate target from 6.7 per cent to 7 per cent in 2016.
Addressing a regular Government meeting in Ha Noi yesterday, the PM highlighted the GDP growth rate of 6.68 per cent as the most noted achievement of last year.
The figure represents the highest increase since 2008, even higher than the number reported to the National Assembly (about 6.5 percent) and the set target of 6.2 per cent.
Regarding the country's socio-economic development in the first two months of this year, the leader said the nine-day Lunar New Year (Tet) holiday had not affected performance.
However, investment procedures remained inconsistent and complicated, he said. He urged agencies and localities to pay more attention to administrative reform in order to create an optimal environment for investors while making the best use of trade agreements Viet Nam has signed to lure more investment.
Noting the US$22 billion in official development assistance (ODA) committed by donors, PM Dung called for greater efforts to speed up ODA disbursements and the maximising of loans to spur socio-economic development.
The Cabinet members showed their concern over saline intrusion in the Mekong Delta and the continuing drought in the central and central highland regions.
PM Dung requested the involvement of ministries, agencies, localities and the entire political system in combating the natural disaster.
The top priority is to ensure fresh water for daily activities, he said.
He urged thorough preparations for a report on national socio-economic development and a working report of the Government over the past five years, which will be submitted to the Party Central Committee and the National Assembly in March.
The meeting heard that in 2015, the state budget collection hit nearly VND997 trillion (US$44.9 billion), up 9.4 per cent compared with the previously estimated figure. State budget overspending was estimated at 6.1 percent of GDP.
Twelve out of 14 targets set by the National Assembly were fulfilled or surpassed. The two exceptions were the rate of forest coverage and the export growth rate.
The first two months of this year saw an outstanding performance in the service sector, with an increased number of international tourists, improved purchasing power and higher credit growth.
Also in the morning session, Sen. Lieut. Gen. To Lam, Deputy Minister of Public Security, presented the National Assembly Standing Committee's draft resolution on the continued application of the Ordinance on Management and Use of Weapons , Explosives and Supporting Tools until a law is formed.
The Government considers the prevention of drought and saltwater intrusion an urgent task, said deputy head of the Government Office Nguyen Khac Dinh at the regular Cabinet press conference yesterday.
According to Dinh, since last October, the Government organised many seminars on the issues and issued direct instructions for localities that suffered losses.
On February 24, the Prime Minister signed a decision to provide VND85.1 billion (US$3.8 million) for Quang Tri, Dak Lak, Dak Nong, Long An, An Giang and Dong Thap provinces to deal with droughts.
The Ministry of Agriculture and Rural Development asked the PM for an additional VND623 billion for 39 localities to fight drought and saline intrusion.
The cost for this work during 2016-20 is estimated at VND55 trillion.
Dinh suggested localities build dykes to prevent saltwater intrusion and dig wells and canals for water.
TTF distributes third of shares
Truong Thanh Furniture Corporation (TTF) was planning to issue nearly 70 million shares or 32.5 per cent of stake to Tan Lien Phat Construction JSC, a subsidiary of Vingroup, worth VND1.2 trillion (US$53.5 million).
Earlier, TTF, borrowed two loans worth over VND1.2 trillion from Tan Lien Phat. The first loan worth VND603.5 billion was set to be converted into shares at a conversion price of VND14,200 each, while the second loan worth VND598.5 billion was converted into shares at the price of VND22,000 each.
TTF was going to ask the shareholders at the general shareholders meeting in March 31 for the approval of the plan. If approved, the transaction would be made in Q2.
Tan Lien Phat was the investor in Vingroup's Vinhomes Central Park and the chain of supermarket and convenient stores of Vinmart and Vinmart+.
TTF, at the same time, was the main provider of wooden items and furniture of many large constructions of Vingroup such as Vinhomes, Vincom, Vinpearl, and VinDS, in addition to Vinmec.
TTF reported VND2.5 trillion in revenue and VND439 billion in net profits in 2015, an increase of 56 per cent and 63 per cent, respectively, over 2014.
Based in HCM City, with the charter capital of VND1.4 trillion, TTF works in the timber and furniture industry and forest plantation. TTF was managing 14,000 hectares of harvesting forest in the south of Viet Nam.
Except Vingroup, other long term partners of TTF include real estate developers of SSG, Dai Quang Minh, Dat Xanh Group, and Nam Long Group, apart from Coteccons.
According to the local media, with the country joining the Trans Pacific Partnership, it would give TTF a huge opportunity to find new business partners that have moved away from China.
As a strategic shareholder of Vingroup, TTF had a great opportunity to get a stronger output capacity through the group's retail centres in the local market.
TTF shares ended at VND31,200 each on the HCM Stock Exchange yesterday.
Five FDI projects receive licenses in Vinh Phuc
The authorities of northern Vinh Phuc Province granted investment licenses for five new foreign direct investment (FDI) projects and approved the increase capital for two projects with total registered capital of US$60 million in the first two months of this year.
Most of the new projects operate in sectors of garments, export – import and electronic accessories.
The province has been focusing on site clearance for major projects including Thang Long Vinh Phuc Industrial park and FLC Group's eco-tourism zone.
According to the province's investment promotion agency, investment will continue to increase in the province this year. It is expected to exceed the set target of $200 million from foreign direct investment projects and VND5 trillion ($223.7 million) from domestic direct investment.
To attract more investment, the province boosts promotions and solves difficulties for firms which are investing in the province to create a better environment for the investors.
Vietnam Expo 2016 to push regional trade
The 26th Vietnam Expo 2016 will take place at the Friendship Cultural Place - I.C.E 91 Tran Hung Dao in Ha Noi from April 13-16.
This year's fair aims to enhance regional and international economic connectivity and will see the participation of more than 450 companies from 20 countries and territories showcasing their products at 520 booths, said the organising board.
Organised by the Ministry of Industry and Trade and the National Trade and Advertising Joint Stock Company (Vinexad) over the last two decades, the annual event serves to promote trade ties between Viet Nam and other countries.
VN firms join Food & Hotel Asia 2016 exhibition
Four Vietnamese companies will exhibit their products at Food & Hotel Asia 2016, a leading international food, beverage and hospitality exhibition to be held in Singapore in April.
The companies are well-known for their products including Long Son Joint-Stock Co for cashews, Minh Long I for porcelain wares, Yilin Vietnam for foodstuff and sauces, and Hoang Mai Production and Trading Co for confectionery.
The exhibition, which is expected to attract a total of 3,300 exhibitors from 90 countries and regions.
Held from April 12 to 15 at the Singapore Expo, FHA2016 will feature six specialised exhibitions, namely FoodAsia, HotelAsia, SpecialityCoffee&Tea, Bakery&Pastry, HospitalityStyleAsia and HospitalityTechnology, each with their own unique themes and areas of focus.
GAS lists an additional 19 million shares

Viet Nam Gas Corporation (GAS) has listed another 19 million shares on the HCM Stock Exchange.
The exchange announced its approval for more GAS listings yesterday, taking the total GAS listings to more than 1.9 billion shares and the charter capital of the company to VND19.1 trillion (US$852.6 million)
The additional shares worth VND10,000 par value were issued for the company's employees under the Employee Stock Ownership Programme (ESOP) at an incentive price of VND20,000 each.
ESOP shares were restricted to a transfer within one year from the date of issue.
Vikoda offers shares up to increase charter capital
Khanh Hoa Beverage JSC or Vikoda (VKD) offered another 9.84 million shares to its existing shareholders at the price of VND10,000 each.
The shares were to help VKD raise its charter capital to VND120 billion (US$5.3 million), 5.6 times more than the current charter capital of the company.
In the meantime, 2.16 million shares of VKD were listed in the UPCoM market. Reportedly, shares of VKD had been listed at VND5,400 each from August 9, 2015, when they was rated at more than 6.5 times their price.
Yesterday, the shares closed at VND35,000 each.
Vikoda produces beverage brands such as Danh Thanh mineral water, Sumo, and Isport.
Taxpayer database to stop payment evasion
The development of a taxpayers' database is necessary to improve the management of tax agencies and prevent tax evasions, such as transfer pricing, according to Deputy Minister of Finance Do Hoang Anh Tuan.
However, developing a taxpayer database would require the coordination of many organisations in different industries, such as garment, textile, footwear and beverages, he said at an online meeting last Friday, held by the General Department of Taxation.
Tuan noted that simplifying tax administrative procedures, coupled with applying information technology, were first steps in developing a reliable database for better management.
With a taxpayer database containing transparent financial indicators, the quality of forecasts of budget collections would be improved, said Tran Van Phu, Deputy General Director of the taxation department.
At the conference, tax authorities also raised concerns about difficulties in collecting tax debts and slow tax refunds.
Nguyen Dinh An, Deputy Director of Da Nang Taxation Department, said that tax refund regulations must be made clear, as enterprises were angry about slow refunds, while they had to pay fines due to the slow payment of debts.
In 2016, central budget collections were anticipated to drop by some VND50 trillion (US$2.22 billion) due to plunging global oil prices.
To cope with this drop, tax departments urged provinces and cities throughout the country to raise measures to promote production and business, while focusing on handing tax debts and enhancing inspections in sectors in which tax frauds and transfer pricing commonly occurred.
During the 2016-20 period, the General Department of Taxation set a goal for domestic tax collections to reach more than 80 per cent of total budget revenues, while increasing by 10 per cent over the previous five-year period.
This was an effort to implement the 12th Party Congress Resolution, which said that the proportion of tax collections to the State budget must be at least equal to 21-22 per cent of the country's gross domestic product (GDP) and ensure a budget deficit of below 4 per cent and public debt at below 65 per cent of GDP.
Still, the department said that tax collections must be increased in line with economic growth and price index increases.
Last year, tax collections reached VND806.3 trillion, or 110.2 per cent of estimates.
Hoa Sen exports 20,000 tonnes of steel sheets to the US
Hoa Sen Group exported 20,000 tonnes of rolled steel sheets to the US at the SP-SSA International Terminal (SSIT) in the southern province of Ba Ria Vung Tauon February 29.
This has been one of the largest steel sheet batches to the US so far, which have met the requirements of ASTM (American Society for Testing and Materials), BSEN (British Standards European Norm) and JIS (Japanese Industrial Standards).
Le Phuoc Vu, chairman of steel giant Hoa Sen Group said the groupstarted selling products to the US in 2014 but has stepped up exports since September last yeartCurrently, the group's annual earning from exports of steel sheets accounts for 40% of its revenues. He emphasized that the US is a demanding market with strict requirements in terms of quality, services and delivery time. Hoa Sen's products have met all the demands to penetrate the world's leading economy.
Vu said international economic integration and the Trans-Pacific Partnership (TPP) has opened up huge opportunities for Vietnamese businesses to access major markets such as the US, Australia, Mexico, Chile and New Zealand.
Meanwhile, deputy minister of industry and trade Tran Tuan Anh said the move has proved that local businesses can integrate in the global economy effectively in a fair and competitive manner.
Last year, Hoa Sen group exported more than 400,000 tonnes of products to more than 60 countries in the world, especially the US, earning a revenue of over US$300 million.
Cambodia outdoes Vietnam in EU garment market share
Vietnam currently ranks sixth among the biggest garment exporters to the EU, trailed by China, Bangladesh, Turkey, India and Cambodia, according to the Vietnam Textile and Apparel Association (Vitas).
Last year, the EU imported US$3.11 billion of apparel products from Vietnam, up 5.01% in value and 3.21% in volume, and accounting for 3.45% of the EU market share.
cambodia outdoes vietnam in eu garment market share hinh 0
Despite a price reduction of 2.31% from a year earlier and lower price levels than Vietnam, Cambodia's EU market shares were higher than Vietnam, constituting 3.64% with its EU garment exports registering US$3.27 billion.
Garment experts described Cambodia outpacing Vietnam in garment exports to the EU as a big surprise.
Vitas reported that during the first two months of this year, garment exports hit US$3.6 billion, up 12.4% against last year's same period. However, price levels were just as same as last year even down by 0.5-1%.
Vietnam likely to forgive US$571 mil taxes, fines for businesses
The Ministry of Finance has recommended the government should waive back taxes and related fines owed by businesses estimated at more than VND13 trillion (US$571.2 million), Tuoi Tre newspaper reported on February 29.
In a letter to the government, it has sought to write off taxes owed by businesses that have shut down and their owners cannot be traced or have no means to pay.
The finance ministry has sought the government's approval to waive US$571 million in back taxes for troubled businesses
It called for waiving fines for businesses that are unable to pay their taxes because they are not breaking even. But for that they have to pay off their tax dues before December 31.
The waivers will not be applicable to real estate businesses and those distributing items subject to luxury tax -- such as automobiles and alcohol.
The proposed amount was estimated as of the end of 2013.
Taxes and fees, worth VND806.3 trillion (US$35.25 billion), accounted for 88.5% of the government's revenues last year.
Scandal leaves multinational companies facing boycott
A range of goods from various multinational companies sold in Vietnam are being boycotted by consumers due to the bad reputation of their brand ambassador.
The companies, which hired 32-year-old Ho Ngoc Ha – a female celebrity in the middle of an adultery scandal – to sell their products, include Unilever's Sunsilk and Vaseline brands, California Fitness & Yoga, Yamaha Motorcycles, Nestle's Lavie, and many others.
Ha is said to have been romantically involved for years with a wealthy married man who has three children. The man has attempted to divorce his wife, embroiling his whole family in scandal. However, the boycott reached its peak a few days ago when the man's wife, for the first time, expressed her sorrow on a social networking site and received only a cold response from her husband. The public were quick to express their support for the woman, with her post receiving 200,000 likes in less than an hour.
The boycotting campaign is spreading like wildfire around social networking communities, particularly Facebook, by thousands of married women. Activists have also prepared lists of goods made by major competitors, such as Procter & Gamble or Suntory Pepsi Co., to use in place of boycotted products.
Vong Thanh Cuong, managing director of social listening and consulting services provider Boomerang Company, said that "these developments have certainly had detrimental impacts on firms' business operations. The social networking community proves their influence, as many brands have quietly removed photos of Ha from their websites." Thus far, only Unilever's Sunsilk shampoo products and California's Fitness and Yoga continue to use Ha's image. VIR contacted them for comments, but received no response.
According to Cuong, in some cases, brands can exploit major scandals caused by their representatives to capture public attention, for example the case of Adidas' ambassador Luis Suarez biting a competitor during the 2014 World Cup, which made him a household name around the globe.
"In my opinion, this case is not similar, but most brands simply cannot risk damaging their reputation and causing an outcry in the community," Cuong said.
Nguyen Thi Thu Trang, aged 29, an advocate of the boycotting campaign, told VIR that "there is no problem with the products' quality, but consumers need brands to respect our cultural perspective. An example of a bad lifestyle like Ha's cannot be used to promote our consumption."
Regarding the future of the boycott, Cuong said that the scandal had passed its peak of interest, and was likely to gradually subside provided that no new details were disclosed. The boycott has even targeted all entertainment shows starring Ha as well as online newspapers supporting her.
VEF/VNA/VNS/VOV/SGT/SGGP/Dantri/VET/VIR