VietNamNet Bridge – The Ministry of Construction recently issued a circular on granting certificates to real estate agents as part of efforts to ensure a high quality of brokering and clean up the current mess in the sector.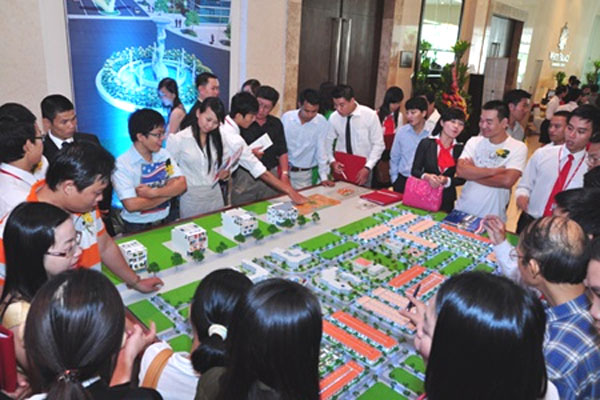 The circular that took effect last Tuesday stipulates that brokers must be tested on laws governing real estate trading, the property market and investment, money laundering, and brokering and other relevant skills. — Photo cafeland.vn
The circular that took effect last Tuesday stipulates that brokers must be tested on laws governing real estate trading, the property market and investment, money laundering, and brokering and other relevant skills.
Local construction departments will organise the tests and issue certificates to candidates, who must also possess at least high school diplomas. The certificate will be valid for five years from the date of issue.
Individuals or companies seeking to set up a real estate trading floor should establish a company with a certified broker as chief and at least two other agents with valid certificates.
The trading floors must have a minimum area of 50 square meters and the requisite equipment.
Some 26,000 brokers have been certified so far after finishing a short training course, according to the ministry.
The circular has more requirements for applicants.
Analysts described the new circular as a robust move to regulate the working of real estate brokers and trading floors, minimising risks for customers.
But others said it could be too little.
They pointed out that there is a boom in trading floors and many use tricks similar to those adopted by multi-level marketing companies such as sending messages to customers, providing misleading information about real estate products, causing price bubbles.
Many of the larger ones have 500-600 employees, and often in the thousands, but the circular only requires them to have two certified brokers, they said, adding it would not have any impact on property trading floors.
So the new circular is unlikely to improve the chaotic situation in the real estate market, many warned.
Allowing sale of unfinished projects is another major reason for brokers getting away with providing inaccurate and even false information.
To ensure the efficiency of the new regulation, analysts said the ministry should increase the number of certified brokers per real estate trading floor since two is too few.
To ensure brokers are on their best behaviour and comply with the law, strong sanctions in case of violations, including cancellation of their certificates, are also needed, they said.
VN racks up remittance
According to the World Bank, last year Viet Nam remained among the top 15 recipients of remittances, with around US$12.5 billion. The country ranked 11th globally and third in the Asian-Pacific Region behind China and the Philippines.
A Vietinbank source said the majority of last year's remittances came from three countries: the US, Australia and Canada. Overseas Vietnamese in the US alone sent $7 billion.
In the last 25 years the country has received $105 billion after growing at around 38 per cent a year on average.
Analysts attribute the relentless rise to several reasons, including the country's switch to market economics and its open door policy and the resultant financial liberalisation, integration, and legal improvements in the financial sector.
The increasing number of people moving to live or work abroad is another reason.
In addition, the Government has in recent years adopted many policies that encourage overseas Vietnamese to invest in their homeland, including that of owning homes.
Other reasons have been the depreciation of the dong against the dollar, the economic and property market recovery and improved international remittance services.
Remittances, like foreign direct investment (FDI), have a big role in developing the economy, but unlike FDI, receive little attention from the Government.
Analysts expressed concern about the fact that the government has yet to regulate the use of remittance monies or fully exploit this precious resource.
As a result, the remittances are not invested productively to benefit the economy, and a lot of it flows into real estate, especially thanks to the Government's encouragement.
Last year nearly 22 per cent of remittances went into the property sector, and the figure is expected to increase and return to old, higher levels.
In a market that is not mature yet, this threatens to cause distortions.
The question is how to route the remittances into production rather than consumption activities.
It is necessary to have policies that persuade beneficiaries of remittances to invest the money in productive activities that can bring in more profits than from bank deposits in Viet Nam or the source country.
Besides, the business environment needs to be improved to make it more attractive to investors.
To do this, the Government needs to be stabilise the economy and reform policies to create a fair and transparent business environment which will foster healthy competition and ensure low transaction costs.
Analysts said the country should consider remittances as a powerful financial resource to develop the economy via household economics, and should offer incentives just like for FDI since they are also invested in production activities.
Casino suitor
French group Casino is still seeking a suitable buyer for its Big C Vietnam supermarket chain.
Thailand's TCC Holding and Central Group have shown keen interest in acquiring Big C.
Last month TCC Holding, which is controlled by billionaire Charoen Sirivadhanabbakdi, acquired German wholesaler Metro Cash & Carry Vietnam's 19 stores with more than 3,300 employees.
The group also recently bought a 58.6 per cent stake in Big C Thailand for $3.5 billion.
According to Reuters, Casino's plan to sell its Viet Nam operations has also attracted attention from Singapore's Dairy Farm International Holdings, South Korea's Lotte Shopping and Japan's retail conglomerate Aeon. All three have a presence in Viet Nam and seek to expand in the country.
Dairy Farm, the second largest retailer in Singapore with supermarkets and hypermarkets in Singapore, Malaysia, Indonesia, and Brunei, has opened its first outlet in HCM City's District 7.
Lotte Shopping, the biggest department store operator in South Korea, has over 10 supermarkets and malls in HCM City and other places.
Aeon has malls in HCM City, Binh Duong Province, and Ha Noi, and plans to open a second mall in HCM City's District 7 in July. It plans to have 20 malls around the country by 2020.
Big C Vietnam, which banks have valued at $800 million to $1 billion, has 32 supermarkets and stores, 10 convenience food shops and e-commerce website Cdiscount.vn.
Analysts think Big C Vietnam might have more than five suitors, the others including domestic retailers with deep pockets and an ambition to match.
After all, the Vietnamese retail market is growing strongly, having already exceeded $100 billion, thanks to its young and large population, making it very attractive to prospective investors.
Big C offers them many advantages like a large network and its stores' prime locations.
Compiled by Thien Ly
VNS