Vietnam National Oil and Gas Group (PetroVietnam) is seeking approval to lower tax rates at the Dung Quat Oil Refinery because of a lack of competitiveness against imported fuels.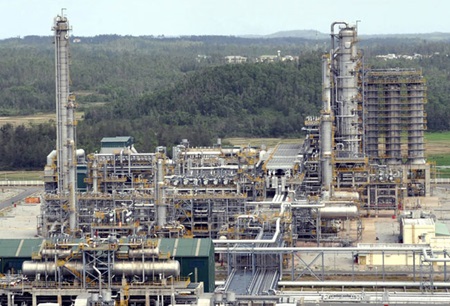 Part of Dung Quat Oil Refinery. The oil refinery is seeking lower tax rates amid plunging oil prices.
PetroVietnam has claimed in a report to the Government Office, the Ministry of Finance, and the Ministry of Industry and Trade that the refinery, the country's sole oil processing facility, is faced with high inventories as signing of long-term consumption contracts has seen difficulties.
The diesel and mazut import taxes from ASEAN countries were cut from 20 per cent to 10 per cent since the beginning of this year in accordance with the ASEAN Trade in Goods Agreement (ATIGA). However, products from Dung Quat are still subject to an import tax of 20 per cent, forcing a number of local businesses that bought petroleum from Dung Quat to choose other imported sources.
In the context of plunging petroleum prices in the world market, several petrol traders only signed short-term contracts of two to three months. Viet Nam National Petroleum Group (Petrolimex) – the PetroVietnam's biggest buyers also signed a consumption contract for the first two months of the year while reducing the amount from 120,000cu.m to 80,000cu.m a month to wait for further changes.
Nguyen Sinh Khang, PetroVietnam's deputy general director said diesel and mazut accounted for a half of Dung Quat Oil Refinery's product structure.
This was why the increase in taxes could present difficulties for the Binh Son Refining and Petrochemical Co (BSR), which operates and manages Dung Quat, Khang said, and added that the refinery might have to reduce its capacity or close down in the future.
In 2015, the Dung Quat Oil Refinery also explored the possibility of closing the refinery after the application of ATIGA taxes. The finance ministry decided to reduce taxes from the refinery to 20 per cent which is equal to that of ASEAN countries.
The refinery reported a turnover of VND95 trillion (US$4.2 billion) and profit of VND6 trillion in 2015 despite difficulties.
The $5 billion refinery started operations in 2009. In the middle of last year, it invested $1.82 billion to increase its capacity to 8.5 million tonnes a year.
The project is expected to be completed by 2021.
VNS