In 2015, the Vietnam trade deficit with China hit an all-time record high of US$32.3 billion and the effect on the nation's economy has not been beneficial, says the Ministry of Industry and Trade (MoIT).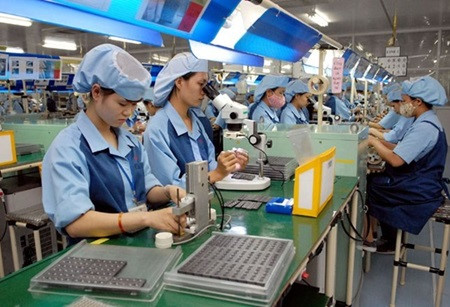 "The massive trade deficit is costing the nation manufacturing employment, reducing its export capacity and adding to the total amount of foreign debt," said MoIT Deputy Director Tran Tuan Anh.
But the jobs impact of the China trade deficit is not the full extent of the negative consequences— as the cheap Chinese consumer goods entering the Vietnam marketplace have resulted in the loss of revenues for the nation's local businesses and in particular, farmers.
Anh said a major cause of the rapidly growing Vietnam trade deficit with China is currency manipulation.
"Unlike the currencies of other countries, the Chinese yuan does not fluctuate freely against the US dollar and the Vietnamese dong," said Anh.
Instead, China has tightly pegged its currency to these currencies at a rate that encourages large bilateral trade surpluses.
As China's productivity has soared in past years, its currency should have adjusted, increasing in value to maintain balanced trade.
But the yuan has instead remained artificially low as China has aggressively acquired dollars, dong and other foreign exchange reserves to further depress the value of its own currency.
moit presses to trim import dependence on china hinh 0
Although the yuan has appreciated significantly since 2005, many leading economists estimate that the Chinese currency is still massively undervalued, and is "arguably one-sixth of what it should be".
These same economists have said China is the single most important currency manipulating country around the globe, based on its massive currency intervention over the past decade.
Currency intervention artificially raises the cost of Vietnam's exports relative to China's in every country where the two nations goods compete and specifically makes Chinese goods less expensive in Vietnam, thereby undercutting local businesses.
"Other Chinese government policies also surreptitiously encourage exports," said Anh as China provides massive direct export subsidies to many key industries and it implements many strict, non-tariff barriers to imports.
In addition, Anh said the nation's manufacturers import more than 90% of their raw materials and intermediate goods from China, which are then incorporated into the manufactured product and re-exported.
Though re-exports don't add to the trade deficit (as they create a trade surplus and reduce the deficit) they certainly cost the nation manufacturing employment and must be reduced in line with the rules of origin to take full advantage of recently signed free trade agreements (FTAs).
Since China is not a participating member of many of the FTAs Vietnam has signed, Vietnam's exports under those agreements that utilize Chinese imports will not qualify for preferential tariff treatment.
Therefore, Anh underscored it is critical to completely restructure the nation's regional and global supply chains, focusing on trimming overdependence on Chinese imports to best seize opportunities presented by FTAs.
VOV