Low-cost carrier Vietjet Air and Airbus have signed an agreement to open a training centre in Vietnam's southern city of Ho Chi Minh at the ongoing Singapore international Airshow 2016.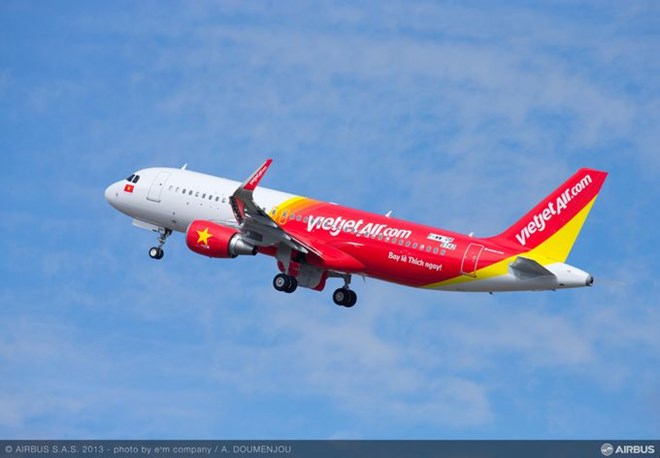 The centre will focus on training pilots, engineers, mechanics, flight dispatchers and flight trainers.
Under the agreement, Airbus will provide Vietjet with an Airbus A320 Full-Flight Simulator (FFS) to conduct flight crew training for its A320 fleet.
Airbus will also provide maintenance training services via the Airbus training media and courseware, including its trainers and teaching techniques.
The programmes will be conducted within the Airbus Competence Training (ACT) classroom concept, while bringing Airbus and the European Aviation Safety Agency (AESA) standards to the Vietjet training organisation.
Speaking at the signing ceremony on February 17, Vice President of Vietjet Dinh Viet Phuong praised the effective collaboration of the two sides in recent times, highlighting that "this agreement once again marks a new milestone for both organisations."
He said Airbus's training expertise will help enforce Vietjet's capabilities in flight and maintenance training be in line with the internationally recognised standards.
"Investment in an aviation institute is one of the most important goals in Vietjet's sustainable growth strategies," said Phuong.
Didier Hux, Head of Airbus Customer Service shared his delight in providing Vietjet with equipment and materials for flight and maintenance training.
"We are committed to expanding our services footprint in Vietnam and the region. Teaming-up with Vietjet through our first training services agreement in Vietnam is a major milestone to deliver training by Airbus in the region, and it ensures more efficient service, support and proximity to our customers," Hux said.
Founded in 2007, Vietjet currently has a fleet of 34 aircraft, including A320s and A321s and operates about 200 flights daily.
The airline has to date carried 20 million passengers on 47 domestic and international routes to Singapore, the Republic of Korea, Taiwan, China, Thailand and Myanmar.
Last year, it received a certificate of Operational Safety Audit (IOSA) from the International Air Transport Association (IATA) and was recognised as Best Asian Low Cost Carrier at the 26 th annual TTG Travel Awards.
SR Technics becomes strategic partner of Vietjet Air
SR Technics, one of the world's leading suppliers of technical solutions to airlines, will provide component and maintenance services for the low-cost carrier Vietjet Air's A320 and A321 aircraft after the two sides inked a strategic partnership contract on February 17 at the fifth Singapore Airshow.
Worth 60 million USD, the contract marks a milestone in the relationship between the two enterprises, following the success of the long term CFM-5B engine services partnership, signed in early 2015.
Speaking at the signing ceremony, Vice President of Vietjet Air Nguyen Duc Thinh highlighted that SR Technics is a world-leading partner in providing advanced technical services with flexible and committed solutions, which can meet Vietjet Air's operation demands.
Meanwhile, interim CEO of SR Technics said his company is honoured to be a strategic partner of the Vietnamese airline.
The contract enhances SR Technics' commitment while affirming the two sides' mutual trust, he said, believing that Vietjet Air will reap further success in the future.
Vietjet Air is a new generation airline in Vietnam, offering its passengers diversified services at low cost. In addition to the International Air Transport Association (IATA)'s certificate for operational safety audit (IOSA), the carrier won the "Best Asian Low-Cost Carrier" title at the TTG Travel Awards.
Last year, Vietjet also entered the top three fastest growing Facebook airline brands in the world as rated by analysis website Social backers.
Currently, the carrier, with a fleet of 34 A320 and A321 airplanes, is operating nearly 200 flights a day on 47 domestic and international routes, including those to Singapore, the Republic of Korea, Taiwan, China, Thailand and Myanmar.
The carrier is increasing its presence in the Asian-Pacific market to serve the demands of the customers.
Meanwhile, Switzerland's SR Technics provides services either directly to the airline or through other parties such as aircraft leasing companies, Original Equipment Manufacturers or component trading company. It also offers its customers advanced technical services as well as technical training with VIP services around the clock and around the globe. It has more than 500 customers from Europe, America, Asia and the Middle East.
VNA