VietNamNet Bridge – US hotel group Hyatt will be the partner of Vietnamese corporation Thaigroup in a $165 million project, after Thaigroup acquired Hanoi's famous hotel Kim Lien with a "golden land"area of 3.5 hectares.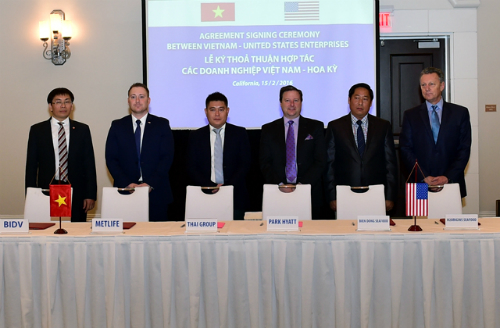 The signing ceremony between VN and US firms on the sideline of the US-ASEAN Summit in California, USA on February 15.

Tran Anh Tuan, Director of the Representative Office of Thaigroup in Hanoi, said Thaigroup had signed a cooperation contract with Hyatt to build a hotel with the brand Park Hyatt Hanoi within 30 years. The signing ceremony took place on the sidelines of the US-ASEAN Summit that was held in California on February 15-16.
Total investment in the project is about $165 million, with about 300 luxury rooms and presidential suites. The project is expected to be completed by 2018. Tuan said that he could not confirm the information about the land where the hotel will be built.
However, at the end of 2015, Thaigroup of Mr. Nguyen Duc Thuy, who is best known as the owner of football clubs and a collection of super-luxury cars, spent about VND1,000 billion (nearly $50 million) to purchase more than half of the shares of Kim Lien Tourism Company (Kim Lien Hotel). In early 2016, he was elected chairman of this company. Thuy said that Kim Lien Hotel will be developed into a highlight of Hanoi, with a complex of 4 and 5 star hotels.
Thaigroup is formerly Xuan Thanh Group, which was established in 2007 with registered capital of VND2,500 billion. The company invests in cement, fertilizer and hydropower industry. Also, it has expanded investment into education, tourism, and high-end resorts.
Kim Lien Hotel has a long history in Hanoi, located on a prime site of 3.5 hectares on Dao Duy Anh Street (Dong Da District). The hotel has 9 buildings, totaling 437 rooms and 5 restaurants. In 2014 the hotel earned revenues of VND127 billion and after-tax profit of VND13.5 billion.
However, the 3.5ha of land is not owned by the company. In September 2014 the Hanoi People's Committee decided to lease the land to Kim Lien Tourism Company in 50 years, from 1993.
Also on the sideline of the ASEAN-US Summit in Sunnylands estate in Rancho Mirage, California, other corporations of Vietnam and the US inked deals in the presence of Prime Minister Nguyen Tan Dung.
The Bank for Investment and Development of Vietnam (BIDV) signed an agreement with BIDV Metlife Life Insurance Limited Liability Company, a joint venture between US-based Metlife and BIDV, on expanding life insurance business in Vietnam.
Accordingly, the two sides will exchange information and experience as well as introduce opportunities in finance and life insurance to each other. Additionally, BIDV Metlife will help BIDV develop Bancassurance, an insurance product sold at banks, and several personal financial services.
Also during the signing ceremony, Vietnam's Bien Dong Seafood, Co. Ltd signed cooperation deals with US's H2Origins Seafood Inc.
Bien Dong Seafood and H2Origins Seafood will work together to raise seafood sales in the US market to more than 300 million USD over the next three years. They also targets to boost their market share to over 40 percent by sharing market intelligence and developing new high-quality seafood products for the US.
Nam Son