VietNamNet Bridge – The plan to purchase the remaining 15% capital of Prime Group has been approved by SCG leaders, with capital of more than $60 million.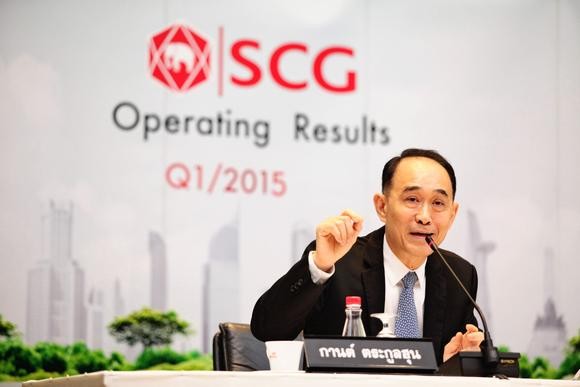 Mr. Kan Trakulhoon, President and CEO of SCG previously confirmed that the group's priorities in Vietnam is the acquisition of other companies, in order to quickly capture the market. Photo: Nikkei.
According to the announcement of the business plan of the Siam Cement Group (SCG), Thailand's largest cement producer,said in The Nation it has approved the decision to buy 15% remaining stake of Prime Group JSC in Vietnam. This plan is expected to cost Siam more than $60 million.
If the plan is completed, the percentage of ownership of the SCG at Prime Group will reach 100%. Earlier, in 12/2012, SCG signed an agreement to buy 85% stake in Prime Group for about $240 million.
Acquiring Prime Group will help SCG become the world's largest floor tiles manufacturer, because Prime Group is the fifth manufacturer of floor tiles in the world and the biggest manufacturer of building materials in Vietnam (accounting for 20% market share). SCG has up to 200 subsidiaries, and earns annual revenues up to $13.7 billion.
In addition to owning shares in the Pime Group, SCG also invests in many plastic and packaging companies in Vietnam. Through its subsidiary Nawaplastic Industries (Saraburi), SCG holds more than 20% stake in two listed plastic manufacturing enterprises of Vietnam - Tien Phong and Binh Minh Plastics. Currently, the total share of Tien Phong and Binh Minh Plastics in the construction plastic pipe market of Vietnam is over 50%.
In the packaging industry, SCG owns two factories in Vietnam, by acquiring 80% stake in Tin Thanh Plastic Packaging JSC (Batico). This group is also a shareholder of Alcamax Packaging Company (Vietnam) Co Ltd Packamex Packaging (Vietnam), Vina Kraft Paper Co. and Tan A Industrial Company.
SCG aims for profit growth of 9% in 2016, and will extract about 47 billion baht (equivalent to $1.3 billion) to conduct a takeover operation.
Nam Son