VietNamNet Bridge - Competition for high-quality labor will become tougher when the ASEAN Economic Community (AEC) is formed, and with relatively low salaries of the Vietnamese, ranked 8th in ASEAN, the trend of labor shifting from Vietnam to other countries may take place, said Ms. Ha Thi Minh Duc, Deputy Director of the International Cooperation  of the Ministry of Labour, Invalids and Social Affairs.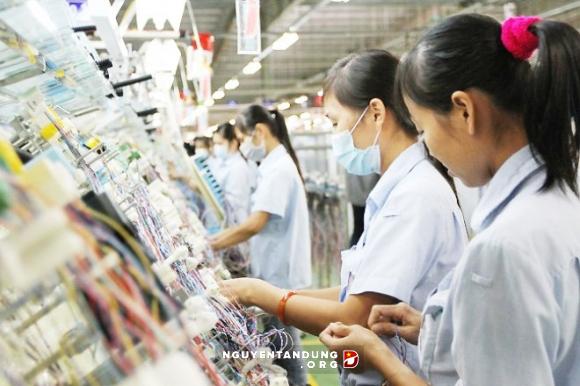 Duc said labor shifts among member states of the Association of Southeast Asian Nations (ASEAN), particularly skilled, high quality labor, had already been occurring.
"The low-quality labor will suffer more pressure because the quality of our human resources is still poor. I believe that the outflow of labor from Vietnam to other ASEAN countries will be more than the inflow because the wages of Vietnam ranked only 8th in ASEAN," Duc said.
Earlier, the General Statistics Office announced that the average income of Vietnamese workers (equivalent to labor productivity) in 2015 was VND79.3 million/person, equivalent to $3,657. Although labor productivity increased by 6.4% compared with 2014 and the gap compared to other countries narrow, it remained at a low level.
Specifically, based on purchasing power in 2005, the labor productivity of Singapore was 29.2 times higher than that of Vietnam and the gap was reduced to 18 times in 2013. Compared to Malaysia, the gap decreased from 10.6 times to 6.6 times; from 4.6 times to 2.7 times in comparison with Thailand; and 3.1 to 1.8 times compared to the Philippines.
However, compared with GDP per working person, the gap between Vietnam and other countries in Southeast Asia is quite large. Specifically, that of Singapore increased from $62,052 in 1994 to $92,632; Malaysia from $21,142 to $30,317; Thailand from $7,922 to $9,311. it was nearly $4,000 for Vietnam in 2015.
Ms. Tong Thi Minh, Director of the Wages Department of the Ministry of Labour and Social Affairs, said that low labor productivity was still a big problem for Vietnamese workers. When the AEC is formed, high-quality labor force from countries in the region will move more, and compete directly with Vietnam labor.
Tri Thuc Tre