HCM City not prioritising labour-intensive projects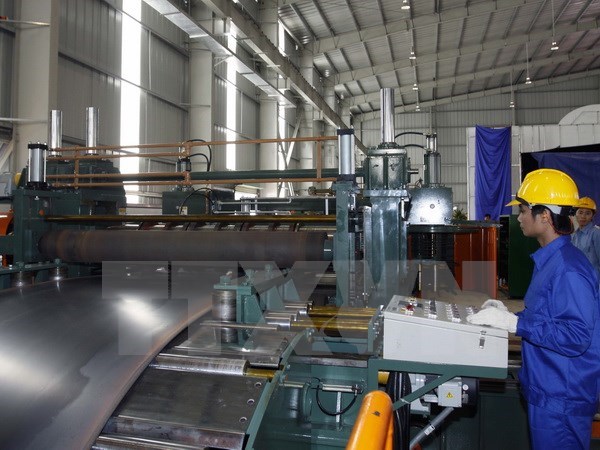 Ho Chi Minh City will pay more heed to support and high-tech industries, instead of labour-intensive projects, heard a meeting of the HCM City Export Processing and Industrial Zone Authority (Hepza) on January 19.
Tran Viet Ha, head of the Hepza Investment Management Office, said the flow of investment in Vietnam's garment-textile and footwear sectors is expected to increase, following Vietnam's engagement in the Trans-Pacific Partnership (TPP) agreement.
However, he said, the city is finding it hard to employ workers for these sectors, especially garment-textile, which is seen as a labour-intensive industry.
Therefore, local processing and industrial zones should focus on the support industry to serve the four essential sectors of electronics-computing, mechanics, chemicals and food processing, along with high-tech industries, he said.
According to Ha, the southern metropolis aims to attract 700 million USD in 2016, nearly 140 million USD lower than the figure recorded in the previous year.
Last year, a total of 840.7 million USD poured into HCM City, up 11.74 percent against 2014. Of the sum, foreign investment exceeded 553 million USD, up nearly 60 percent year-on-year, while local investment stood at 287 million USD, a decline of 29 percent over the year before.
During the year, Hepza granted investment licences to 26 foreign and 62 domestic projects, with many in auto manufacturing and food production, which are considered the city's spearhead sectors.
Major foreign investors hail from the UK, the Republic of Korea, Singapore, Hong Kong, Japan, Taiwan, France, the US, China and Australia, and are mainly active in garment-textile, food, chemicals, mechanics, rubber plastics and services.
Meanwhile, domestic investors are interested in services, mechanics, food, chemicals, construction materials and electronics.
Energy supply must be ensured for national growth: PM
Prime Minister Nguyen Tan Dung stressed the need to ensure power and coal supply in the decades to come, in service of national growth and development.
The leader was speaking at a meeting of Government standing members in Hanoi on January 19, to scrutinise a project adjusting the National Power Development Plan for 2011-2020 with a vision towards 2030, and another adjusting the Vietnam Coal Industry Development Planning to 2020 with a vision towards 2030.
He said the adjustment and supplement of the power and coal plans for 2016-2020, looking towards 2030, is necessary and urgent in order to fulfill new requirements of socio-economic development, as well as the cause of industrialisation and modernisation.
The PM asked the Ministry of Industry and Trade to complete the two projects on the basis of opinions raised at the meeting and feedback from ministries and agencies, and then present them to the Government for approval.
The projects should be implemented in early 2016, he said, highlighting the efficient, economic and safe use of the energies, in tandem with sustainable growth and environmental protection, especially the close-control of coal-fired power plants.
Another important task is to actively fulfill international commitments on gas emission reduction and renewable electricity development, PM Nguyen Tan Dung noted.
The leader also affirmed efforts to continue actualising strict guidelines on nuclear power, approved by the Party Central Committee and the National Assembly, in line with the law.
The coal and electricity sectors were requested to pursue the open market mechanism, as they should be gearing towards a higher competitive edge - without monopoly or subsidy of price.
They should increase the application of scientific and technological advances to raise productivity and cut product price, the PM said. He called on State-owned enterprises active in energy to better perform their key role in this field, while drastically speeding up restructuring process.
At the meeting, the Deputy PMs and leaders of ministries and agencies discussed the implementation of the two plans and updated forecast on national socio-economic development for 2016-2020 with a vision towards 2030, as well as the country's power and coal demands in the time ahead.
Vietnam lifts import restrictions on peanuts from India
The Ministry of Agriculture and Rural Development (MARD) has allowed importing peanuts from India, after a temporary suspension due to invasive pest concerns.
Under the ministry's Decision No 118/QD-BNN-BVTV, from January 18, the Department of Plant Protection added Indian peanuts to the list of regulated items subject to pest risk analysis, before being cleared for import into Vietnam.
The imported items have to abide by the standard operation procedure and contents stipulated on the certificate of plant quarantine for import, granted by the department, and issued by the Indian National Plant Protection Organisation (NPPO).
The department is requested to strengthen quarantine measures on peanuts imported from India, in order that no unregulated nuts enter the country.
Earlier on February 6, 2015, the ministry suspended the import of peanuts from India after detecting the Caryedon serratus olivier, or Groundnut beetle, in imported shipments.
The Groundnut beetle, most commonly associated with peanuts, is included in the Group I category of harmful organisms that may cause serious damage to plants. It has not been found in Vietnam.
Interest rate level to stay unchanged in 2016
The State Bank of Vietnam is striving to keep interest rates at their 2015 level, stated Governor Nguyen Van Binh.
The current lending interest rates have fallen by between 0.3 percent and 0.5 percent from 2014.
In the last six months of 2015, credit grew 18 percent, fuelling pressure for increasing interest rates. Thus, it would be hard to reduce the rates in 2016, and the current level is sensible to ensure the government's target of maintaining inflation rates below 5 percent.
According to the Bank for Investment and Development of Vietnam (BIDV), the economy has shown signs of recovery, growing 6.68 percent last year, the highest recorded in the past five years. These signs are likely to bode well for credit growth to retain at between 16 percent and 18 percent.
Le Minh Hai, Head of Da Nang-Mien Trung Investment JSC said his company has prepared for fluctuations in currency exchange and interest rates.
The firm has sourced all big loans from credit support programmes provided by the Government, investment funds and commercial banks; interest rate changes only affect its small loans, Hai noted.
He considered the current level suitable for his company's capacity.
Nguyen Duc Anh, head of a tea export business in Hanoi, said enterprises see little negative impact with the current interest rates, but if they rise, it will be worrying, he added.
Cao Sy Kiem, President of Vietnam Small and Medium-Sized Enterprises Association, highlighted that interest rates in Vietnam are higher in comparison with regional countries, and 2016 is still a tough year with various pressures.
RoK fresh strawberry to be exported to Vietnam
Exporters from the Republic of Korea (RoK) have been permitted to ship fresh strawberries to the Vietnamese market.
According to an agreement on food safety reached between the two countries' quarantine agencies, RoK strawberry exporters will begin selling their products in Vietnam from February 1.
The RoK's Ministry of Agriculture, Food and Rural Affairs said that the two sides' quarantine agencies had worked closely on the issue since 2008.
If RoK businesses wish to export strawberries to the Vietnamese market, they have to supply documents showing a registration of address, planting process, strawberry classification, and get quarantine certificates from the Vietnamese side.
The Korean ministry said it will issue a draft instruction on conditions and the export quarantine process for unripe strawberries, and will start receiving registration forms from Korean enterprises from January 19.
It said it hopes that strawberry exports to Vietnam will pave the way for the RoK's fresh strawberries to make deeper inroads into other Southeast Asian markets.
Statistics from the Korean ministry show that the RoK sold around 3,313 tonnes of fresh strawberries in 20 countries in 2015.
Japanese agency hosts workshop on urban development in Vietnam
Urban development was the main theme of a workshop on housing in Vietnam, which was jointly held by the Japan International Cooperation Agency (JICA) and Tokyo-Mitsubishi UFJ, Ltd. Bank – Hanoi branch on January 18.
Tran Dinh Thien, director of the Vietnam Institute of Economics, said that the Vietnamese economy is on the up and is involved in intensive international integration thanks to the signing of several high-level agreements.
As such, the international community is paying more attention to Vietnam's development prospects, he said, adding that this offers both opportunities and challenges for the country, and creates pressure on urban development.
He emphasised the need to carry out more drastic and specific measures to ensure the urban boom does not become a target of speculation.
In recent years, the urban boom has been seen in major cities like Hanoi and Ho Chi Minh City, and also Bac Ninh, Thai Nguyen, Quang Ninh, Dong Nai and Ba Ria-Vung Tau provinces.
At the workshop, participants contributed their ideas on building 'real homes' that people want to live in as the pressure to increase the scale of urban areas rises.
Architect Vo Trong Nghia proposed green urban areas to improve the urban landscape.
HCMC eyes boost for suppliers
The HCM City People's Committee is likely to approve a project to promote support industries next month, the "Viet Nam - Japan Supporting Industry Forum" heard.
Referring to the 'Supporting Industry Development' project,' Nguyen Phuong Dong, deputy head of the city Industry and Trade Department, told the forum, "We will submit solutions and detailed plans to promote the industry soon."
The project will seek to analyse the status of supporting industries in the textile-garment, footwear-leather, electronics-IT, automobile manufacturing and assembling, mechanical fabrication, and hi-tech sectors, and seek the best producers for making products for them.
Department officials told the forum that a HCM City Supporting Industry Development Centre would be established to support the industries.
The Government had, in a decree last November, announced the latest incentives for supporting industries. The income tax rate is now 10 per cent for the first 15 years after initial waivers, import tax is waived on goods used to create fixed assets and the six supporting industries can pay value-added tax on revenues on a monthly, quarterly or yearly basis.
Yasuzumi Hirotaka, head of the HCM City office of the Japan External Trade Organisation (JETRO) told the forum: "The city should set up a fund to provide low-interest credit for companies in the supporting industries."
The city has set up a series of funds to support small- and medium-sized enterprises (SMEs), but most SMEs do not have assets to mortgage.
"The city also has a fund SMEs can borrow from without a mortgage if they have good projects," Dong said.
The Government has also mandate that SMEs in supporting industries can borrow up to 70 per cent of their capital on the basis of guarantees provided by the Credit Guarantee Fund for SMEs.
The city is earmarking a 200ha area exclusively for supporting industries at the Hiep Phuoc Industrial Park in Nha Be District.
In mid-March a meeting of supporting industry companies in Viet Nam, Japan and ASEAN will be held in HCM City.
Market loses billions of greenbacks, SSC advises caution
The local stock market suffered losses amounting to billions of dollars on a single Monday, while the State Securities Committee (SSC) asked investors to be cautious about selling shares.
As global crude oil prices saw a continuous slide to their lowest point since 2014, the local stock market lost VND113.3 trillion (over US$5 billion) since early this year. The biggest losses so far were recorded yesterday, when the country's two bourses lost VND36.7 trillion ($1.64 billion).
On the same day, HCM Stock Exchange's (HOSE's) capitalisation fell some 9 per cent to VND1,044 trillion ($46.5 billion), while the Ha Noi Stock Exchange's (HNX's) capitalisation also dropped 7.3 per cent to VND140.5 trillion ($6.25 billion).
So far this year, the capitalisation on HOSE has dropped by a total of VND102.2 trillion ($4.55 billion) and HNX has fallen by more than VND11.1 trillion ($494.3 million).
The benchmark VN Index sank 3.1 per cent on Monday, sending valuations to the lowest level since August, according to data compiled by Bloomberg.
Experts from Saigon-Hanoi Securities (SHS) said investors' panic over the falling price of crude oil had caused losses for many markets within a week. The panic quickly spread to the local market too, the SHS representative said.
Some brokers thought many of their customers were waiting for the price to bottom out in the chaos while others were fleeing the stock market.
Broker Vuong Dinh Tien said the panic was unnecessary, adding that investors should remain calm and seek out good stocks, which were now being sold at prices they could never have dreamed of before.
Broker Vu Nhung from Tan Viet Securities said her customers had paid another 5 or 10 per cent to increase the proportion of shares available on Monday, adding that "investors can sometimes act a bit greedy when they get the chance."
In line with the brokers' advice, instead of selling shares like other investors, middle-aged investor Nguyen Thi Mai bought her preferred shares from the real estate and garment industries, saying she got the chance to do so while others were overreacting with panic.
Meanwhile, Andy Ho, managing director and chief investment officer at VinaCapital Group, Viet Nam's largest fund, told Bloomberg.com he was boosting his equity holdings, saying the benchmark gauge's recent slump to a 13-month low had made stocks attractive.
Ho, who thought the local equities were "undervalued", with the recent slump making them even cheaper, confirmed that the fund was buying local stocks. The manager did not share information on which shares or how many he bought.
Ho said he favoured property and consumer companies because the local economy would continue to expand, despite the global downturn.
Further, the SSC sent an official letter to the two local bourses, asking them to review transactions and manage any rumours.
The SSC said the recent global economic situation, particularly the falling oil prices, had influenced the stock market; however, Viet Nam, compared with other countries, was considered the least affected. The SSC added that the sharp decline on January 18 was only caused by psychological factors and was not an indication of the macroeconomic prospects of Viet Nam or the operational efficiency of the listed companies.
Thus, Deputy Chairman of the SSC Nguyen Thanh Long told the two bourses to report all unusual transactions and to coordinate with the relevant authorities to stifle the rumours in order to better manage the market.
Belgium's Solvay seeks expansion in Vietnam
Belgian chemicals and pharmaceuticals giant Solvay is seeking new growth opportunities in Vietnam that will take advantage of the company's specialized knowledge, said company representatives on January 19 in Ho Chi Minh City.
Speaking at a trade promotion event sponsored by the Belgian Embassy, company rep Vincent De Cuyper said they are looking for opportunities for which Solvay already possesses the know-how and could add value.
Solvay SA is a Belgian chemical company founded in 1863, with its head office in Neder-Over-Heembeek, Brussels, Belgium.
The company has diversified into two major sectors of activity: chemicals and plastics. Solvay supplies over 1500 products across 35 brands of high-performance polymers such as silica, engineering plastics, emerging bio-chemicals, coating materials and special chemicals.
Cuyper said the group plans to set up a representative office in HCM City in the coming time to explore opportunities in the automotive, manufacturing, consumer goods, health care, energy and environment fields to name just a few.
Vietnam inks $2.2 bln power project with Saudi, Korean firms
A consortium of Saudi Arabia's ACWA Power and the Republic of Korea's Taekwang Power Holdings has signed a US$2.2 billion thermal power plant investment agreement with Vietnam, ACWA Power said on January 19.
The pact comes as Vietnam faces a shortage in power supply amid the developing country's ever-increasing demand for electricity to fuel economic expansion, which hit a five-year high of 6.7% in 2015.
The 1,200-megawatt Nam Dinh 1 thermal power plant will be built on a build-operate-transfer basis for 25 years in the northern province of Nam Dinh, ACWA Power said in a statement on its website.
"This agreement is an important stepping stone for our first project in Vietnam," said Rajit Nanda, Chief Investment Officer of ACWA Power.
It is unclear how much each firm will invest.
The project is scheduled to start in mid-2016 after eight years of negotiations and will use coal provided by state coal mining group Vinacomin, Vietnam's trade ministry said in a January 19 statement on its website.
Vietnam is expected to start importing coal next year as rising demand for power exceeds domestic supply, and since 2010 it has been a net consumer of oil, with demand growing 7.5% annually in the 20 years ended 2013, outpacing China at 6.5%, ANZ said in a report last year.
Last year, Vietnam's coal imports jumped 125% to 6.96 million tonnes, while exports dropped 76% to 1.7 million tonnes, extending the annual export downtrend of about 10% a year that began in 2010, customs data showed.
US group invests US$30 million in support industry
US Avery Dennison Retail Branding and Information Solutions (Avery Dennison RBIS) group on January 18 inaugurated a plant specialising in footwear industry solutions.
The plant, situated in Long Hau Industrial Zone in Long An province produces labels, packing, and decoration materials for the footwear industry.
It was built on an area of 28,000 sq.m with a total investment cost of US$30 million and employs around 1,200 workers.
Cong Ly starts operation of 99MW wind power plant in Bac Lieu
Cong Ly Construction-Trade-Tourism Co. Ltd. on January 17 started the operation of the 99 megawatt Bac Lieu wind power plant in the southern province of Bac Lieu.
The plant, the construction of which started in 2010, has an area of 1,300 hectares and a total investment capital of VND5.2 trillion ($233 million).
Since the first wind turbine was connected to the national grid in May 2013. The plant has produced 130 million KWh, earning a revenue of VND150 billion ($6.7 million) and paying VND15 billion ($672,000) as tax.
To Hoai Dan, CEO of Cong Ly, said that the company plans to soon implement the next phase, building 71 wind turbines of 2MW each for VND8.850 trillion ($397 million). The construction is scheduled to be carried out in 36 months and operation is going to start in 2018.
"This is going to be the biggest wind farm in the Mekong Delta area," Dan was quoted to say by newswire enternews.vn.
On January 16, Cong Ly started the construction of phase I of Khai Long-Ca Mau tourism zone wind power plant in the southernmost province of Ca Mau.
The 100 MW plant, to be built on a total of 2,165 hectares of land and sea surface area, is scheduled for completion in 2018. It will be connected to the national grid and also sell its power to EVN. The plant's total investment value is about VND6.5 trillion ($291.5 million).
The prime minister is going to set the price at which the plant is going to sell its generated power to EVN, taking into consideration the investment into the project. The price is not going to exceed that of similar projects built near the shore. Vietnam Development Bank is going to lend to the project.
According to data released by the Ministry of Industry and Trade, a total of 50 wind power projects have been registered but only 5 saw implementation. 3 of these, namely Tuy Phong in Binh Thuan, with a capacity of 30 MW, a 6 MW wind power project on Phu Quy Island in Binh Thuan, and the 99 MW Bac Lieu plant, are generating commercially.
Of these three, only Cong Ly sells electricity at 9.8 US cent/kWh, because its wind mills are on the sea. The other two, as per Decision 37/2011/QD-TTg on mechanism to support the development of wind power projects, sells for 7.8 US cent/kWh, of which 6.8 US cent is paid by Vietnam Electricity (EVN) and 1 cent is paid by Vietnam Environment Protection Fund.
The 7.8 US cent/kWh price is higher than the retail price of power sold to consumers, but wind power developers are still incurring huge losses.
Vietnam is going to increase the use of renewable energy from now to 2030, according to a national renewable energy strategy for 2030 with a vision to 2050 approved last November by the prime minister. Accordingly, from now to 2030, the government is going to prioritise developing wind power on land. Near-shore and offshore wind power development will be focused on after 2030. The percentage of power produced from wind is going to rise from 180 million kWh in 2015 to 2.5 billion kWh in 2020, 16 billion in 2030, and 53 billion in 2050.
CEO Group opens Novotel Phu Quoc Resort
CEO Group on January 18 opened the Novotel Phu Quoc Resort after one year of construction.
The hotel, managed by Accor, has area of 7.3 hectares. It is located in the SR3 land plot that belongs in the Sonasea Villas & Resort tourism complex on the Bai Truong beach, five minutes by car from Phu Quoc International Airport. Construction cost VND4.5 billion ($201.8 million).
Novotel Phu Quoc Resort features 400 rooms of various types – beach front villa, pool villa, deluxe twin villa, suite, superior and family room. The main hotel building has five floors overlooking the master pool and a group of 44 beach front villas.    
All rooms at Novotel Phu Quoc Resort has a view to the sea and a large balcony so guests can relax while looking at the whole resort from the top as well as the sea. The beautiful sunset of Bai Truong promises to be an exceptional experience.
Construction density in the resort is lower than 20 per cent. The remaining 60,000 square metres are tree and water surface so the atmosphere is clean and clear so guests can immerse themselves in nature.
The resort has two contemporary restaurants and three bars. Food Exchange has a wide range of dishes and people can look at their food being made. The second restaurant will serve seafood and local specialties, as well as international food. At the Lounge Bar, Pool Bar and Beach Pool Bar, guests can enjoy cocktails while looking at the sea.
Novotel Phu Quoc Resort also has plenty of leisure facilities, namely the gym, two tennis courts, a spa, two big pools of 500sq.m each, and a pool for children and a play area for children.
The resort has 650sq.m of space for events, including a high-ceiling ballroom and three function rooms, with combined capacity of 550 guests. All the rooms have free Wi-Fi and equipment for conferences such as screen, projector and state-of-the-art audiovisual equipment.
In Phu Quoc, CEO Group owns the Sonasea group of projects with the total area of 300 hectares. The group is completing the Sonasea Villas & Resort complex and is going to soon start the 62-hectare Sonasea Residences also in Bai Truong.
VietinBankSc sees revenue and profits jump
The VietinBank Securities Company (VietinBankSc) has announced it earned revenue of VND234.6 billion ($10.46 million) in 2015, a 32.4 per cent increase year-on-year and 38 per cent higher than the target. Pre-tax profit was VND95.1 billion ($4.24 million), 14.4 per cent higher than in 2014 and 11.9 per cent higher than the target..
Total revenue in the fourth quarter of 2015 was VND69.5 billion ($3.09 million), a 16.7 per cent increase year-on-year. Financial consultancy contributed the highest revenue, of VND20.8 billion ($927,680), or almost 30 per cent of revenue in the quarter.
Brokerage services saw remarkable growth of 77.5 per cent, with revenue of VND19.2 billion ($856,320), and saw VietinBankSc take the largest market share in the Unlisted Public Company Market (UPCoM) market on HNX.
Pre-tax profit in the fourth quarter of 2015 stood at VND32.8 billion ($1.46 million), 33 per cent higher year-on-year.
Financial consultancy grew stably in 2015, brining in revenue of VND48.7 billion ($2.17 million), or 51.2 per cent of the total. Its gross margin therefore increased 53.3 per cent compared to 2014.
It had 107 contracts for financial consultancy during the year. Most revenue came from consultancy in bond issuances and capital settlements. Clients included Vingroup, Novaland, CII, the Dong Bac Company under Ministry of Defense, and the Minh Phu Seafood Corporation. The total value of capital settlements where VietinBankSc provided consultancy was VND25 trillion ($1.11 billion).
Industrial real estate holds promise
Demand for industrial land is on the rise in both Hanoi and Ho Chi Minh City, making the industrial segment a promising investment channel, according to the latest report on real estate in the fourth quarter of 2015 from Cushman &Wakefield (C&W), released on January 19.
In Hanoi the overall market performance continued to experience gradual improvements, with average occupancy reaching well over 72 per cent in the quarter, up 1.7 ppts year-on-year. Six out of eleven industrial parks (IPs) (46 per cent of the total stock) were fully occupied.
Among the remaining IPs with vacancies at the end of the quarter, the Hoa Lac Hi-tech Park recorded the highest vacancy, at 70 per cent, or 346 ha.
The average asking rent at IPs in Hanoi continued to be the highest in the northern region and about 50 per cent higher than in Hai Phong and Bac Ninh, at $111 per sq m per month.
Average occupancy rates, which remained at 71 per cent, were mainly due to lower occupancies of under 50 per cent at three IPs in Nha Be, Cu Chi and Binh Chanh districts, which started operations only recently. The majority of established IPs reported robust occupancy rates of above 90 per cent.
Average asking rents in the quarter stood at approximately $126 per sq m per month, about double the figure in neighboring provinces such as Long An, Binh Duong, and Dong Nai.
C&W predicted that an additional supply of about 6,000 ha from 14 identified IP projects will enter the Hanoi market through to 2020. By 2030 the market will have 33 IPs with an area of 8,000 ha in total.
In Ho Chi Minh City the total increase in industrial land to 2030 is projected at approximately 3,000 ha, 85 per cent higher than the existing stock. Twelve new IPs are expected to be added to the 18 currently in operations by 2020.
With the TPP and other free trade agreements Vietnam has signed recently, stable economic conditions, favorable government policies, and low labor cost, the country will attract more investments from foreign manufacturers as they look to enjoy tariff benefits, with demand for industrial land rising as a result.
Ascott expands footprint to Nha Trang
CapitaLand's wholly-owned serviced residence business unit, The Ascott Limited (Ascott), has secured a contract from the Military Petrochemical Joint Stock Company (MIPEC) to manage its third Citadines-branded serviced residence in Vietnam - Citadines Bayfront Nha Trang.
"Along with the property's cleverly-designed spaces, its modern amenities and flexible services make it the preferred accommodation for both leisure travelers and working executives in the city," said Mr. Mark Chan, Ascott's Country Manager for Vietnam.
Citadines Bayfront Nha Trang is located in the heart of the prime Tran Phu district in the coastal city. The property will add another 280 apartments to Ascott's Vietnam portfolio, bringing the total to nearly 3,000 units in 17 properties in Hanoi, Hai Phong, Da Nang, Ho Chi Minh City, Nha Trang, and Binh Duong.
"We appreciate the competence and credibility of Ascott and believe that with their experience and professional, comprehensive management approach they will run Citadines Bayfront Nha Trang Project at the highest efficiency," said Mr. Dao Ngoc Thach, Chairman of MIPEC. "The signing of the contract is the first step in the cooperation between the two parties in developing strategic projects in the future."
Citadines is one of Ascott's fastest growing brands globally. Since it fully acquired the Citadines Apart' hotel chain in 2014 it has more than doubled its Citadines portfolio from the initial 5,100 apartment units in European cities to more than 14,000 units in over 50 cities across Asia Pacific, Europe and the Gulf region.
"Citadines' impressive growth as a brand shows its compelling proposition of offering contemporary and stylishly furnished apartments with a flexible menu of services that allows individual travelers to personalize their stay experiences," said Mr. Tony Soh, Ascott's Chief Corporate Officer, who oversees the company's business and operations in Vietnam. "We continue to see significant growth opportunities for our international class serviced residence business in Vietnam."
The other two Citadines properties - Citadines Regency Saigon and Citadines Central Binh Duong - will be ready in 2018.
Winners of French Business Awards named
The French Chamber of Commerce and Industry in Vietnam (CCIFV) last week announced four winners of its 3rd edition of the French Business Awards.
The respective awards of Communication, CSR (Corporate Social Responsibility), Entrepreneur and France-Alumni went to Air France, Exo Travel, urban game and event agency Ubiquest, and consulting, technology and outsourcing services provider Capgemini.
As the winner of Communication category, Air France was awarded a full communications package offered by the CCIFV while CSR winner Exo Travel got a teambuilding package for 10 people sponsored by Ta Lai.
Ubiquest, which won the Entrepreneur award, received legal service and support by DS Avocat and Air France handed over a return ticket to Paris to the France-Alumni winner Capgemini.
French Business Awards were established in 2013 on the occasion of the France-Vietnam Year to recognize the dynamism of the French companies or individuals in Vietnam. By rewarding the best performers in the fields, CCIFV wants to promote French savoir-faire and highlight the business community's innovation and integration capacities together with its adaptability to the local market. This is also a window to acknowledge their contribution to France's foreign trade.
Avery Dennison opens Long An factory
Avery Dennison Retail Branding and Information Solutions (RBIS) under Avery Dennison Group on January 18 inaugurated a factory at the Long Hau Industrial Park in the Mekong Delta province of Long An.
The new factory will provide labeling and branding solutions to producers of garment and textile products bearing global brands in Vietnam. The facility is equipped with Avery Dennison's latest technologies, including Component Weaving technology.
Avery Dennison's Agility HD Heat Transfer technology, which offers stretch and recovery, combined with photo-real creative opportunities for elevated design, will be available at the end of this year. The new facility will have 1,200 employees.
Avery Dennison RBIS has invested US$40 million in Vietnam since its entry in this market in 2003. The company opened its first factory in Binh Duong Province in 2003 and a distribution center in HCMC in July 2015.
The investment demonstrates Avery Dennison's confidence in growing together with Vietnam and its local customers, according to Deon Stander, vice chairman and general director of Avery Dennison RBIS.
The facility in Long An Province will enable the company to accelerate its innovative heat-transfer embellishment capabilities and overall speed to market to better serve leading global brands and retailers.
Stander said the company is excited about the long-term opportunities for the apparel and footwear industry in Vietnam, coupled with the projected growth from the Trans-Pacific Partnership (TPP) trade pact.
At present, not only textile companies from Korea, Taiwan and China have expanded their production or invested in new projects, but also producers of materials for the textile and footwear sectors have stepped up investments in anticipation of benefiting from the TPP.
Earlier, Huntsman Textile Effects Company under Huntsman Group of the U.S. invested in a bonded warehouse in Dong Nai Province to supply dyes and chemicals for the textile and garment industry.
HoREA warns of property bubble risks
This year is unlikely to see a property bubble, but this might happen in the next few years, heard a review meeting of the HCMC Real Estate Association (HoREA) on January 18.
HoREA said recent studies show there are a number of factors that could cause a property bubble to burst.
In particular, rapid economic development has created favorable conditions for people to earn money quickly and many of them have chosen to buy properties as a safe haven.
In addition, property bubble risks will increase when fiscal and monetary policies are relaxed. Other causes are an upsurge in secondary investors and speculators.
However, HoREA said the number of secondary investors has increased three times against 2014. Besides, prices at some high-end projects have shot up sharply.
Many high-end property projects have been developed recently. Last year housing sales were good.
However, Nguyen Van Duc, deputy director of Dat Lanh Real Estate Co., is not optimistic about the market, saying that property enterprises are now getting exhausted.
According to Duc, there are 1,219 valid projects but 405 of them have not got off the ground. The number of projects delayed and suspended is 502.
Duc said high-end apartments priced at VND3-4 billion each in Saigon South and the city's eastern part to be finished in 2017 and 2018 will be abundant. Besides, demand for housing with prices under VND1 billion is huge, but enterprises are not interested in this segment due to low profit.
At the meeting, some property enterprises complained about complicated administrative procedures which push up the costs of their projects.
Dai-ichi Life Vietnam to increase its chartered capital to $100 million
Dai-ichi Life Vietnam has officially received the amended license issued by the Ministry of Finance, approving the company to increase its chartered capital from $72 million up to $87 million.
Following this, Dai-ichi Life Vietnam is progressively preparing the next step to increase it chartered capital to $100 million, to be completed in the first quarter of 2016.
This is the second time after nine years of operations, Dai-ichi Life Vietnam increases its chartered capital for the purpose of business expansion and investment, marking a significant milestone in its journey to become the leading provider of life insurance products and services in Vietnam. With the chartered capital of $100 million, Dai-ichi Life Vietnam will become one of the leading life insurance companies in terms of market capital in Vietnam.  
"We are happy that  our mother company Dai-ichi Life Japan has trusted and injected more capital to meet our demand of expanding the sustainable business in Vietnam," Takashi Fujii, chairman of the Member Council of Dai-ichi Life Vietnam, said. "Looking forward to the 10th milestone of being a lifetime partner to Vietnamese people, we are committed to sparing no effort to develop our available resources, to continue our expansion of business network  as well as to improve our   service quality in order to reach 10 per cent market share in the life insurance industry by the end of 2016".
Founded in 1902, Dai-ichi Life is one of the leading life insurance companies in Japan and around the world with total assets worth $414.7 billion, insurance premium revenue of $45.2 billion as of March 31, 2015. Besides Vietnam, Dai-ichi Life is promoting its life insurance business in India, Thailand, Australia, Indonesia and the United States.
As a member of Dai-ichi Life, Dai-ichi Life Vietnam was established in January 2007 and this is the first overseas market where Dai-ichi Life has a life insurance company which it owns 100 per cent of the capital.
Just after nine years doing business, Dai-ichi Life Vietnam has built a solid foundation and maintained its position as one of the top four life insurers in Vietnam in terms of the total premium revenue, serving more than one million customers with the staff of nearly 750 employees and 50,000 professional financial consultants. Dai-ichi Life Vietnam is proud to hold the third rank on its customer service network with over 170 offices and general agencies throughout the country.
QBE Asia Pacific appoints new general director for Vietnam office
QBE Asia Pacific has announced the appointment of Anthony Cloney as general director for the firm's Vietnam office, effective January 2016.
In his new role, Anthony is responsible for developing and steering strategic initiatives that will drive QBE's profitable business growth in the country. He is also responsible for further enhancing the delivery of both products and services to customers and intermediaries.
"Anthony has been with QBE Vietnam for more than 10 years and has been an integral part of our management team in the country," Mark Lingafelter, managing director of QBE Asia Pacific, said. "In the past decade, our gross written premium in Vietnam has risen threefold, which is testimony to both the high-quality products we provide and the professionalism of our people in serving intermediaries and customers. Vietnam is an important market for QBE  and Anthony's expertise and experience will help us continue to drive our Asia Pacific Profitable Growth Strategy in this dynamic country."
Prior to this appointment, Anthony was general ganager of Technical and Distribution for QBE Vietnam. He has more than 30 years of insurance industry experience, including 23 years with QBE in various roles in Australia, Thailand, Indonesia, and Vietnam. During his time in Vietnam, Anthony has built strong relationships with strategic partners and enhanced the professional underwriting and claims standards.
Tax perks stimulate Nidec projects
The Vietnamese government has just granted preferential corporate income tax of 10 per cent for Nidec Corporation's three investment projects in Saigon Hi-Tech Park, encouraging the group to expand its operations in Vietnam.
This movement came following the Ministry of Finance's proposal to grant tax incentives for investment projects by Japan's Nidec Corporation in Ho Chi Minh City.
Nidec Corporation previously complained that its subsidiaries faced difficulties in determining the preferential corporate income tax (CIT) due to different interpretations between corporation and state audit agencies, as well as between state agencies.
These subsidiaries include Nidec Vietnam Corporation, Nidec Sankyo Vietnam, and Nidec Servo Vietnam. These firms are among five of Nidec's subsidiaries in Saigon Hi-Tech Park.
The above subsidiaries received additional investment during 2009-2014, thus the state audit office identified businesses with value-added machinery annually since 2009, when the Law on Corporate Income Tax 2008 became effective. It is said that these projects should not be entitled to the initially granted incentives, as these activities were expanded investment projects.
Decree No.91/2014/ND-CP, dated October 1, 2014, stipulates that additional income derived from additional machinery and equipment for normal production/business activities is entitled to the incentives of the original project for the remaining incentive period, effective from the tax year 2014. However, in the case of additional investment as an expanded investment project during 2009-2013, the CIT incentive treatment is still being considered by tax policymakers.
Previously, in June 2008, the prime minister issued Official Document No.1000/TTg-KTTH to grant tax incentives to investment projects by Nidec Corporation in Saigon Hi-Tech Park. Under this, investment projects by the Japanese group in Saigon Hi-Tech Park would receive CIT of 10 per cent during project development, provided that all projects meet the regulations on hi-tech product manufacturing stipulated by the Ministry of Science and Technology.
Therefore, in a document sent by the Ho Chi Minh People's Committee in late 2015, it was noted that the government should consider creating conditions for Nidec Corporation's subsidiaries invested in Saigon Hi-Tech Park, as directed by the Official Document No.1000/TTg-KTTH. The investment certificates were granted by the Management Board of Saigon Hi-Tech Park to ensure consistency in the application of investment incentives.
Nidec Corporation is the world's leading producer of hard disk drives, optical disk drives, and DC motors. Since 2005, the Management Board of Saigon Hi-Tech Park has licensed Nidec Corporation's five projects to make hi-tech products. After 10 years of operation, these subsidiaries have contributed a significantly combined sum of $23 million to the local state budget. Their export value has been increasing, accounting for 8.7 per cent of the total export value of Saigon Hi-Tech Park, and creating jobs for nearly 12,000 employees.
New exchange rate policy reduces dollar speculation
The new exchange rate management policy has helped reduce the US dollar speculation in the domestic market, an official said at an online discussion yesterday.
The US dollar/dong central rate has changed flexibly, staying at VND21,917 per dollar by January 15, up VND27 against the end of last year. - Photo doanhnhansaigon.vn
It has also encouraged organisations and individuals to sell the greenback to commercial banks, the official added.
From the beginning of this year, the central bank has applied a new exchange rate mechanism in which it sets a "central exchange rate" or a daily reference rate every day, instead of maintaining a fixed rate for a long period of time. The trading band of the new rate continues to be plus or minus three per cent.
At the discussion, director of the State Bank of Viet Nam's Monetary Policy Department, Bui Quoc Dung said that for the past two weeks after the new policy had been applied, the US dollar/dong central rate has changed flexibly, staying at VND21,917 per dollar by January 15, up VND27 against the end of last year. However, the rate quoted at commercial banks in the period decreased roughly VND50 to VND60 per dollar against the end of 2015.
He attributed the central rate rise to the impact of the global market including the devaluation of the yuan, a decline in the Chinese securities market and a rise in US dollar value.
Dung said that liquidation in the domestic forex market has been good, with smooth transactions for the past two weeks. He also expected that transactions of the greenback would further ease the next time.
According to Dung, the achievement was notable, especially when the global financial market had seen many consecutive negative changes.
It showed that besides reducing the speculation, the new policy has also helped the forex market to better adapt to external shocks, Dung said.
The little change in the central rate would not cause shocks for the domestic forex market and enterprises, and would allow firms to pay more attention to preventing risks caused by the foreign exchange rate.
At the discussion, banking expert Le Xuan Nghia believed that from now on, foreign currency inflow to Viet Nam would be larger than the outflow, or foreign currency supply would exceed demand if the country could eliminate the dollar speculation.
Nghia also forecast that the devaluation of the dong against the dollar this year would be roughly 3 per cent.
Meanwhile, General Director of HSBC Viet Nam Pham Hong Hai said that the devaluation this year would be roughly 4 per cent, higher than the 1 per cent – 2 per cent rate of the previous year, due to a rising volatility in the global market.
Under the new exchange rate policy, the dollar/dong rate would now be based on the exchange rate changes in the inter-bank foreign exchange market, as well as monetary developments in countries that are involved with Viet Nam's trade, investment and financing, to a major extent.
The daily-adjusted rate was to be in line with the macro-economic balance and would be the basis for local credit institutions and branches of foreign banks to provide their foreign exchange services, it said.
The central bank said that such a mechanism would enable it to ensure its management directives, while letting the exchange rate move flexibly as per global monetary fluctuations.
However, to be able to take appropriate measures under the new policy, besides having to map out new measures such as forward transactions, the central bank must also actively watch the forex market and the impact of domestic and international macro factors on the rate daily.
VEF/VNA/VNS/VOV/SGT/SGGP/Dantri/VET/VIR