Walmart to buy Vietnamese goods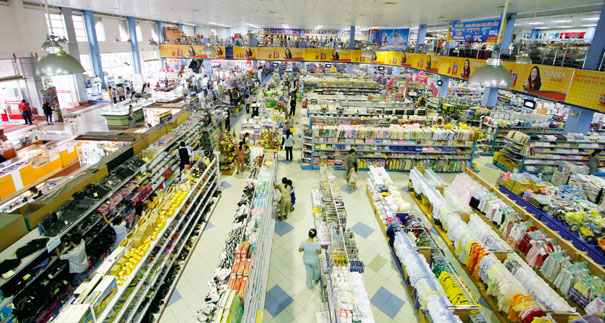 The American Chamber of Commerce (AmCham) in Ho Chi Minh City representatives will meet with nearly 100 businesses in Vietnam on January 15 to discuss measures to bring a wide range of Vietnamese goods and agricultural products to consumers in the US Walmart's key retail markets in the US, Canada, Mexico, Japan, and Chile.
AmCham Vietnam in HCM City Executive Director Herb Cochran said the meeting will help Vietnamese suppliers understand ways and regulations to sell goods to Walmart.
US businesses have put forward their own regulations on doing outsourcing that potential suppliers must understand and follow, Cochran said.
Since Walmart opened an office in HCM City in late 2013, it has established good relations with many Vietnamese suppliers.
Banks adjust up short-term deposit rates ahead of Tet
A number of banks are joining a race to hike interest rates for short-term deposits in Vietnam dong by 20 to 80 basis points, coupled with promotion programs, to mobilize more capital for higher lending demand ahead of the Lunar New Year holiday (Tet).
Sacombank has added 10 to 20 basis points to interest rates for tenors of three to five months, sending them rising to 5.3-5.5% per year, but kept deposit rates for one- and two-month tenors unchanged, at 4.8%. The bank revised up borrowing rates in December last year.   
At LienVietPostBank, the annual interest rates for one-month and three-month deposits have risen by 20 basis points each to 4.4% and 4.8% respectively. Interest rates for other tenors have stayed the same.
Commercial banks which are majority-owned by the State are also taking part in the race to adjust up deposit rates to retain old customers and attract new ones.
For instance, BIDV has revised up short-term deposit rates by 50 to 80 basis points per annum since December 23 last year. The annual interest rate for one-month deposits has gone up from 4% to 4.8%, for two-month deposits from 4.3% to 5% and for three-month deposits from 4.7% to 5.2%.
Deposit rates for tenors of one to three months quoted by VietinBank are the same as BIDV.
Data of the State Bank of Vietnam (SBV) showed that lenders have sped up the borrowing of Vietnam dong to meet increasing demand of individual and corporate clients for payments before Tet. More banks including the commercial banks majority owned by the State have been racing to hike deposit rates.
Experts said it is hard for banks to adjust down their lending rates in the short term as many of them have revised up mobilization rates in the past months to woo more depositors.
At the end of last year, the SBV pledged to maintain the stability of the exchange rate between the Vietnam dong and the US dollar while trying to cut medium- to long-term lending rates by 0.3-0.5 of a percentage point in 2016.
SBV governor Nguyen Van Binh said at the Government's web conference on December 29 that credit growth in the banking system should be capped at below 20% this year to back the nation's gross domestic product (GDP) growth target of around 6.7%.
Rice exports thrive in new year
Rice exports have thrived from early this year as the signed contracts remain effective while import demand is high.
Huynh The Nang, president of the Vietnam Food Association (VFA) said around 500,000-600,000 tons of rice will be delivered under the futures contracts and 200.000 tons under the commercial contracts that Vietnamese businesses signed in the first quarter of this year.
Meanwhile not much rice remains in stock as previous years. This is good news for rice exports early this year, Nang said.
He forecast that rice exports in the first half of this year will prosper as major importers like the Philippines, China, Indonesia and Malaysia will soon sign rice import contracts to stabilise food supplies and cope with possible drought impact caused by El Nino.
Earlier, the Philippines National Food Authority has announced its plan to buy at least 50,000 tons of rice from Vietnam and Thailand while the Indonesian Government planned to purchase around 350,000 tons of rice in the first quarter of this year.
China will remain an important importer of Vietnam rice not only in 2016 but also in the coming years.
Work begins on a steel sheet plant in Nhon Hoi economic zone
Construction of the Hoa Sen Nhon Hoi steel sheet plant commenced on January 8 at Nhon Hoi Economic Zone, in the central province of Binh Dinh.
Covering 12.4 hectares of land, the plant is an investment by Vietnamese steel producer Hoa Sen Group at the total cost of VND2 trillion (US$89 million).
Expected to commence operations in June, 2017, the plant will supply 180,000 tonnes of galvanised steel sheet and zinc-aluminium alloys, 90,000 tonnes of colour-coated steel sheet and 200,000 tonnes of cold rolled steel to the market.
Steel production in Hoa Sen Binh Dinh plant at Nhon Hoa industrial zone (Photo: baodautu.vn)
In addition, the plant will help diversify industrial products in the province while creating jobs for about 400 local labourers.
At the ground-breaking ceremony, Chairman of the provincial People's Committee Ho Quoc Dung highlighted that in the past few years, the province has enhanced its promotional activities and attracted a line-up of investment projects in tourism, trade and services.
Hoa Sen Nhon Hoi steel sheet plant, a large-scale industrial production project in the locality, will give momentum to other industrial investment projects landing in the province, he added.
Dong Nai runs US$860 mln surplus in wood trade
Wood export in the southern province of Dong Nai totaled US$1.2 billion in 2015, up 17% from 2014, according to the provincial Statistics Office.
The figure also marked a trade surplus of US$860 million, considering that the province imported US$337 million worth of wood materials for processing.
The locality's major importers are the US, Europe, Japan, and the Republic of Korea.
According to the provincial Department of Industry and Trade, the province is home to over 618 firms making wooden furniture and handicrafts, accounting for 27% of the country's wood shipments.
Phan Van Binh, Chairman of the provincial Wood and Handicraft Industry Association, said the association has helped with updating market information, developing a value supply chain and building a 75ha Thien Tan industrial park, where wood, handicraft and support industries set up plants on 50 hectares.
The department forecast that 2016 will be a banner year for wood exporters thanks to further tariff cuts brought about by a series of signed free trade agreements.
The province's export turnover was estimated to reach over US$14 billion in 2015.
Over the past five years, Dong Nai's economy has grown by an annual average of 12%. The locality hosted more than 1,200 foreign-invested projects from 42 countries and territories and over 19,500 domestic firms.
HCM City: Banks continue to support businesses
Dozens of banks in Ho Chi Minh City have registered to provide loan packages worth VND211.5 trillion (US$9.3 billion) and US$15 million to support businesses in 2016.
They also pledged a short-term VND interest rate of 7% per annum, and a long-term rate ranging from 8%-10% per annum, the municipal Department of Industry and Trade reported at a conference in the city on January 8.
Vice Chairman of the municipal People's Committee Le Van Khoa said the city is striving to raise the banking loan support to VND300 trillion (US$13.2 billion) in 2016, a five fold increase against the previous year.
The local departments and sectors will work to more effectively implement the programme connecting banks and businesses in 2016-2020, furthering assistance for small and medium-sized enterprises (SMEs) in production and support industries, he said.
Deputy Director of the State Bank of Vietnam's branch in Ho Chi Minh City, Nguyen Hoang Minh, cited that banks had registered over VND173.2 trillion (US$7.6 billion) under the programme to support businesses in 2015 - 2.89 times above the yearly target.
Deputy Governor of the SBV, Nguyen Phuoc Thanh, said the programme has helped forge links between banks and businesses, citing commercial banks have pledged thousands of billions of VND in loans – in partucular soft loans.
He suggested the SBV-Ho Chi Minh City branch, along with commercial banks, should actively get involved in the programme - to help businesses extricate difficulties and reduce the burden on local budgets.
He recommended lowering interest rates for old loans, while increasing credit limits and restructuring debts.
HanaTour Vietnam and HanaTour South Korea come together
After a year of thoroughly studying the market together, HanaTour Vietnam, belonging to the Paradise Group (which runs cruises and hotels in Ha Long Bay) and South Korea's HanaTour signed a cooperative agreement on December 28 fostering outbound Vietnamese tourism.
Given HanaTour's long time expertise in the travel business and its solid connections with major airlines worldwide, HanaTour Vietnam is more than confident that the partnership will be a significant asset for the group's development. "We are honored to build mutual cooperation with such a renowned actor in the tourism business as HanaTour," said Mr. Nguyen Cao Son, Chairman of HanaTour Vietnam. "This collaboration is a real sign of trust and we are extremely enthusiastic in joining with a group that shares our passion for customer service excellence, making guests' satisfaction our Number 1 priority."
The cooperative deal will settle the first model of wholesale travel business management for Vietnam's outbound tourism industry. "We believe this agreement is a milestone for Vietnamese travelers," Mr. Son said. "They will have more opportunities to travel abroad, with a range of options, great services, and reasonable prices."
Launching its first vessel in 2008, Paradise Cruises quickly imprinted its classy signature on Vietnam's most famous World Heritage Site - Ha Long Bay. With four different cruise brands (Paradise Luxury, Paradise Privilege, Paradise Peak, and Paradise Explorer), it is renowned for constantly innovating to answer the wishes of customers for discovering Ha Long Bay in the most refined way.
Paradise Suites Hotel, meanwhile, offers high-end facilities and services in conformity with the elegance of the natural surroundings. It focuses on charm and experience and has been designed to provide guests with an atmosphere of beauty and delicacy at all times.
HanaTour was founded in 1999 and is now the leading travel agency company in South Korea, with 3,200 employees and ranking top in international travel and air ticket sales for 15 consecutive years.
The group has participated in quantitative and qualitative growth of the industry by providing better services through directly operating a network covering 29 areas globally with leading experts, maintaining its top position in customer satisfaction.
HanaTour expands its market leadership continuously and is listed on the London Securities Exchange (LSE), one of three major global securities markets, confirming its transparency and reliability internationally and being a stepping stone towards becoming a global company.
Farmers wary of high prices of purple sweet potatoes
Huynh Van Quan, deputy director of Tan Thanh Sweet Potato Cooperative in Vinh Long Province's Binh Tan District, said that the price of Japanese purple sweet potatoes in the Mekong Delta provinces had stayed at high level of VND820,000-860,000 per quintal (1 quintal = 60 kilograms) during the past few days.
However, as purple sweet potato is currently out of season, its output is not much, therefore only a few farmers have benefited from this high price level of purple sweet potatoes.
According to Mr. Quan, farmers have started to grow sweet potatoes again in provinces in the Mekong Delta. However, as they had learned many lessons from trading with Chinese traders, although the price of purple sweet potatoes is currently high, they did not cultivate purple sweet potatoes massively like before because consumption depends on China market.
As a result, the area of purple sweet potatoes merely increased slightly. Meanwhile, many farmers have shifted to grow various varieties of sweet potatoes for domestic consumption with prices ranging from VND300,000-500,000 per quintal which ensure stable profits for farmers.
Viet Nam pins hope on new prosperous cycle
Viet Nam expects a new prosperous cycle from 2016-2020, said Dang Duc Thanh, Chairman of the Vietnamese Economists Club, a member of the Viet Nam Chamber of Commerce and Industry's Executive Board.
The General Statistics Office reported that in 2015 Viet Nam's GDP expanded 6.68%, an income per capita reached over US$2,000; inflation was kept at a low level, with consumer index being 0.63% and no signs of recession thanks to a sharp rise in aggregate demand.
Interest rate fluctuated at 8-10%. Foreign reserve reached a record high.
The foreign investment inflow surged, with over US$12 billion of FDI disbursed in 2015 from over US$11 billion in 2014.
According to the State Bank of Viet Nam, non-performing loans dipped down to 2.9% at stable level.
The real estate enjoyed good liquidity, seeing  positive outlooks as it escaped from the 'frozen' period recorded in 2010-2013. The stock market performed productively. VN-Index in the year fluctuated at 580 points, much better than 400 points years ago.
Viet Nam became one of the global leading exporters on rice, rubber, coffee, pepper, furniture, and aquatic products.  
The fight against corruption attained positive outcomes. The Party and State showed high determination to resolve large-scale cases.
However, the economy still faced challenges like higher interest rates in comparison with regional peers, big public debts (accounting for 61.3% of GDP), high State budget overspending (around 5% of GDP), low living standards, and slow restructuring of SOEs.
CEO Thanh also named top three factors for the successes gained in 2015.
Firstly, great efforts were made to implement the institutional reform, and perfect the legal system such as the Law on Land, the Law on Housing, the Law on Enterprises, the Law on Bidding, the Law on Bankruptcy, the Law onManagement and Use of State Capital Invested in Production and Business, the Public Investment Law.
The PM issued Decision 339/QD-TTg approving the Master Plan on economic restructuring in association with conversion of the growth model towards improving the quality, efficiency and competitiveness of tge national economy during the 2013-2020 period.
The Government also released Resolution 19/NQ-CP on major tasks and solutions for improving the business environment and national competitiveness and Resolution 36a/NQ-CP on e-Government.
Secondly, a series of new generation Free-Trade Agreements were inked or under negotiation. So far, Viet Nam engaged in 14 FTAs with 55 countries especially ASEAN, the EU, the Republic of Korea, and TPP.
Local enterprises are enjoying unprecedented opportunities stemming from market opening. Viet Nam is expected to witness robust foreign investment inflows in the coming time.  
Thirdly, the State is helping people to exercise their rights to be a country's master, and strengthening openness, transparency, and accountability in all areas, which are pushing for the reform.
Mr. Thanh also proposed two recommendations for further development. The economist suggested  launching a national program on business startup and formulating legal policies to support 2 million enterprises operating productively in the 2016-2020 period; eliminating land use quotas and introducing breakingthrough measures in favor of agricultural enterprises.
The expert also noted the importance of having solutions to public debts, budget overspending, higher wages for laborers and civil servants./.
A glance at Vietnam's economy in 2015
The National Financial Supervisory Commission (NFSC), the economic advisor to the Vietnamese government, has prepared a report to review the country's economy in 2015, which has witnessed many positive improvements in the face of challenges.
Vietnam's economy has obviously improved in 2015, with a GDP growth rate of 6.68%, exceeding the official target of 6.2%, according to the report.
The industrial production index, which indicates the real output of the country's manufacturing, increased 9.8%-10% from a year earlier, while the number of newly-established companies also rose 26.6% against 2014.
The total registered capital of the new businesses in 2015 was also 39.1% higher than last year, the report said without giving details.
Total retail sales of consumer goods surged about 10.6%-10.8%, the fastest pace in five years.
This year Vietnam has managed to stabilize the macro-economy and control inflation at a low level, according to the NFSC.
Vietnam's inflation was kept at 0.6%, the lowest since 2001.
The Southeast Asian country's Incremental Capital-Output Ratio (ICOR) also dropped to 4.62 in 2015, compared to the 5.2 recorded in 2014, 5.6 in 2013 and 6.4 in 2008-12.
Fruits are displayed for sale at a market in Hanoi, Vietnam December 24, 2015.
ICOR is the ratio of investment to growth which is equal to one divided by the marginal product of capital. The higher the ICOR is, the lower the productivity of capital or the marginal efficiency of capital.
The banking system restructuring plan also resulted in stable liquidity, healthy credit growth and fewer short-term loans.
While short-term lending accounted for as much as over 50% of the total outstanding loans in 2011-13, the proportion narrowed to 45.1% at the end of the third quarter of this year, according to the NFSC.
Credit growth in 2015 topped 18%, much higher than the 14.2% a year earlier.
The year 2015 has also seen Vietnam improve its rankings in the World Economic Forum's competitiveness index for the second year in a row. While the Southeast Asian country stood at the 75th place in the 2013 report, the respective rankings in 2014 and 2015 were 70th and 68th.
In the "Doing Business 2016: Measuring Regulatory Quality and Efficiency" report released by the World Bank in October, Vietnam also jumped three notches to the 90th place, after going from 99th to 93rd in the previous rankings.
According to the NFSC, these improvements are attributable to the implementation of the new law on enterprises and the amended law on investment, as well as solutions set out in the government's Resolution No.19.
The resolution, issued in March 2015, shows the government's aspiration to improve Vietnam's business environment to match regional leaders in 2015-16.
In 2015, Vietnam also signed four significant trade pacts, which all help expand the country's export markets.
The deals include the Trans-Pacific Partnership (TPP) agreement with the US and ten other nations in the Pacific Rim, the free trade agreement with the Russia-led Eurasian Economic Union, and the trade accords with the Europe Union and The Republic of Korea.
The trade pact between Vietnam and South Korea came into effecton December 20, whereas both the trade deals with the EEU and EU are scheduled for implementation in 2018.
The TPP, meanwhile, is pending ratification by 12 member nations before entering into force. The process is expected to begin in Vietnam in mid-2016.
Even though the economic picture of Vietnam in 2015 has been quite bright, the NFSC noted that there are still many difficulties, especially in regard to the state budget.
This year proved tough for small businesses, particularly those with a registered capital smaller than VND10 billion (US$446,429), as firms in this category topped the list to go bankrupt, cease operations or be dissolved in 2015, according to the report.
In the meantime, domestic firms were outplayed by foreign counterparts, with the former experiencing a 2.6% drop in export turnover and the latter enjoying an 11.5% surge.
Vietnam's state revenue was severely hurt by the collapse of oil prices, as the budget collection fell 34% short of its target.
The government suffered a budget deficit equal to 5% of its GDP, whereas public debts are forecast to make up 61.3% of the gross domestic product in 2015. Vietnam caps its sovereign debt at 65% of GDP.
Telecom firms net $15b in 2015
Vietnamese telecom corporations saw impressive business results in the past year, according to figures from the Ministry of Information and Communications.
Total revenue of the sector was estimated at VND340 trillion (US$15.1 billion) and profit at VND56 trillion ($2.5 billion), while contributing over VND46.9 trillion ($2.1 billion) to the State budget.
Viet Nam Posts and Telecommunications Group (VNPT) expected to reach a total profit of VND3.3 trillion ($147 million), exceeding the group's target by 12 per cent and growing 20 per cent compared to 2014.
In particular, profit of the group's telecommunications and IT sector hit VND3.1 trillion ($136 million), up 21.7 per cent over the previous year.
Total revenue of the group was expected to reach VND89.1 trillion ($4 billion), increasing 7.5 per cent compared with 2014.
Of this, revenue of the telecommunications and IT sector reached VND80.8 trillion ($3.6 billion), a year-on-year increase of 8.3 per cent.
VNPT owns VinaPhone, one of the country's leading telecom operators. Other major players include MobiFone and Viettel.
Total telephone subscribers of the group was 33.7 million by the end of last year, of which, mobile subscribers of VinaPhone reached 29.7 million, increasing by 3.3 million subscribers compared to the end of 2014.
MobiFone added 15 million new subscribers, surpassing by 33.6 per cent the target set for 2015 and saw a growth of 54 per cent compared to 2014.
The corporation's revenue was expected to hit VND36.9 trillion ($1.7 billion), growing 8.3 per cent year over year, while profit was estimated at VND7.4 trillion ($329 million), increasing 1.1 per cent.
Meanwhile, Viettel Group reported a revenue of VND222.7 trillion ($9.9 billion), fulfilling 96 per cent of the group's target, up 13 per cent compared to 2014.
Its profits reached VND45.8 trillion ($2.04 billion) in 2015, up 8.5 per cent year-on-year.
The network provider saw an increase of six million new subscribers and contributed VND37.3 trillion ($1.6 billion) to the State budget, up 44 per cent compared with 2014.
Another telecom enterprise with a smaller scale, Hanoi Telecom, said that its Vietnamobile's 2G and 3G mobile subscribers were estimated at nearly 11 million. Its total revenue was estimated at VND10 trillion ($442million), contributing VND177 billion ($7.8 million) to the State coffer.
Earlier, according to a report by the Ministry of Information and Communications, the number of mobile subscribers nationwide declined by nearly 20 million to 122 million subscribers last year.
However, the mobile subscriber density was still high with 140 subscriptions for every 100 people.
In terms of telecommunications network infrastructure, the Internet continued stable operatations.
The number of broadband internet subscribers was estimated at about 7.6 million.
Internet users account for about 52 per cent of the country's population and 94 per cent of the country's area has mobile phone coverage.
Along with strengthening and consolidating the domestic market, Vietnamese telecom businesses also successfully implemented investment projects abroad, focusing on markets of Laos, Cambodia, Peru and Mozambique.
Last year witnessed the transformation and restructuring of many telecom enterprises, especially the two largest mobile operators VNPT VinaPhone and MobiFone.
Following Decision 888 of the Prime Minister on VNPT restructuring, MobiFone was spun off into an independent corporation.
Meanwhile, VNPT also established three new corporations including VNPT – Net, VNPT – VinaPhone and VNPT – Media.
At the end of last year, VNPT had basically completed the restructuring, five years sooner than planned, while MobiFone was boosting the necessary procedures to implement equitisation following the Government's direction.
With this change, the telecommunication market has met national telecommunication planning by 2020, which forms the troika of three to four network providers, creating healthy competitiveness and market sustainability.
Local market attracts foreign capital
While foreign investment flows fell 12 per cent to 20 per cent in stock markets in the region last year, the Vietnamese market reached a capitalisation ratio of 57 per cent of GDP and remained an attraction to foreign investors, Minister of Finance Dinh Tien Dung said.
Dung, who attended the first trading day of 2016 with other high ranking officials at the Ha Noi Stock Exchange (HNX) yesterday, said the local stock market has attracted VND290 trillion (US$12.9 billion) or 28 per cent of total investment in 2015.
Vu Bang, chairman of the State Securities Commission, said that 2016 will be a better year than 2015 with GDP growth estimated at 6.7 per cent, export growth at 10 per cent and the inflation rate at below 5 per cent.
Bang thought more integration with the ASEAN economic community would give the local market a big chance to develop, however, there were challenges from integration, adding that the commission would do more to modernise the local stock markets with better products and services.
Meanwhile, Nguyen Vu Quang Trung, deputy general director of HNX, one of the two bourses in Viet Nam, said they saw capital flows, listed firms and UPCoM transaction soared in 2015.
Trung said that the Government bond market, developed since 2009 under the organisation of HNX, was considered the fastest growing G-bond market in Southeast Asia, with an annual growth rate of 26.5 per cent.
Minister Dung appreciated HNX's effort and awarded it with the Labour Order, First Class, for the outstanding achievements and contribution to the development of the stock and bond markets and the country's economy during the last 10 years.
Dung also told the exchange to work harder for the amendments of securities law, to boost the State-owned companies restructuring processes in Viet Nam and to develop the stock market to a higher level.
VEC plans to ramp up charter capital
Prime Minister Nguyen Tan Dung has approved a plan to raise the charter capital of Vietnam Expressway Corporation (VEC) under the Ministry of Transport (MoT).
The company's charter capital will be adjusted from its current VND1 trillion (US$44 million) to VND72.6 trillion ($3.2 billion) by 2019.
PM assigned MoT to work with the Ministry of Finance on the process.
VEC was established in December 2004 and has been growing ever since. Its major completed highway projects include Cau Gie – Ninh Binh, Noi Bai – Lao Cai and HCM City – Long Thanh – Dau Giay.
The company is now constructing the Da Nang – Quang Ngai highway and the Ben Luc – Long Thanh highway. It is also preparing for the construction of Ha Noi – Lang Son highway.
VEC recently announced plans to transfer five highways as part of its equitisation plan.
VEC will establish a number of joint stock companies to transfer five highways of Cau Gie- Ninh Binh, Noi Bai - Lao Cai, HCM City - Long Thanh - Dau Giay, Da Nang - Quang Ngai, and Ben Luc - Long Thanh.
The five projects have total investment capital of VND125.5 trillion ($5.5 billion), of which VEC mobilised VND54 trillion ($2.4 billion) and received VND71.5 trillion ($3.2 billion) from the State budget.
Thanh Cong Group unable to bid for Vinamotor shares
Thanh Cong Group JSC, a strong firm in auto import and assembly in Vietnam, has not been listed as one of the eligible investors to bid for a 97% State stake in Vietnam Motors Industry Corporation (Vinamotor).   
The ministry is preparing to put up for sale 85.58 million Vinamotor shares (97%) as a single lot at the starting price of VND1,250 billion (US$55.6 million) on the Hanoi Stock Exchange on January 11.
Earlier, the ministry announced conditions for investors of Vinamotor. They are domestic and foreign organizations whose operations can support core business operations of the parent firm of Vinamotor.
In addition, investors must have minimum capital of VND926 billion and must not have racked up accumulative losses as per financial reports on June 30, 2015. The shares are not transferable within five years.
After the ministry unveiled the conditions, Vietnam N.A Motor Co. Ltd, TN Development JSC and Thanh Cong Group submitted documents to attend the auction.  
The evaluation council responsible for selecting candidates on December 31 chose Vietnam N.A Motor Co. Ltd and TN Development JSC to join the auction.
Established 16 years ago, Thanh Cong is one of the leading auto importers and assemblers in Vietnam besides Toyota Vietnam and Thaco.  
Meanwhile, Vietnam N.A Motor Co. Ltd and TN Development JSC said they are experienced in trading autos and are dealers of Honda and other auto brands.
Vu Anh Minh, head of the ministry's Enterprise Management Department, told the Daily that the evaluation council wrote to Thanh Cong Group explaining why it had not been picked, but declined to give further details.
Transport Ministry to complete many key projects in Q1
The Ministry of Transport looks set to put into use 14 important projects and break ground for 10 others in the first quarter of this year.
The road and bridges to be opened to traffic from January to March this year include the upgraded section of a road network in the Greater Mekong Subregion in Vietnam's northern province of Thanh Hoa, Tan Phong Bridge in Nam Dinh Province, and the National Highway 61 section from Cai Tu to Go Quao in the Mekong Delta province of Kien Giang.
Hanoi-Bac Giang Expressway will also be put into use in the first quarter this year, according to the ministry's schedule for the January-March period.
The ministry will begin construction of Lo Te-Rach Soi Road in the Mekong Delta region and a road linking Noi Bai airport and Lao Cai Province in the northern region this month. The other new projects are scheduled to get off the ground in February and March.
Last year, the ministry started work on 35 road and bridge projects and put into use 132 projects including the expansion of National Highway 1A and the Ho Chi Minh Road section in the Central Highlands.
The expressways opened to traffic in 2015 comprised Hanoi-Haiphong and HCMC-Long Thanh-Dau Giay.
In the 2016-2020, the ministry will proceed with construction plans for Dau Giay-Phan Thiet-Nha Trang and Ninh Binh-Thanh Hoa-Vung Ang expressways and new expressways connecting Lai Chau to Noi Bai-Lao Cai Expressway and Cao Bang to Lang Son.
The ministry plans to develop 2,500 kilometers of expressway by 2020.
National Highway 1A section upgraded into expressway
The Ministry of Transport has upgraded the National Highway 1A stretch between Hanoi and Bac Giang Province into an expressway and opened it to traffic.
Hanoi-Bac Giang, which was put into use over the weekend, is part of the Hanoi-Lang Son expressway and helps shorten travel time between Lang Son and the capital.
According to the ministry, the 45.8-km Hanoi-Bac Giang section starts from the intersection with National Highway 31 in Bac Giang City and ends at the old Phu Dong toll station in Gia Lam District in Hanoi. Cars are allowed to travel at a maximum speed of 100 kilometers per hour on the road.
The expressway section in Bac Giang Province has four lanes for vehicles and two lanes for emergency while the Bac Ninh-Hanoi section has four lanes. Three overpasses were built on the section.
The build-transfer-operate (BOT) expressway section cost more than VND4.21 trillion (over US$187 million). The project was completed after 18 months of construction, six months earlier than scheduled.
The investor will collect tolls at a station in Phu Chan Commune of Tu Son Town, Bac Ninh Province within 18 years and seven months.
The new expressway section together with Hanoi-Thai Nguyen, Hanoi-Hai Phong and Hanoi-Lao Cai expressways and upgraded highways will help meet growing traffic demand in the Red River Delta region.
Insurance market growth at five-year high
Last year's total insurance premiums expanded 21.43% year-on-year to VND68 trillion (US$3.02 billion), the highest growth in five years, according to the Ministry of Finance.
Data of the ministry showed growth in insurance premiums last year was well above 14.89% in 2014, 7.6% in 2013 and 11% in 2012.
New business premiums of the life insurance sector registered stronger growth last year. Meanwhile, non-life insurance recorded a revenue rise of over 10%, resulting in a near-double increase in profit for enterprises in this sector.
The ministry said last year saw total assets of the local insurance market reaching VND201.1 trillion (US$8.94 billion) and insurers reinvesting VND152.5 trillion (US$6.78 billion) in the economy, a 16% rise from a year earlier.
In 2015, Vietnam realized all targets in the insurance development strategy for the 2011-2015 period, including premiums growth, reinvestment of insurers and divestments of State-owned corporations from insurance firms. Regulations in relevant legal documents were made compatible with the Insurance Business Law.
The ministry said it has requested insurance companies to develop new insurance products and services such as compulsory insurance for construction activities, insurance for fishing vessels and fishermen under the Government's Decree 67/2014/ND-CP, and voluntary pension insurance.
Many auto models mark up despite lower import duty
Though the duty on completely-built up autos imported from ASEAN countries has dropped from 50% to 40% since January 1, prices of many car models are swelling due to a new special consumption tax calculation method.
An auto trading firm said that without new tax and fee adjustments in place this year, the import tax cut of 10 percentage points in line with Vietnam's commitments to the ASEAN Free Trade Area (AFTA) could have sent prices of autos imported from ASEAN down. However, the actual prices of imported cars from the region are unlikely to be lower this year than last year.
One of the reasons is Vietnam mostly imports pick-up trucks like Toyota Hilux, Ford Ranger, Nissan Navara, Chevrolet Colorado, Mazda BT50, Isuzu D-Max and Mitsubishi Triton from Thailand and Indonesia. These vehicles are subject to a 5% import tariff instead of 40% for other lines, and thus their prices will not change due to the tax reduction.
However, the selling prices of pick-up trucks in Vietnam will shoot up as a result of the new special consumption tax calculation method, which became effective early this year.
With other auto lines, few models are imported from ASEAN markets as auto joint ventures in Vietnam do not import models which potentially compete with domestically assembled autos. Cars of Toyota, Ford, Honda, Isuzu, Mazda and Kia that are selling well in Vietnam are assembled locally as import tariffs on auto parts range from 15% to 25%, lower than the duty on completely built-up (CBU) autos.
Auto firms just import few car lines for niche market segments but the prices of these autos will not decline much as they are subject to a higher special consumption tax. Meanwhile, other popular passenger cars of brands such as Hyundai are imported from South Korea and India, which are outside the AFTA.
The new 40% tax rate does not apply to luxury brands like Mercedes-Benz, BMW, Audi, Lexus, Land Rover, Infinity, Porsche and Cadillac that are imported from Japan, the U.S. and Europe.
Under the commitment with the World Trade Organization (WTO), Vietnam will cut the import tax rates on 3.0L autos of non-ASEAN markets by 3-4% this year but the tax cut is inconsiderable. Besides, 3.0L autos in Vietnam are chiefly luxury ones that are imported.
Most luxury cars are now offered at higher prices due to the new special consumption tax. Mercedes-Benz Vietnam, the premium auto firm with an assembly facility in Vietnam, has added VND150-250 million per unit on average to the prices of its vehicles as many of its products are imported.
Euro Auto, the official importer of BMW cars, has projected the new special consumption tax will cause auto prices to move up 10-15%.
With mid-end imported autos like those of Hyundai and Kia, price hikes will not be significant. According to Hyundai Thanh Cong, prices may go up 5%.
Truong Hai Auto Corporation (Thaco), the sole assembler and importer of Mazda, Kia and Peugeot autos in Vietnam, said the company is still applying the old prices. Thaco projected the new calculation of special consumption tax could lead prices to rise 2-5% this year compared to last year.
China lifts ban on live shrimp import from Vietnam
China's Administration of Quality Supervision, Inspection and Quarantine (AQSIQ) has removed a ban on import of live shrimp from Vietnam, according to Efeedlink website.
Domestic enterprises can export the product to the Chinese market from 2016. China suspended import of live shrimp from Vietnam on February 5, 2015 amid fears of diseases.
Nguyen Nhu Tiep, director of the National Agro-Forestry-Fisheries Quality Assurance Department (Nafiqad) under the Ministry of Agriculture and Rural Development, confirmed the ban removal.
According to the Vietnam Association of Seafood Exporters and Producers (VASEP), shrimp exports to China in 2015 totaled US$344 million, down nearly 17% year-on-year. China is currently the fourth largest importer of Vietnamese shrimp after the U.S., Japan and the European Union (EU).
The main products exported to the world's most populous market include frozen tiger prawns (accounting for 30% of total), frozen white shrimp (30%) and processed shrimp, lobsters and live crayfish.
VASEP said that in addition to processed shrimp, China buys unprocessed shrimp from other countries for processing value-added products due to the impact of diseases in the past years that has reduced shrimp production there.
China imports shrimp from nations such as India, Ecuador and Vietnam as shipping costs are much lower than other countries.
PVN only profitable with oil above US$45 a barrel
Vietnam National Oil and Gas Group (PVN) said it could be profitable this year if the world oil price is above US$45 a barrel.
In a report on solutions to deal with the global oil price plunge sent to the Government and the Ministry of Industry and Trade, PVN said the world oil price is projected to continue falling in the coming time as supply has outpaced demand.
The world's daily oil supply currently stays at 93-94 million barrels while demand is 90-92 million barrels, according to PVN. However, members of the Organization of the Petroleum Exporting Countries (OPEC) have announced that they will not cut output to keep market share and compete with suppliers of oil extracted from other sources.
The world's oil supply has increased significantly owing to the shale oil extraction in the U.S. and the removal of a ban on oil export from Iran.
PVN said in the report that the U.S. energy agency projected the average oil price this year at US$50 per barrel, Reuters cited various sources as estimating it at US$58 per barrel and Russia's Ministry of Finance put the price at US$40 per barrel.
Based on those projections, PVN said 2016 will continue to be a tough year as the average world oil price is lower than its previous targeted price of US$60 per barrel. If the oil price falls by US$1 per barrel, its total revenue would contract by VND5.4 trillion (US$240 million) and its tax payment would drop by VND1.5 trillion.
The best solution to deal with the situation is to enhance production cost management at oil fields, according to PVN.
The group estimated the average crude oil production cost at US$27.4 per barrel at domestic oil fields with the highest cost of US$58 per barrel for Song Doc field and the lowest of US$12.7 per barrel for Su Tu Vang and Su Tu Den fields in the south.
PVN urged contractors of oil fields to review production cost and suggest measures for better cost management to prevent losses as well as work out pricing scenarios and solutions.
Minister of Industry and Trade Vu Huy Hoang said at a web conference between the Government and provinces last week that PVN had to pump more oil to compensate for the lower price last year.
Last year, the total volume of oil extracted was 18.74 million tons, surpassing the year's target by 11.5%. The volume included 16.86 million tons from domestic oil fields, 2.12 million tons higher than targeted.
Meanwhile, Minister of Finance Dinh Tien Dung said the ministry had thought of a scenario in which the world oil price plunges to US$30 per barrel, while Deputy Prime Minister Hoang Trung Hai called on ministries and agencies to prepare for the worst-case scenario where oil slides to US$20 per barrel.
AEC impact on Vietnam seen insignificant
With the ASEAN Economic Community (AEC) officially coming into existence, Vietnam will feel little impact this year as its market has already been opened to ASEAN goods for a long time.
Tariffs on ASEAN goods have already been reduced and more tax cuts will be forthcoming in line with an approved road map.
According to the Ministry of Finance, 8,603 tariff lines have been brought down to zero in accordance with the ASEAN Trade in Goods Agreement and 15 more tariff lines will be lowered to 0% this year.
The country will cut 77 tariff lines on completely built-up automobiles from 50% to 40% this year, and the rate will further fall to 30% in 2017 and 0% in 2018.
Talking to the media on the sidelines of a seminar in HCMC in late November, an official of the Multilateral Trade Policy Department of the Ministry of Industry and Trade described the establishment of the AEC as politically significant as the 10 ASEAN countries now have a common voice within the community.
Commitments to market openness and integration within ASEAN have been demonstrated in the past 20 years. There will be 669 more tariff lines dropping to 0% from now until 2018.
Vietnam's tariff reduction commitments to ASEAN are far stronger than other free trade agreements Vietnam has signed and will sign, the official said.
According to Deputy Prime Minister and Foreign Minister Pham Binh Minh, AEC will benefit Vietnamese companies as more tariffs and non-tariff barriers will be removed. Meanwhile, consumers will be able to have more goods and services to choose from at lower prices thanks to competition, he added.
Minh pointed out that AEC has formed a common regional market with a population of 625 million people and total gross domestic market of nearly US$3 trillion. The full implementation of AEC and ASEAN+1 in 2018 is forecast to push ASEAN nations' GDP up by 4.5% against 2007, increase jobs by 7.6% and raise wages by 9.6%.
A matter of note in AEC is a free movement of labor in the region as the ASEAN nations recognize each other's certification in eight professions -- doctor, nurse, dentist, engineer, surveyor, accountant, architect and tourism worker.
Regarding this issue, Minh was quoted by the Government portal at chinhphu.vn as saying last week, "Skilled workers will be able to move freely in the region. This is very important as hundreds of thousands of Vietnamese people go abroad for guest work."
However, there are concerns over the low quality of the Vietnamese workforce.
Minister of Planning and Investment Bui Quang Vinh recently told the Daily that competition among jobseekers would be fierce. "Without good training and preparations, Vietnamese people might lose their jobs right at home."
According to Vinh, the nation will need to draw up plans to help enterprises and people understand both opportunities and challenges to be brought by free trade agreements.
"I hope the Government, ministries, agencies and industry associations will conduct thorough studies to mitigate adverse effects," Vinh said.
VEF/VNA/VNS/VOV/SGT/SGGP/Dantri/VET/VIR