VietNamNet Bridge – Vietnamese exporters of agricultural products must join global production chains if they are to take advantages of the opportunities of the Trans Pacific Partnership (TPP) free trade pact.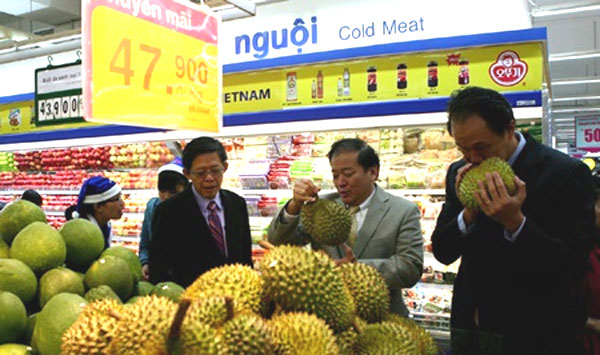 Fruits are on shelves of Co.op Mart in Ha Noi. The agricultural sector is urged to participate deeply in the global production chain and enhance product quality as TPP nears. — Photo: VNA/VNS 
Opportunities are foreseen but there exist worries about the real dangers for Viet Nam's agriculture from the TPP agreements.
In an article about the TPP opportunities for Viet Nam on the government's website chinhphu.vn, Chairman of HCM City Food Association Van Duc Muoi said that the country had to open the market, or eliminate 100 per cent of import duties for agricultural products, while it had no technical barriers or had ones which were not stringent enough.
Muoi, who is also general director of Vissan, said duties were a part of the story. The duties could be reduced or wholly eliminated but technical barriers to trade and sanitary and phytosanitary measures from other countries would be very strict on packaging, label, maximum level for pesticide residues and legal origin of materials – which may keep the Vietnamese out of the select group of TPP member countries.
Interests in duties of TPP are just interests on paper, Muoi wrote.
Related to agricultural products, in facets of production, a number of commitments in TPP will directly affect domestic production as well as the potential of products in Viet Nam.
He gave an example on a TPP commitment clause on child labour which prohibited the use of children and eliminated the worst forms of child labour. In Viet Nam, handicraft villages would be the first vulnerable group as their products are made by households which include children.
To turn the opportunities into reality, Muoi gave an assessment on competition capacity of the Vietnamese agriculture with its TPP partners.
As for Brunei, Malaysia and Singapore, it does not matter because Brunei and Singapore are small countries, and their agricultural production is insignificant. Malaysia has been importing agricultural products from Viet Nam, including rice, vegetables, fruit and meat.
Australia and New Zealand are seen as countries challenging Viet Nam as they have the competitive capacity at the highest level in the world with products such as beef, milk, apple and orange.
Meanwhile, Viet Nam's capacity to access the markets of the two countries is very small because their population is low. Australia has about 25 million people while New Zealand has some 5 million. In addition, their technical barriers to trade and domestic competitive capacity on agricultural products stand at the highest level in the world.
Even though the FTAs are signed, Viet Nam's interest in agricultural product exports is almost zero while challenges are significant. Therefore, the commitment to open the market to the two countries should stand similar with the level Viet Nam has committed in ASEAN-Australia-New Zealand agreement to avoid the situation to be more serious.
Peru and Chile are at quite a distance in terms of geography from Viet Nam. They have a small population and their competitive capacity is similar with Viet Nam.
As for the US, it has not signed any free trade agreement with Viet Nam, either bilateral or multilateral, therefore Viet Nam will open its market at the same level of the WTO commitment.
Viet Nam has the opportunity to export vegetables and fruits to the US, however, the US has strictly applied technical barriers to trade and sanitary and phytosanitary measures so that the country's export may be limited.
The US is at an advantage shipping in very high volumes products such as milk, beef, pork and poultry, to Viet Nam. If Viet Nam opens the door for such products, similar products in the country will be faced with difficulty when competing with the US products.
In Viet Nam, animal husbandry has created a job for farmers who have occupied more than 80 per cent of the population. They have a low and unstable income and are seen as the most vulnerable group in the market. Therefore, it is needed to issue a certain protection level for this group anyway.
Import products
In such a situation, Viet Nam needs to develop an agro-product supply chain to become an important processed agro-product supplier for the world.
While the supply chain process is not new to the rest of the world it had been applied sparingly in Viet Nam.
Speaking at a seminar on opportunities and challenges when Viet Nam takes part in the FTA and TPP recently in HCM City, Deputy Minister of Agriculture and Rural Development Tran Thanh Nam, said many sectors had increased exports in crude for processing. If the country did not prepare right now, it would demolish the domestic market and farmers would be the most vulnerable when imported goods flooded the domestic market.
"There is a need to concentrate on reorganising production, planning a growing area to ensure clean materials for domestic processors and exporters. This is the most worrying issue compared with issues on improving competitive capacity for businesses or State management capacity," Nam said.
A ministry statistic showed that the country's exports of many products such as seafood and cashew reduced or lightly increased in value but imports of material for processing rose this year.
The country's import of dried cashew rose 808,000 tonnes to $1.05 billion in value in the first 11 months of last year, a 47.5 per cent increase in quantity and 74 per cent in value. Meanwhile, the volume of export reached was up 7.3 per cent in quantity and 19.2 per cent in value, equal to 300,000 tonnes and $1.28 billion.
Even in the domestic market when the TPP agreement has not come into effect, meat from TPP member countries, especially chicken from the US, has flooded the market, causing the local chicken-raising industry to face many difficulties.
Nguyen Thanh Phi Long, from Long Binh Husbandry Company, said domestic chicken breast had been so far shipped to food processing units. However, since chicken legs from the US were imported to Viet Nam at a very cheap price, the processing units had replaced domestic chicken breasts with the US chicken legs.
Vague information
According to Deputy Chairman of Viet Nam Pepper Association Nguyen Mai Oanh, the TPP is an opportunity for the sector to rectify its problems, in which the production chain and quality control are the biggest issues.
"The State should support the sector to associate farmers to form co-operatives which will be in the cultivable areas. From there the businesses can connect them to larger pepper growing areas," Oanh said at the conference.
Chairman of HCM City's Farm Club Luu Hong Trien, said the information on integration had reached businesses, processors and exporters but not farmers, who directly took part in raising animals. Therefore, while numerous products were available in redundance, the farmers did not know about it and continued their investment.
Integration into ASEAN, EU and TPP member countries will be a big challenge as there will be actually a big sea – which is not easy to pass it when almost Vietnamese businesses have been exporting crude agricultural products, not strong enough to take control the market. If the country does not make changes to adapt to the situation, its agricultural market will face difficulties with regard to access to opportunities from the TPP.
VNS