The average growth of the consumer price index (CPI) in 2015 was 0.05 per cent per month, the lowest increase in 14 years, an official from the General Statistics Office (GSO) said at a press conference in Ha Noi yesterday.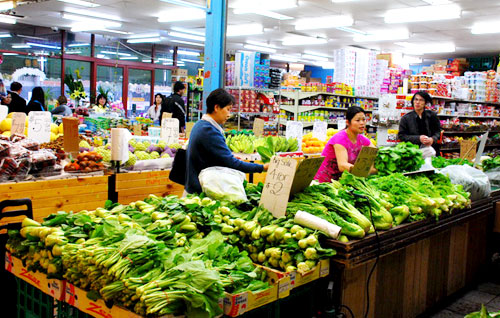 December core inflation inched up 0.11 per cent from the previous month and 1.69 per cent from a year before.
GSO General Director Nguyen Bich Lam said the average CPI this year showed a 0.63 per cent increase compared to the 2014 average, much lower than the Government's 5 per cent target.
CPI in December increased by 0.02 per cent over that of last month and 0.6 per cent over that of the end of last year, Lam said.
The goods and services groups that saw price growth included restaurant and catering services, beverages and tobacco, garments and footwear, and housing and construction materials, marking an increase of 0.16 per cent, 0.16 per cent, 0.32 per cent, and 0.05 per cent, respectively.
Meanwhile, falling prices were recorded in post and telecommunications (0.03 per cent), traffic services (1.57 per cent), culture-entertainment-tourism (0.05 per cent) and household appliances (0.1 per cent).
Deputy Head of GSO's CPI Department Do Thi Ngoc said the low growth rate in 2015 was triggered by the abundant domestic supply of food and foodstuff. An augmentation in global food output and strong competition from other big rice exporters like Thailand and India also kept Viet Nam's rice prices low.
Fuel prices in the world also continued the downward trend throughout the year, leading to a reduction in domestic petrol prices, she said, elaborating that a combined decrease of 24.77 per cent in petrol prices this year pushed the overall CPI down 0.9 per cent, Ngoc added.
The local costs of household gas also aligned with global prices, down 18.6 per cent from a year earlier.
Goods categories under the State management also saw smaller price adjustments than last year, she said, adding that the expenses of healthcare services, educational services and electricity prices only affected this year's CPI by 0.07 percent, 0.12 per cent and 0.19 per cent, respectively.
The adjustment of the dollar-dong exchange rate in response to the strong devaluation of the Chinese yuan also contributed 0.72 per cent to this year's CPI increase, Ngoc added.
Thanks to the central bank's effective measures, the average US$/VND exchange rate climbed by only 3.16 per cent, while gold prices dipped by 4.73 per cent from 2014.
Ngoc said a low CPI increase in the last couple of years was also attributed to consumers' prudence in spending, and thus local suppliers and service providers did not increase their products' prices as high as in the previous years, during and after the Lunar New Year or festivals.
The GSO said the December core inflation (excluding the price changes of food, fresh foodstuff, energy and goods managed by the State like medical and educational services) inched up 0.11 per cent from the previous month and 1.69 per cent from a year before.
The core inflation for the whole year rose by 2.05 percent from 2014.
Director of the Price Statistics Department Vu Thi Thu Thuy forecasted that 2016 CPI will continue to increase against that of this year, citing expected rises in tuition fees, healthcare service costs, electricity prices and the minimum wage.
VNS