Vietnam's fast-moving consumer market is now a magnet for foreign investors as it is expected to outpace major markets like India and China with an annual growth rate of 20 percent by 2020.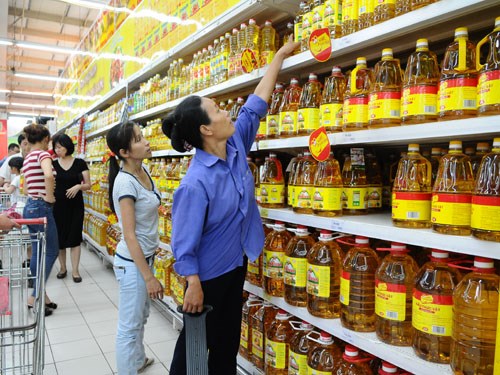 Fast-moving consumer goods ( FMCG ) or consumer packaged goods ( CPG ) are products that are sold quickly at a relatively low cost such as beverages, processed foods, milk, toiletries and tobacco.
The latest statistics released by the Ministry of Industry and Trade show that after China, Thailand is Vietnam's second biggest suppliers of consumer goods with its garments and household utensils present in nearly 8,600 markets across the country.
Besides, Japan and the Republic of Korea are also penetrating into the Vietnamese market through chains of convenience stores.
According to Phan Chi Dung, head of the Light Industry Department under the Ministry of Industry and Trade (MoIT), Vietnamese rural residents whose income increased about 44 percent over the past three years are interested in fast-moving consumer goods.
However, he said, only 54 percent of the FMCG companies' turnover come from the rural market which accounts for up to 68 percent of the country's 90 million people.
Le Viet Nga, deputy head of the MoIT's Domestic Market Department, blamed the inequality in product distribution in rural and urban areas for the moderate figure.
Powdered milk is an example, she said, adding that 70 percent of the milk is consumed in urban areas.
Given this, Dung suggested FMCG firms expand their reach to rural areas, especially in the context of integration.
The important job lies with rolling out suitable investment plans, he noted.
The MoIT forecast that total revenue of the consumer goods-related sectors in Vietnam will hit 140 billion USD in 2016, thus creating great opportunities for FMCG businesses at home to boost production and expand the market.
Dung said domestic FMCG companies are encountering a spate of difficulties such as weak financial capacity and dependence on imported materials.
In order to boost the country's consumer goods sector, he suggested completing the legal system and technical barriers to trade, and simplifying administrative procedures to create an open and favourable business environment.
Dung also called on the local businesses to improve their product quality and production and processing capacity, especially in the field of food hygiene, while building brand names for their products.
They were also urged to build suitable distribution channels and develop new products to stimulate consumption demands.
VNA