Businesses in the agriculture sector, especially breeding, would be most vulnerable to the effects of Free Trade Agreements (FTAs) and Trans-Pacific Partnership (TPP) with bigger partners.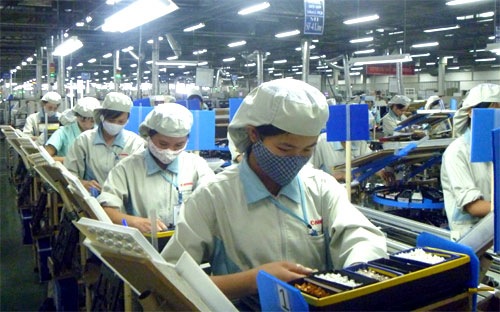 However, the firms have two years left for restructuring and improving their competitive ability after the signing of FTAs and TPPs, Luong Hoang Thai, head of Multilateral Trade Policies Department under the Ministry of Industry and Trade said.
Thai told the conference held to provide information on some new FTAs, in Ha Noi yesterday that the TPP had been in the last period for legal review before the official signing. The TPP had high standards in the open market which could bring in opportunities for participating countries.
In particular, Viet Nam could have access to leading partners in the bloc such as the European Union, Japan and South Korea. However, the opportunities could only be obtained if Viet Nam meets the requirements of origin in the garment and textile sector, for example.
It is for this reason that the country should review all sectors to take advantages of the pacts. In addition, Viet Nam should also make the changes to meet with commercial standards under the TPP, thus creating a facilitated business environment.
Sharing the ideas, Deputy Minister of Industry and Trade Tran Quoc Khanh said a range of FTAs which Viet Nam had signed with big countries would have a huge impact on the country's export structure and macro-economic control. It would be an opportunity for the country to complete and improve mechanisms as well as enhancing transparency.
Khanh said the pacts would bring considerable challenges for State management agencies and enterprises.
He emphasised that the thoughts of policy makers should be changed as all of the management would be based on these committed pacts.
However, a recent statistic from the Ministry of Planning and Investment showed that around 75 per cent of local businesses did not have knowledge about the FTA.
The deputy minister said the rate was normal as Vietnamese firms had been operating in several sectors which would not be affected by the pacts. The companies had not participated in export activities but had been content to produce for the local market.
The reality had not been seen in Viet Nam but other countries. In the European Union, around 50 per cent to 60 per cent of businesses in the region did not pay attention to signing of international trade pacts, he added.
"Local enterprises should have time and pay attention to FTAs as the country has deeply integrated into the world economy. This could help them take advantages of the FTAs," he said.
The conference attracted participation of representatives from 10 cities and provinces as well as businesses.
In 2015, Viet Nam signed four important pacts with big markets including TPP, FTA between EU and Viet Nam (EVFTA), Viet Nam-EEU (the Eurasian Economic Union) and FTA between Viet Nam and South Korea.
VNS