VietNamNet Bridge - Vietnam's aviation industry could take off if the cooperation commitments from Airbus' President come true.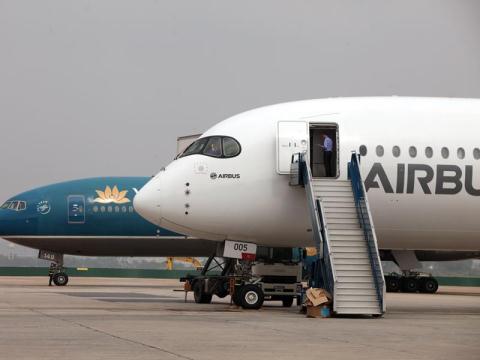 Tom Enders, President of Airbus Group, in his letter to the Prime Minister Nguyen Tan Dung, Minister of Transport Dinh La Thang and Chair of Vietnam Airlines Pham Viet Thanh, mentioned the group's plan to assist Vietnam to develop its aviation industry.
Tin Tuc quoted Tom Enders as reporting that Airbus is willing to consider setting up a production base in Vietnam in cooperation with one of the group's big industry partners.
The company, if established, will be the only unit in South East Asia to specialize in making electric safety belt kits which are used in A320, the best selling airplane of Airbus.
Airbus said it is willing to discuss the important indicators on the national economy and finance, and suitable business plans.
The aircraft manufacturing group also said it is willing to assign Vietnamese enterprises to make the state-of-the-art components in composite material used for A330 and A350 XWB.
As estimated by Airbus, the production will bring Nikkiso Vietnam revenue of $120 million in the next 10 years.
Nikkiso Vietnam, a 100 percent Japanese invested enterprises, will manufacture composite vertical bars and Sharklet's armor plates for A320s.
Other foreign invested enterprises in Vietnam now make components for other aircraft manufacturers, which are direct rivals of Airbus. MHI Aerospace Vietnam, a subsidiary of Japanese Mitsubishi, now makes the doors of passenger cabins and inboards flaps for Boeing 777.
According to the Civil Aviation Authority of Vietnam (CAAV), if the agreements with Airbus can be made, Vietnam would not only be able to join the commercial aircraft manufacturing chain, but also upgrade its aviation technology. If so, Vietnam can cherish the 'aircraft dream' after its 'automobile dream' as its hopes for an auto industry have been dashed.
However, one analyst commented it would be impractical for Vietnam, which failed to develop an automobile industry of its own, to dream of making aircrafts.
Nguyen Ngoc Son, a lecturer of the Ton Duc Thang University, commented that Vietnam has shown strong determination to develop its automobile industry in the last 20 years. However, its plan could not be implemented due to limited resources and the lack of reasonable development policies, modern technologies and a weak labor force.
Pham Ngoc Tuan, a lecturer of the HCM City University of Technology, also noted that Vietnam's automobile industry only has some joint ventures which just assemble car parts, and that the automobile industry is still at its starting point where it stood 20 years ago.
Dat Viet