VietNamNet Bridge - There are two paths for the leaders of state-owned enterprises (SOEs) to follow after SOEs equitized, either becoming hired workers or civil servants at state agencies. In fact, there is another choice – retirement.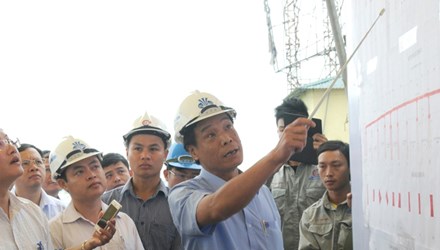 The news about Can Hong Lai, now chair of the board of directors of Cienco 1, is well known among business circles.
Cienco 1 was one of the best state-owned construction companies belonging to the Ministry of Transport (MOT) which had great advantages in building bridges and transport works.
At that time, it was difficult for its partners or subsidiaries to get opportunities to meet the 'big bosses'; the bosses could help the subsidiaries either prosper or fall into deadlock.
After equitization, the government and MOT decided to withdraw all the state's capital from Cienco 1 (Yen Khanh Company now holds 38 percent of Cienco 1 stakes, Hassyu Vietnam 36 percent, Fecon 17 percent and other shareholders 9 percent).
Lai, who was the general director of the state-owned Cienco 1, was appointed to the post of CEO again, but as the CEO of a joint stock company.
Later, Lai was appointed to the post of Cienco 1's board of directors.
"Shareholders have appointed me to the post because they believe I can be efficient in my work," he said.
Lai noted that private shareholders always make decisions quickly because they don't have to follow complicated administrative procedures like SOEs.
"However, they set high requirements on business performance and efficiency," he said.
Meanwhile, Pham Dung, former chair of the state-owned Cienco 1, now spends most of his time at home reading books and preparing meals.
"When Cienco 1 was equitized, the ministry told me to become an MOT official, but I decided to retired six years before the retirement age because the new job was unsuited to me," he said.
A report showed that by September 2015, MOT had disinvested from 34 enterprises, collecting VND2.37 trillion from selling stakes. It is trying to withdraw capital from all the 58 SOEs it is managing, worth VND5.72 trillion.
In most cases, the 'big bosses' of equitized SOEs were told to become civil servants at state management agencies. 
After the IPO in June 2014, Phan Quoc Hieu, former general director of the Thang Long Construction Corporation, resigned from the post and became the deputy head of the MOT's Construction and Transport Work Quality Management Department.
However, some 'big bosses' made breakthroughs in their lives after SOEs became joint stock companies. Le Ngoc Hoa, former general director of Cienco 4, also a transport work construction company, became deputy chair of the Nghe An provincial People's Committee.
Tien Phong