VietNamNet Bridge - Vietnam's seafood exports to China have been increasing steadily. However, experts warn there will be more losses than gains when doing business with China.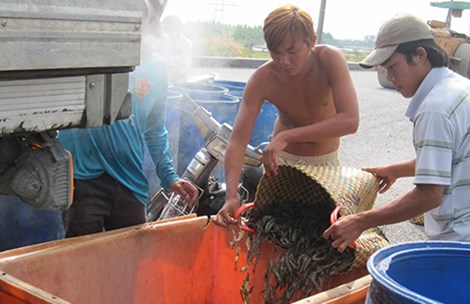 A report of VASEP showed that while exports to most markets decreased by 15-60 percent in the first 10 months of 2015, exports to China increased by 19 percent compared with the same period last year. Catfish exports to the market soared by 50 percent.
However, experts have warned that there are too many latent risks with the market.
Chinese businessmen have been coming to every corner of Mekong River Delta, collecting all shrimp products they see in the market, including low-quality products which have impurities.
Nguyen Van Nhiem, chair of My Thanh Shrimp Cooperative in Soc Trang province, said Chinese business do not set high requirements, so Vietnamese farmers prefer selling shrimp to Chinese. 
As a result, Vietnamese seafood exporters find it hard to collect materials to fulfill export contracts.
More dangerously, he said, Chinese businesses now control the collection of seafood in the market. They set up a large network of collectors who come directly to shrimp cultivating areas and update market information.
Through the network of merchants, Chinese businesses can control the market and make decisions on the collection prices and the output to purchase. This allows them to set prices at levels beneficial to them and control market prices.
"Therefore, Vietnamese farmers have to sell shrimp at prices set by Chinese businessmen," Nhiem explained.
With easy trading conditions, Chinese businessmen not only can persuade Vietnamese farmers to sell seafood materials to them, but also can attract Vietnamese merchants to work for them.
According to Tran Van Linh, director of Thuan Phuoc Seafood and Trade Company, many Vietnamese exporters have seen their exports refused by Japan, the US and EU because of the higher than permitted antibiotic residues. Therefore, the exporters tend to increase exports to China.
Linh warned that this will do more harm than good to Vietnam. "They (exporters) will suffer heavily if China suddenly stops importing seafood from Vietnam," he said.
"Vietnam should learn lessons from the rice, oolong tea and fruit export stories. One should not put all eggs into one basket," he said.
When asked why China was importing more seafood products from Vietnam recently, Linh said Chinese demand is on the rise. China lacks raw seafood to make products for exports, so it imports materials from Vietnam for re-export as Chinese products.
PL TPHCM