VietNamNet Bridge - Chinese investors have shown greater interest in Vietnam as an investment destination, especially after Vietnam concluded negotiations for the Trans Pacific Partnership Agreement and signed a series of free trade agreements (FTAs).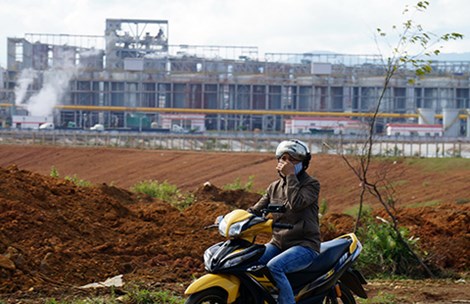 Chinese direct investments, to some extent, help Vietnam's northern provinces accelerate urbanization and develop economies, thus allowing them to narrow the growth gap with other provinces. 
However, many analysts commented that they can feel more concern than joy about the Chinese investment increase.
Duong Dinh Giam, a renowned economist, who was head of the Ministry of Industry and Trade's Strategy Research Institute, confirmed there were reasons to worry.
Vietnamese businesses are not capable of making input materials and accessories, and therefore, have to import input materials from China, which leads to Vietnam's trade deficit with China.
About 70 percent of Chinese investment projects are in mineral exploitation and mining, including steel, iron, cement and bauxite. This would seriously affect natural resources – one of the important resources for Vietnam's development.
"The projects will surely bring benefits to China, but will have negative impact on Vietnam's sustainable development," Giam said in an interview with Phap Luat Viet Nam.
Nguy Thi Khanh, director of GreenID, representing the Vietnam Sustainable Energy Alliance (VSEA), noted that Vietnam's coal mining industry, for example, uses Chinese outdated technology which has seriously devastated the environment and harmed people's health.
Analysts have repeatedly warned that China, which has recently shut down tens of factories utilizing out-of-date technologies that caused pollution, is trying to export the technologies to neighboring countries, including Vietnam.
The outdated technologies will push back the great technological development Vietnam has made in recent years and cause ecological imbalance.
However, the biggest worry in Chinese investments in Vietnam, according to Giam, is the Chinese ambition to intervene and control Vietnam economy.
Low-quality Chinese products have been flooding the Vietnamese market. The excess of imports from China over the exports to the market has been increasing rapidly. By July 2015, the trade deficit had reached approximately $18 billion.
In early 2015, China asked the State Bank of Vietnam to accept Chinese yuan as the currency for payment in Vietnam.
More and more Chinese businesses have begun marching towards Vietnam recently in anticipation of TPP, while bringing high numbers of Chinese workers to large investment projects – Vung Ang steel complex in Ha Tinh province, Duyen Hai Power Center and bauxite mining sites in the Central Highlands. 
A higher number of Chinese workers in Vietnam means lower job opportunities in Vietnam and more social problems.
PL TPHCM